An Australia-first biosolids gasification facility pioneered by Logan Water is one of a number of sustainable water and wastewater projects in Logan City. Mike Basterfield, Group Manager, details these exciting developments.
SUSTAINABILITY IN THE CITY
Nestled between Brisbane and the Gold Coast, the City of Logan is a vibrant destination with a diverse mix of urban hubs and open spaces.
Bringing together expansive natural beauty, unique culinary surprises and exciting year-round events, it is one of the largest, youngest, and fastest-growing cities in Australia.
"It's an area of very rapid growth at the moment. The growth forecasts for Logan City are that by 2034, the population will increase from 350,000 to 500,000," informs Mike Basterfield, Group Manager at Logan Water. 
The city also has a thriving indigenous community dating back 60,000 years and is home to a multitude of different cultures, delivering a mix of authentic global flavours.
"There are over 200 ethnic backgrounds in the city and the average age of our population is around 34, so it's a young population and very diverse. That has its challenges but also its advantages in the way that we work with our customers."
Logan Water is a commercial business unit of Logan City Council, responsible for providing all water and wastewater services to the residents of the city, including drinking water supply, wastewater collection and treatment, and trade waste management.
As clean, safe water is integral to the quality of life enjoyed by citizens, Logan Water is committed to managing the city's water systems to provide safe, high-quality services that ensure the protection of public health, the environment, and support the growth of the community.
"One of our main challenges is to keep up with the city's significant growth in a really sustained way," Basterfield acknowledges.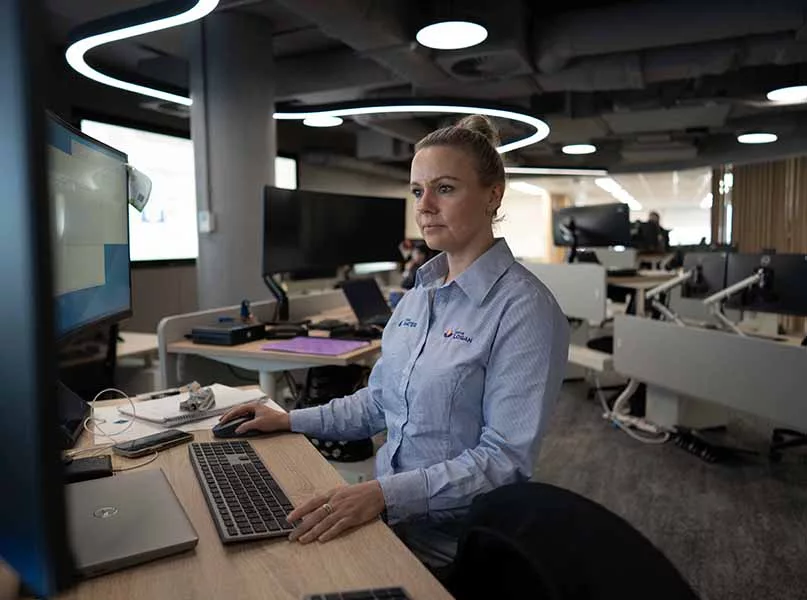 PIONEERING FACILITY
Logan Water has pioneered an innovative, Australian-first biosolids gasification facility that is challenging the status quo and demonstrates how sewage sludge can be transformed into renewable energy.
It is located at the Loganholme Wastewater Treatment Plant (WWTP), the largest of Logan City's four WWTPs, which produces 34,000 tonnes of biosolids each year.
These biosolids were previously transported 300 kilometres by approximately 18 trucks per week from the Loganholme WWTP to the Darling Downs agricultural area for use as a soil improver, at a major operating cost for Logan Water of around AUD$1.8 million.
This has been exacerbated in recent years by the increasing cost of treating and disposing of biosolids due to rising electricity prices, the growing population, and tightening government regulations around the disposal of biosolids.
"It started with us trying to deal with the cost of transporting the biosolids that we produce by reducing truck movements," Basterfield shares.
The biosolids gasification facility at the Loganholme WWTP processes sewage sludge by dewatering it in a centrifuge, drying it in a belt dryer, and treating it at high temperatures in a gasifier to produce a safe, environmentally friendly product called biochar, which can be used for agricultural, composting and building purposes.
"The Biosolids Gasification Project is a true example of the circular economy because we're taking a waste product and turning it into biochar, which has uses as an agricultural product all the way through to potential use in manufacturing."
The process reduces the volume of biosolids by 90 percent and thereby significantly lowers the disposal of biosolids, saving Logan Water around AUD$500,000 in annual operating costs and significantly reducing the need for truck deliveries, which otherwise adversely affect communities and the environment due to increased traffic and greenhouse gas (GHG) emissions.
It also eliminates around 95 percent of persistent organic pollutants (POPs), such as polyfluoroalkyl substances, and reduces about 63 percent of micro and nano-plastics in biosolids.
The technology is relatively simple and although it involves an upfront cost, it reduces the whole-of-life cost of treating and disposing of sewage.
"We're getting great interest in the technology from all over the world, and we're now looking at the potential for it to be used on a much wider scale," Basterfield reveals.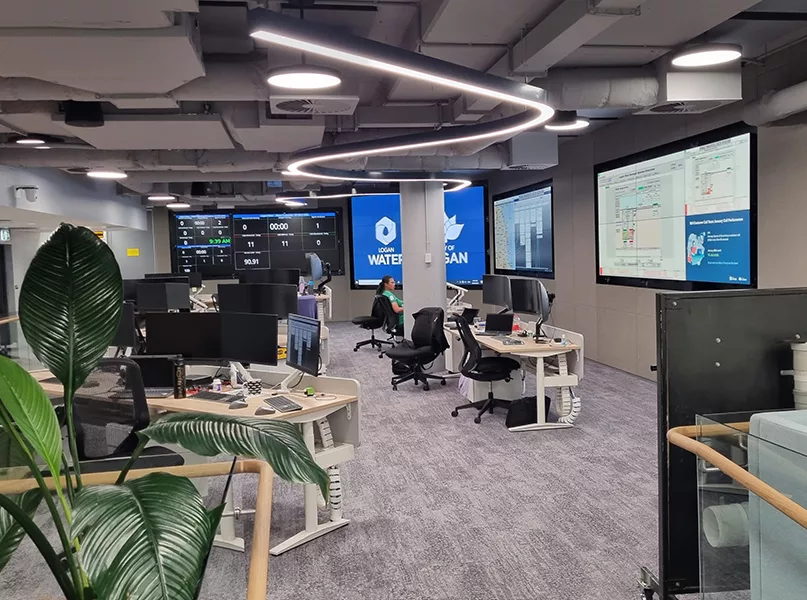 SOLAR ARRAY
As part of the Biosolids Gasification Project, Logan Water has also installed a solar farm at the Loganholme WWTP to support the power required to run the biosolids gasification facility and power additional on site operations, making the gasifier process largely energy self-sufficient.
The AUD$3.6 million installation, which comprises 3,000 solar panels covering around 3,700 square metres, has delivered fantastic energy savings and reduced Logan Water's carbon footprint as part of its commitment to environmental sustainability.
"We're fortunate that our parent organisation, Logan City Council, has become carbon neutral in the last 12 months and are actively supporting our drive to sustainability. We're now looking to extend the solar power generation that we've got to address our needs as Logan Water and the wider needs of the city," outlines Basterfield.
The solar and biosolids gasification facility upgrades to the Loganholme WWTP were carried out under the Logan Water Partnership, which includes partners Downer, WSP Australia, and Stantec. The gasifier project was supported with Federal government funding via the Australian Renewable Energy Agency (ARENA).
By the end of the decade, up to AUD$1 billion of water and wastewater infrastructure will have been rolled out across Logan City by the partnership, which has received numerous industry awards for its efforts including the pioneering biosolids gasification facility.
"The Logan Water Partnership is a highly successful alliance that has been running for 12 years now," Basterfield states.
"We've been running an integrated project development planning and project delivery commissioning programme for the whole of that period."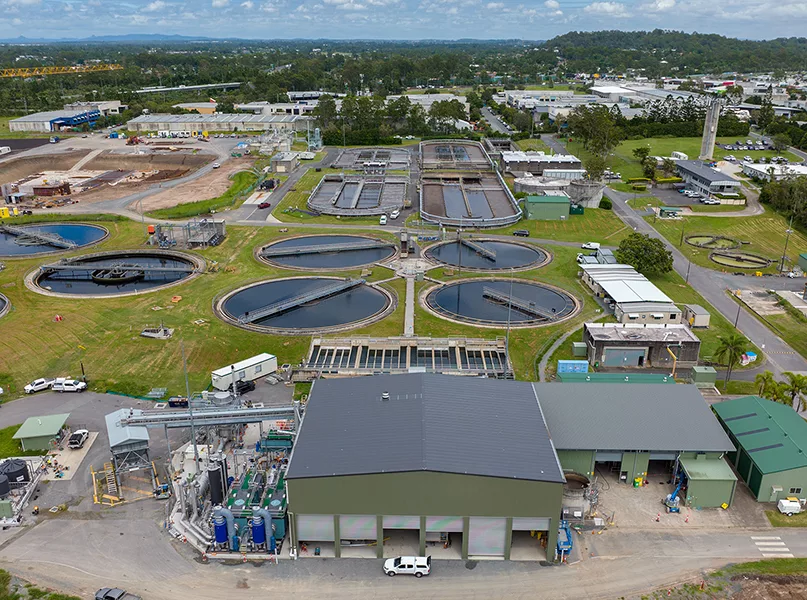 COLLABORATIVE WORKSPACE
Logan Water recently moved into its new centrally located office in Beenleigh, which has been purpose-built and designed to be a highly collaborative space to work alongside partners such as Downer, WSP Australia, and Stantec.
This seven-storey mixed-use development encourages high levels of collaboration to reflect and capitalise on how Logan Water has worked with its partners over the years. Each floor is equipped with a range of highly functional workspaces and takes advantage of technology, enabling both in person and remote working to support staff from all the partner organisations to enhance collaboration further and continue to deliver high-quality outcomes.
"It's a really established partnership, so if you were ever in the building and walked through it, you genuinely wouldn't be able to tell who a Logan Water employee was and who was a partner, because they are viewed as being part of the collective," Basterfield tells us.
"I wouldn't say it's unique, but it's a very strong model where we can access our major partners to assist us in delivering our objectives. In the last two and a half years, we've also reworked the delivery model for the whole business."
A key highlight of the facility is a new integrated services hub that gives Logan Water complete eyes-on-screen for all its assets across the city, combined with maintenance planning and customer interaction capabilities.
"It has proven to be an innovative and efficient addition. Certainly locally, there's very little that beats it in terms of functionality, but also how we've designed the building to be a workspace for people," reveals Basterfield.
One of the key things that Logan Water is working on is upgrading some of its systems to capitalise on the investment made in the integrated services hub.
"We've got a new asset management approach that we're currently configuring and putting in place, and again it's all based on the way we work and the way our processes need to operate in order to be carbon neutral."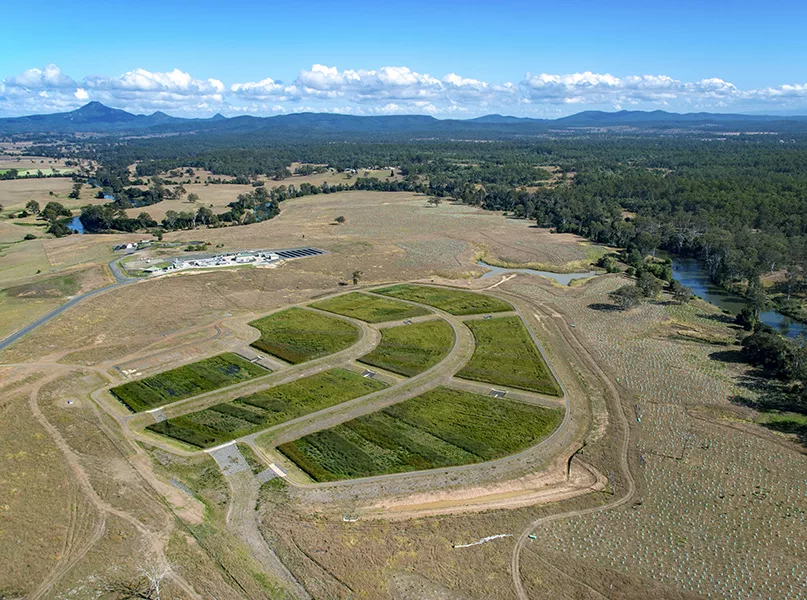 MBR TECHNOLOGY
With the ongoing collaborative support of its partners, Logan Water's next major wastewater treatment investment is the addition of a membrane bioreactor (MBR) facility that is currently under construction at the Loganholme WWTP.
Part of an estimated AUD$69 million upgrade to the plant's main treatment process, the MBR technology will increase its treatment capacity from 45 million litres per day to 67 million litres, equivalent to another 100,000 people which is an important step to accommodate future population growth.
It follows the completion of the Cedar Grove WWTP in 2020, a unique asset that was Queensland's first WWTP to benefit the environment through MBR technology and constructed wetlands to achieve record low nutrient levels.
"Cedar Grove was the last WWTP we built in the very west of the city, and it had some of the most demanding license standards in the country because of where it was in the drinking water catchment," Basterfield notes.
"We actually had nutrient offsets by reworking the river, as well as wetlands on the end of highly technical MBR treatment plants to be able to build in that part of the city and service its growth."
Logan Water also plans to build another WWTP to support the significant growth areas of the city, which will feature similar advanced technology and is due to be built in about five years' time.
These latest investments come as Logan Water rationalises its plants throughout the city, including the closure of older, inefficient WWTPs, to continue to deliver reliable, safe and sustainable water and wastewater services.