Offering world class technical expertise, Building Façade Group's consultancy services are expanding in Singapore and the wider region, as highlighted by Managing Director, Sani Chang.
THE FACE OF FAÇADE CONSULTANCY
The complexity and performance demands of modern buildings are continuing to increase.
To those responsible for executing the façades of these modern buildings, it's therefore crucial that designs are accurately validated and the intentions of the client and designers are communicated.
As one of the most important and expensive aspects of construction, the façade of a modern building can comprise up to as much as 20 percent of construction costs.
Façades are not only the manifestation of the architect's expectations for a building's external appearance, but also the primary environmental modifier. Indeed, with new, more onerous energy requirements being implemented, façade designs must form part of a holistic construction strategy.
Resolving these aesthetic, environmental, and structural issues to achieve the enclosure of habitable space, is the art of façade engineering.
It is the façade of a building that makes the internal space habitable, governed by minimum performance criteria and driven by the need to lower carbon emissions and better the energy efficiency of buildings.
The clear need for specialised engineering expertise on major construction projects is demonstrated by the field of façade consultancy services, in which a façade's various technological demands are managed and design requirements are met.
Offering world class technical expertise across Asia, Building Façade Group (BFG) is a specialist consulting practice with key areas of expertise in façade consultancy.
"We provide consultancy advice on how to design façades for buildings, how to procure and verify manufacturing for façade works, and conduct quality verification of façade works," begins Managing Director, Sani Chang.
"I have always been interested in how things are put together, and this translates into how a building is assembled with the multitude of parts, technologies, purposes and concerns. It's always great to begin with an idea and end with a beautiful building façade."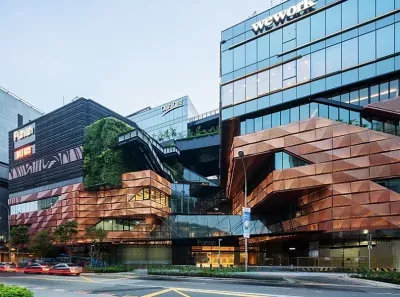 SERVICES FROM SINGAPORE
Chang, whose career spans some 35 years, has been involved with building design consultancy in Australia, New Zealand, and now in Southeast Asia.
In that time, his focus has shifted from overall building design to concentrating on the façade, and managing the whole process of achieving the best façade for each project.
BFG has likewise evolved as a company, from working in large corporate consultancy firms to a more personal, intimate practice.
"We are a small, privately owned company that is now into its 13th year in Singapore," outlines Chang.
"The link with our clients and partners is now much closer, and of course their resulting appreciation for a job well done is more satisfying."
Having Singapore as its base has been a real advantage for BFG, as somewhere that is renowned as a technological leader in the region.
Singapore has built a world-class, globally competitive technology industry, and continues to explore new frontiers in innovation such as cloud computing, artificial intelligence (AI), quantum computing, data analytics, and other technologies that span multiple sectors.
Design drivers and quality concerns are also dominant in Singapore's façade space, which together with the country's forward facing and hardworking DNA has allowed BFG to hone its skills.
"Another benefit of being located in Singapore is its expedient infrastructure (be it connectivity or financial), and the low tax rates. All of these factors nurtured the growth of BFG," Chang adds.
Attracting young Singaporeans to work in the sector, however, is increasingly difficult for the likes of BFG in the face of a challenging job market.
The company is nevertheless blessed with a group of skilled and experienced individuals who provide great collaboration on any façade engineering project.
"We need young blood as our senior staff have spent many years now in the façade industry, and they are ready to pass their knowledge on. Renewing and sustaining the business for another 12 years will be a real challenge.
"Working on great projects, with great people and adding value to all – this is the guiding principle in our service to clients. We help to build a better world using our skills and experience; it sounds cliché but there is no better or simpler way of explaining it," says Chang.
REGIONAL EXPANSION
BFG was involved in a number of projects in Singapore during the course of 2022.
These include Project Sprint, a life sciences and innovation campus with offices, labs, retail, and service apartments located at the Singapore Science Park (SSP), as well as the Esplanade Waterfront Theatre, and the Changi Airport expansion.
"We essentially help to dress up iconic buildings with a proper skin of glass, metal cladding, stone, pre-cast panels, mesh, and just about anything that works to enhance the building. In addition, we specify the performance of the façade system and materials to keep out water, haze, dust, heat and glare," Chang tells us.
"At the same time, we choose materials with durability, sustainability and easy maintenance in mind. We even have a diagnostics section that does due diligence inspections of existing buildings and condition checks of façades."
Outside of Singapore, BFG has managed to spread its façade consultancy services over the years by establishing offices in Jakarta (Indonesia), Shanghai (China), Kuala Lumpur (Malaysia), and Bangkok (Thailand).
This has allowed the company to respond to projects within the region and follow its clients, as they make the same foray into different countries.
"Some of our projects are located in exotic cities like Hyderabad, Bangalore, Kolkata, Mandalay, Kathmandu, Colombo, Port Moresby and Surabaya," Chang reveals.
Over the last 10 years, for example, BFG provided façade consultancy services for RMZ Ecoworld in Bangalore, a large-scale development project offering multifaceted commercial office spaces for rent.
This work-leisure mixed asset comprises 16 towers and is an architectural marvel that stands tall amidst the pantheon of leading IT parks in Bangalore, with a range of social experience facilities alongside its sustainable design.
Façade consultancy services were also provided for the Muangthai Capital skyscraper complex in Bangkok, and Wisma Sudirman in Jakarta, a mixed-use office, residential and retail development conveniently located near the Jakarta Mass Rapid Transit (MRT) that showcases the collaboration between two BFG offices.
The project consists of a retail podium and separate office and residential towers that are approximately 68 storeys high and 300 metres tall, designed to be a visually dramatic and towering landmark.
"It is exciting to work in the region, as different countries have different levels of maturity in their design consciousness and technology. We need to be there in order to pay proper attention to clients and their projects," affirms Chang.
"The experience of working in Singapore and the region for the last 30 years, where the built environment changes so much and where we are so lucky to be able to contribute, is quite humbling."
"The experience of working in Singapore and the region for the last 30 years, where the built environment changes so much and where we are so lucky to be able to contribute, is quite humbling"

Sani Chang, Managing Director, Building Façade Group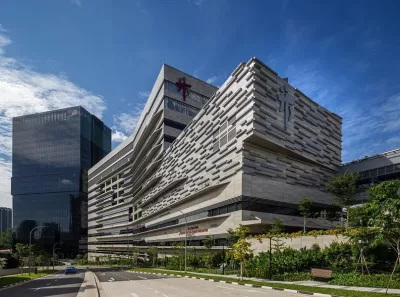 UNDERSTANDING CLIENTS
Through its involvement and growth in both Singapore and the wider region, BFG is able to share its knowledge with clients, implement new ways to design façades, and apply procurement methods that suit their requirements.
Although expansion throughout Asia is an attractive and exciting endeavour for BFG, Chang remains conscious of the limitations and wary of the pitfalls involved.
"As a privately owned company, we are limited by the availability of capital to expand, so even though it is appealing, we are still expanding slowly," he informs us.
BFG's clients throughout the region include personal building owners, developers, large architectural/engineering consultancies, general contractors, façade contractors, and building material suppliers.
This wide variety of clients has enabled the company to understand the nuances and drivers for each specific type of client, and allows their primary concerns to be understood and identified by BFG.
"Having this universal view of the industry makes BFG more sympathetic to each client. Advising a developer where to source large curved glass works, and apprising a glass fabricator on the regional market demand for special glass are different sides of the same coin," explains Chang.
"It is this wide ranging, holistic knowledge that BFG hopes will be its key differentiator. Ultimately, the goal is to reach the point where our experience is respected and we are known as honest and knowledgeable to all.
"In the early days, there were some great, supportive clients that awarded us projects even as a newbie, who we are eternally grateful for," he notes.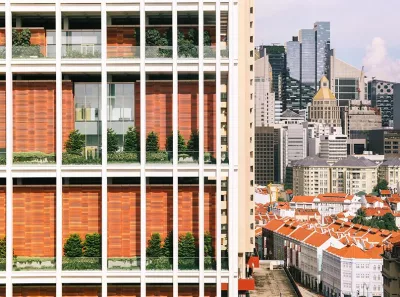 FAÇADES ON THE FRONT LINE
The COVID-19 pandemic was undoubtedly an existential juncture for BFG.
In Singapore especially, the slowdown in work, income, and lack of new projects was an immense concern, whilst managing fixed costs was incredibly challenging.
"Restructuring loans, keeping costs down, and extra capitalisation from our shareholders helped us through that period, as well as helpful subsidies from the government," reflects Chang.
"It was a testing time, and it brought attention to our involvement in healthcare projects. This was a sign that we are doing the right thing in building such facilities to face such an unpredictable phenomenon, and a sign for us to carry on."
The National Centre for Infectious Diseases (NCID), for example, was completed in 2018, just in time for the pandemic response.
NCID is a 330 bed, purpose built facility designed to strengthen Singapore's capabilities in infectious disease management and prevention, housing clinic services, public health, research, training and education, and community engagement under one overarching structure.
Benchmarked to international standards and best practices for treatment and safety, NCID better enhanced Singapore's ability to respond effectively to infectious outbreaks such as COVID-19.
"This facility was on the front line in the fight to control COVID-19 in Singapore," Chang says.
Prior to the pandemic, BFG had also just finished the new Sengkang Hospital, a large regional health hub opened in August 2018 providing quality and accessible care to support the health needs of residents in north-eastern Singapore, as well as the National University Centre for Oral Health, a national speciality centre that provides a comprehensive spectrum of dental care.
"We did not give up, and were luckily rewarded with another large regional health hub, Bedok Hospital, in 2022.
"Together with a new Health Sciences Authority building, the remodelling of Changi General Hospital, and the Elective Care Centre at Singapore General Hospital (SGH), we knew we made the right decision," states Chang.
FUTURE OF CONSULTANCY
The future of façade design consultancy is now laden with automation and digitalisation.
This is naturally a great help to BFG, with buildings and façades increasingly designed using AI and digitalisation cutting down a lot of burdensome, repetitive tasks.
However, Chang recognises that the very basis of any consultancy such as BFG – to sell consultancy time – should not be forgotten.
"Having experienced staff who are in demand because of their skills and knowledge remains the core essence of any consultancy," he emphasises.
"The future is about maintaining our experienced staff, who must continue to amass skills and knowledge to be shared with our clients. It is still a very personal thing, and the application of automation and digitalisation will help, but it will never be the cure-all."
BUILDING FAÇADE GROUP PARTNERS