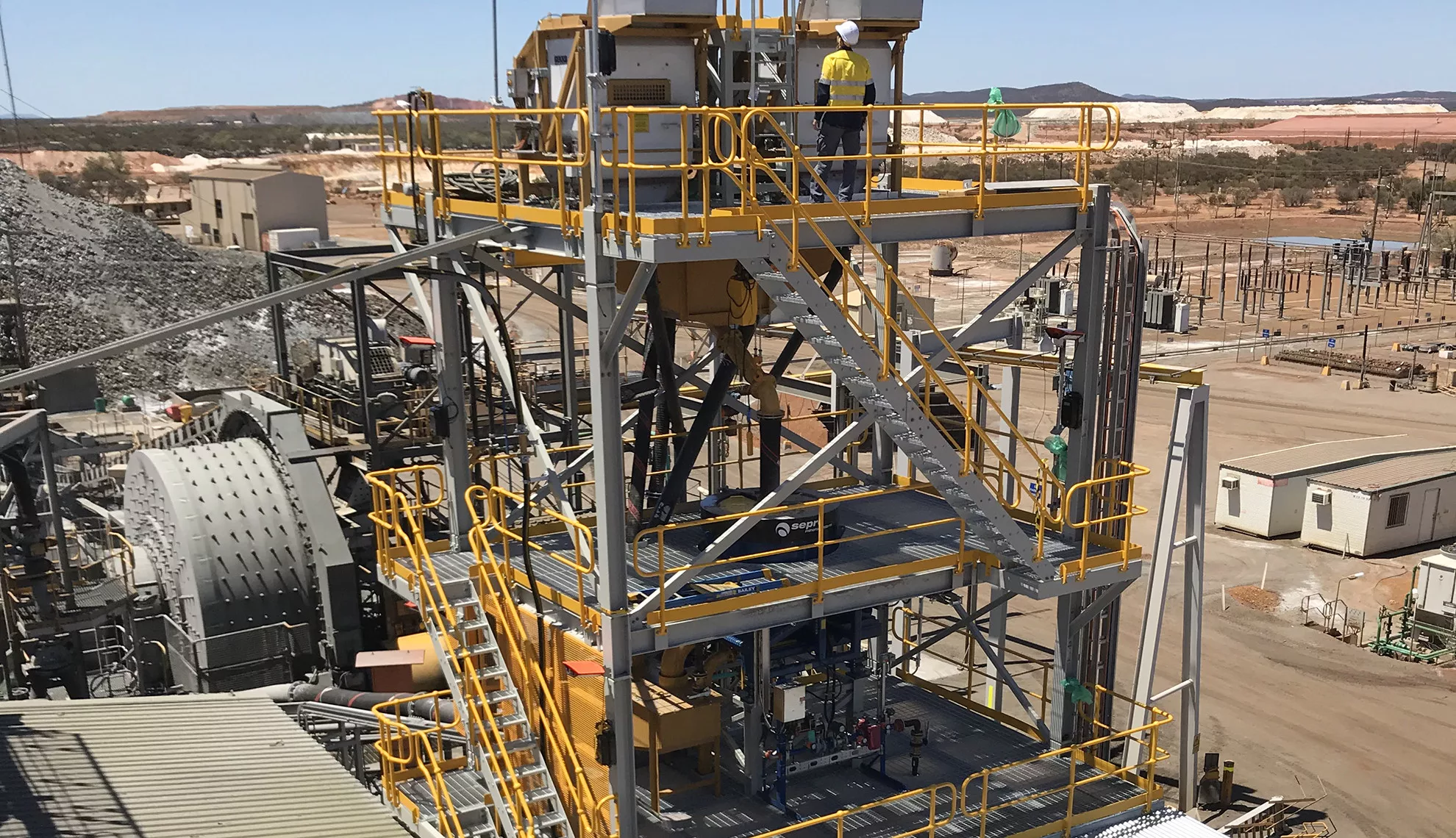 Modernising Mining
Bringing a fresh approach to the global mining table, Gekko Systems' innovative offerings and next-gen technologies are helping to uphold the industry's digital upheaval
Writer: Jonathan Dyble | Project Manager: Donovan Smith
The mining industry is one of the greatest beneficiaries of a rising digital tide.
New technologies are enabling industry stalwarts to reenergise their traditional operations and processes, propelling performance across the whole value chain from mine to market.
From the internet of things to cloud computing or data analytics, the abundant benefits that new technologies are providing are not lost on boardroom decision makers.
According to a recent study from Accenture, 92 percent of mining executives plan to increase their investment in technology, while research from KPMG shows that the highest level of investment is occurring in data and analytics tools (53 percent), autonomous vehicles (30 percent) and robotic process automation (29 percent).
"At the moment, mining operations are all trying to reduce costs and improve efficiency," explains Nigel Grigg, General Manager of Global Sales and Solutions at Gekko Systems. "This in mind, we believe that automation and the use of data in optimising processes will continue to accelerate."
Indeed, Gekko Systems is perfectly positioned to capitalise on the opportunities that this shift will bring.
Starting out as an Australian startup producing InLine Pressure Jigs (IPJ) for continuous gravity separation, designed to recover very high grades of valuable ore material in very small masses, the firm has gone from strength to strength during the course of the past two decades, now standing as a world leader in gold processing and low-energy mining solutions.
"The Founders, Sandy and Elizabeth Lewis-Gray, launched the company in Avoca, Victoria off the back of the IPJ that Sandy invented while working on alluvial gold mines," Grigg explains. "A number of units were tested at local sites, before the company attracted venture capital and expanded its operations in Ballarat."
From startup to standout
It was at this point that Grigg himself became aware of the company.
Having studied metallurgy at Ballarat University, he had kickstarted his career with a series of jobs at a small local Carbon-in-leach (CIL) gold processing plant – a company that eventually installed a gravity circuit and purchased an InLine Pressure Jig from Gekko Systems.
"My main interest was in gravity gold recovery, and due to the coarse gold that we had from our Ballarat project, we collaborated with Gekko," Grigg explains. "I thought that its solutions had so much potential that I asked to join the company.
"We were a start-up company, and so I was tasked with assisting in a wide range of work including the metallurgical test-work and commissioning before eventually looking after the sales team."
From these humble beginnings, the company began to diversify its offerings, developing its now flagship InLine Leach Reactor (ILR) that enables clients to achieve very high recovery rates from gold concentrates.
"The ILR is now utilised in over 100 gold plants around the world," Grigg reveals, also pointing to the firm's InLine Spinner Bowl, Mag-Screen, resin circuits and electro-winning systems as other milestone products.
"We quickly covered a complete range of equipment around the typical gold recovery circuit, which led us to building complete modular plants that were fully assembled and tested prior to being shipped. It proved to be an excellent option for clients that were operating in remote areas or on satellite deposits with lower mine lives. Any plant could simply be unassembled and transported to another location at the end of a deposit's life."
Further natural progressions led Gekko to both expanding into Canada, Peru, Chile, Argentina and Mexico, and into the underground processing space, with pre-concentration quickly becoming a popular addition to the firm's growing portfolio.
Grigg continues: "Pre-concentration made an excellent proposition for underground processing. It can upgrade the ore, making lower grade deposits economical for downstream processing and provide more metal units to be processed in the mill circuit.
"It's a concept that's of particular interest to deeper mines and those experiencing diminishing margins due to long haulage distance and costs."
A timeline of success
Unsurprisingly, these advances have been accompanied by a number of flagship projects over the years.
In 2005, for example, Gekko built the Ballarat Goldfields plant, utilising vertical shaft impactors (VSI) as an alternative to milling, to liberate the gold prior to treatment using a gravity only circuit.
"The flowsheet was very efficient in recovering the coarse Ballarat gold and by not installing a mill in the circuit we were able to produce using very low energy," Grigg explains. "This saved on capital and ultimately operating costs."
2008 also saw the delivery of a pre-concentration system at the Pirquitas mine in Argentina, Gekko's equipment helping to reject approximately 50 percent of material prior to the milling circuit. The company was able to almost double the grade of the ore as a result, improving cash flow and providing extra efficiency in the flotation process, enabling saleable concentrate grades to be produced.
Meanwhile, more recently the enterprise built a full plant for Aurelia at the Hera project in New South Wales in 2014, a facility designed to maximise free gold recovery, and also supplied TMAC Resources with a modular processing plant in 2016 at the remote Hope Bay project in Canada.
"There are a number of projects that have utilised Gekko's equipment and been very successful," Grigg affirms.
"We are very proud to assist clients, helping them to think outside the box and look at alternative flowsheets that can optimise recoveries, reduce energy and lower costs. It enables them to progress their projects when other traditional options may not be available."
Needless to say, Gekko has amassed an impressive portfolio, both in the way of products and services and completed projects. Yet, as the market continues to change rapidly, the company moves in tandem, innovating and investing to remain ahead of the curve.
Most recently, this approach has resulted in a close collaboration with independent Australian federal government agency CSIRO (The Commonwealth Scientific and Industrial Research Organisation) and the commercialisation of its online gold analyser (OLGA) technology.
"OLGA is an exciting solution that allows clients to measure in real time the total gold content within a slurry," Grigg states. "We believe that it will be incredibly important in the future, assisting mines in continuously measuring gold grades, and instantaneously optimising and automating parts of circuits that traditionally have been operated manually."
OLGA's inauguration has also been accompanied by Carbon Scout. Created in partnership with the Curtin University based in Perth, this allows CIL and carbon-in-pulp (CIP) operators to move carbon inventories automatically, resulting in less gold solution losses and ultimately better returns.
"We're hopeful that the combination of both technologies will ultimately lead to the complete automation of the CIP/CIL leaching circuits around the word," the GM adds.
Empowered by people and partners
An aggressive, agile R&D programme and startup mindset are not the sole pillars behind the company's ongoing success, however.
The firm's extensive network of suppliers and partners has proven equally crucial, described by Grigg himself as being immensely important.
"We use several global companies' equipment within our plant offerings and so it's important that the local subsidiary is able to support our clients after the equipment is installed," he reveals. "Due to the cyclical nature of the mining industry, we experience significant periods of high demand for labour resources, and it is only possible to achieve the equipment lead-times demanded by our customers with the strong support of suppliers and contractors."
Its employees also play a major role, something that's not lost on Gekko System's management team.
The company readily invests in a graduate programme, taking on three to five such employees each year who are provided with the opportunity to experience all aspects of the business, from working at mine sites to overseas locations to multiple offices.
"At a time of declining enrolment in mineral processing related university courses we believe it is important to support young people entering our industry," states Grigg.
These pro-bono attitudes translate into a wider corporate social responsibility programme, the firm donating a percentage of its yearly profit to numerous charities including schools and local medical and social organisations in Ballarat.
"Every Wednesday, we provide lunch for our staff at our head office while company presentations are provided," Grigg adds, "with surplus food being donated a local soup bus providing food for the homeless."
And such activities will continue to grow in tandem with the business as it continues to blossom, the MD outlining some exciting developments on the horizon.
He concludes, bullishly: "We're currently working with King Island Scheelite in delivering a modular style plant that can be easily shipped to the island and offers a fast construction schedule, and Gekko recently opened for business in Russia, appointing two people to look after an expanding installation base.
"In addition, we've recently been in discussions with several major companies about the potential of Carbon Scout and OLGA in particular and feel that they will provide a great step forward in future leaching plant design.
"To reiterate, we strongly believe that data and automation will become crucial in optimising operations, and we are very focused on introducing new products and technologies in this area."
VIEW Gekko Systems BROCHURE