Industry 4.0 has arrived in Australian manufacturing. We take a look at Bosch Australia Manufacturing Solutions (BAMS), and speak to General Manager Peter Hook about the company's track record of streamlining production for companies across the country.
A LEGACY OF ADVANCEMENT
135 years of quality service and expertise – this is the legacy of Bosch Australia Manufacturing Solutions (BAMS), subsidiary of the internationally spanning Bosch Group (Bosch).
Across the Australian manufacturing sector, BAMS is deservedly a well-known, reputed and trusted brand, supported by expertise in the industry, a track record of proven results, and led by intrinsic customer-centric values that echo throughout its operations.
"At BAMS, we apply a 'global/local' approach for our customers," introduces Peter Hook, General Manager of the division. "We draw on experience, knowledge, and resources of talent from across the globe for manufacturing solutions here in Australia. Simply put, this means our customers receive manufacturing solutions that are innovative while delivering world class results.
"At BAMS, we are not only optimising our own worldwide manufacturing base, but we are also actively seeking to work with partners to turn advanced manufacturing into reality. BAMS offers the ability to understand the unique environments of each individual manufacturer."
This sits at the core of the company's overall mission; providing unique and tailored solutions to the needs of each and every customer. This, alongside the support to maintain these solutions, has been integral in the building of the BAMS business.
By offering custom machine building, engineering and manufacturing support, and consulting services for Australian manufacturing operations, BAMS is helping to elevate Australian manufacturing. Based in Clayton (Victoria), BAMS has over 100 engineers and support staff servicing Bosch plants locally and around the world.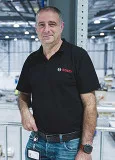 We draw on experience, knowledge, and resources of talent from across the globe for manufacturing solutions here in Australia"

Peter Hook, General Manager, Bosch Australia Manufacturing Solutions
WORKING WITH HEALTHCARE
BAMS has become one of the country's leading factory automation companies, working with a diverse array of blue-chip, mid-tier and start-up manufacturers to automate their manufacturing. In 2021, BAMS opened a new Manufacturing Automation Centre, a purpose-built facility to boost strategic collaboration and innovation.
At present, the company is working with multiple medical clients following on from the global impact of the COVID-19 pandemic. Automation technology was utilised to help combat the pandemic in the production of healthcare products and componentry.
"At the very beginning of COVID-19, BAMS was invited to be part of an industry consortium to build ventilators in Victoria," Hook explains. "Grey Innovation, an Australian-based technology commercialisation company, led an initiative supported by the Victorian Government and Advanced Manufacturing Growth Centre, to supply life-saving ventilators during the COVID-19 pandemic. At our Clayton headquarters, the BAMS team manufactured test equipment required to check the ventilators."
Since then, BAMS has been supporting clients with an increased focus on the diagnosis of COVID-19 and other pathogens. There has also been an additional focus on blood products which are related to vaccines and assisting clients with the associated support systems, delivery systems, and infrastructure required in the manufacturing process.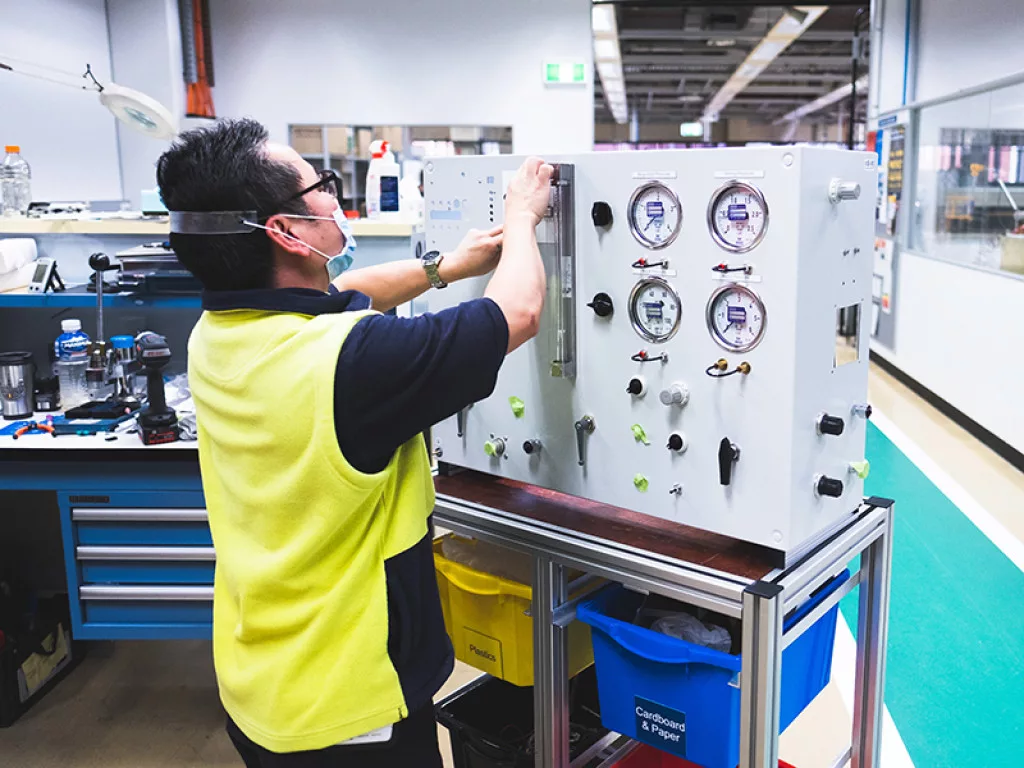 CHANGING THE FACE OF MANUFACTURING
The COVID-19 pandemic period saw BAMS collaborate with multiple companies in order to safeguard Australia. One such project was that of BAMS' work alongside digital diagnostic and healthcare product producer Ellume, a company that enlisted BAMS to automate manufacturing for high-performance COVID-19 tests.
Brisbane-based Ellume developed a suite of COVID-19 tests for use by laboratories, doctors and consumers that produced results in less than 15 minutes. The Ellume technology was developed to address the unprecedented global demand for rapid, accurate diagnostics during the period and into the present. The first batch of the product was shipped to the US, and Ellume's manufacturing facility in Richlands (Brisbane) swiftly scaled-up its production capacity to meet necessity and demand.
"BAMS introduced technology to automate the high-volume production of the COVID-19 tests," Hook says. "With extensive experience in precision assembly and production automation, BAMS worked closely with the client's engineering team to build and install state-of-the-art automated assembly lines to increase production capacity. The assembly lines included end of line functional testing to ensure reliable product quality. Overall, BAMS provided 18 fully automated assembly lines, whilst also manufacturing an additional nine lines to assist with assembly for another part of the product associated with the test."
Around the same time, BAMS announced a contract for the production automation of manufactured hardwood.
Based in Melbourne and Adelaide, 3RT developed a world-first technology in collaboration with Flinders University, that converts wood waste into timber that looks and performs like 100-year-old tropical hardwood, called Designer Hardwood™. A leader in the design and development of special purpose machinery, BAMS delivered fully automated production cells to enable the production of Designer Hardwood™ around the world.
"Beyond healthcare, we also secured a global 3RT contract to transform wood waste into sustainable hardwood, where we automated the manufacturing of such hardwood," Hook continues.
"The cooperation provided us with great opportunities to leverage BAMS' know-how in manufacturing, sensor technology, and software around the Internet of Things (IoT) for the wood manufacturing industry," Hook explains. "With a project value of over AUD$1 billion, BAMS' expertise and automation supported the entire value stream of connected manufacturing, and this partnership ensured that multiple production cells of Designer Hardwood™ were underway to satisfy the increasing demand across the globe."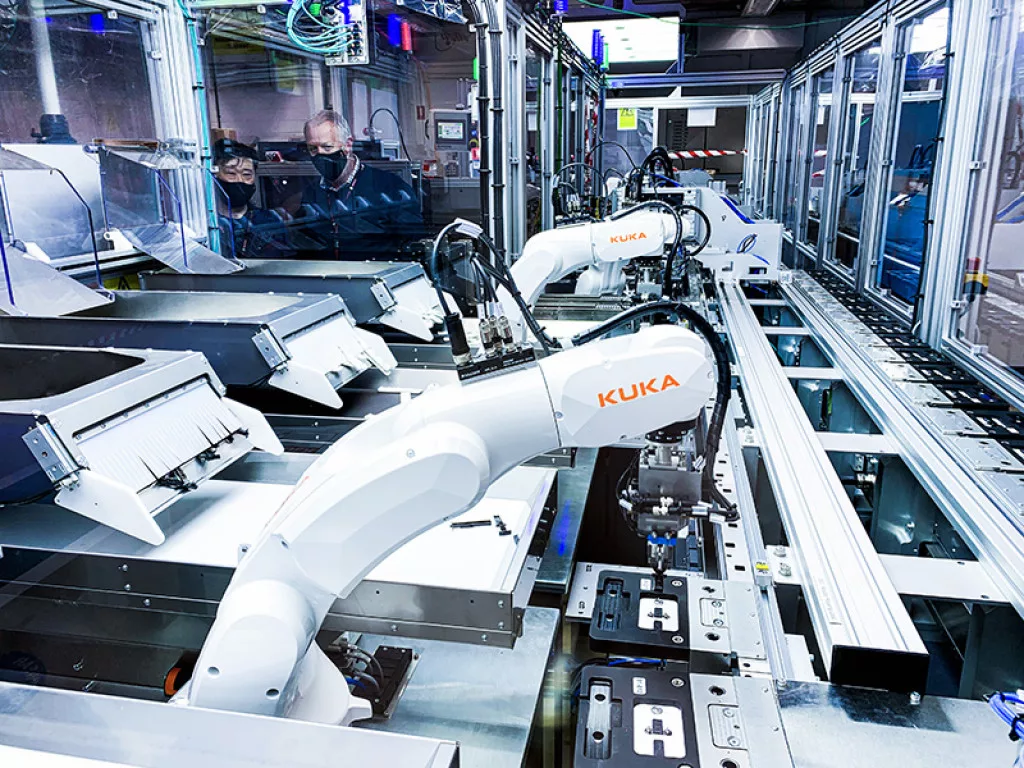 AUTOMATING THE FUTURE
Bosch is a global leader in IoT technology. With a company-wide commitment to implement IoT technology into every product, Bosch aims to make everyday life easier in mobility, at home, and in manufacturing. For BAMS, this means engaging with businesses looking to expand their digital manufacturing.
"We've recently put together a Consulting Services team whose main priority is to provide services for lean assessment, design for manufacture and assembly, value stream mapping and lean line design. They will also provide Industry 4.0 capability assessments and collaboration on digital transformation," Hook explains.
"BAMS has also recently been supporting clients in simulation of plant processes and layouts to assist in design and validation. This function allows us to virtually commission facilities, significantly reducing the time to engineer a system whilst also yielding a digital twin that can be used for ongoing plant support."
Through the incorporation of BAMS' automation solutions, companies across Australia and beyond have been able to make use of BAMS' industry expertise, to better their production capabilities.
With advanced manufacturing at the fore of its operations, BAMS continues to be a proven leader of change in the sphere of Australian manufacturing, moving the country towards an efficient and automated future.