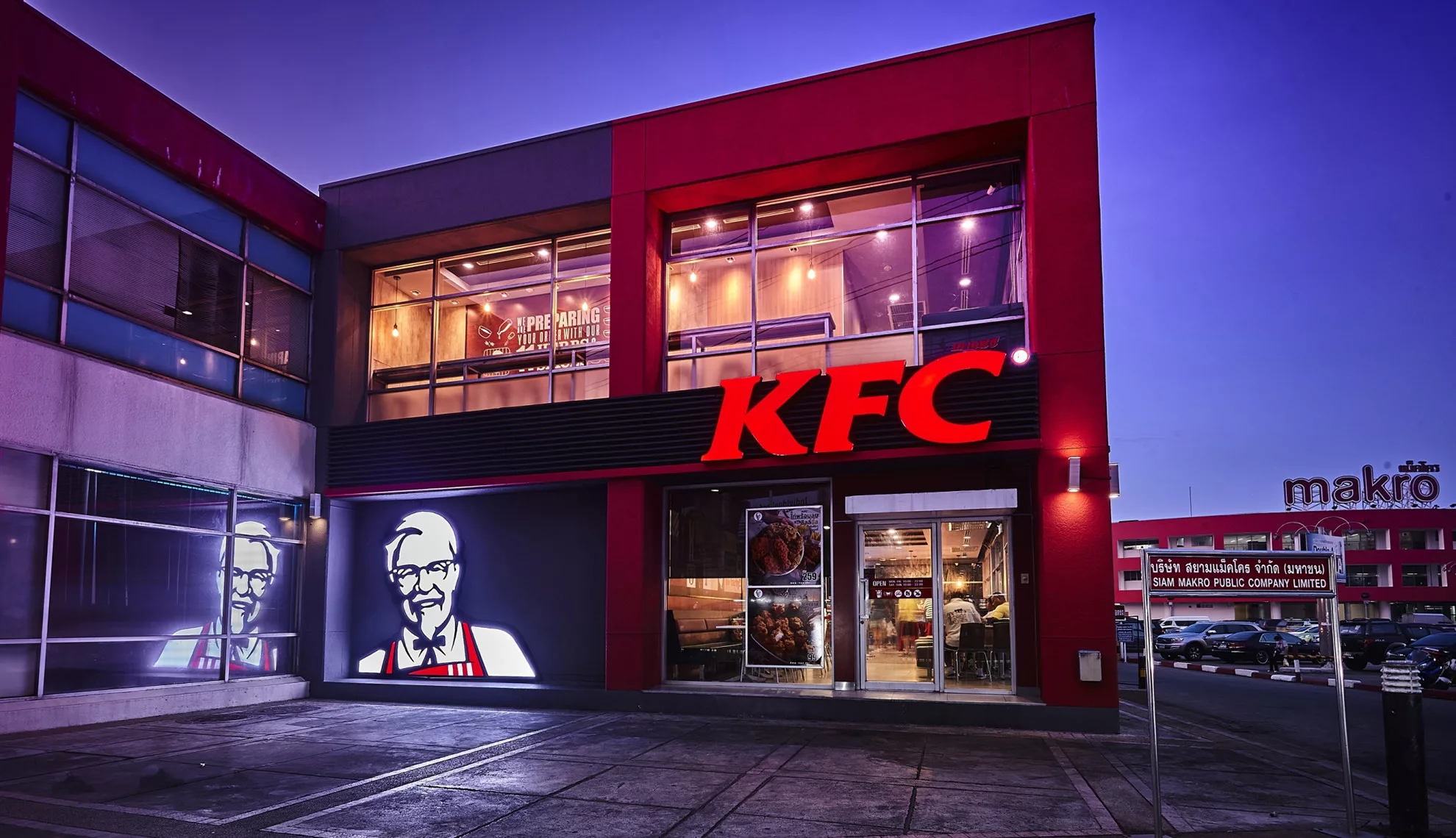 Making a Real Difference 
Restaurants Development Co. Thailand is making huge strides with the KFC brand, and is on course to reach 200 stores by the end of 2019
Writer: Tom Wadlow  |  Project Manager: Lewis Bush

Thailand is enjoying something of a love affair with chicken.
By 2025 average per capita consumption is set to reach 16.2 kilograms, double the amount Thais were eating in 2011.
And it is easy to see why. A healthy, affordable and extremely versatile protein source, chicken is rivalling pork in terms of the nation's most popular meat.
It is therefore little surprise that KFC commands the number one spot in Thailand's quick service restaurant (QSR) charts. Occupying more than 700 stores up and down the Southeast Asian country, this footprint is more than two and half times that of nearest competitor McDonald's and shows no sign of slowing up.
For Andrew Norton, CEO of Restaurants Development Co.. Thailand (RD), franchise operator of 178 KFC restaurants, this rollercoaster speed of the industry makes it an enticing, addictive arena to work in.
"I love businesses that everyone can relate to, fast-moving, consumer-facing and highly engaging," he says. "My background was in professional services working as an accountant for PricewaterhouseCoopers. It was a good training ground, but in 2001 I took my first move out of that profession in a finance role for Disney Corporation – it was a game changer.
"I instantly loved that the product was relatable, so on a personal level, as a consumer, I could engage in what I was doing and what the company was selling.
"I decided that I wanted to continue working in a retail and FMCG style environment, and QSR is the perfect blend of retail, FMCG product innovation and multi-site manufacturing in a very fast-moving business. The pace of work is relentless and exciting, and the rate at which we can innovate and respond to consumers is far faster than in FMCG."
People business

Another draw for Norton is that the nature of the QSR industry means it is unequivocally a people-centred enterprise.
Indeed, for RD's CEO, meeting the company's growth ambitions will come from its commitment to having the right mix of capital, capability and culture.
The second of these is of particular importance as the business expands rapidly.
"On capability, we have made significant investments in our restaurant support team to make sure we have the best teams to open successful new restaurants fast," Norton says. "Functions like market research, site acquisition, design and construction are critical, of course, but growing this fast requires support from every function in the business. We have made sure we have got great people as stewards of our growth.
"Capability is also required in our restaurants. A restaurant is only successful with a well-trained team and a fantastic restaurant general manager.
"We have invested very heavily in developing and promoting our in-restaurant teams into leadership positions – shift supervisors are becoming assistant managers, assistant managers are becoming managers, and managers are becoming area coaches. The rate of promotions and development for our people is rapid and lines up with our unprecedented growth."
This is encapsulated in RD's ethos of "Everyone makes a Real Difference".
From free food and small gifts to corporate thank you cards and even a few kind words, Norton and the company's leadership take time out to celebrate the contributions of all their employees.
"This is something I am hugely passionate about," Norton says. "We say that RD stands for Real Difference, and myself and my leadership team absolutely believe that everyone in RD contributes to our success, to a great customer experience and to a great place to work for our team members.
"Everyone has a critical role to play in making sure we can serve our customers and grow our business. Every role and every team member make our success and should share in our success."
That KFC is enjoying reduced turnover in its restaurants and almost no turnover in support functions is testament to this mantra, no mean feat given the competitive employment market for retail and restaurant professionals.
Rapid rise

And it is the strength of RD's team which has enabled it to enjoy a packed period of growth since its inception.
The company was formed in late 2016 by a consortium of Thai, Japanese and Southeast Asian investors who won the bidding process to acquire 128 KFC restaurants in Thailand. The restaurants were being sold by Yum! Brands, as part of its global strategy to have outlets owned and operated by franchisees.
In less than three months the firm successfully executed what Norton describes as the most exciting, challenging and rewarding chapter of his career.
He explains: "In the time after winning the bid we had to quickly set up a restaurant support team responsible for the functions that work with operations to run the restaurants – functions like training, payroll, finance, marketing, supply chain, construction, real estate management and so on.
"I started by putting together an awesome leadership team to head up the key functions. That team and I have been together since day one and we have built this business together. We work incredibly well as a team with a mix of skills and styles that complement and balance each other, and everyone has the same commitment and passion to RD and to KFC.
"We quickly built a strong corporate structure to support our restaurants and almost everyone who joined us in those first few months over two and a half years ago are still with us today."
The initial group of 128 stores were concentrated in Bangkok and southern Thailand, the company now expanding into the populous north eastern part of Thailand and continuing to strengthen its core geographic presence at the same time.
"We have grown significantly since that first day," Norton continues. "We have added over 1,000 employees and more than tripled our restaurant support team headcount. We now have nearly 4,000 people working in RD and that is growing literally every day as we continue to rapidly expand."
Gaining momentum

Such rapid expansion is evidenced in last year's figures.
Through 2018 RD opened 29 new KFC restaurants, far more than other QSR brand in Thailand and in line with the company's ambition to reach 200 outlets by the end of this year.
Quality is equally as important as quantity, however, and Norton outlines the example of an ongoing store remodelling programme as a key priority running alongside raw expansion.
He adds: "By the end of 2019 virtually every restaurant in our portfolio will have the latest customer experience which includes a faster service system, a modern and distinctive restaurant design and, something our customers love, a free refill beverage station giving them unlimited refills with their meal purchase."
The success of this upgrade and growth phase will be a testament of RD's network of suppliers, companies which the CEO is quick to commend.
"We have a fantastic relationship with our suppliers," Norton continues. "Most of them have been working in partnership with us since day one.
"As we are a rapid growth business, we offer suppliers the chance to grow with us and many suppliers are reporting rapid volume increases as a result of our success. We believe that any relationship has to be a win-win opportunity for both parties, and we are happy to see our suppliers share in our success."
An example of this joint journey concept is with logistics provider Linfox, an important cog in the RD operation ensuring supplies reach their stores in a timely manner.
Hungry for more

A reliable network of partners coupled with a loyal, motivated workforce will ensure RD grows even more strongly than it did in 2018, Norton stating plans to open 30 more restaurants and for a second year in a row increase turnover and profits by double digit rates.
"We will continue to be one of the fastest growing restaurant companies in Thailand and a leading innovator and operator of the brand in the region," he adds.
Indeed, the unequivocal appraisal of the QSR scene that Norton gave at the beginning is just one of several factors keeping him motivated to work towards these goals.
He concludes: "I believe in the value of what we do. We provide people with great tasting, freshly prepared meals in a way that is convenient and affordable to as many people as possible. By doing so we bring people together to enjoy meals all around Thailand.
"Our business is also a people business. More so than most. Our people make our products, deliver our service and support our restaurants. I am extremely motivated every day to have a strong and fast-growing business to create career opportunities for all. In doing so, our employees build great careers and reach their true potential.
"I think, above all else, the story of RD's success and rapid growth is what happens when you bring together a team of talented committed individuals with a shared passion and a shared goal to make an awesome brand even stronger. When we do this right all of our stakeholders win – our employees, our suppliers, our customers and our investors."
VIEW Restaurants Development Co. BROCHURE