LOCAL LINKS
Although Kestrel itself forms an indispensable link in global supply chains through the output of its quality coal, it is the company's own local procurement network that reinforces its core value of agility by ensuring that it has the solid links in place nearby that allow it to move quickly as and when the need arises.
For the benefit of the wider community, Kestrel also fosters mutually beneficial relationships by arranging events such as two-day meet and greets, that provide a fruitful opportunity for local vendors to interact with Traditional Owners of the land and vice versa. Not only does this create an awareness of each other's capabilities, but it also provides an opportunity for the exploration of future JVs and labour placement services that are a positive contribution to the overall development of the community.
As part of this core local fabric, the company highlights several key partnerships and supply sources that are based in and around Emerald. Cavill credits local project delivery specialist AB Power as providing "essential monitoring and electrical services to the mine, infrastructure, and processing areas." Meanwhile, Pirtek Emerald is instrumental in the supply of hoses and fittings, while Lunar Mining is a reliable source for secondary support services (outbye), and the installation of ventilation control infrastructure. In addition, local transport provider, Emerald Coaches, offers an invaluable link for members of the community who work at the mine with a free transport service that ensures the Kestrel team can get home safely.
When the mine came under new ownership in 2018, it was local provider – Peter Taylor's Sewing Centre Emerald – who brought the company's vision of striking cobalt blue shirts to life. These distinctive uniforms are the first of their kind and a unique marker of the Kestrel identity.
On a wider scale, Kestrel's approach to these relationships in acquiring goods or services is pivotal to shaping the company's future direction.
"Procurement is an enabler for the business, so our key priorities are always focused on supporting the team to deliver on the business plan whilst ensuring that we reflect our company values in our interactions with contracting partners," outlines Cavill.
HEADING WEST
Looking ahead, Kestrel is set to widen its scope by pursuing plans for expansion. By so doing, the company will capitalise on the potential to increase the previously approved LOM beyond 2033 with reserves to last until 2046.
Returning to Hansen, this development will be a major focus in the upcoming years. "We will be using our existing infrastructure and exhausting the opportunities that we have to extend through mining areas," he says. "We are looking to make the most of what we have."
Last year, the company completed various studies across its existing mining tenements, including currently approved Mining Leases (MLs), and Mineral Development Licence (MDL) 182. Consequently, these studies identified a portion of the latter as an area that is rich with expansion potential. The proposed new venture has been given the project name 'Kestrel West'.
Kestrel West's main purpose is not to enhance production rates but rather to extend the current LOM. As it stands, the new site's progress is attendant on the results of the Queensland and Commonwealth environmental approval process, which is due to commence this year based on the findings of the initial studies. These investigations span a host of factors including terrestrial ecology and biodiversity, soils and land suitability, and detailed mine planning and mine engineering design works including resource definition, to name just a few.
This latest undertaking showcases Kestrel's steadfast commitment to balancing growth with sustainability, and upholding its status as a responsible land steward.
NEW GENERATION BUSINESS
At the backbone of Kestrel's wider growth strategy lies significant investment that will see the company keep pace with mining innovation, demonstrating dexterity by moving with the rapid advancement of ever-changing technologies and industry ideologies.
This investment strikes the balance between the cutting-edge innovations that define Kestrel as a new generation business, while still firmly preserving the all-important people power that is the bedrock of its distinctive company culture.
"We will invest in automation, upgrade our equipment, and we will continue to invest in our people to ensure they have the opportunity for continuous development," shares Hansen.
Within this, Kestrel remains astute, maintaining a birds-eye view of the market and poised to grasp new opportunities that marry with its visionary future, but also present ways to strengthen operational efficiency, shore up on safety, or enhance productivity.
"There is so much opportunity for organic growth in Kestrel, but we are also on the lookout for strategic acquisitions targeting metallurgical coal," he continues. "We are interested in new opportunities that have a synergy with our existing business, either in products, or in lowering our costs, and tying this all in with our commitment to a sustainable future for the resources industry."
Continuously evolving to become a mining company fit for the future, this idea of growth for Kestrel is multi-faceted and wide-reaching. It encompasses not just the potential physical expansion of the mine itself and the pursuit of inorganic growth, but also touches on other verticals that are complementary to the environmentally conscious vision of mining that Kestrel champions – from looking for renewable energy partners to working with a supplier to recycle gumboots for new PPE.
"Our goal is to be a model of sustainable, responsible mining"

Shane Hansen, CEO, Kestrel Coal Resources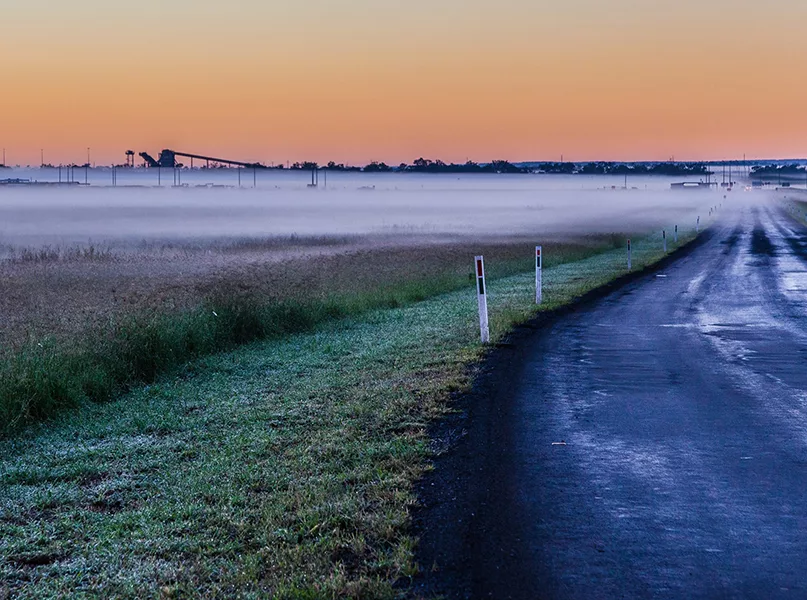 A PROUD LEGACY
With this laudable gambit at the fore, Kestrel will continue to seize the opportunities presented by the shining future of Australian mining while remaining grounded in its commitments as a value-driven partner to the local community, safeguarding its development for future generations.
"We will look to grow and evolve as a business by working with our long-term contracting partners and the local community to ensure that we have mutually beneficial agreements in place that support the growth of our business and the regions we work in," expresses Cavill.
"We have proudly been part of the Central Highlands community for over 30 years, and we envision being an integral part of it for many more," Hansen echoes.
As with any industry, the future remains uncertain, and as the last few years have proven, unpredictability is a predictable constant in business. Varying contingent external factors may threaten Kestrel's forecast, however, for Hansen, the outlook is optimistically bright.
"We understand that our future, like that of any company, is also tied to broader policy decisions," he acknowledges. "If we have the support of the government, and they understand the important role that companies like ours play in the economy and within global supply chains, I believe Kestrel will remain a significant player in the industry for a long time."
The current global demand for coal – which shows little sign of waning – is also cause for further optimism, as it continues to fulfil a vital need in establishing the steel foundations of a sustainable future.
"Our vision is clear and our commitment to producing high-quality steelmaking coal remains as steadfast as ever," concludes Hansen. "There is a significant global demand for metallurgical coal, and we are fully committed to meeting the needs of our customers, today, and for many decades to come."
With community under its wing and a Legacy Worth Leaving in its wake, the company perpetuates its future as a mainstay of the Queensland landscape, riding the tailwinds just like the agile Nankeen. For Kestrel, the sky's the limit.
KESTREL COAL RESOURCES PARTNERS