SAFEGUARDING SUPPLY
As an advocate of proactive environmental management, water conservation is a vital element within Kestrel's ESG Strategy. The company's efforts in water stewardship reflect its concern for maintaining a clean, and reliable water supply within the Fitzroy River Basin where it operates.
To conserve and protect this precious and scarce resource while sharing it with other users in the catchment, Kestrel combines transparent water governance with an effective management system.
The mine's raw water supply is directed from a river water source on the Nogoa-McKenzie system. As a variable supply, each year, the company prepares a dedicated wet season plan to ensure that it is ready to respond by both containing water on-site and actively pursuing methods to reduce water demands. Major strides were made in this regard in 2016 with the launch of a water reduction programme that saw Kestrel's raw water demand plummet by a staggering 65 percent.
The trend of declining raw water demand continues today. In 2022, Kestrel recorded a raw water usage of 657 megalitres (ML) at a rate of 116 litres (l) per tonne of coal product. This represents a reduction of 220ML in raw water usage compared to 2021 (877ML).
Thanks to this drop in raw water demand, in addition to supplementary bores and dewatering usages, Kestrel's overall total site water in 2022 was reduced to 3,628ML. The company did not rely on water from supplementary bores throughout this period and supplemented its raw water usage with output from its reverse osmosis (RO) plants.
The 2016 plan also effectively integrated water reuse across the mine site. Currently, all water on-site is recycled through a dam system for reuse, with the exception of sewage and water for human consumption.
Across its operations, Kestrel maintains a comprehensive groundwater monitoring network to oversee water levels and quality. This extends to site areas (including tailings), the mine's periphery, neighbouring wells and regional locations further afield.
Set to continue this promising trajectory in 2023, Kestrel proposes various improvements in water stewardship, including assessing the recent optimisation of the RO plants against new or additional infrastructure, pursuing options for further raw water usage reduction from the Selma Weir, and continuing to optimise the performance of its dry tailings' disposal process.
"We are fully committed to meeting the needs of our customers, today, and for many decades to come"

Shane Hansen, CEO, Kestrel Coal Resources
LEGACY LAND MANAGEMENT
From water to the land, Kestrel takes its role as an environmental steward equally seriously, particularly when considering that 96 percent of the 17,000ha that the site occupies consists of active cattle farms.
The land is maintained through an existing lease between Kestrel and the Australian Agricultural Company (AACo), which operates as a fully separate productive cattle property.
As such, there are several factors contributing to the notion of full land productivity which Kestrel endeavours to uphold. These include the agricultural productivity of cattle farming, the values intertwined with the cultural heritage of its Traditional Owners, but also the biodiversity that must be maintained.
Indeed, the biodiversity that thrives on its surface makes the Kestrel site an area of great environmental importance. This includes high-value areas such as riparian habitats, waterways, remnant habitation, and endangered species like the native Queensland King Bluegrass community (Dichanthium queenslandicum) that require various conservation efforts.
In addition, the area attracts an abundance of insects and birdlife, including, of course, the company's symbolic Nankeen kestrel.
In 2023, Kestrel will continue its involvement in several restoration projects with funding towards improving the bluegrass diversity of Central Queensland through the rehabilitation of areas that were previously assigned to agricultural activity.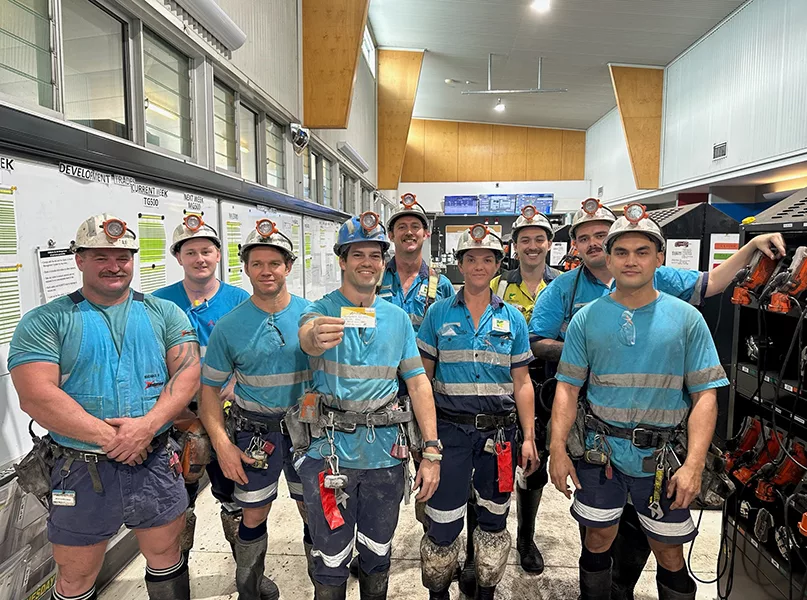 REALISING REHABILITATION
Across the Kestrel landscape, the progressive rehabilitation of disturbed land to its full productivity is a key objective. In 2015, the company marked a proud moment when it became the first Queensland coal mine to achieve certified rehabilitation status for 571ha.
As Kestrel's Sustainability Manager, Colleen Fish maintains this area of certification as a key focus going forwards.
"We are currently seeking additional certification to add to our 571ha of certified rehabilitation," she tells us.
This falls into the company's Progressive Rehabilitation and Closure Plan (PRCP), which has been granted an extension by the Department of Environment and Science (DES). Kestrel will formally commence the certification of new areas that are ready to be certified as fully rehabilitated pending the PRCP's submission to the DES later this year.
All land disturbance at Kestrel is undertaken through a spatial and conditioned disturbance permit process that takes into account major factors including water, soils, ecology and heritage. Progressive rehabilitation is then implemented in alignment with the cycle of land as and when it becomes available. Depending on rainfall levels, Kestrel aims to manage all temporary land disturbances back to a rehabilitated state within 15 to 30 months.
As each mine site ceases operation and enters into closure, these areas are given new life through appropriate land use. The same also applies to legacy landforms. By doing so, Kestrel perpetuates post-mining regeneration that creates value, whether for the environment, the economy, or the local way of life.