Papua New Guinea is ready for take-off, as the National Airports Corporation (NAC) continues to improve airport infrastructure across the country. We speak to Managing Director and CEO, Rex Kiponge.
SMARTER AIRPORT SOLUTIONS
The aviation industry plays a vital role in the socio-economic development of Papua New Guinea (PNG).
At the forefront of airport operations here is the National Airports Corporation (NAC), a state-owned enterprise responsible for managing PNG's national airports, delivering smart airport solutions and economic opportunities for citizens.
As alternative forms of transport are often unavailable in PNG, coupled with the southwestern Pacific country's complex topography and terrain, air transport continues to be the only possible means of connecting remote communities.
"The vast majority of the population resides in the rural areas of the country, which is inaccessible due to the jungle and mountainous terrain," explains Rex Kiponge, Managing Director and CEO of NAC.
"PNG's domestic aviation industry therefore plays a significant role in the nation's transport sector, facilitating air transportation and providing an enabling environment for socio-economic development."
Despite this, the potential for growth and expansion in PNG's otherwise largely untapped and underutilised aviation industry remains vast, primarily because investments are highly capital-intensive.
As part of the global aviation community, however, PNG and NAC strive to keep up with evolving passenger demands and expectations, emerging industry trends and innovations.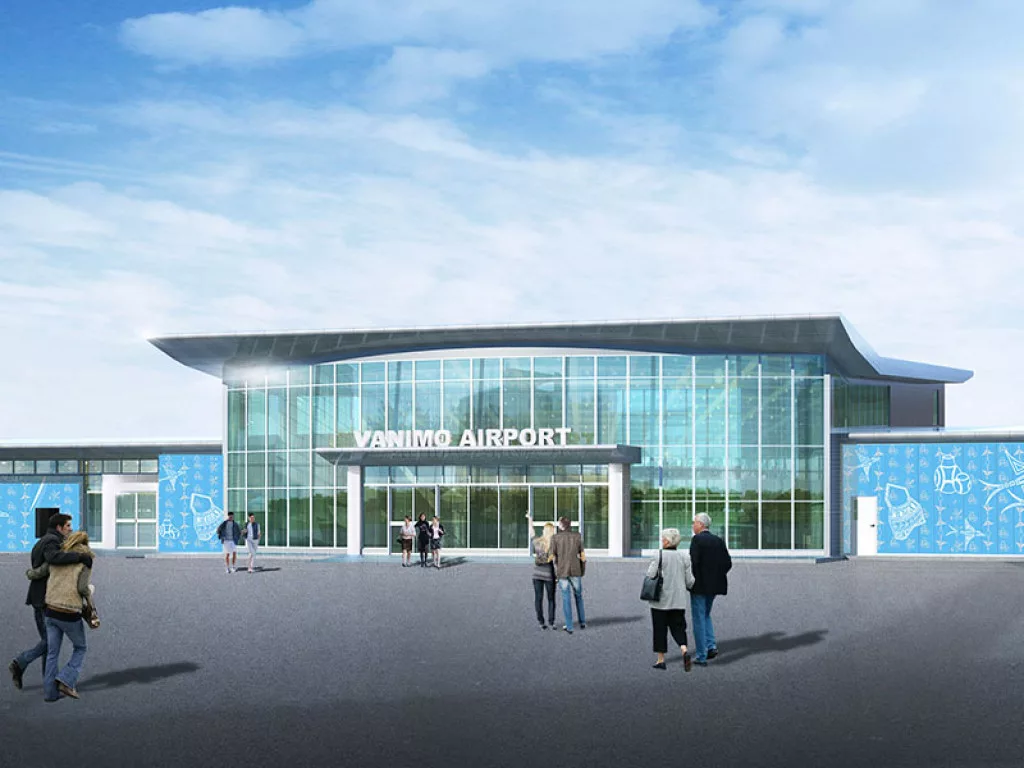 CADIP INVESTMENT
Established at the turn of the century with formal operations commencing in 2010, NAC owns and operates a total of 22 national airports in PNG comprised of 13 jet airports and nine non-jet airports, thus playing an integral role for both domestic and international travel.
The largest and busiest of these, Port Moresby International Airport, acts as the gateway to PNG and is the main hub for Air Niugini, the country's national airline.
"Port Moresby International Airport remains an important pivot, connecting PNG to the international community and vice versa," says Kiponge.
The vision of NAC is to operate a well-integrated network of sustainable airports in PNG, delivering operational excellence and creating value to meet the expectations of customers and stakeholders in doing so.
Indeed, by 2030, NAC envisages modern state-of-the-art airports and a highly trained, knowledgeable workforce that will ensure the highest standards of aviation safety, security, and the seamless movement of aircraft and passengers.
This vision has been the driving force behind the Civil Aviation Development Investment Programme (CADIP), initiated by the PNG government and implemented by NAC to revitalise and maintain the country's civil aviation network, including the 22 national airports.
The purpose of CADIP is to ensure that airports and air navigational infrastructure is compliant with international civil aviation safety and security standards, as well as establish a sustainable civil aviation network that supports the growth and future development of PNG.
With support from the Asian Development Bank (ADB), CADIP is the largest aviation investment ever undertaken by the PNG government at a cost of K1.67 billion (USD 565 million), funded by an ADB Multi-Tranche Financing Facility (MFF) loan of K1.4 billion (USD 480 million) and government counterpart funding of K221 million (USD 85 million).
"CADIP is invigorating the nation's aviation infrastructure to enable operational safety and security in compliance with International Civil Aviation Organisation (ICAO) standards and regulations, as administered by the Civil Aviation Safety Authority (CASA) PNG," Kipongeoutlines.
CADIP ties into the development and implementation of NAC's comprehensive corporate strategy, as the company aims to operate a a well-integrated network of sustainable airports by 2030.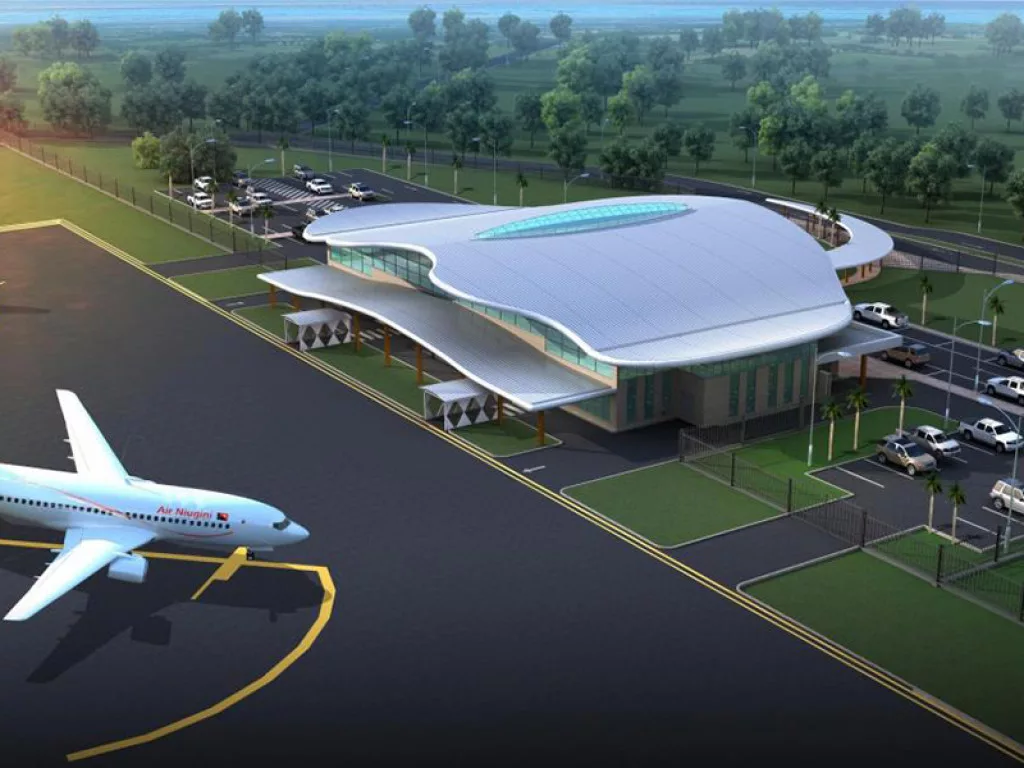 TRANSFORMING INFRASTRUCTURE
Prior to the commencement of CADIP, NAC had ageing airport infrastructure and facilities. Most of the airports did not have proper security fencing around the perimeters, and jet aircraft were unable to land since many of the runways could not handle them.
Airport terminals were also smaller in most cases and in urgent need of renovation, however the positive impacts of CADIP are now there for all to see.
"Through CADIP-1, NAC has been able to transform airport infrastructure across PNG from its ageing and deteriorated state of 12 years ago to what we are seeing today," shares Kiponge.
"We have improved on our airport certification, and to date, I'm pleased to say that 17 out of PNG's 22 national airports are certified, two are undergoing renewals, and three are awaiting initial entry audits from CASA PNG."
Phase one, known as CADIP-1, was officially concluded in November 2021, with NAC having been able to replace most of its ageing airport infrastructure with modern, international-standard facilities.
It has left a lasting impression on the domestic airport industry, and has enabled NAC to successfully satisfy both PNG and ICAO standards and safety compliance.
"I commend the PNG government for its foresight and massive investment in NAC and the aviation industry through CADIP. Without this investment, NAC would not have achieved the developments that we are now seeing at our national airports," Kiponge lauds.
"As the Managing Director and CEO, I am privileged to have witnessed the closure of this high-impact programme, and I feel it is important and fitting for me to acknowledge and give credit to all my predecessors whose steadfast leadership and carriage of CADIP over the years has ensured its positive progress and success."
"I would like to express my sincere gratitude to the ADB PNG Country Director, David Hill, and the ADB PNG Resident Mission Team for their guidance and advice throughout the lifespan of CADIP-1.
"My appreciation also extends to all of our contractors, whose tremendous support has enabled the successful closure of CADIP-1," he adds.
Throughout the implementation of CADIP-1, engineers and staff at the CADIP Project Implementation Unit (PIU) have built valuable knowledge and expertise, have become subject matter experts in their field, and Kiponge is optimistic that the PIU team is well prepared to take on phase two of CADIP.
"We are confident of the government and ADB's support of CADIP-2, based on the positive impact and financial viability achieved in CADIP-1," observes Kiponge.
"Discussions with both government central agencies and our donor partner ADB are ongoing. It is anticipated that by the fourth quarter of 2022, the CADIP-2 investment loan will be finalised and approved between the government and ADB. This loan will be implemented over a period of five years and NAC is ready to take on board this investment; we anticipate tendering nine projects under CADIP-2 in the second quarter of 2022."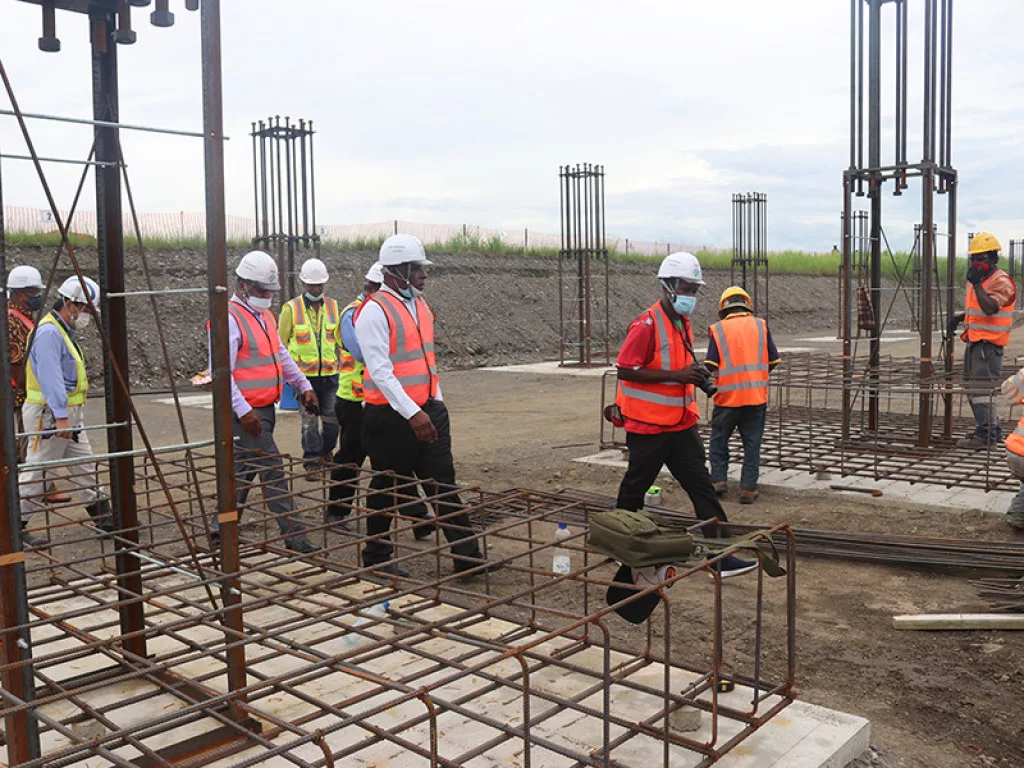 STRATEGIC HUBS
This year, NAC will officially be opening new terminal buildings at Vanimo Airport in the West Sepik Province and Momote Airport in the Manus Province.
Recently rehabilitated under CADIP-1, both airports are strategic hubs for NAC and PNG to support growth and expansion in the likes of agriculture, forestry, fisheries and tourism within their respective provinces.
"The West Sepik Province, where Vanimo Airport is located, shares its land border with Indonesia. It's a strategic hub for NAC to cater for increased passenger and cargo movements generated by upcoming economic developments in the province," reveals Kiponge, citing large forestry projects of national importance.
Vanimo Airport's refurb is valued at K70.1million, with improvements including a 300-metre runway extension to achieve a total runway length of 1,960 metres, which has enabled the operations of Fokker-100 regional jets and other similar types of aircraft since November 2020.
The K23.6 million construction of Vanimo Airport's new terminal building will also be a significant improvement on the old terminal constructed 30 years ago.
"This new terminal is spacious and can accommodate more than 100 people. It will have a VIP lounge, departures lounge, passenger check-in counters, an arrivals lounge, baggage conveyor belts, screening machines and toilet facilities," Kiponge notes.
The renovation of Momote Airport, meanwhile, commenced in 2017 with works to strengthen the runway pavement with asphalt surfacing and extend the runway length to 2,010 metres, enabling Boeing 737-800s and similar aircraft to operate at the airport since April 2021.
Valued at a total of K101.9 million, other upgrades at the airport include the construction of the new stingray-inspired terminal building, an airport market facility and a new power station, in addition to water supply and airfield lighting system installations.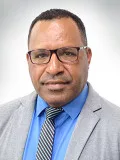 "Through CADIP-1, NAC has been able to transform airport infrastructure across PNG from its ageing and deteriorated state of 12 years ago to what we are seeing today"

Rex Kiponge, Managing Director and CEO, NAC
POINTS OF DESTINATION
'Point of Transit to Point of Destination' is the new business direction that Kiponge is driving for NAC. Through this initiative, the company will build and transform selective airports from being mere transit hubs into business hubs.
"The bottom line for this new initiative is to increase revenue sources for NAC, particularly on the non-aeronautical front," Kiponge explains.
"We are moving away from our traditional way of doing business where we are controlling everything from our Port Moresby Head Office. We aim to empower our regional airports to be profitable and therefore able to sustain themselves financially and operationally, rather than relying on revenue generated from larger airports such as Port Moresby International Airport."
Nadzab Airport in the Morobe Province is one of the airports being targeted under this new business direction, through the exciting K692 million Nadzab Airport Redevelopment Project (NARP).
NARP will upgrade Nadzab Airport to accommodate scheduled operations of B737-class aircraft for both domestic and international services, as well as handle aircraft such as B767, B777 and B787s diverted from Port Moresby International Airport.
Nadzab is a developing township located in the economic corridor of PNG, with strong prospects for both aeronautical and non-aeronautical growth. Interconnected by land, sea and air, the strategic importance of Nadzab is clear; as such, it is being leveraged to ensure that it becomes a major catchment area and focal point for the movement of passengers and cargo, both domestically and internationally.
"NAC is focusing on Nadzab as one of our strategic business hubs to drive current company growth and expansion initiatives," Kiponge tells us.
Upon the completion of NARP, Nadzab will be well positioned to meet the growing demands for air transportation in the region with improved infrastructure and facilities that are capable of accommodating larger, wider-bodied aircraft and growing numbers of passenger and freight traffic.
Developments currently being undertaken at Nadzab Airport include the widening and strengthening of the runway and select taxiways, the construction of a new stub taxiway, and the creation of a new 10,739 square metre passenger terminal building with two aerobridges.
"Masterplans are also being processed for the Nadzab Airport commercial precincts, together with an aeronautical masterplan for future aircraft movement areas. This is in line with NAC's vision for Nadzab to be a point of destination."
This vision for Nadzab coincides with NAC's plans to develop the non-aeronautical side of the business, by transforming airports in PNG from points of transit to points of destination. In doing so, the idea is for passengers to utilise the infrastructure and facilities put in place, not just to travel but for other business as well.
NARP is further tasked with implementing a new airport firefighting station, constructing a new administration building, refurbishing the existing terminal to be used for cargo handling operations, renovating the existing control tower, and upgrading utilities.
"The new passenger terminal is designed for international and domestic passenger processing," states Kiponge.
"The upgrading of associated facilities will improve the facilitation of air transportation, contribute to economic growth, ensure that the airport meets stringent international safety and security certification requirements, and enhance operational efficiency and processing times."
Indeed, NAC is on a mission to provide and operate airports that meet international ICAO standards in terms of infrastructure and facilities and ensure the highest levels of aviation security and safety.
NAC is thus committed to providing state-of-the-art facilities at the likes of Nadzab Airport that ensure the effective processing of aircraft and passengers, strengthening the company's working relationships with strategic development partners and stakeholders in the process.
Like all businesses, NAC is also fully aware of the value of data, having invested in 2021 to improve its data collection systems and processes, particularly for passenger and aircraft movements throughout its airports.
"So far, the system has been successfully installed and trialled by five airports, and will soon be rolled out to the remaining airports in the coming year," Kiponge confirms.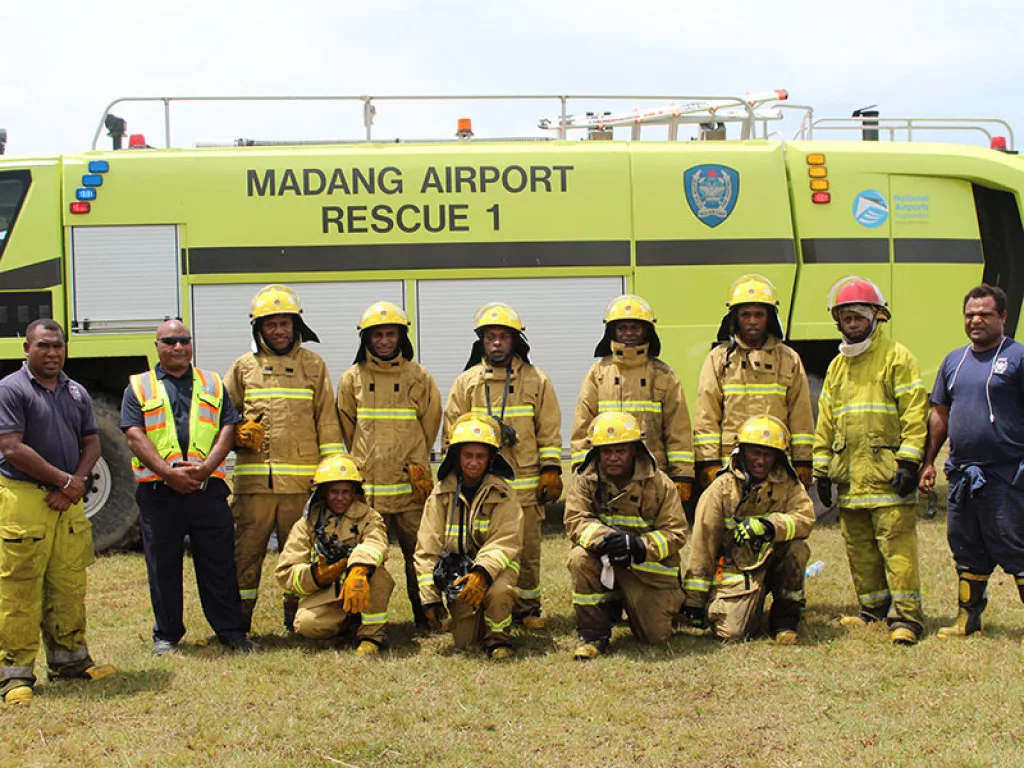 LESSONS LEARNED
Commencing in January 2020 and scheduled for completion in April 2023, NARP has made significant progress despite the COVID-19 pandemic and remains on course to be finished on time.
Though COVID-19 has certainly been a disruptive force, the management at NAC see it as a blessing in disguise, one that tested its resilience to respond in a positive manner and boost its business agility in a post-pandemic environment.
"The critical lesson we learned is that we can no longer operate in an environment of 'business as usual' if we are to thrive and be profitable amidst the COVID-19 pandemic," Kiponge recognises.
"Faced with declining revenues and no recovery funding from the national government, we identified strategic opportunities and introduced a prudent financial management system that focused on strict expenditure controls and the vigorous recovery of debt owed to us by clients.
"While international passenger and aircraft movements have been slow to improve, we are thankful that domestic movements have shown considerable improvement and the recovery is contributing to the betterment of our financial position," he continues.
This approach is proving to be very effective not only in improving NAC's cash flow, but it has also allowed all 22 airports in PNG to be kept operational and a workforce in excess of700 employees to be kept intact.
"I'm pleased to say that none of our staff have been laid off since the COVID-19 pandemic began. As a responsible company, we value and encourage career progression."
The full retention of staff reflects the fact that NAC's workforce, who carry a wealth of knowledge and expertise about the aviation industry, is the company's most valuable asset.
"We are very fortunate to have a few employees who have been with the organisation for many years, and even some who have worked in the industry since well before NAC was established," acclaims Kiponge.
Striving to be an employer of choice, NAC provides the best possible working environment for its staff complete with competitive remuneration and other employee benefits, whilst promoting and encouraging health and fitness programmes within the organisation in order for employees to maintain a healthy work-life balance.
NAC's Airport Ambassadors Programme also focuses on providing opportunities for interested members of the community, particularly tertiary students, to volunteer at airports during peak periods.
"We encourage our employees' family members to take part in this programme to learn more about the industry and appreciate the work that they do," Kiponge says.
"Through the Airport Ambassadors Programme, we also encourage employees in corporate support roles to work in operational areas to increase their knowledge and awareness of our industry."
"We are very fortunate to have a few employees who have been with the organisation for many years, and even some who have worked in the industry since well before NAC was established"

Rex Kiponge, Managing Director and CEO, NAC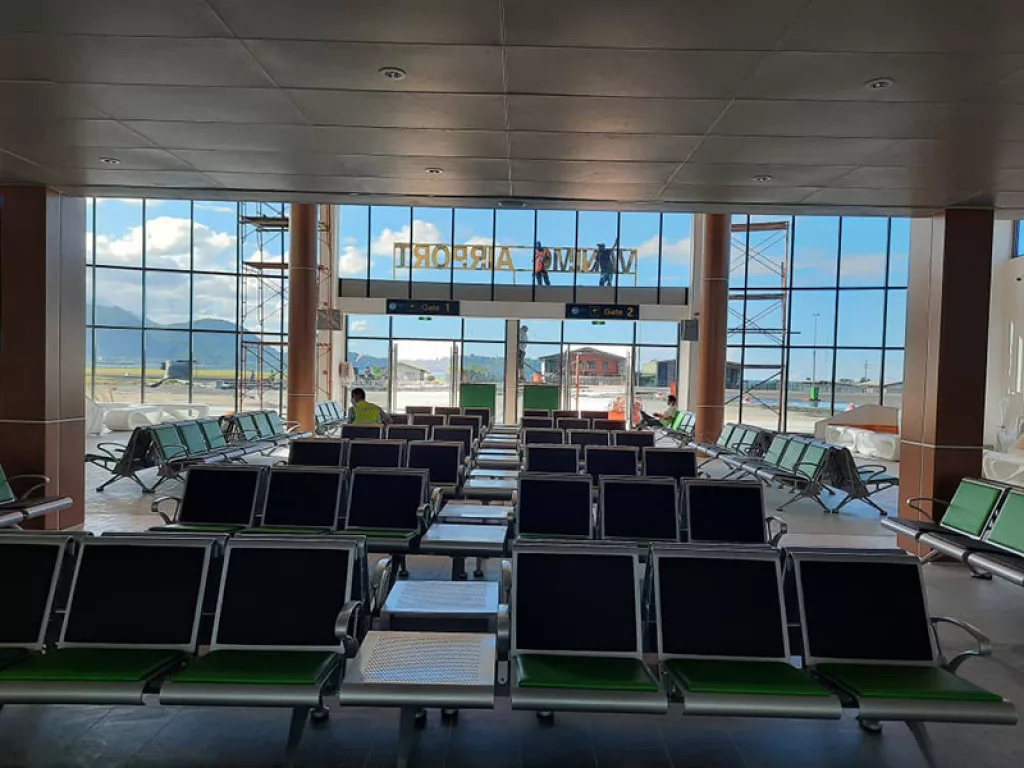 SUPPORTING THE COMMUNITY
As a PNG company, NAC has always endeavoured to give back to the wider Papua New Guinean community and provide social support in different forms.
The recent conclusion of CADIP-1, for instance, has resulted in the capture and delivery of community projects in the areas that host NAC's airports, such as airport market facilities in which women can sell their goods.
NAC's support for diversity and inclusion also remains ongoing into 2022, as it pledges to improve disabled accessibility at Port Moresby International Airport in collaboration with leading NGO, Cheshire Disability Services PNG.
"We have also supported sports events, schools, community police, and last year we spearheaded a fundraising drive to support a community-based organisation working with children impacted by HIV/AIDS," Kiponge says.
"At the beginning of this year, we kicked off our CSR activity by donating to four Baptist church ministries to boost their work in the communities of PNG."
Giving back to the communities, making its airports a positive catalyst to improve local and international mobility, and creating economic opportunities and prosperity for PNG and the wider region, NAC's trajectory is sky high.