Committed to renewable energy, Evie Networks is shifting the paradigm of EVs as it installs charging points across Australia's towns, cities, and highways. We explore the greener transport option with CEO Chris Mills.
CHARGING TOWARDS AN ENERGY-EFFICIENT FUTURE
After launching its first charging site in 2019, Evie Networks endeavours to create a convenient and dependable electric vehicle (EV) network while building a nationally trusted brand with a competitive advantage.
Backed by the St Baker Energy Innovation Fund, Evie Networks builds, owns, and operates an expanding network of over 150 fast-charging stations, with charging equipment supplied by Tritium, in which Australian Business Review Weekly (BRW) rich lister and entrepreneur Trevor St Baker is also a strategic investor.
"I can safely say that Trevor St Baker is one of the first billionaires that I've worked with who takes the time to understand what is going on and is prepared to be persuaded by alternative views. He's supportive, helpful, and politically well-connected. We enjoy an ability to be strong advocates for the take up of EVs in Australia throughout the governmental, regulatory, and political spaces," opens Chris Mills, CEO of Evie Networks.
With sites spanning the East Coast from Townsville in Far North Queensland and encompassing the island state of Tasmania, Adelaide in South Australia, Perth on the West Coast, and Darwin on the North Coast, Evie Networks' ubiquitous presence ensures EV drivers can go vast distances with the confidence that they can recharge.
"Our first programme of work aimed to link the major capital cities of Australia. We wanted to reduce the range anxiety that exists when people consider changing to an EV; they want to know how they can drive from Melbourne to Sydney."
Evie Networks has expanded its programme to include metropolitan facilities after securing a government grant to help build highway sites connecting capital cities. Today, the company has reached the stage beyond assistance and is building its own long-term network plan, independent of grant funding.
"We offer fast and ultra-fast charging, so our chargers typically start at 50 kilowatts (kW) and go up to 350kW. The kW rating of a charger is usually the number of kilometres (km) put into the battery within 10 minutes," Mills explains.
"The 350kW ultra-fast chargers are located on the highway sites because drivers want the same type of experience as petrol users – plug in, have something to eat, come back 15 minutes later, and the car is topped up and ready to go.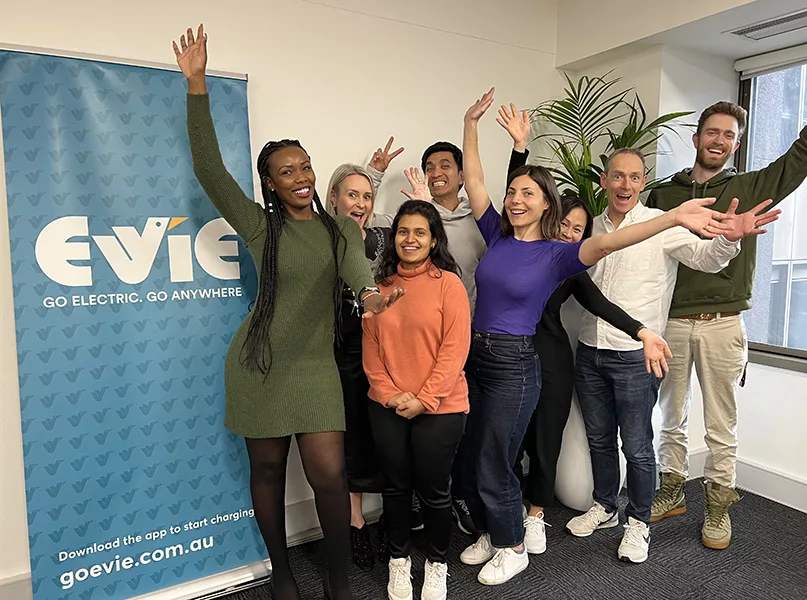 A CHANGE OF DIRECTION
Research suggests that EVs are at an inflection point in Australia. An investigation into renewables and EVs in more mature markets by the New Energy Finance Group of Bloomberg found that the typical significant increase of EVs happens when they make up approximately five percent of overall new car sales, accelerating after this point.
"People start to see them as more mainstream. Instead of occasionally noticing a Tesla, EVs are becoming more commonplace and the barriers to taking up such cars are being broken down. Presently, we are tracking new car sales at between seven and eight percent," Mills informs us. Additionally, with the influx of new models into Australia, the gap between the cost of purchasing an EV compared to a petrol car is narrowing and with petrol prices at record levels, people are recognising the value of changing over to an EV.
"Money plays into people's decision-making when looking at the total cost of ownership, but with purchase prices converging and running costs being much less, coupled with Evie Networks' site presence, it is a major step forward," he notes.
Evie Networks plans to have 200 operational sites by the end of 2023, which will go a long way to alleviating range anxiety experienced by EV drivers.
The sense of inflection is also due to the positive attention from the new government. The change in leadership means a much stronger focus on renewables and EVs and more support for net zero targets. Increased public demand to combat climate change saw a surge in independent candidates being elected into parliament.
The transition to renewable energy has been positively influenced by this strong and growing independent voice within government, which provides the impetus for political parties and incumbents to act effectively. Mills is assured that corporate Australia is also starting to see a drive towards sustainability.
"Businesses have sustainability targets, and interestingly, investment funds also have sustainability mandates. Corporate Australia is embracing the need to establish and abide by environmentally-friendly operating practices."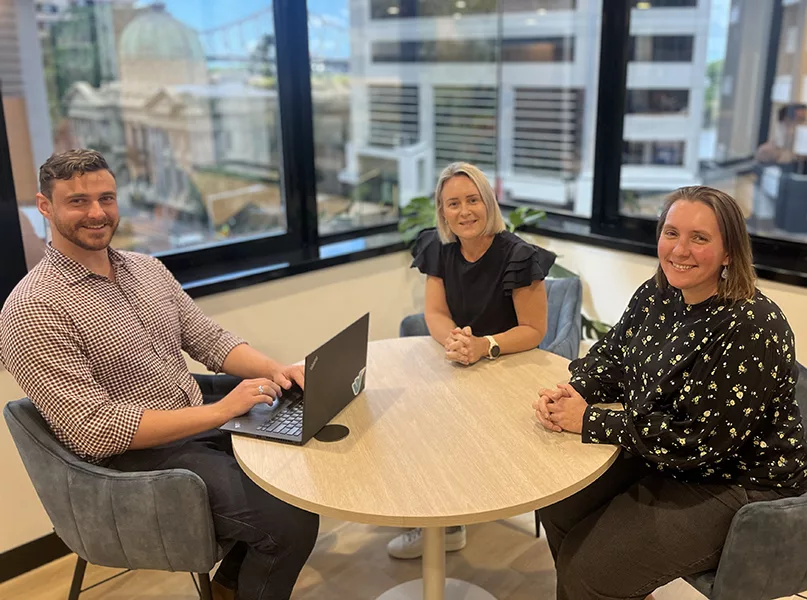 CLEANER AND GREENER OPTIONS
With an increased availability of EV models, there are more options for drivers, ranging from expensive high-end performance EVs through to affordable models, coupled with
more appealing running costs.
"Our petrol prices are the highest they have been for a while. When you compare the dollars you spend to fill up your car to the cents you pay to fill up your battery, particularly if there is solar on the roof, the battery charge could cost you nothing," observes Mills.
Although many elements are fuelling the country's growth in the EV sector, the transition is being particularly accelerated by Evie Networks' mission to build a reliable, robust, and broad charging network for a cleaner environment.
"All of our chargers are powered by renewable energy. Furthermore, not only do we build charging stations that reduce greenhouse gas (GHG) emissions, but more importantly, they reduce tailpipe emissions in cities, so the boost to public health is enormous," encourages Mills.
City smog and vehicle emissions cause concern for people who suffer from respiratory problems. As a result of improving the air quality in capital cities, significantly less money is spent on public healthcare.
In addition to plans for 200 operational sites by the end of the calendar year, Evie Networks aims to add another 100 by the end of the financial year.
"Hitting these rollout milestones is important, along with advancing the quality of the Evie Networks app and digital engagement with our customers. Therefore, as the charging network grows, maintaining the reliability of it gets bigger too," elaborates Mills.
Evie Networks realises potential problems could arise with more sites, including breakdowns and vandalisation, two issues the company does not want customers to be inconvenienced by. Therefore, improving the level of reliability and maintenance is a priority.
"Drivers need to feel confident, secure, and comfortable going to our charging sites, so we need to make them available, reliable, and in a safe and secure location."

Chris Mills, CEO, Evie Networks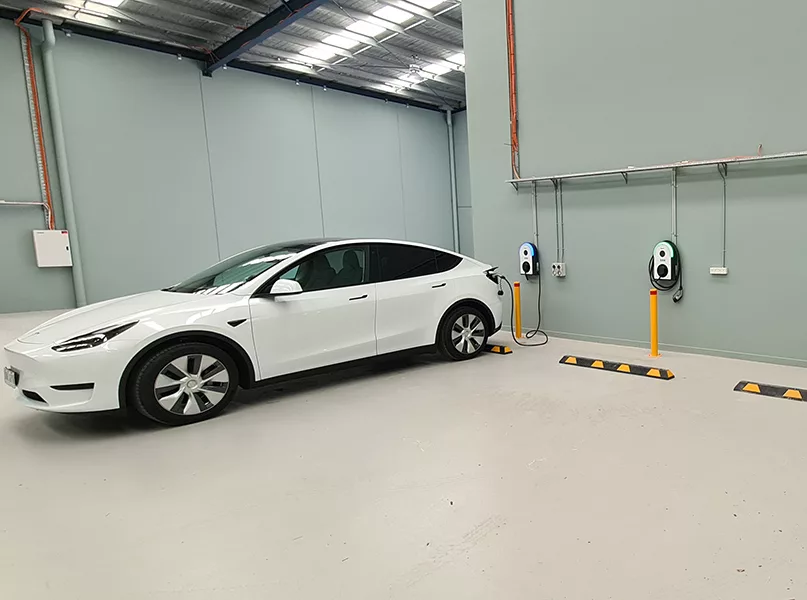 CONVENIENT CHARGING
Indeed, Evie Networks continues to strive towards its goals with key objectives. In addition to reliability, the company intends to offer its customers a different experience from what they receive at a petrol station forecourt; it wants to ensure amenities are within easy reach while they wait for their EV to charge.
"When refuelling a car, there is nothing else to do apart from get petrol; however, with electric charging stations, there is a wait whilst topping up your car, so there is potential for someone to pair that with grocery shopping or for refuelling themselves by getting a bite to eat," shares Mills.
Fundamentally, Evie Networks looks at three sets of criteria when choosing a charging site, the first being easy access no matter what side of the carriageway the driver might be on. Secondly, it has to be safe and secure 24 hours a day, and finally, there has to be facilities or amenities nearby for drivers to use while the EV is charging. The company already partners with fast-food restaurants, shopping centres, nationwide retailers, and grocery outlets to provide this experience to EV drivers.
"It is all about convenience alongside the effort we spend on reliability and network efficiency. There is a captive audience at EV sites for at least 20 minutes, so it is the perfect partnership. One opportunity that comes with being digitally native is site host offerings, such as a QR code for 10 percent off a hamburger purchase, for example," he outlines.
In fact, Evie Networks is now in the rollout phase of implementing credit card use via readers at its sites. Currently, customers download the app, enter their credit card details, then Evie Networks sends a radio frequency identification (RFID) card to verify the customer's identity. However, not everyone wants to become a member, so the company remains in the process of testing the readers.
The convenience of paying by credit card, regardless of whether customers are members, is another innovation that Evie Networks is applying to its sites to make the whole experience more seamless and help secure the future of EVs in mainstream motoring.
Moreover, as Evie Networks buys and sells electricity, it is developing energy management products, as the way electricity is used can impact how much it costs.
"The way that tariffs are structured means if you thoughtlessly use electricity, it can be costly, but if you apply algorithms, you can substantially reduce the average cost per kilowatt hour (kWh), which means a better return on our investment," Mills concludes.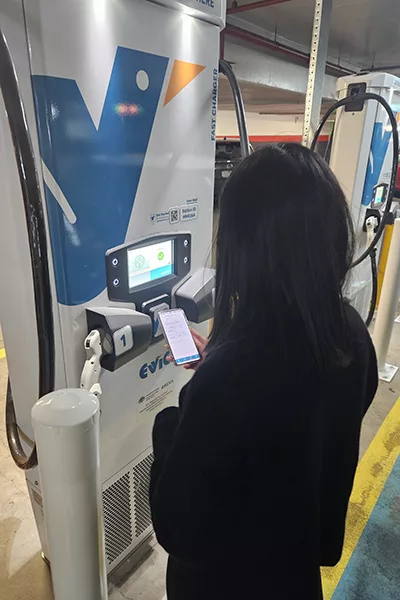 EVIE NETWORKS PARTNER