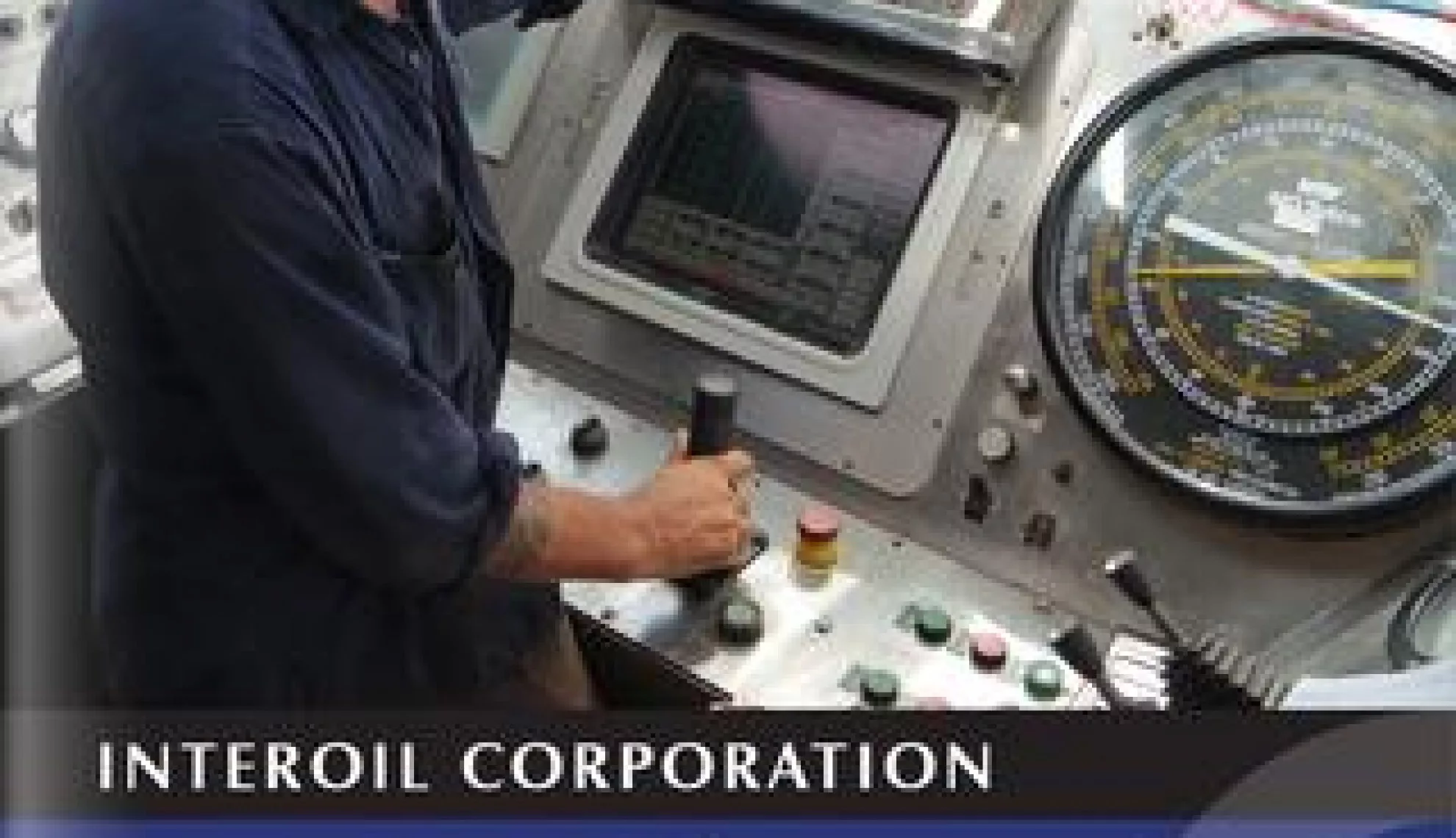 Energising Asia
Writer: Matthew Staff
Project Manager: Eddie Clinton
InterOil Corporation is partnering with one of the world's major LNG players to develop one of Papua New Guinea's most significant projects.
Total of France is the global heavyweight in question, selecting InterOil, as well as Oil Search, as the ideal collaborators with which to develop the Papua LNG Project based on the Elk-Antelope gas field in the country's Gulf province.
This latest partnership signals a rapid step-change in perceptions surrounding Papua New Guinea's investment risk over the past year, as Thomas Nador, InterOil's Senior Vice President, Corporate, explains: "When the first shipment of liquefied natural gas left Papua New Guinea's PNG LNG Project in Port Moresby in mid-2014, the US$19 billion project came in ahead of schedule and demonstrated to the world that Papua New Guinea could develop mega projects.
"It effectively de-risked the nation as an investment destination."
Independent analysis by Sanford Bernstein further emphasises this point, highlighting that the ExxonMobil-operated project in 2014 was one of the world's most efficient LNG developments, with a construction cost of around US$2,300 a tonne.
"Analysts are suggesting that Elk-Antelope could be even lower cost than the ExxonMobil project because it will require less infrastructure to develop, need shorter pipelines and is in a less remote part of the country than the PNG LNG Project," Nador adds.
Fully committed
Elk-Antelope, which was discovered by the US-listed InterOil in 2006, is in the final stages of appraisal and the giant field is already described by the Company as one of the largest finds in Asia over the past 20 years.
Initial estimates suggest the field could have enough gas to underpin a two-train project to produce about seven million tonnes of LNG, a year, for the next 20 years.
The Company recently transferred operatorship of Elk-Antelope to Total following the French company's acquisition of a 41 percent interest in the field in 2014.
InterOil Chief Executive, Dr Michael Hession recently reiterated to investors in New York that the joint venture and the Papua New Guinea Government were fully committed to the project.
"Total have a large team at work and the venture expects to enter front-end engineering and design for the LNG project in 2016," he said. "Total is ramping up their presence in Papua New Guinea and we now have a world-class LNG operator operating a world-class field."
Unparalleled understanding
InterOil, which also has an office in Singapore, has shown its enthusiasm within Papua New Guinea, building on the foundations of its exploration success where five consecutive discoveries were made in the Eastern Papuan Basin; described by geologists as the most exciting emerging hydrocarbon basin in the world.
InterOil's licences, which cover 16,000 square kilometres, further affirm the business's most dominant standing among all explorers within the basin. Recently, the Company told the New York Stock Exchange that its high-graded exploration targets and discoveries could hold an estimated 17 trillion cubic feet of gas equivalent.
"Papua New Guinea is dominated by two basins, one of which is lightly explored – the Eastern Papuan Basin – and the larger, and more heavily explored, adjacent Western Papuan Basin," Nador says. "The two basins are separated by a major deep-seated fault and are discrete with different evolutions, each with different key geological components critical for success, different environmental conditions and operational challenges, and different exploration and drilling histories.
"Despite their significant differences they both have working hydrocarbon systems."
So far, around 280 wells have been drilled in the Western Papuan Basin incorporating key discoveries at Hides, Juha, P'nyang, Kutubu, Stanley, Elevala and Ketu.
This basin, which is centred on the remote and rugged highlands of Papua New Guinea, underpins the PNG LNG Project with gas reserves of about nine trillion cubic feet and oil reserves of around 200 million barrels.
Nador continues: "Conversely, the Eastern Papuan Basin has only about 65 wells, and has resulted in key modern discoveries at Elk, Antelope, Triceratops, Raptor and Bobcat, all by InterOil."
To this point, InterOil has done extensive aero-gravity surveying across its licences and has compiled the largest seismic data set of any company in the basin, giving it an unparalleled understanding of the area's geology.
"The Company will hold its licences for up to 11 years and is presently high-grading more than 35 prospects to complement the country's most active exploration programme, which includes three to four wells this year," Nador further notes.
Exploring and producing
Regarding Elk-Antelope specifically, a recent meeting of the European Association of Geoscientists and Engineers led to the project being described as the world's most significant discovery in fold and thrust belts, as well as Papua New Guinea being labelled as having the most promise globally for a large oil discovery.
Alongside InterOil and Total in helping to realise this potential, Australian company, Oil Search has also been exploring and producing in the country for more than 80 years, currently operating all of Papua New Guinea's producing oil fields.
As a partner in both the PNG LNG and Papua LNG projects, Oil Search has drilled more than 40 development wells in Papua New Guinea since 2003, enjoying a success rate of more than 85 percent and adding more than 50 million barrels of oil to expected ultimate recoveries.
More than 50 percent of Oil Search's oil production now comes from wells drilled in the past six years.
On the LNG front, the Elk-Antelope venture has started basis-of-design for the Papua LNG Project and Total expects a final investment decision in 2017 with a view to first gas production in 2022.
World's biggest demand
At its peak, the PNG LNG project employed almost 22,000 people and Papua LNG is expected to generate similar employment opportunities in the region despite the demand for onshore labour being substantially less as a consequence of it being closer to the coast.
The plus side of this new location is the relative ease of access to its core Asian customer base for LNG projects; less than 10 days' sail away as a comparative advantage over Pacific Basin competitors.
Papua LNG sits on the doorstep of the world's biggest market with China and Japan already major long-term LNG customers for Papua New Guinea.
China's LNG demand is expected to double by 2020, according to Wood Mackenzie analysis, just as LNG contracts into Asia need to be renegotiated.
"Japan, the world's single biggest LNG importer at about 100 million tonnes a year, expects demand growth to continue, particularly as it grapples with the political implications of returning to full-scale nuclear energy," Nador adds. "As an illustration of the scale of Japan's demand, the country consumes about nine trillion cubic feet of gas a year, or the equivalent of one PNG LNG Project each year."
Even further demand in the Asian energy sector is expected over the next two decades as a consequence of the growing middle-class which is expected to triple by 2030 to around 2.5 billion people; all contributing to the likelihood that global demand for LNG will outstrip supply in the coming years.
Investing in Papua New Guinea
The Elk-Antelope project may well be coming on stream just in time to help tackle this shortfall; a realisation which the Papua New Guinea Prime Minister has echoed in iterating how important this second LNG project will be in catalysing an economic boom.
According to the Asian Development Bank, economic growth in the country rose to eight percent in 2014 following the first exports of LNG and is expected to rise to 15 percent in 2015, to give Papua New Guinea one of the highest growth rates in the world while also opening up numerous opportunities for the country's population.
During a recent trade visit to the UK, Belgium and France, Mr O'Neill emphasised that job creation was a key motivator of his country's engagement with European businesses in particular.
"There is significant interest in Papua New Guinea from the business community and we must convert that interest into tangible business engagement," he said. "We cannot think of Europe as being too far away to matter.
"Europe offers an important market, particularly for our agricultural products and there is tremendous potential for strategic partnerships in areas that include banking, energy and resources."
Total's role within this intercontinental development will be pivotal as InterOil, Oil Search and Papua New Guinea as a whole, look to capitalise on the possibilities that LNG can still generate for the nation over the coming years.
"In my meeting with senior executives at Total SA, they reaffirmed their commitment to developing LNG in Papua New Guinea," Mr O'Neill concluded. "Total is a great example of a European company that recognises the potential for investment in Papua New Guinea.
"Total is already employing Papua New Guineans and foreign workers and this number is expected to reach 10,000 at the peak of the construction project.
"With one of the fastest growing economies in the world and being a country with ongoing political stability, businesses are interested in investing in Papua New Guinea."
VIEW InterOil Corporation BROCHURE