Making a lifestyle out of sustainability, Koala is the eco-champion retailer shaking up the furniture industry. We find out more about a true tech disruptor of Australian e-commerce with Chief Technology Officer, Emma Pudney.
FURNISHING HABITS FOR HOME AND PLANET
Happier, healthier habitats.
That is the maxim that lies at the heart of Australian furniture brand, Koala.
Offering bespoke furniture designs and products, Koala's homeware strikes the fine balance between person and planet, offering a level of comfort that caters to individual wellbeing, whilst also conserving the environment and contributing to a host of eco-friendly initiatives.
This resounds through a product range manufactured from responsible materials, like bookshelves constructed from sustainable timber, and is further evidenced by the company's status as a certified B-Corp and a member of the 1% for the Planet scheme, whereby one percent of all annual gross sales are donated to the good of the planet, people and animals.
These are home furnishings designed with the world in mind, offering a holistic vision of wellbeing – both within our individual capsules of home, and our wider residency within the planet of which we are all responsible custodians.
Australian at heart and with its entire company culture embodied by the quintessential 'no worries' attitude, Koala encapsulates this mindset in many ways – whether in the laidback lifestyle endorsed by its award-winning range of furniture, or in the seamless same-day delivery offered in metropolitan areas and the 120-night risk-free trial included with all products.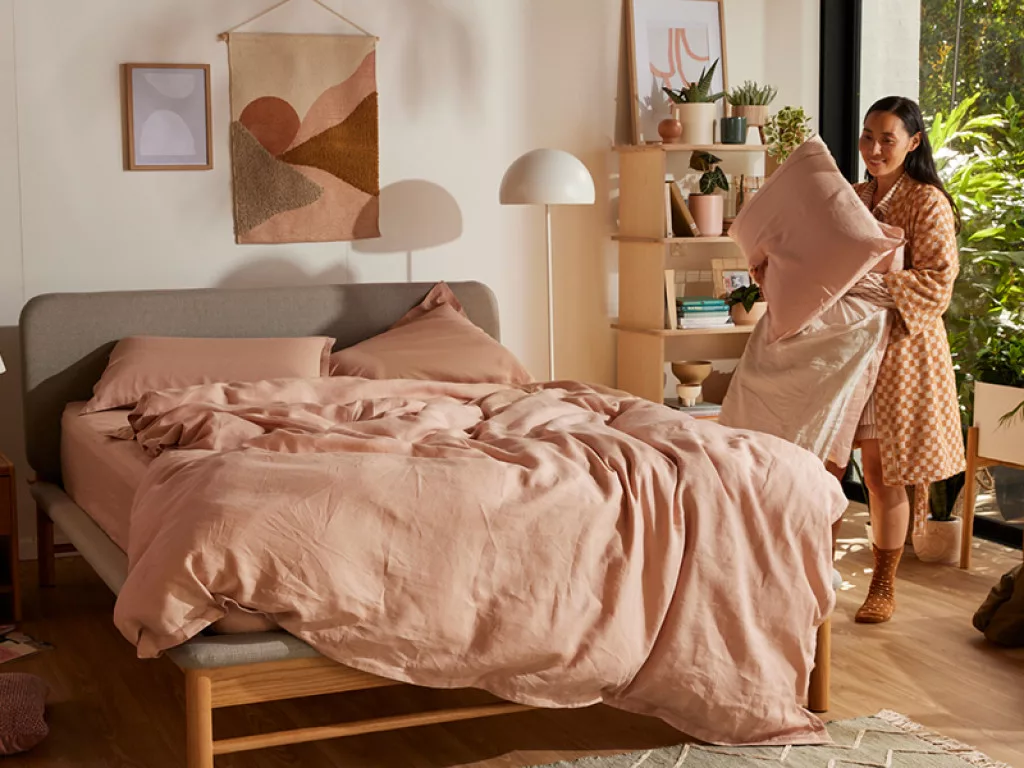 "We believe in reversing environmental trends and leaving our Earth in better nick than we found it, that's why we constantly improve the environmental footprint of our materials and business practices"

Emma Pudney, CTO, Koala
THE KOALA DIFFERENCE
Koala is the antithesis of copy-and-paste mass production, with each product thoughtfully designed and assembled with ingenuity and creative passion.
As you may expect from a company whose native Australian namesake is renowned for sleeping 18 hours a day, Koala's speciality is Australia's highest-rated mattress. Other bestsellers of the Koala Bedroom Range include the Good Design Award-winning Timber Bed Base, Cool-Gel memory foam pillows and sheets made from TENCEL™ Lyocell fibres, complemented by an equally enviable Living Room Range alongside myriad products designed to improve and refresh your living and working environment.
Indeed, it was the quality and popularity of Koala's products that first attracted Chief Technology Officer (CTO) Emma Pudney, to the brand.
"I was already a satisfied consumer. I had the sofa, the TV unit, the mattress, so I loved the products and sustainability angle which really appealed as a personal passion of mine," she shares.
When Pudney saw Koala advertise for the CTO role, it was an opportunity she couldn't refuse, representing the perfect marriage of both passion and profession.
Following over 20 years working in tech – from start-ups to corporate firms, Pudney approached finding a new role with carefully selected criteria and mapped out priorities in much the same way as a consumer might select a new product or permanent fixture to furnish their home, combining a level of comfort, functionality and personal appeal.
"I was very deliberate about my next move and compiled a document with three major screening criteria in finding a company I wanted to work for," she says.
The first priority – that it be a tech-centred enterprise, was a no-brainer. Pudney's other two fundamentals included a company culture that values its people and prioritises employee wellbeing – one where performance exceeds presence and has a laidback feel.
"I also wanted a company that looks beyond profit and does good in some way, showing a concern for sustainability."
Six months into her role as CTO and it is these three factors – tech performance, people-centricity and a solid eco-conscious commitment – that remain Koala's key differentiators, both for Pudney, and as a retailer in the highly competitive e-commerce realm.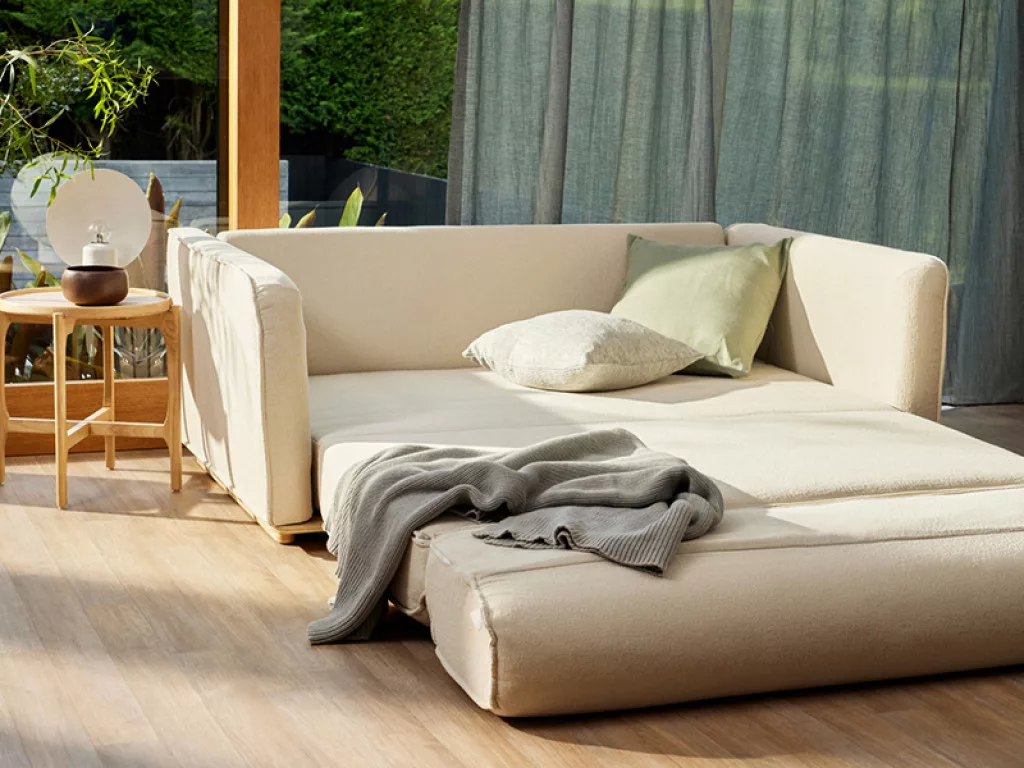 'Inspired by the modern Australian lifestyle, in all its sun-drenched, laid-back glory, Koala is here to shake up the furniture industry with their 'no worries' approach'

Koala
TECH DISRUPTORS
When it comes to the tech vision behind Koala, the goal is clear – to be a tech-driven e-commerce disruptor. For Koala, tech is the tool that it leverages to unlock truly exceptional customer experiences.
In many ways, as a female in the largely male-dominated realm of tech, Pudney may be seen as a disruptor herself. A keen advocate for improving gender diversity in an underrepresented field, Koala's CTO dedicates time to presenting to female groups, encouraging tech as a viable career path.
For Pudney, it was a passion ignited by her trailblazing grandmother, during childhood summer holidays spent on her farm, where a further level of questioning around the natural world was always encouraged. She recalls not just admiring the stars, but discussing the science behind their formation. Marvelling at a flower, but also dissecting its form. The encouragement of this inquisitive mindset influenced her education through scholarships in schools renowned for maths and science, which led her to technology and a degree in IT&T Engineering.
Pursuing a gruelling schedule combining night shifts working in IT support and admin, teaching herself to code whilst also studying during the day, Pudney realised how outdated her university material was, compared to the relevant tech she was learning on the job.
When offered a role that paid the equivalent of a full-time graduate rate, the decision was obvious, and a fruitful career in tech ensued.
"I think there's an interesting psychological aspect to working in tech," she observes. "I personally am a bit of a tomboy, so I was comfortable at university and working in tech with only a few of us girls there. I didn't find it confronting in any way.
"The downside for tech, however, is that because of that, we mostly attract certain types of women who are comfortable in those environments. This means that we miss out on a level of diversity, due to the nature of it."
Within her role at Koala, the first six months of Pudney's technological roadmap have pursued strategic initiatives to set a solid foundation, overseeing mundane tasks like improving website performance by tweaking certain components, and conversion rate optimisation (CRO).
But two exciting areas are ripe for development, including expanding on the company's supply chain strengths and integrating a higher degree of personalisation into the customer experience.
"Our supply chain is a major strength, since we offer same-day deliveries for mattresses and furniture in metro areas," she says.
"We are going to continue working on evolving our data platform to streamline this even further, and data will be a key driver in automating those processes."
In terms of personalisation, Koala will continue to use data to create an online experience tailored to the individual site user.
"We leverage data to drive those decisions, using particular tools that help us to segment and create personas of individuals based on their behaviours," explains Pudney. Analysing certain behaviours allows for targeted strategies, such as the kind of content displayed and advertising various offers or upsells based on browsing habits.
Whilst these two areas of focus are fairly commonplace for most e-commerce players, Pudney's technology roadmap embodies a healthy level of disruption and innovation in trialling new firsts, and pursuing foreign areas.
"Personalisation is proven, but there are other unknowns we would like to explore, like live-commerce and live streaming.
"That's really been shown to work in the Asian market, but it has not got off the ground in Australia, so we're trying to play around with that concept.
"We like to be disruptors and see if we can do something differently that no one in the Australian market has done before."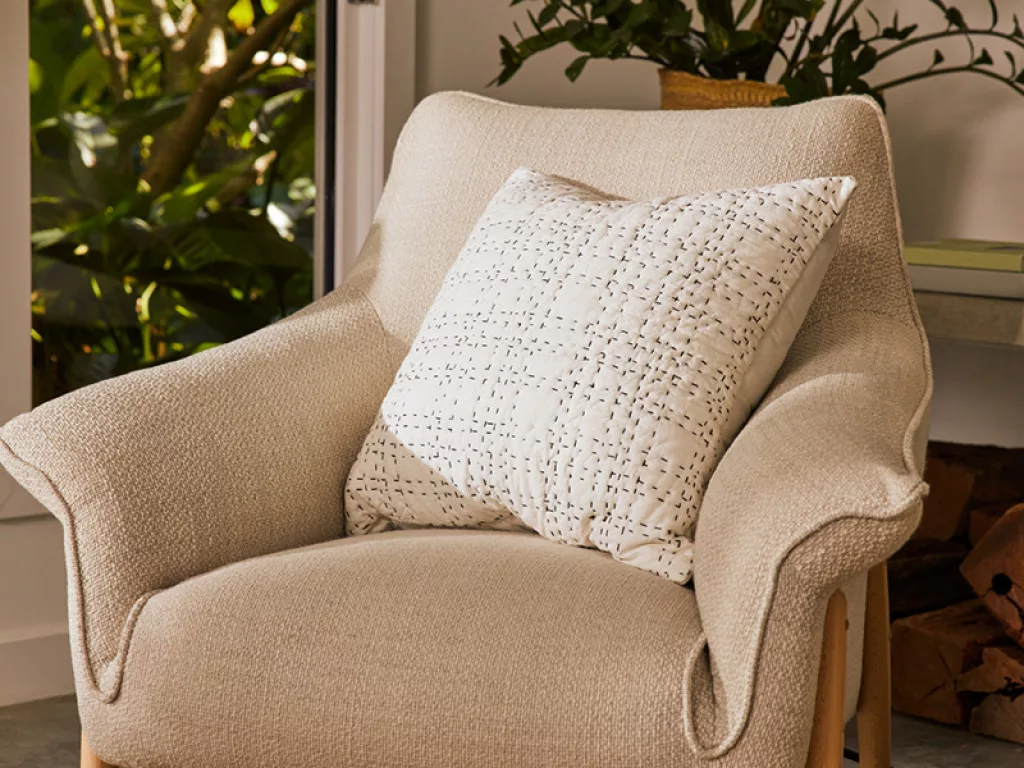 THE KOALA CONNECTION
Communication and connection are the cornerstones of any successful technological enterprise. At Koala, and particularly within Pudney's tech department, this applies to both inter-departmental relations, and the degree of engagement with the customer.
With regards to the first, this means inspiring trust and confidence by implementing a strategic and realistic roadmap that people can get behind.
"When you look at an organisation like Koala, tech is an essential part of the hub – we are the touchstone that every department interacts with.
"To be successful, we have to be absolute communication and collaboration ninjas, since tech has so many touchpoints," she says. "We want to have a reputation as enablers in the business."
These key concepts also pertain to other major segments of the tech roadmap looking ahead, designed to advance customer communication, engagement, and experience.
Virtual consultations and virtual showrooms are being investigated to engage with customers and effect decision-making, offering an extra level of support that might result in a purchase.
"I want to see how we could get into that, and ultimately create something that's about helping people."
Aside from this, Pudney's disruptive vision is looking at ways to generate new revenue streams through technology. Several research projects are in place to look at ways technology can be used to innovate and improve customer experiences and diversify Koala's business.
Our conversation draws to a close ahead of Australia's national Save the Koala Day on 30th September, which saw the whole company partake in hands-on conservation efforts. But that's not all. To drive awareness for Save the Koala Day, Koala shut down its Australian office and website for 24 hours, "Closed for good", thereby encouraging people to visit WWF and find a way to support the endangered species.
Poised for exciting times ahead, whatever form Koala's technological future may take, this is the essential welfare element that runs at the core of it all.