Auckland is a rapidly expanding city by the water. Key to a growing population, Dr Jon Lamonte – CEO of Watercare – discusses the challenges of balancing water supply and wastewater treatment with the company's sustainable aims for a greener New Zealand.
FROM SKY TO SEA
New Zealand (NZ) is, and always has been, a country of varied and stunning landscapes.
The islands are punctuated by rising white-capped mountains, rugged hills, lush grasslands, serene lakes and the many inlets of the sea that carve their way inland.
There is no question that NZ has an abundance of natural beauty across the North and South Islands, and there exist many urban hubs that make use of the country's access to waterways. Auckland (North Island) is one such city.
Based around two large harbours, the major city is defined by its access and use of water, including the supply and safe disposal of public water use.
"We are very much in the water industry," begins Dr Jon Lamonte, CEO of Watercare, the company in charge of Auckland's water supply. "NZ's water services are currently run by 67 different councils, which for a country of five million people and about the same size as the UK, is quite odd. But Watercare is different.
"Watercare is by far the largest water company, it has a different history. The business in its current form is the result of seven local councils and their water companies coming together to form the SuperCity in 2010. Watercare took responsibility for the region's water and wastewater services from source to tap. We went from having seven customers (the local councils) to 1.3 million customers essentially overnight."
Watercare was formed in 1993 when it took responsibility for the bulk supply of water and wastewater in the Auckland region as a wholesaler. Today, the company supplies around 400 million litres of water each day and provides wastewater treatment services to 1.7 million Aucklanders.
"We're constantly planning and building new infrastructure to ensure we can cater for our rapidly growing population and continue to provide safe and reliable water and wastewater services," Lamonte continues. "We have close to 1,300 staff members, mostly based in Auckland, but we also have laboratories around the country in Wellington, Queenstown and Invercargill, and we operate the Waikato District's water services as well."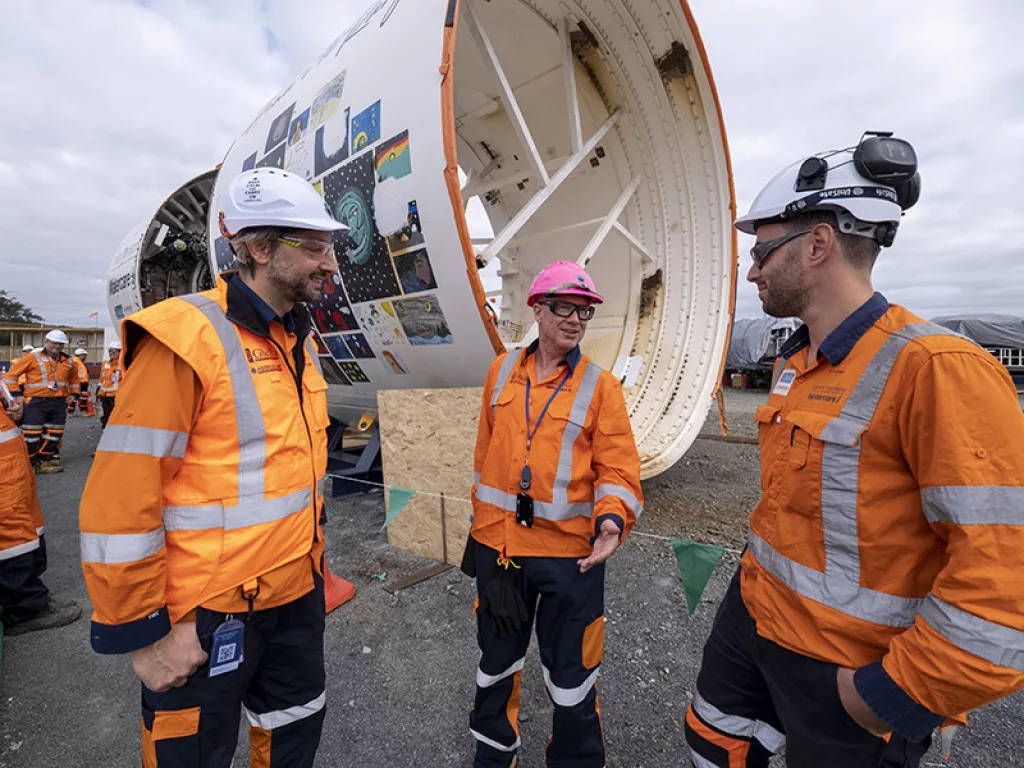 CLIMATE IMPACT
2022 is an exciting time to operate in such a sector. With water being such an important resource to access for individuals, families, businesses and communities, it impacts everybody and attracts a great deal of media attention.
"There are always questions about the water industry: what's the right size and shape of the industry? Do we reform? Do we have different organisations with various accountabilities?
And so on," Lamonte tells us. "When I began at the company, Auckland was in the back end of a drought, and it was perceived that it had been a real challenge for Auckland, and we had to think about how we move forward from that.
"On top of this, climate change has been more important and more in focus than ever before – it's huge in NZ – and since my tenure here we have experienced two massive flooding events, the last of which was within the past few weeks, which disrupted the region and water services. So, working in the water industry is good in the sense that there is a lot of interest, but alongside that we have a great responsibility to Auckland and its people, to keep water services running smoothly and safely."
For Lamonte, the water industry in NZ was very much new territory when he joined the company last year. Originally from the UK, he served in the Royal Air Force as an operational flyer and then in the Ministry of Defence, moving into logistics and procurement for the organisation in the latter part of his military career.
"When I left the Royal Air Force, I began running tube lines in London, before moving to Manchester and spending almost six years running all of the transport across Greater Manchester," Lamonte explains. "I was then offered the chance to move to Australia and build the Sydney Metro which I accepted, commissioning and opening their first line into service, whilst building a further three lines.
"Following this, I was approached by Watercare and asked to come to NZ to run the company. It has been a great country to come to, and a fantastic organisation to work for.
There have been some real challenges to deal with, especially as it was a new sector to me, but fascinating all the same. It has been over a year now and I am thrilled to be a part of it."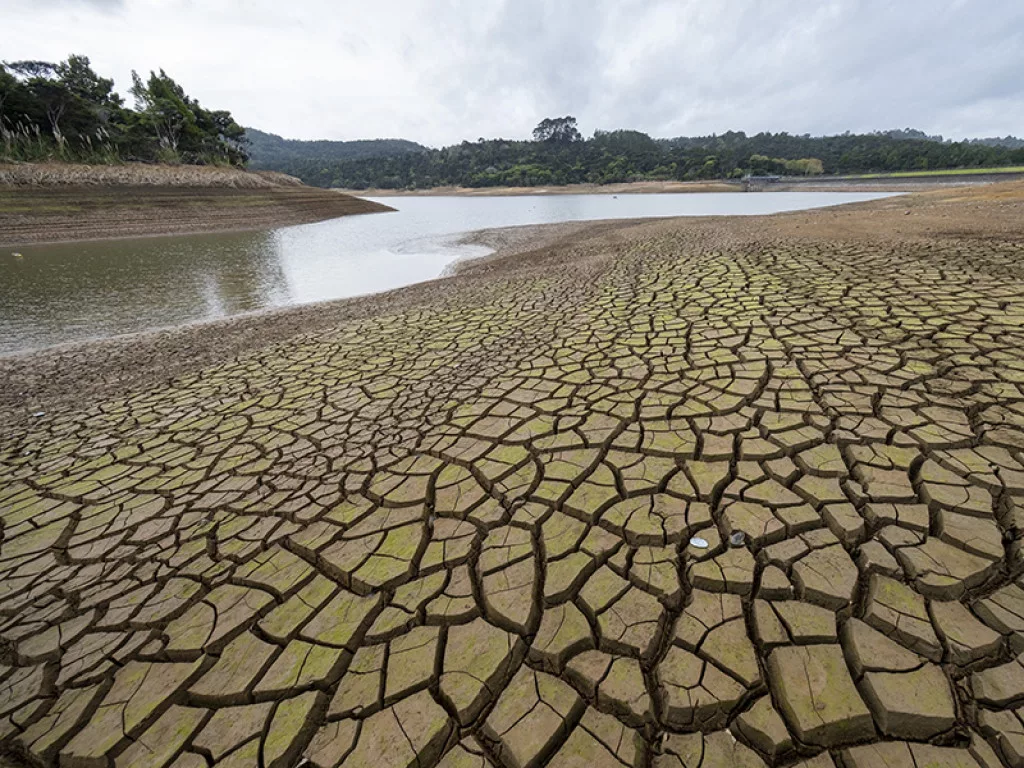 TWO DECADE PLAN
Watercare is preparing for the future with its 20-year plan for infrastructure development.
"This 20-year programme is worth around $18.5 billion, which equates to around $2.5 million invested per day, but for NZ we are talking about the need for around $120-185 billion over the next 35 years," Lamonte explains. "That is serious money that needs to be invested in water infrastructure in NZ, and so it makes the industry extremely exciting when it comes to developments and prospects.
"When you look back to four years ago, when Watercare released our previous asset management plan, it had around half the investment of this 20-year plan."
With a population currently at 1.7 million, the Auckland region is expected to grow by another half million in the next two decades, and providing safe drinking water as well as safe wastewater management and disposal is key to this rapid growth.
"Because of this, half of the coming investment programme will focus on growth, while the other half will revolve around renewing assets," Lamonte elaborates. "Our assets here are anything up to 100 years old, so these assets need replacement.
"We are also thinking much more about sophisticated water treatment techniques, and working hard to reduce the number of wet-weather wastewater overflows and discharges into harbours. We pride ourselves on the quality of Auckland's beaches and harbours, and what was acceptable years ago is not acceptable now, so we need to think differently."
According to Lamonte, the water industry is also an energy-hungry space which, in light of the need to combat climate change, means Watercare aims to alter the way it thinks about using energy. This is a key part of the company's 20-year investment plan.
"Watercare will be looking into reducing emissions during the production of necessary components needed in the water industry – such as concrete that is used to build a lot of our assets – right the way through to direct energy use in the treatment plants," Lamonte says.
RACE TO ZERO
Watercare's priorities revolve around providing the best quality water services to the people of Auckland while doing the maximum possible towards environmental betterment.
Last year the company signed up to the United Nations' Race to Zero campaign, adding its voice to a global call for industry to achieve net zero carbon emissions by 2050.
On the whole, NZ is a very green country that contributes only 0.17 percent of total global emissions. However, when added to the collective emissions from all the countries in a similar position to NZ, they collectively account for about a quarter of all global emissions.
"We place a lot on our green credentials as a company, and we believe very passionately that we all need to do our bit," Lamonte affirms. "Climate change is one of the greatest challenges facing the water industry. In fact, it's often first felt through the water cycle, with more frequent droughts and more extreme flooding.
"The water industry is a big contributor to global greenhouse gas (GHG) emissions – contributing about 10 percent of GHG, so we need to find better ways of doing things that protect our planet for future generations. As our city is growing, we're providing services to more people, yet we want to reduce our carbon emissions. At the moment, they're on the rise, so we need to turn that around."
Watercare currently generates electricity at its two largest wastewater treatment plants using the methane produced in the treatment process.
"We have some great scientific minds who are working hard to find ways to reduce the energy needs of our wastewater treatment processes," Lamonte says. "One of our chemical engineers is growing anammox bugs in a lab that will help us to remove nitrogen and ammonium from wastewater, and massively reduce the energy needs for the treatment process.
"Meanwhile, we are also investing in renewable energy opportunities. We have a floating solar array on our Rosedale Wastewater Treatment Plant oxidation ponds and are exploring the possibility of having another floating solar array out at one of our dams."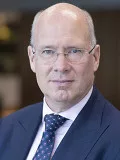 BETTERING AUCKLAND
Watercare's sustainability projects span native forest regeneration, in which the company is replanting native trees in the area around its Hūnua dams in South Auckland. Millions of native trees will be planted over the next few decades under this project, and it serves a multi-faceted purpose.
"Not only do trees carry out the obvious – oxygenating the environment while intaking carbon dioxide (CO2) – and help restore the former forestry land to its natural state for wildlife, but they also protect the water quality in our most important water catchments," Lamonte reveals. "The interconnection of tree roots helps hold the land in these areas together to help prevent landslides during weather events that could fall into the dams and impact the water supply."
As well as its Race to Zero goal of net zero emissions by 2050, Watercare also aims to halve its operational emissions by 2030, and reduce carbon in its construction projects by 40 percent by 2025. With these ambitious goals, Lamonte recognises there are challenges as well as opportunities.
"With Auckland's population growing rapidly, we need to be looking to the future to find more water sources to sustain the city," Lamonte tells us. "But of course, to supply water you often need to pump it to a different location, and this means using a lot more energy to do so. Some of our water treatment plants are very energy-hungry, so as a company we need to continue to do things differently, such as keep reforesting areas, and looking into solar power and renewable energies.
"We're now making fertiliser from by-products of the wastewater treatment process and are also trialling compost. This is about applying circular economy principles and finding new ways to get benefit from what we've traditionally seen as waste."
SUSTAINABLE INFRASTRUCTURE
Watercare faces these sustainability goals with an open mind, which has helped them envision smarter and better ways of operating in the water utility industry.
"Sometimes it's just to do with thinking about how to do things differently," Lamonte says.
"A plan that worked two or three years ago may not work now, so a rethink can lead to something fantastic. For example, soon we'll need to build another 10.3 kilometre pipe between our Ardmore Water Treatment Plant and the Redoubt Rd Reservoirs, but there's more than one way of doing this.
"By getting all the right people in the room from the get-go we considered all the options and implications, challenged our standard practice and soon found a more cost-effective solution that cuts the carbon footprint by about 38 percent. By reducing the pipe size from 1,500 millimetres to 1,000 millimetres, and boost pumping two of our watermains so we can still feed enough water to the reservoirs, we expect to save more than 16,000 tonnes of carbon dioxide equivalent (CO2e)."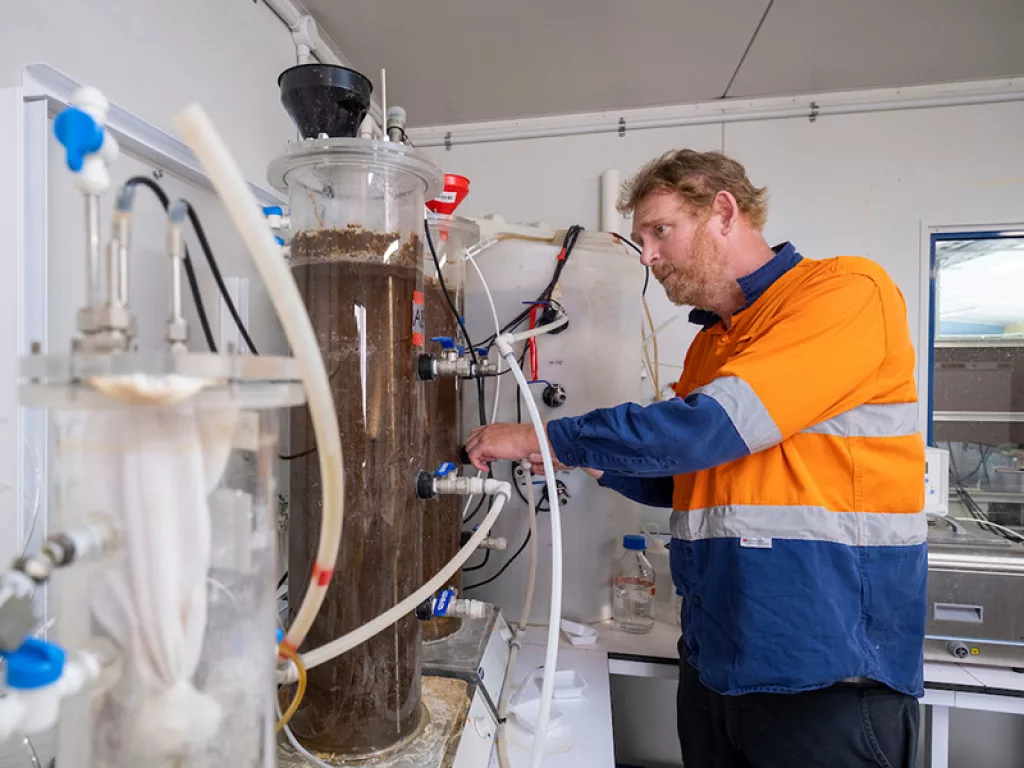 KEY TO A GREEN FUTURE
Watercare acknowledges that there is a lot that needs to be done to get the company on track to reach its Race to Zero targets. Embracing innovation and technology is part of this, trying new things and exploring different avenues of operational methods.
"We need to get better at sharing our learnings and integrating them," Lamonte tells us. "We use a lot of concrete, heavy plant and steel in our assets, but so do a lot of other companies in NZ. We need to pool our thinking, and focus on the major areas of embedded carbon so that any improvements can be made on a large scale. The same can be said internationally – this is a global target, and we need to find ways to work together, learn from each other and share our successes.
"The number one priority for us is to deliver safe drinking water and deal with wastewater in the absolute best way we can. That's what we do, that's what we're good at, that's the right thing. The second focus point is continuing to improve our relationships with our customers, stakeholders and communities, because that's who we are here for. There is a lot that we are doing with our indigenous Māori population and involving them as much as possible, and this integration of communities in Auckland is at the core of our current and future aims. At the centre, Watercare is there to change the thinking and culture around water, from when it falls from the sky to the moment that it disappears into the sea."