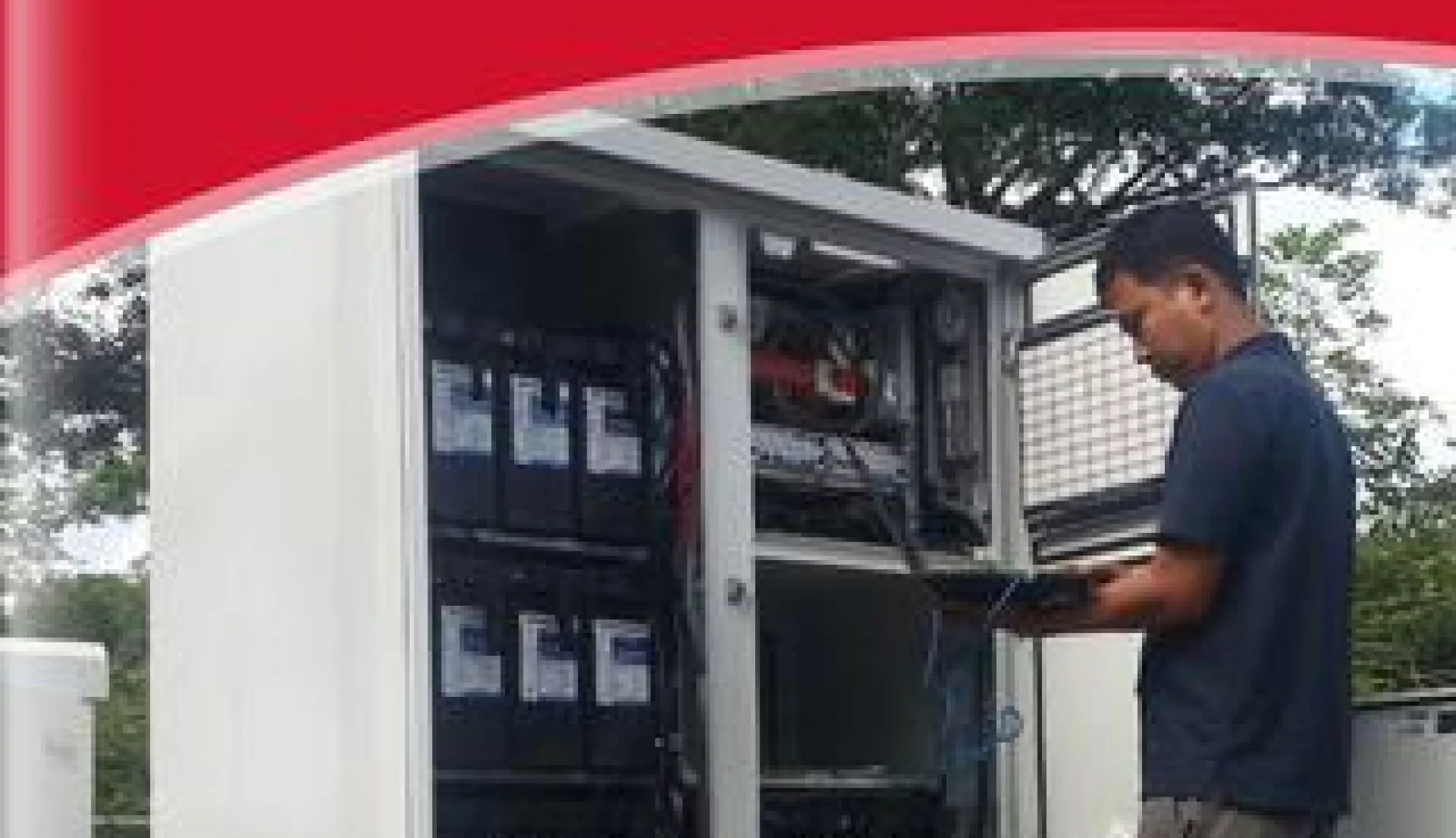 With offices in 11 countries, Linfra Myanmar, a member of the IPT Powertech Group, serves the top clients in the region, providing the dedication of 2,500 experts and the experience of thousands of implemented projects
Writer: Phoebe Calver
Project Manager: Donovan Smith
Linfra Myanmar, Member of IPT PowerTech Group, is enrolled in an end-to-end managed service contract with Ooredoo Myanmar including rollout services, operation and maintenance, grid connection, generator fueling, power management and power colocation which is extremely challenging from a geographical, operational and financial perspective. Myanmar has an interesting potential for the future, and our growth there is stimulated by the need of this region for energy-efficient products and infrastructure services coupled with managed services and Guaranteed Savings model /T-ESCO, adapted to the local market's requirements.
The overall performance of the network has progressed tremendously reaching more than 99 percent over the past period, by providing tailor-made, reliable energy efficient/hybrid and renewable energy solutions for more than 3,000 sites for Ooredoo.
Asia Outlook (AsO): IPT Powertech Group was recognised as one of the few companies leading the T-ESCO model globally. What is your differentiation factor that allowed the group to be recognised as such?
Khaled W. Habbal (KWH): IPT Powertech has been a first mover in the industry at multiple times throughout its 24-year-long history. The group initially specialised in power, then ventured into Telecom infrastructure, then started manufacturing and developing its own solution, all the way to where we currently stand "The market leader in providing energy and energy efficient, hybrid, renewable solutions, power solutions along with telecom infrastructure and managed services".
Our ability to combine our power expertise, telecom services, and managed services at the same time became our differentiation factor, and this propelled our recent success in introducing and implementing the Guaranteed Savings and T-ESCO models up to the extent of leading the T-ESCO Model globally.
AsO: As a group leading the T-ESCO model globally how have you adapted the Telecom Energy Services Company (T-ESCO) business model to better serve MNO and towerco needs?
KWH: We have been serving the largest MNOs across many continents for more than 20 years by providing a wide range of products and services from comprehensive and tailor-made power solutions through to passive and active infrastructure. Throughout the expansion of our business and diversification of our activities, our broad array of offerings has seen a considerable evolution across the whole telecom and power value chain of MNOs and towercos. As for telecom power, we adapted our business model to fulfill the needs of our customers by providing a holistic solution of energy efficient products and managed services as a Telecom Energy Services Company (T-ESCO), up to the extent of leading the T-ESCO model globally.
Our own energy services offerings are categorised in two main streams, one called The Guaranteed Savings Model and the other T-ESCO model and both serve MNOs and towercos in a way to reflect the appetite for capex spending or capex leasing. Both models ensure the deliverables of power availability and reliability to the network respecting all Service Level Agreements (SLAs) related are met.
We have seen in some instances, MNOs that are not planning to divest their towers however are looking to divest their power equipment. In those instances, with the pressure coming from the global profitability of the MNOs, we are providing the T-ESCO model whereby all investment to modernise power solutions and making them efficient and deliver the required availability are provided by IPT PowerTech Group. Naturally, servicing a long-term contract for the same is a key factor for its success. On the other hand, we have noticed that towercos have access to investment resources and strategic directions whereby they invest themselves through innovative and energy efficient power solutions; however, they need the deliverables to be met and the promise of those solutions to be achieved which is reflected in our guaranteed savings model.
AsO: How does Linfra Myanmar show high interest in the local community engagement?
KWH: Linfra Myanmar have established offices across Myanmar, with more than 280 professionals who joined our team. We are very keen not only on recruiting the top notch of the people, but a lot of the best local talent. More than 85 percent of our Myanmar team members are locals, and we are planning to increase this up to 99 percent over the next two years. We are recruiting locals and transferring knowledge whereby we ensure they are empowered with knowledge and experience to be leaders of the local organization in the future.
On the other part, our group is keen on putting CSR (corporate social responsibility) initiatives at the heart of its business strategy within the community by helping the local authorities during the Monsoon season, contributing to local communities including material and financial investments.
AsO: Do you have any upcoming plans for expansion of your footprint?
KWH: Our presence in Myanmar and our success in the relatively short period of two years made us keen on expanding further in Asia. IPT PowerTech's team is always seeking new challenges where we can recreate new power solutions and add advanced features to its wide portfolio, and redefine new added services to guarantee optimal performance at lower cost possible in addition to adding value to our customers.
As for the geographic footprint, we are always looking forward to expand geographically into new territories as long as that growth is aligned with our strategic direction of the business and makes us able to expand and build our unique strength of combining the power expertise in telecom, service expertise in telecom and managed service expertise to deliver significant cost savings for our customers across the world.
Finally, our appetite for expansion and growth is driven by the hard work of our 2500 specialists, the reason behind the strength, success and differentiation of the group.
VIEW IPT Powertech Group BROCHURE