Behind the wheel of a circular supply chain system, we speak to Eric Gregoire, CEO of Goodpack; the company representing resilience, efficiency and sustainability in global material transportation.
THE FUTURE OF GOODS TRANSPORT
Sustainability comes in many forms.
Presented with the term, thoughts of greenery, clean energy, carbon capture projects and waste recycling spring to mind. Yet there are more subtle practices that fall under such a term that often go amiss.
Within this realm, smart storage and space utilisation are two things that maximise efficiency, and in doing so, promote a sustainable means of transport and delivery through streamlining the logistical system. Less wasted space equals maximised product transport in a minimised number of journeys, saving fuel, effort, CO2 and time.
Amid the international logistics sector, Goodpack is a key player and promoter of efficient and sustainable means of cargo transport. The company is a global logistics provider servicing industries that require safe, protective, cost-efficient packaging and supply chain solutions.
"We are based in Singapore but operate around the world," begins Eric Gregoire, CEO of Goodpack. "Our first and original business was the transportation of natural rubber, which by nature made us a global company from the get-go. Over time we expanded from natural rubber to synthetic as well, and because there is a tyre plant in every corner of the world, it means that we operate across every continent. This defined the first two decades of the company."
Over the past 10 years, the company has significantly grown its global footprint and established itself as a premier partner in delivering integrated supply chain solutions to customers in the most demanding industry sectors.
"Across the last five to seven years, we have evolved," Gregoire continues. "We have taken the idea of modernising the supply chain to make it more environmentally friendly, more resilient, and less costly by making use of a returnable fleet of containers.
"That is the definitive purpose of Goodpack; to take the supply chain, look at it holistically end-to-end, and modernise it by introducing a mutually beneficial fleet of containers."
EVOLVING OPERATIONS
Goodpack is an innovator in developing safe and cost-efficient transportation and storage solutions for challenging payloads, including natural rubber, food, liquids and specialty industrial goods such as tyres and automotive parts. The company boasts team members, operations and depots around the world dedicated to simplifying customers' supply chain processes and to reducing waste with recyclable containers replacing one-way packaging.
"We make transportation more sustainable because we are waste free," Gregoire tells us proudly. "Our returnable containers reduce freight costs as the process eliminates the waste that is empty space. We are a very efficient storage and transportation solutions provider, and this maximised space utilisation also eliminates the need for vast storage facilities around the world that take up millions of square feet collectively.
"Our basic principle is being truly global in serving the short and long supply chain. Simply put, we are the constant throughout a very complex operation, making it leaner and more resilient."
Throughout the COVID-19 pandemic period, the global supply chain has been key to maintaining the daily operation of businesses and lives worldwide. For Gregoire, this period has highlighted the necessity of reliability in the sector.
"If I asked a supply chain manager what the greatest priority was prior to the pandemic, they would have said, 'number one: cost, number two: cost, and number three: cost," he reflects. "Now, having collectively experienced what we have, the answer to this question would be 'resilience, sustainability, cost'.
"The pandemic has created an entirely different story and profound change within the industry, and resilience has become the front and centre of conversations across the world."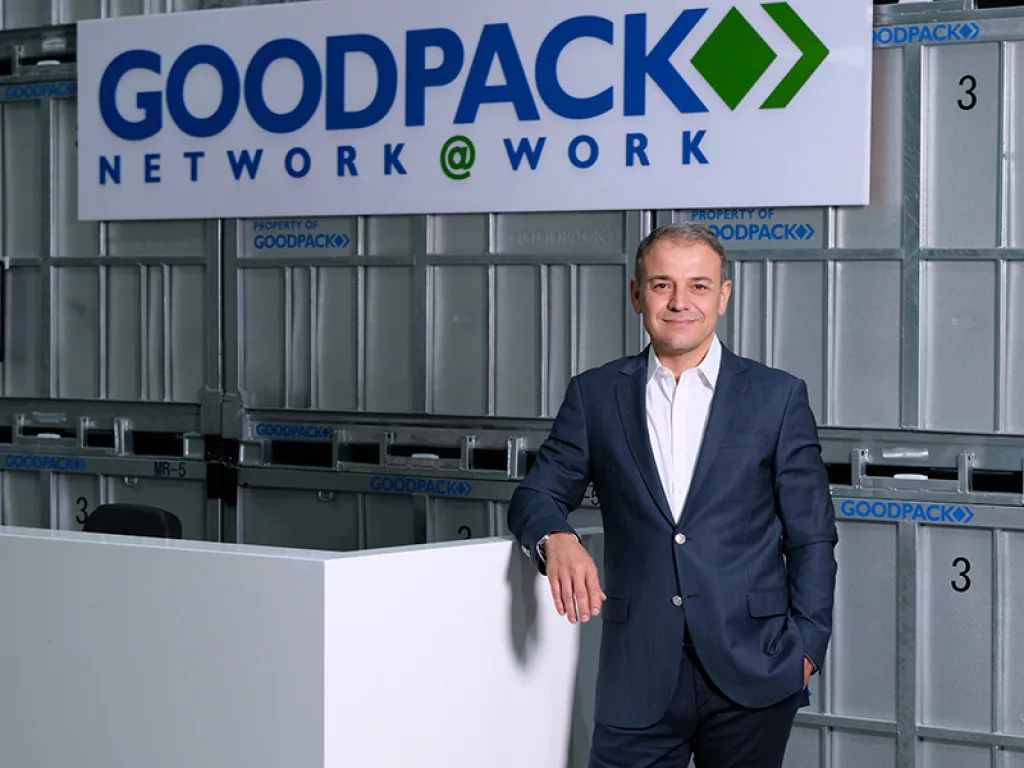 "We either already provide the best services in the world, or we partner with the best to provide the best"

Eric Gregoire, CEO, Goodpack
EXPERTS IN THE SECTOR
The team behind the company are the dedicated staff that ensure Goodpack upholds its mission in developing and delivering end-to-end supply chain solutions for its customers. The business relies on the experience, skills and commitment of its employees from every level to maintain the high level of innovation and service it is globally renowned for.
And from under the direction of the company's management and leadership, Goodpack is ever expanding in its role as a world leader in transport packaging and an enabler of global supply chain ecosystems.
"In recent years, we have been successful in expanding distribution into the food and beverage, and vehicle components sectors," Gregoire elaborates. "We are transporting anything from purées, concentrates or pickles, to automotive and aeroplane parts, and we leverage our global network to support our customers worldwide, at the same time creating leaner supply chains with higher network density and shorter repositioning distance.
"This expansion and reliable service would not be possible without our various hard-working and talented teams."
Having globalised its teams, Goodpack operates via five primary divisions in Asia, the Americas and the EMEA region, each led by a regional president who oversees various teams of staff.
"These teams are the fuel behind the business, and they heavily depend on each other," Gregoire explains. "As Goodpack relies on the return of containers from customers, and the repositioning of containers to restart the process, each division must work together to balance the supply for continued operation and the benefit of all."
With an employee-centric focus at the fore of the company, Goodpack ensures that training is provided to staff and makes use of specific advanced training for future leadership in the business.
"Our leadership training can cover a variety of topics, from digital transformation to business economics," Gregoire comments. "This helps develop our future leaders' understanding of how the world and our company is going to impact the supply chain, and what the best strategies are moving forward."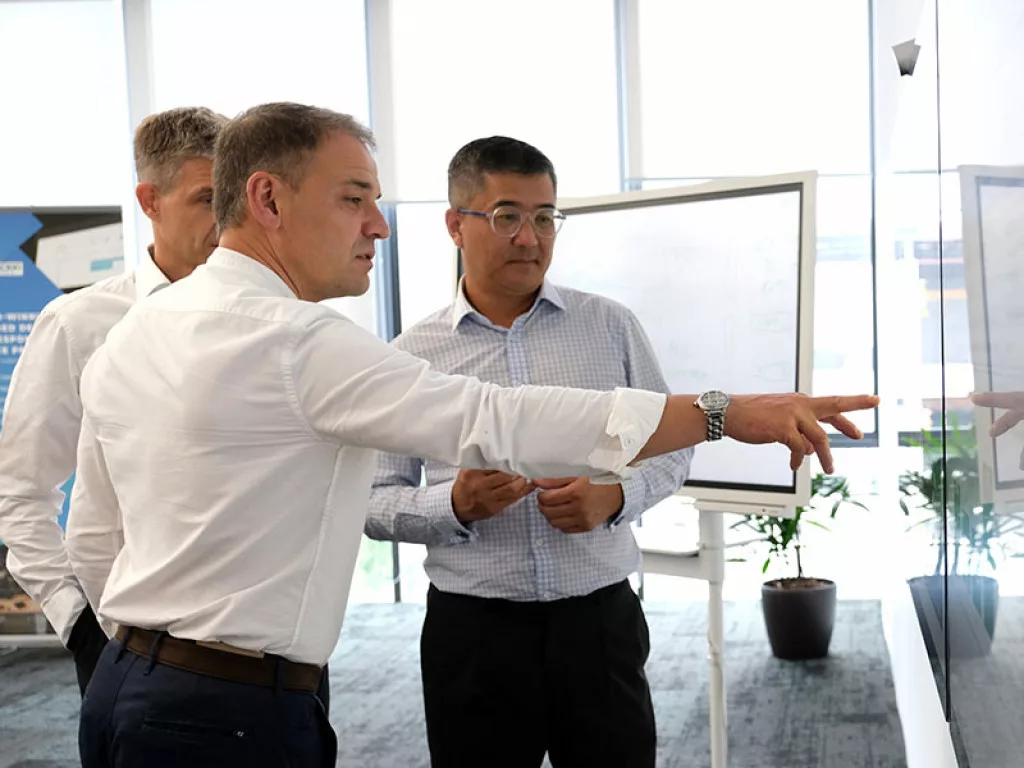 EFFICIENCY AND ENDURANCE
Goodpack's strategies lead to smart thinking and solutions within the supply chain. The company's container formats answer specific needs within the space and represent the progressive, sustainable purpose behind the business.
"We have launched a format of container called MB6, designed to maximise the utilisation of space for American railcars, consisting of 60-foot containers and larger," Gregoire elaborates.
"Each of these, like most of our containers, are made of metal that provides a multi-faceted advantage for efficient goods transportation. This format works perfectly when it comes to transporting fragile products, such as automotive components, that require a great deal of protection and care.
"The metal containers keep the goods safe and provide a long life for the assets; we are still using containers that are more than 20 years old."
And the added benefit of Goodpack's metal containers is the reusable nature of the material. If, after a long stint of service, the metal containers become damaged and unfit for use, they can be melted down and repurposed. For Goodpack, this mixture of reliability and repurposing becomes a dual-focal reason for their use; one that merges with the business' core values.
"Our containers and delivery vessels are all square or rectangular in shape, which becomes the most practical when it comes to saving space," Gregoire adds. "We are replacing the use of drums for example; their shape is impractical and wastes space that could be better used for product storage during transport, and moving the drums themselves often requires a high level of manual labour that could be better spent elsewhere."
"Today, our goal is to work as a partner within industry sectors to enable the supply chain of the future"

Goodpack
UTILISING THE DIGITAL REALM
Goodpack is further developing its capabilities in the digital realm. Within this space, the latest digital tools become vital to continued fluidity and ease of business operations, and Goodpack's recognition of this is represented by its customer portal, a user-friendly digital platform that monitors container cycle time, location, supply trends and much more.
"Our digital portal allows the businesses to follow and track the containers and the related details and information," Gregoire says. "On top of this, we also guarantee a circular economy through digital means. Goodpack ensures that each container used can and is reused by businesses at their point of destination, so that each container can deliver goods and then continue its service to multiple locations globally without having to be returned to its original destination.
"This digitally led method allows us to achieve a circular system while also remaining environmentally friendly throughout."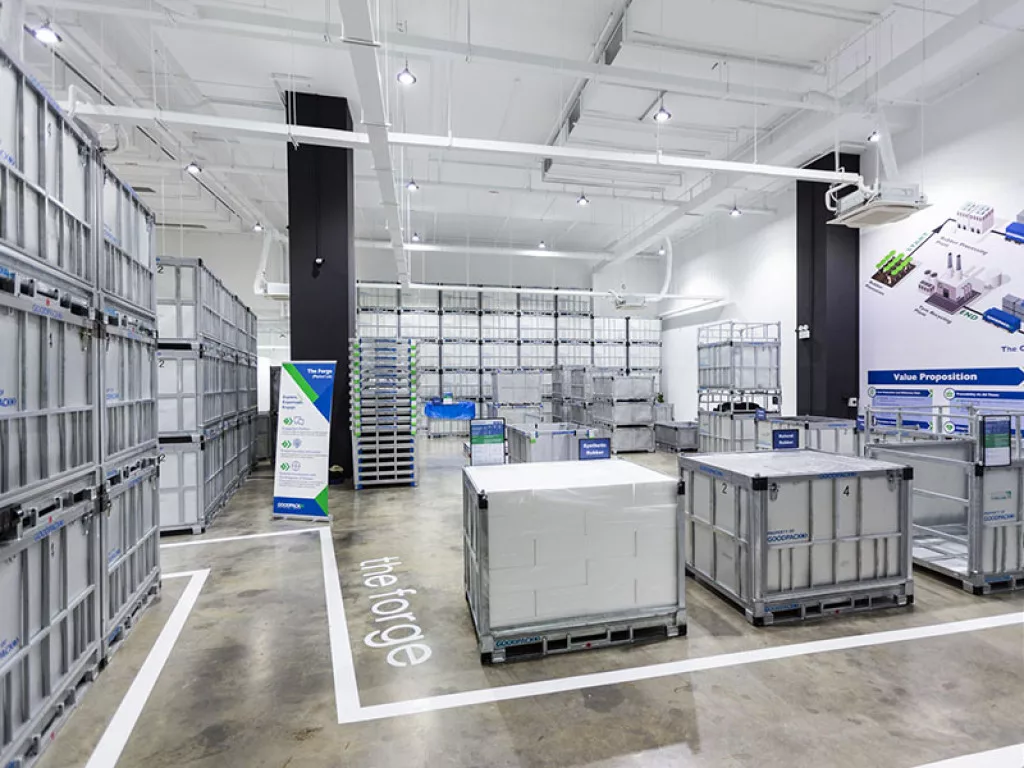 GROWING GOODPACK
For Goodpack, efficiency and expansion are two key words, and the future holds a lot of promise. In the short term, the company will be aiming to completely eradicate ineffective supply solutions such as transporting goods via drums, that are both impractical in their design when it comes to maximising space, and often require a great deal of manual labour on either end. On top of this, Goodpack will simultaneously be making headway in alternative markets.
"We are looking to become an even bigger player in the food and beverage supply space, ," Gregoire informs us. "Maximising space and resilience are of course a major short-term aim of ours.
"Some of the current packaging is a simple wooden pallet carrying goods wrapped in film, which is both riskier when it comes to product vulnerability, more wasteful, and does not allow the pallets to stack upon one another. It is at the top of our agenda to replace all use of wooden pallets with metal containers that are more robust, stackable and that are interlocking for both space utilisation and goods/material security.
"Lastly, Goodpack is looking to develop our business from raw material supply solutions to also move into the fast-moving consumer goods (FMGC) space, moving from the transportation of raw materials into that of finished goods, from one plant to the point of consumption."
Goodpack's aims and developments are moving in conjunction with an increasingly progressive, efficient, green and smart industry. With resilience at the core of all the company does, Goodpack represents the enduring nature of the global supply chain.