Delivering operational excellence, we discover MEO Group's safe, sustainable, and digitalised marine services and offshore vessel solutions with CEO, Darren Ang.
MARINE SUSTAINABILITY
"We aspire to be the top provider of crew mobility and project transport solutions to the oil and gas, renewable energy, and near shore civil construction sectors in South East Asia, the Middle East, and Europe."
Outlining the vision of MEO Group (MEO) is CEO, Darren Ang, who APAC Outlook had the opportunity to interview and find out about his vision and initiatives on future-proofing the company.
Mr. Ang's father and uncles are all from the marine industry, spurring his interest in and understanding of the marine industry from a young age. A marine engineer, Mr. Ang graduated with a bachelor's degree (first class) in Marine Engineering at Newcastle University.
"I first joined Bureau Veritas in Singapore when I came back from the UK as a consultant and surveyor. Thereafter, I got to know my predecessor Diederik de Boer, who asked me to join him at MEO. I never looked back, and here I am 23 years later," he recounts.
Mr. Ang has held various positions in the company. Having first joined MEO as Chief Operating Officer in 2007, he went on to become Chief Marketing Officer and Deputy CEO, before assuming his current role as CEO in June 2021.
Headquartered in Singapore and trusted by the world's biggest energy companies, MEO has been providing specialised marine services since the 1970s, with a demonstrable track record of operational and safety excellence in its offshore vessel solutions.
MEO's diverse fleet of young, reliable vessels is operated across all phases of the offshore oil and gas and renewable cycle, providing fit-for-purpose assets and chartering solutions designed with specific markets and clients in mind. MEO's vessels include crew boats, anchor handling vessels, tugboats, multipurpose support vessels, platform supply vessels, subsea vessels, accommodation vessels, and flat top barges.
Meanwhile, MEO's projects solutions business unit, Express Offshore Solutions (EOS), has large expertise in executing cargo transportation projects and handles large-scale marine equipment requirements worldwide. EOS' dedicated project team is proven in the field of project cargo and pipe transportation, as well as the supply and operations of offshore marine equipment.
"Engineering is vital to the safe delivery of the diverse range of project cargoes that EOS transports. Every project has its unique challenges, which require tailor-made solutions. As a result, EOS has strengthened its in-house capabilities to offer a broader range of engineering and onshore services to its clients, including related load-in/load-out operations services," says Mr. Ang.
The Group is also actively serving the renewables sector to support offshore wind farm projects throughout the marine phase. These services consist of providing geotechnical and geophysical vessels, subsea support vessels, crew transfer services, cargo transportation solutions, multi-vessel chartering, and project management.
Given the offshore wind market's potential in Asia, MEO first established a foothold in the Taiwanese market in June 2020, and since then, a total of four vessels have been reflagged to the Taiwanese flag and worked on five offshore wind farms projects.
With a strong head start in the offshore marine market in Taiwan, MEO aims to continue growing by expanding further into Europe, Japan, South Korea, and Vietnam.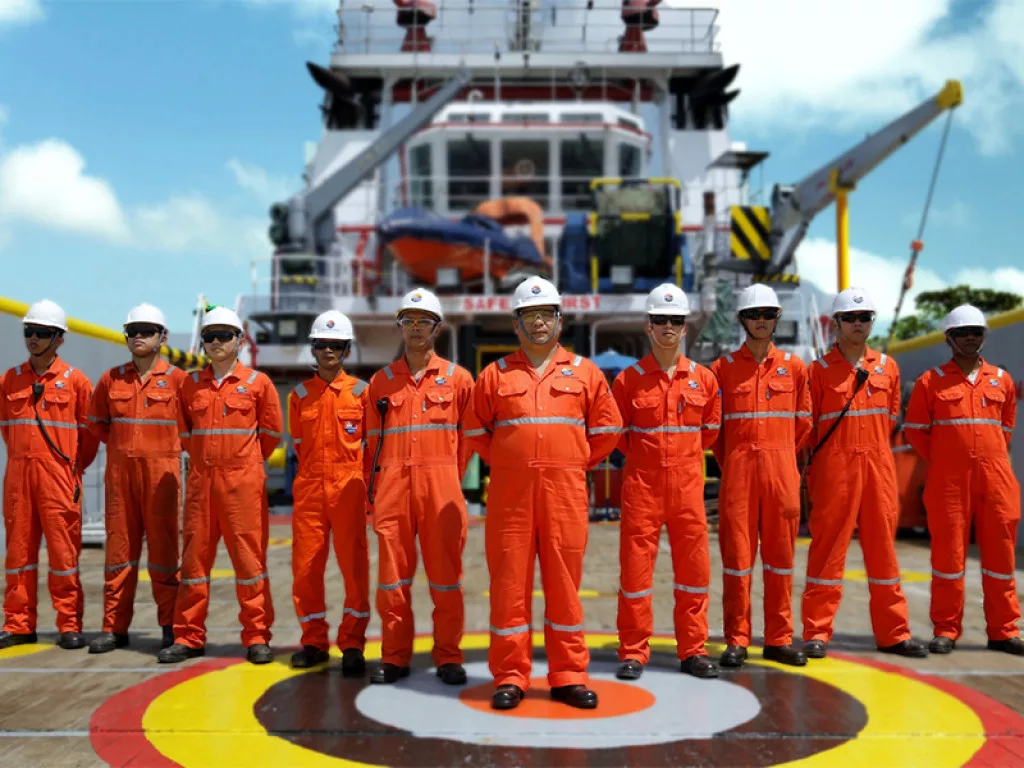 OPERATIONAL EXCELLENCE
"The Group is committed to provide efficient and reliable services to our clients. Our commitment is demonstrated by the strong operational and technical uptime of vessels, which provide clients with the uninterrupted services they desire," Mr. Ang tells us.
Operational excellence is at the heart of MEO, with timely support offered to clients from multiple satellite offices and dedicated shore bases.
Safety is a core pillar of MEO's operating framework and an enshrined core value. Accordingly, the Group charters quality vessels built to the highest safety and efficiency standards.
"Having safety as one of the Group's core values contributes to our continual success in driving operational excellence.
"As a result, MEO has implemented ISO 9001, 14001, and 45001 group-wide to reinforce its commitment to providing quality services without harming people and the environment," says Mr. Ang.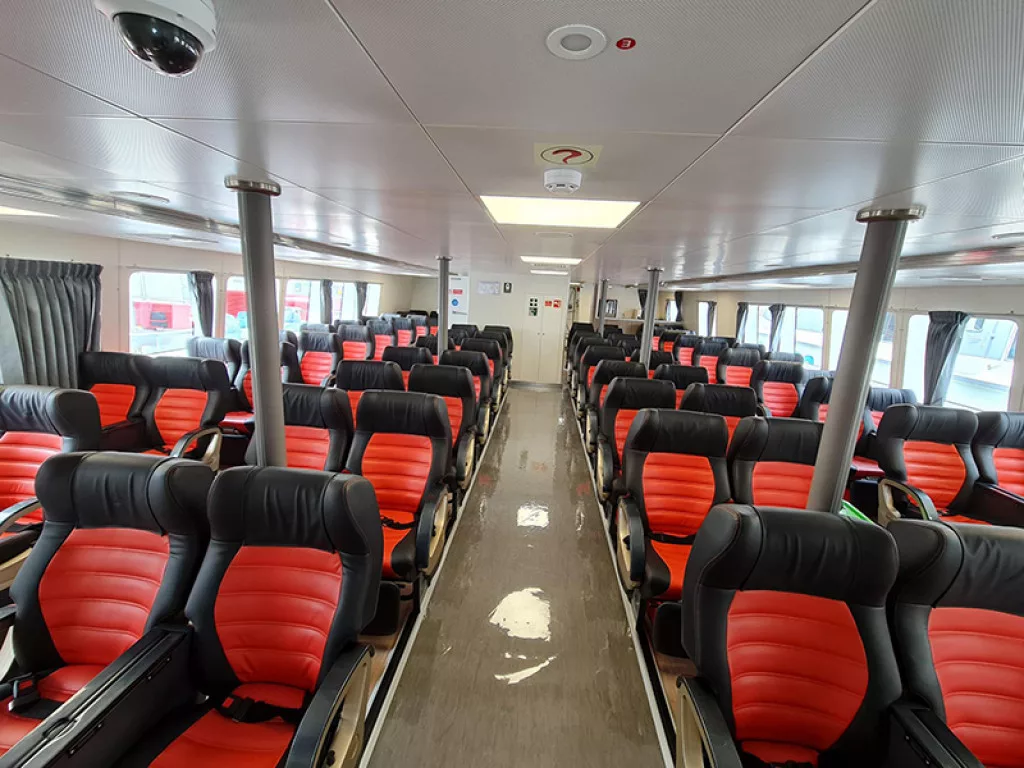 ESG FRAMEWORK
Even though oil prices remain sky-high, MEO continues to build trust and confidence with key customers by winning and servicing long-term contracts with domestic and international oil and gas majors, wind farm developers, and engineering contractors.
Nevertheless, in preparation for the next five years of development and growth, MEO is looking to reshape its organisational structure. The Group plans to embark on a journey to implement its ESG (environmental, social, and governance) plan.
With governments committing to sustainable practices, a shift in mindset is required for organisations like MEO to adapt, adopt new practices, and improve their operations.
As a shipowner and operator, MEO understands its core business is a significant source of greenhouse gas emissions and they are embracing carbon accounting principles to estimate their emissions.
Once the Group has established its greenhouse gas inventory, it can augment its decision-making process with data and set SMART targets. This will help to manage and reduce its emissions by adopting green technology and setting energy-efficient operational parameters.
"MEO is constantly monitoring its greenhouse gas emissions and has put in emissions reduction targets in line with International Maritime Organization (IMO) goals to reduce emissions by at least 50 percent by 2050 compared to 2008," confirms Mr. Ang.
Today, MEO has implemented measures such as frequent propeller and hull cleaning to reduce drag of the vessel, thus enhancing fuel efficiency and utilising biofuel resulting in reduction of carbon emissions.
MEO is also taking a holistic approach towards managing its resource usage and waste generation. The Group seeks to optimise its resource consumption by introducing a green procurement policy, to reduce the purchase of single-use plastics across its offices.
In addition, vendors with an accredited environmental management system will be given a higher score during the selection process.
"Considering the scale of our operations, their impact on the environment, and the people we employ, MEO has now embarked on a journey to formulate its ESG framework to prepare the Group for the future," Mr. Ang explains.
"This would help MEO to manage its key risks and support value creation for internal and external stakeholders. In addition, corporate social responsibility (CSR) is a key performance indicator for all employees, and the Group is focused on giving back to the community."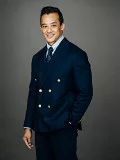 The group is committed to providing efficient and reliable services to our clients"

Darren Ang, CEO, MEO Group
DRIVE FOR DIGITALISATION
Since the onset of the COVID-19 pandemic, companies have also been accelerating their pace and support towards digitalisation. For MEO, the digitalisation drive ensures that the entire digital ecosystem works as one, from ship machinery and planned maintenance to ship management system and communication devices.
MEO understands that equipment makers and service providers are coming up with their own platforms, including comprehensive range of devices and data connectivity that can seamlessly support ship managers in their digitalisation journey.
With a wide selection of solutions and platforms available today, shipowners and ship managers are spoilt for choice.
"We have decided to focus on streamlining our Integrated Management System and critically reviewing our core business processes to lay the building blocks and set milestones in realising our digitalisation strategy.
"In the coming months, MEO intends to conduct pilot runs on communication systems, ship management software and solutions providers to prepare ourselves for the next leap into a green and digital age," outlines Mr. Ang.
REJUVINATED FLEET
In May 2022, MEO placed an order with Singapore's Penguin Shipyard International (Penguin) for five new executive crew boats, based on Penguin's proprietary Flex-40X and Flex-42X designs.
MEO is scheduled to take delivery of the crew boats between 2023 and 2024, as part of its new fleet rejuvenation programme.
"The new series of Flex executive crew boats are designed for optimised ride comfort and speed. Each vessel features up to 80 reclinable business class seats with generous legroom, individual USB ports, passenger-friendly two-by-two seating arrangements, as well as large windows that offer ample natural lighting.
"In addition, each Flex crew boat can carry up to 60 tonnes of deck cargo, up to 82,000 litres of fuel, and up to 30,000 litres of freshwater," Mr. Ang informs us.
Flex crew boats are designed as multi-role crew change vessels, capable of executing various missions, including offshore crew change, security and escort, search and rescue, firefighting, and medevac.
These additions to the MEO fleet will increase its complement of crew boats to over 65 units, deployed in South East Asia and the Middle East.
"This latest order further strengthens MEO's status as the region's largest crew boat operator," Mr Ang affirms.
Elsewhere, Uniwise Offshore, a Thai joint venture between MEO and Unithai Group, recently took delivery of UNIEXPRESS 27. Boasting a maximum speed of 29 knots and fitted with 80 business class seats, the crew boat has joined the rest of the 30 vessels working in Thailand.
MEO also concluded the purchase of nine offshore flat top barges late last year. These barges have been utilised on cargo transportation projects across multiple regions. With these additions, MEO's barge fleet is now approaching 30 units, ranging from 250 ft barges to 400 ft self-ballastable barges.
Such investments and additions stand MEO in good stead for the future.