Delivering sustainable subcontracting across the APAC region and beyond, we speak to Nicholas Tan, Vice President of Operations at Advanced Integrated Manufacturing Corp (AIM), and the company's latest investments in the space.
AIMING FOR A GREENER FUTURE
My fascination with the aviation industry began at a very young age. As a child I was always asking my parents to take me to Changi Airport in Singapore. I would then spend hours watching the numerous aircrafts take off and land, and dream that one day I would have the opportunity to work in aerospace. I still pinch myself that I can see Changi airport from my office at our new HQ."
Having held onto this lifelong passion for the aerospace sector, Nicholas Tan, Vice President of Operations at Advanced Integrated Manufacturing Corp (AIM), is privileged to have found his calling. Founded in 1999, AIM operates within the aerospace manufacturing sector providing subcontract outsourcing solutions from multiple locations, such as the company headquarters in Singapore, to a globally spanning customer base. AIM's services range from providing Box Builds with functional testing, electromechanical sub-assemblies, printed circuit board assemblies, machined components and sheet and fabrication chassis, enclosuresand parts.
Indeed, with industries returning to a somewhat 'normality' in the face of international COVID-19 vaccine rollouts, the aerospace sector is beginning to shift back into a higher gear.
"Singapore is a leading maintenance, repair and overhaul (MRO) hub in Asia offering nose-to-tail aftermarket services and aerospace operations, spanning airframe maintenance, engine overhaul, structural and avionics systems repair, as well as aircraft modifications and conversion capabilities," Nicholas explains. "These core competencies, coupled with our commitment to quality and safety, have made Singapore a recognised one-stop solutions provider for airlines' maintenance and repair needs.
"Amid pandemic crisis and a direct hit on the aerospace sector, forecasts for the aviation industry's recovery remain challenging, with the lifting of border restrictions slow and more transmissible strains of COVID-19 wreaking havoc on travel plans. Nevertheless, the space should remain an exciting skillset anchoring platform from which to grow as the industry climbs back."
AIM currently employs over 1,000 people, across five countries, from three strategic divisions: subcontract manufacturing, retail and investment. AIM's manufacturing division employs over 500 people and provides subcontract outsourcing solutions from its AS9100 and Nadcap approved, vertically integrated supply chain, to a global customer base which ranges across the aerospace, defence, medical, scientific instrumentation and energy industries. The manufacturing division is made up of AIM's wholly owned subsidiaries AMC Singapore, AMC Penang, AMC Bintan, NCA Johor Bahru, and Colbree Precision Ltd (Colbree).
"We would like to take the opportunity to say a heartfelt thank you to our staff, customers, suppliers, and contractors for all their help, support, and dedication throughout the last 18 months, which have been some of the most challenging we have known. We hope you and your families stay safe and well and look forward to meeting in person again when restrictions allow"

Adam Coles, Global Head of Sales, AIM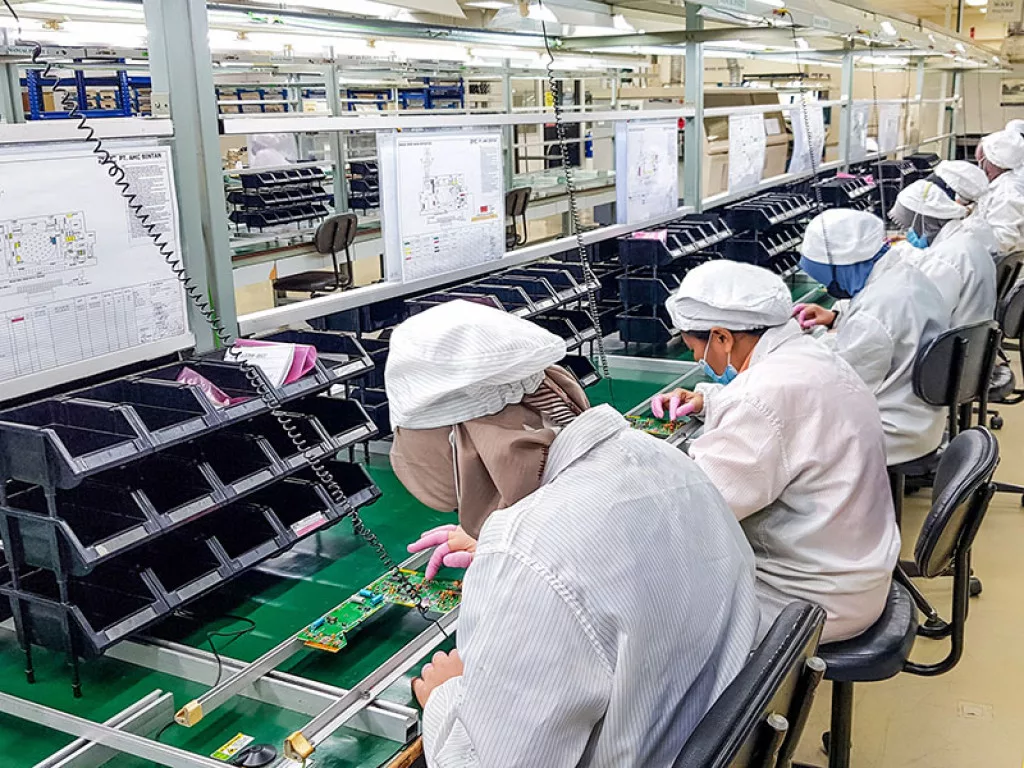 GREEN MANUFACTURING
For AIM, sustainability is a core focus. This notion is no better exemplified by the company than its plans for carbon neutrality across its operations.
"This is an area we're incredibly passionate about," Nicholas tells us proudly.
"Our chairman, Dr. Vincent Tan, set the senior management team the following goal: 'to reach a state of net zero emissions for our internal manufacturing services by 2030'. Our UK facility Colbree was chosen as the pilot site to lead the project into achieving net zero emissions for our manufacturing services."
"I'm incredibly proud to be able to announce that, after a thorough independent audit by the Carbon Footprint partnership, our UK site has just been awarded carbon neutral plus status. All Colbree's paperwork will incorporate the Carbon Footprint logo from November 2021 proudly stating that our site is carbon neutral plus.
"As pleased as we are of becoming carbon neutral at one site, this is just the start of our journey to deliver our chairman's green vision." This continued plan works in line with the multiple countries that AIM works across; many of which have published a range of sustainable government targets, ranging from 50 percent carbon output reductions by 2030, to ensuring businesses are completely carbon neutral by 2050.
"From our own research we believe our UK site Colbree is the first subcontract company that will offer a carbon neutral service. It was a steep learning curve but one that the team undertook with vigour, and we are more than willing to share our learnings with any of our current customers and new ones who are currently analysing the carbon footprint of their products and supply chain."
The UK site has recently implemented multiple energy saving initiatives such as LED motion lighting, the renewal of multiple machines at a cost of over £1 million; a transference to the latest energy efficient variants and was deemed as the facility which could achieve the target in the shortest possible time going on to then share the progressive practice across the rest of the subcontract division.
"Over the last 18 months the UK team have been on a steep learning curve, working with the Carbon Footprint Ltd advisors," Nicholas elaborates. "From ascertaining the requirements of becoming a carbon neutral business, following a stringent assessing programme to capture all the sites greenhouse gas emissions relating to our internal machining processes and then the strategy to achieve net zero.
The UK site will now move forward to implementing PAS2060, the internationally recognised standard for carbon neutrality, and start assessing the upstream and downstream emissions of AIM's operations as well as communicating this to all its partners.
"No one can succeed in business alone, and AIM's suppliers and contractors are critical to the company's success at achieving our green aspirations; we are proud to have partners that share our core beliefs and values"

Adam Coles, Global Head of Sales, AIM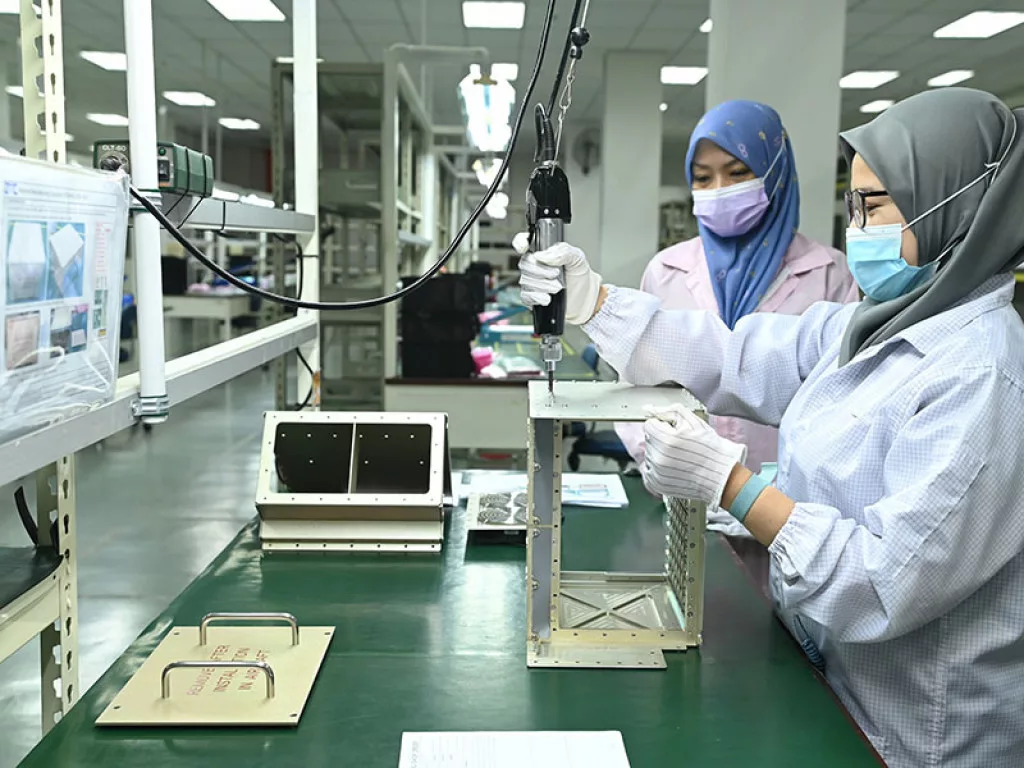 STRATEGIC INVESTMENT
AIM's progressive sustainability efforts go hand-in-hand with its new strategic development plan. This plan, aiming to be completed within three years, is made up of multiple components, some of which are presently underway.
"Prior to the start of the pandemic – at the end of 2019 – our chairman signed off the new manufacturing division's three-year strategic development plan for 2020-22," Nicholas tells us. "This included the purchase of our new HQ, implementing group services at the HQ, expanding our manufacturing services and capital equipment investment and our new corporate social responsibility strategy."
"We are very pleased to announce that all our Singapore staff have now relocated to our new headquarters spanning 150,000 square-feet in size, based at 25 Changi South Street, just five minutes from Changi Airport. Due to the international travel restrictions, we have delayed our official opening until a time when all our customers can join us; a day which the whole AIM team are incredibly looking forward to. We have been blessed throughout our history that so many of our customers have visited our previous HQ and manufacturing sites across Asia and cannot wait to host them again."
AIM is also proud to announce that its subsidiary AMC has successfully completed stage one of the company's development plans to increase the range of electronic manufacturing subcontract services. AMC Bintan can currently offer a wide range of cable harnesses and wire assemblies certified to IPC-620.
"As part of our three-year plan, we have invested in the expansion of services to introduce new automatic and semi-automatic cutting, stripping and crimping machines, pull testers and Continuing Professional Development (CPD) for our diligent team," Nicholas explains. "This is to ensure our new services meet the world-class quality levels we are renowned for, and we look forward to announcing the time when stage two is complete, which includes Nadcap certification for our expanded services."
MOVING FORWARD
AIM has yet to deliver the final goals of its three-year strategic development plan, however many aforementioned targets have been met. On top of the Singapore relocation, the company has successfully undertaken the UK site extension of Colbree and the planned capital equipment investment alongside this. This targeted investment has enabled AIM to expand its range of subcontracting offers, an increase of capacity, and set up group services across company operations improving overall efficiency.
"I am, however, most excited about our carbon reduction plans," Nicholas tells us. "The challenge our chairman set the manufacturing division is an incredibly tough one, but the UK site has proved that we can operate our high precision subcontract services as a carbon neutral business, and this is paving the way for the future of our green operations across the business.
"Throughout this incredibly difficult period of the world's history for so many people and families, we have been overwhelmed by the team effort involved, in ensuring the continuation of our supply chain. From learning new ways to work socially distanced in our factories, to ensuring the critical aspects of our quality never waver. Engaging with our customers, colleagues, and partners via virtual platforms, and remembering to appreciate the simpler things in life again such as meeting up in person. Which is why, when it is safe to do so, we cannot wait to schedule the official opening of our new HQ and have the opportunity to say thank you in person to everyone."