We unwrap the emergence of Thong Guan Industries Berhad as one of the largest stretch film manufacturers in Malaysia, as General Manager, David Ang, emphasises the importance of sustainability in plastic packaging.
MAKING PLASTIC SUSTAINABLE
"It feels like I've been a part of the company for as long as I can remember."
David Ang, General Manager of Thong Guan Industries Berhad (Thong Guan), is the face of the fourth generation at the family-owned plastic packaging powerhouse.
Founded as a tea and coffee trader in 1942, it wasn't until two decades later that Thong Guan entered the plastics industry, where it now specialises in stretch films while investing heavily in flexible packaging, namely stretch hood, shrink film, wicket bread bags, courier bags and more.
"Thong Guan saw great potential in the plastic market at the time, so the company decided to delve into the production of stretch film and flexible packaging," explains Ang.
From stretch films and food wraps to perforated bags and sheets, Thong Guan today is one of Malaysia's largest plastic packaging manufacturers.
"We sell high quality stretch films that are on par with the best in the market, focusing on performance consistency for our customers.
"We are constantly innovating to help customers achieve performance consistency, load stability and safety, and sustainability goals. Our customers come back to us because of the integrated innovation of our products," Ang acclaims.
The establishment of the Newton R&D Centre in 2016, equipped with state-of-the-art testing facilities, has helped Thong Guan to better understand customer packaging problems and provide solutions that focus on load stability, safety, and visibility of the entire wrapping process, which promotes sustainability.
The centre is a leading research institute, offering expertly designed packaging solutions for palletised loads, courtesy of a dynamic simulation lab focused on load stability and safety during transportation.
"As of now, we are increasing our footprint in Europe with Newton Europe. Thong Guan is considered a local player by our European customers due to our solid presence in Italy and Germany, so we are highly regarded in terms of performance and quality consistency.
"Together, we are also helping our customers through education where the Newton Europe Academy covers training topics like load stability, wrapping optimisation, and more," Ang affirms.
"Thanks to our local warehouses, we can achieve faster order fulfilment – they know they can count on us to deliver, instead of waiting eight to 12 weeks for us to ship from Malaysia to their factory. In many instances, we are faster than their local providers."
Thong Guan has joined forces with Newton in the ENGAGE programme, a special collaboration to help optimise clients' stretch film applications, thereby reducing waste and increasing profit.
Pallet delivery performance can be impacted by variables such as weight, contents and travelling distance, which are factored into the ENGAGE programme to help customers find the best optimised wrapping solutions.
Thus, Thong Guan does not merely produce and supply packaging products, but also helps customers in achieving better load safety and cost efficiency, delivering value-added services that give impetus to their business goals.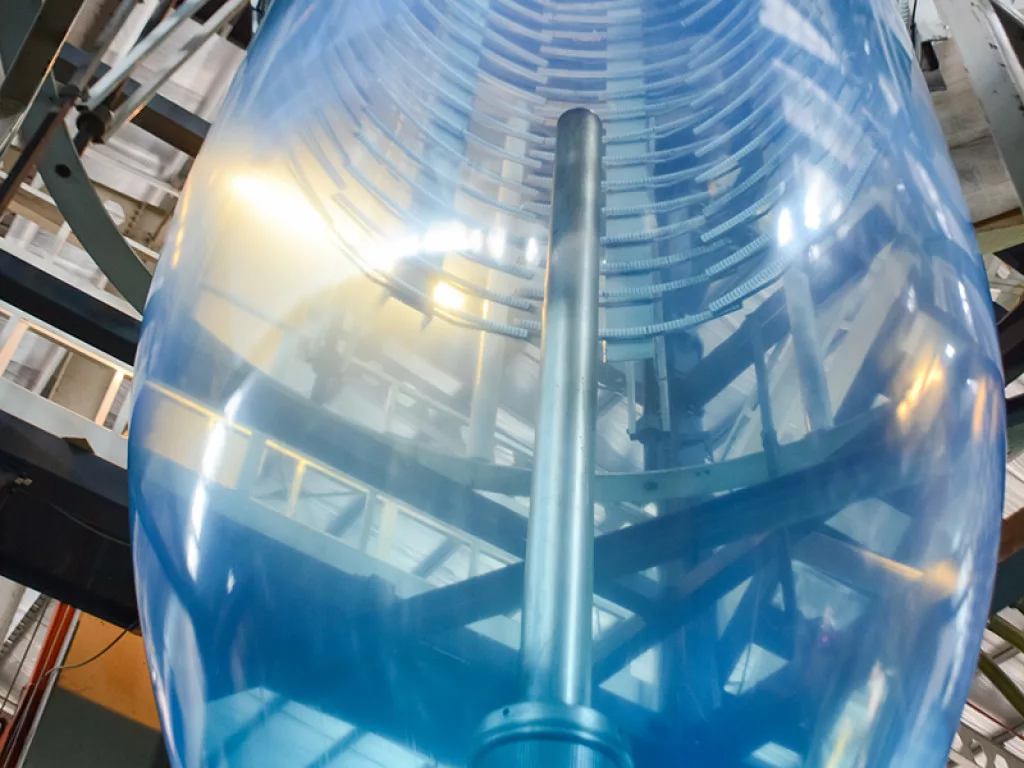 PLASTIC GOES GREEN
The Newton R&D Centre has enhanced Thong Guan's innovative spirit, which is also being channelled towards the development of cleaner, greener plastics.
As part of LIVE GREEN, Thong Guan's sustainable transformative goal towards plastic circularity, sustainability is being made possible for customers and partners through innovation, as well as education, recycling, alternative resourcing and more.
"Since 2018, Thong Guan has embarked on a journey of posterity to progress our business and make our customers more sustainable," Ang states.
"Through our LIVE GREEN initiatives, we hope to mobilise industry players to accelerate green innovation and progress. We inculcate sustainability not just in our products, but in our culture as well.
"Whilst it may be hard to believe that a plastic manufacturer would want to promote sustainability, right now we are very focused on it."
Driven by a philosophy of Reduce, Reuse, Recycle, Thong Guan even has a dedicated subsidiary, TGSH Plastic Industries, devoted to recycling with an annual output of 5,000 metric tonnes.
It comes as recent National Geographic figures show that billions of tonnes of plastic have been made over the past decades, a whopping 91 percent of which isn't recycled.
"We cannot eradicate plastic use in many areas of our lives, but we can manage it," Ang acknowledges. "That way, we are making a conscious effort to leave the planet in a good condition for the next generation.
Thong Guan's in-house recycling machines, meanwhile, can convert rejected plastics into recycled resin, which is subsequently reused in the manufacturing process to produce certain plastic packaging products.
The company's R&D team is focused on producing performance and quality consistency in bags and films containing recycled resin, in the hope of increasing the use of recycled resins in more products.
"We are working with plastic waste that has already been generated. As such, we ensure we have internal recycling processes and facilities to support our initiatives," adds Ang.
It is clear that Thong Guan is serious about its sustainability goals as it takes the necessary steps to enable customers to participate in closing the loop.
Thong Guan's total end-to-end solution supplies customers with their stretch film needs, helps collect post-usage waste via strategic recycling partners, and processes waste into stable recycled resins, which are transformed to produce high-quality repurposed products to serve another lifespan in the economy.
It means that when consumers recycle their stretch film waste, they are knowingly contributing to the development of the circular economy.
"As we continue to do our part, we are helping and encouraging other brand owners to achieve their sustainability goals"

David Ang, General Manager, Thong Guan Industries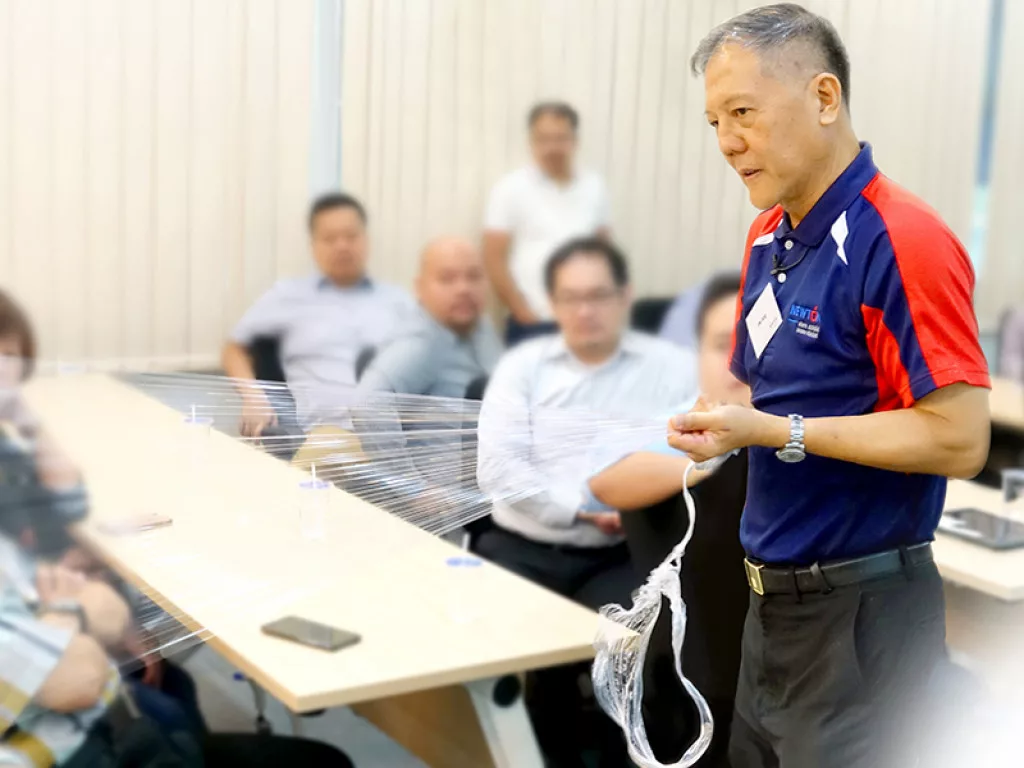 CLOSING THE LOOP
Despite this, plastics remain a valuable commodity in the packaging space, but Thong Guan is striving to close the plastic waste loop through recycling in order to reduce waste and the company's carbon footprint.
Not only are recycled plastic machine films comparable to conventional stretch films, but the move towards recycled films is sustainable for the packaging ecosystem.
That brings us to NanoGreen, Thong Guan's first high-quality recycled machine film made with 30 percent recycled materials.
Specially formulated to meet packaging requirements, NanoGreen is characterised by its excellent containment force, high tear resistance and outstanding puncture resistance, proving that pallet load stability need not be compromised by recycled materials.
With NanoGreen, Thong Guan helps customers to reach their sustainability goals faster through high-quality recycled machine films.
"By ramping up our recycling efforts, introducing NanoGreen recycled machine film and acquiring the necessary certifications for our green products, we are spearheading the circular economy and closing the loop," outlines Ang.
"As we continue to do our part, we are helping and encouraging other brand owners to achieve their sustainability goals."
Thong Guan is also focused on bio-based plastics. The TG Bio series, for example, is made of green polyethylene resins from renewable feedstock such as wood chips.
Thong Guan's bioplastic products, which range from plastic bags and garbage bags to stretch film, shrink film and even meat liners, are further reducing plastic packaging waste in the industry.
SUSTAINABLE GROWTH
Thong Guan believes that environmental sustainability is just as important as business sustainability, practiced by carrying out business operations responsibly and creating a positive impact in the community through investment in education, sports, community care, environmental projects, and occupational health and safety.
Over the years, Thong Guan has also supported charities and other meaningful causes, efforts through which the company hopes to foster community spirit as well as encourage its 2,200 employees to be actively involved in CSR programmes.
In the fast-paced era of globalisation, meanwhile, Thong Guan has been continuously evolving to strive for sustainable growth.
With an annual turnover of over RM 960 million, it is one of the fastest-growing companies in Asia Pacific, bolstered by additional manufacturing operations in China and Thailand. As Thong Guan continues to grow, however, it believes in striking a harmonious balance between its business pursuits and social responsibility.
"Our sustainability goals are at the top of our list, so we will continue to work on reducing waste and closing the loop as we aim to hit RM 2 billion turnover by 2027," confirms Ang.
"Next year, we are looking to invest in many areas. We have machines coming that include stretch film, shrink film, stretch hood, and flexible packaging capabilities."
With Thong Guan at the plastic packaging helm, the future of film is green.