A company with the concept of joy baked firmly into its DNA, CEO of Krispy Kreme Australia and New Zealand, Andrew McGuigan unpacks the key ingredients behind a company culture established on true authenticity.
DESTINED TO DELIGHT
The doughnut. An orb-like, wholesome symbol that suggests inclusion and longevity in its endless, all-encompassing ring of soft and delicious indulgence.
Aside from being one of the world's most consumed baked goods, the doughnut is emblematic of the company culture embodied by the renowned brand that has grown to become synonymous with any mention of the product.
As one of the most iconic consumer brands out there, Krispy Kreme needs little introduction. The company and its products are well-loved across the globe as the pioneer and proprietor of the Original Glazed, or 'OG', doughnut. Although the product line has evolved and expanded to include coffee, shakes and bagels, in savvy market moves that keep pace with consumer trends, this original product still carries timeless appeal, accounting for more than half of the company's sales as the number one fan favourite.
Whilst many may be familiar with the fresh, hand-made delicacies that get made daily at Krispy Kreme, it is the people behind the brand that truly make the company what it is.
The company culture that applies to the brand globally is particularly prevalent when discussing Krispy Kreme with CEO of the Australia and New Zealand (ANZ) operations, Andrew McGuigan.
McGuigan describes the Krispy Kreme enterprise as an "84-year-old teenager, due to its fun and youthful personality" that continues to attract a loyal mass following.
Few brands are as well-loved, which is unsurprising when you consider Krispy Kreme as an enterprise that is essentially entirely founded on the concept of bringing joy.
18 years ago, Krispy Kreme found a welcome new seat in the Australian market – to the extent that six out of 10 Australians now enjoy Krispy Kreme doughnuts. Across Australia, the company's footprint extends to 35 shops; 13 of which are 'Drive Thrus', with the balance of shops a mix of in-line locations, airport installations and flexible kiosks.
"Whilst the heartbeat of the brand is the Hot Light at the Drive Thru, of fundamental importance to building a scalable business is our daily supply of fresh doughnuts to our partners in the convenience and grocery channel."
The company prides itself on its long-standing partnership with 7-Eleven. A 10-year relationship so far, this extends the Krispy Kreme brand into 708 stores nationally. "We believe in focused relationships with our retail partners."
Indeed, McGuigan credits Krispy Kreme's partnership with 7-Eleven as "fundamental to the growth story at Krispy Kreme over the last 10 years."
The Australia and New Zealand business began as an independent franchise market in 2003, that was later acquired by the US-based parent company in 2018 and now operates as a 100 percent owned equity market under the recently listed Krispy Kreme Doughnut Corporation.
"Yes we are a US brand, but from a supply chain perspective, over 80 percent of our ingredients are sourced in Australia, which is a fantastic way for us to support the broader Australian agricultural industry."
The brand has just marked its third birthday in New Zealand and has been met with huge success. "The response from Kiwis has been fantastic in enabling us to connect with communities across the country. We will see another flagship store open in Auckland later this year," McGuigan tells us.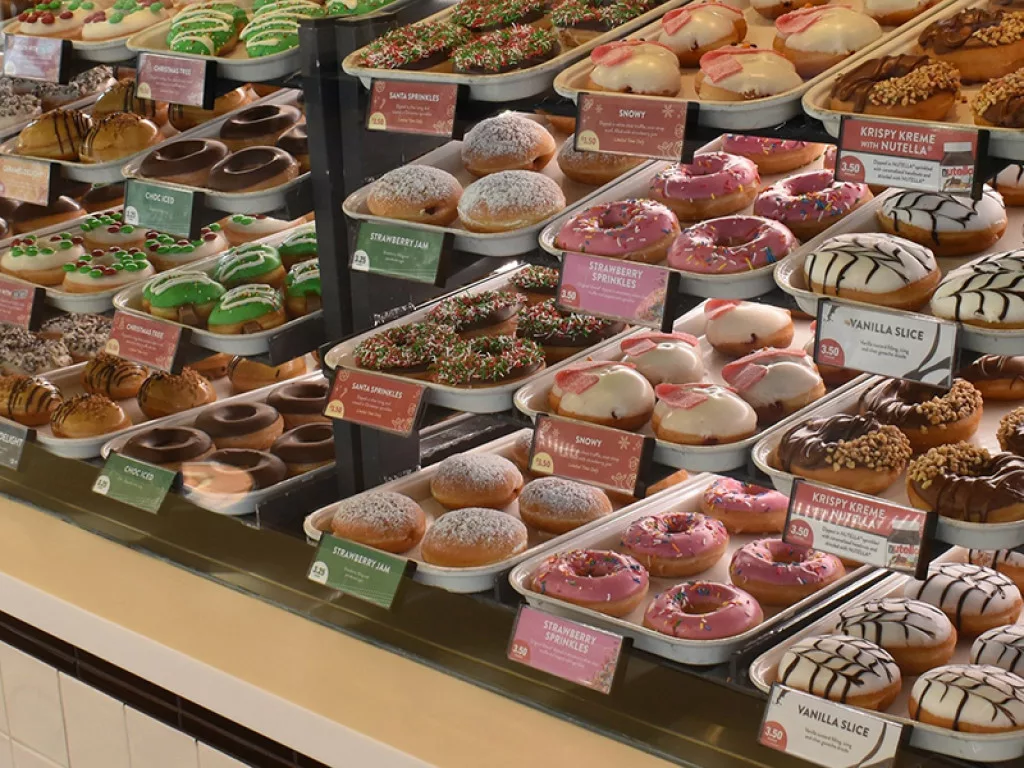 'PEOPLE MAKE THE DOUGHNUT GO ROUND'
Although freshly baking and hand-making over 80 million doughnuts a year, each and everyone is treated like an individual.
It is Krispy Kreme's 'Irresistibly Original' culture that is the true glazing on the doughnut, whereby every single employee – duly called a Krispy Kremer – is encouraged to be their true selves.
For McGuigan, the powerful intersection of brand and culture serves to create a truly authentic enterprise and offers the potential to propel the company forwards. "If we do that well, brand and culture can act as a fly-wheel to growth."
"It becomes a very authentic execution that we see. It's delight for the consumer, but that's also lived internally in the way that we treat people and the way that we engage them in certain areas. That's the richness behind the company and what enables us to connect with the consumer the way that we do."
Indeed, it is this culture that is the true reflection of the entire brand positioning and is entirely founded on the people behind the company – whether that's those working in doughnut production and doughnut decorating roles, or customer facing retail roles.
Krispy Kreme ANZ is a team in the truest sense of the word. This boils down to the concept of both 'Serving People and Leading People'.
"We have over 1,000 employees across Australia and New Zealand across a mix of support office, retail and manufacturing teams."
"From a cultural perspective, we are an entrepreneurial brand, and we encourage people to bring that mindset to all levels of the business…it gives people the freedom to step into new areas of responsibility and we encourage that."
Like the glazed delicacies and sweet treats, each individual player at Krispy Kreme is treated like a true Original, hand-picked, hand-finished, and truly cherished on a daily basis. The staff behind the company subscribe to a performance network measured by 'Goals and Dreams', designed to answer personal fulfilment and objectives centred on happiness, rather than the impersonal metrics typically associated with work achievement.
By equipping all team players with transferrable skills in the making and selling of doughnuts, there are no limits to the heights that Krispy Kremers can grow to within the company.
Evoking the company's mantra of 'Little moments, Big possibilities', what begins as casual part-time work, might just evolve to define your entire career path.
This is a path not dissimilar to McGuigan's own, when what began as a six-month engagement with "narrow scope" evolved into an ongoing eight-year journey that led to his current position as the Australia and New Zealand CEO.
"There are many people who started working in one of our retail shops whilst at university and have transitioned into the finance, IT or retail support team where there's a real billing for people to make that transition without prior corporate experience."
As paralleled by the colourful range of its products, for Krispy Kreme, this means encompassing diversity.
"We want to be a reflection of the people and the communities that we serve. If you look at the nature of being a retail business, you want to reflect the communities that you operate in, and fortunately we all get to live in a very multi-cultural society in Australia and New Zealand," McGuigan comments.
"It is important that diversity is reflected across the business in all roles and at all levels. This is something we always want to challenge ourselves on to do more."
Of course, this people-centric sentiment is channelled most transparently in Krispy Kreme's intimate relationship with the customer, by establishing a culture that truly meets their needs. Each transaction between a consumer and Krispy Kreme member of staff is founded on catering to indulgence and delivering a small moment of joy that can make all the difference.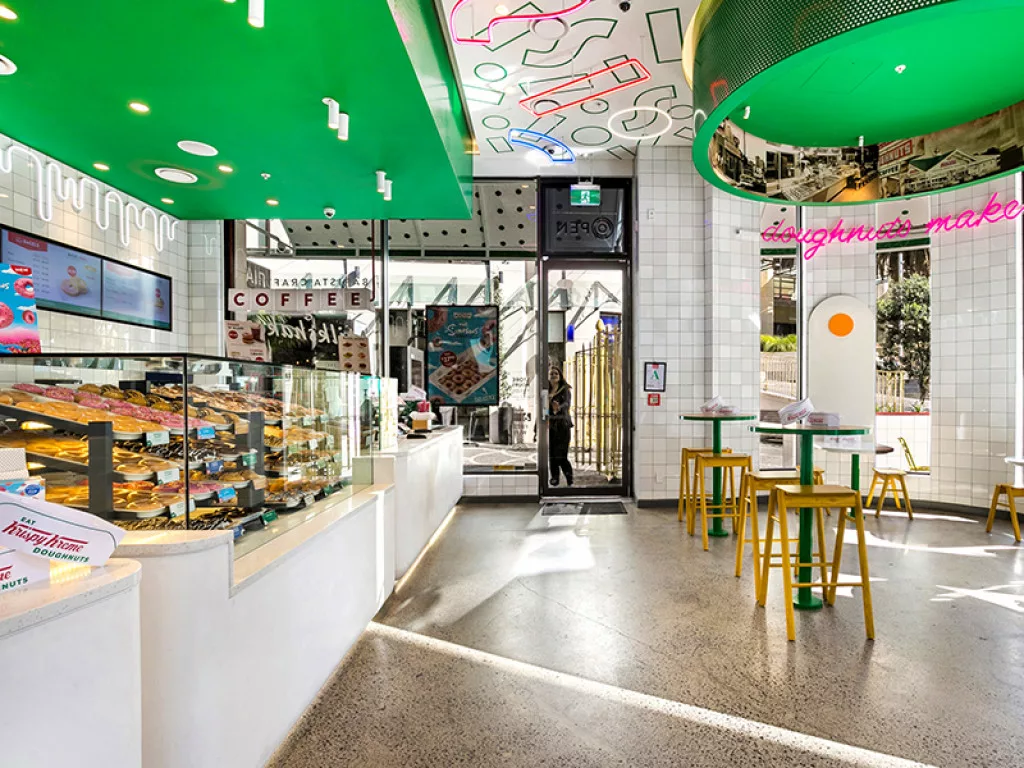 CONNECTIVITY THE KEY
Krispy Kreme's laudable stance as a socially conscious indulgence means that it truly cares for the communities in which the brand operates. This is aptly illustrated by the company's commitment to charitable donations and its social initiative – Doughforce.
"It's something that's been baked into the business globally not just here in Australia, to support communities and assume a role in times of need.
"With COVID-19 going on, that extended to us being there for all the frontline workers. Over the last 18 months as a global business Krispy Kreme has donated more than 2.5 million doughnuts to health and frontline workers as a simple acknowledgement and thank you."
Continuing the significance of COVID-19 at Krispy Kreme ANZ, the headwinds of the pandemic threatened the collective nature of the brand centred on a product that is reliant on moments of connectivity and sharing. As such, the risk posed by national lockdowns and enforced isolation was significant, when considering that celebrations and gatherings are the true heartland of the brand – both the everyday special moments and also the big events like weddings and baby showers.
"The key occasion is anchored in sharing with friends and family – if you have ever taken a box of Krispy Kreme to a BBQ or gathering, you will know the impact it has – smiles all round!" he quips.
The pandemic led the company to zone in and focus on five key priorities; maintaining a safe environment for its people, designing systems to serve customers safely, using the brand for good as a thank you for first responders, accelerating innovation into new channels, and embedding new ways of working to keep everyone connected.
"Joy acts as a North-star for how we think about the customer and the experience we want them to have with Krispy Kreme, but just as critically, it informs how we think about the employee's experience across their lifecycle"

Peta Neilsen, Director of People and Culture, Krispy Kreme
FUTURE HORIZONS
Whilst challenging in its nature, the COVID-19 pandemic encouraged exploration and development in avenues that will continue to guide operations in the years ahead.
Above all, extended periods of lockdown and social restrictions has only heightened the hunger for a 'sweet moment' amongst consumers. In these times of hardship, consumers are looking for moments of relief, indulgence, celebration and connectivity than ever before. This sparked a significant uptake in the numbers of consumers looking for 'in-home indulgence', particularly with a premium brand like Krispy Kreme.
As such, innovation is near the top of the agenda for the company in 2022, with the brand's recent partnership with leading Australian biscuit-maker Arnott's to develop 'Krispy Kreme Tee Vee Snacks', indicative of the potential opportunity in a new snacking occasion.
"We recognise that consumers have different needs and snacking is on the rise, so we also launched our snackable Bites range; six smaller doughnut balls that are easier to snack on," comments McGuigan.
The COVID-19 pandemic also became the catalyst to accelerate the brand's digital journey, with e-commerce amplifying through the Krispy Kreme omni-channel business model. This has enjoyed significant YOY growth, particularly after the company branched into priority next-day delivery and partnering with third party aggregators including UberEats, Door Dash, Meunlog and Deliveroo that sits alongside Krispy Kreme's own e-commerce platform.
Aside from e-commerce, McGuigan is keen to develop the brand's presence in grocery stores. "A big area of attention is how we expand into the grocery channel and ensure our daily fresh manufacturing and logistics can meet that challenge," he tells us.
"Next year there will be a big push on expansion into grocery, but this won't be at the expense of our major ongoing partnerships with 7-Eleven and BP in New Zealand."
Unsurprisingly, Krispy Kreme's Drive Thru stores have significantly benefitted from the COVID-19 snacking boom, offering convenient, socially-distanced service with a smile, with barista coffee and fresh doughnuts offered in under three minutes. As a result, the company has undertaken renovations across its Drive Thru stores at key locations to streamline the customer experience such as speed through the Drive Thru and hero the brand icons like the world-famous Hot Light.
Indicative of the success of the Drive Thru segment, 2022 is shaping up as an exciting year with new stores opening in Sydney, Melbourne and Brisbane, all designed to have the doughnut theatre at the heart of the customer experience.
In the same way that the brand's 'secret recipe' behind the 'OG' doughnut has remained unchanged in almost a century since the company's inception, so too will the company's simple mission of delivering joy to others, remain unchanged for the years ahead. The rest are just the sprinkles on top.