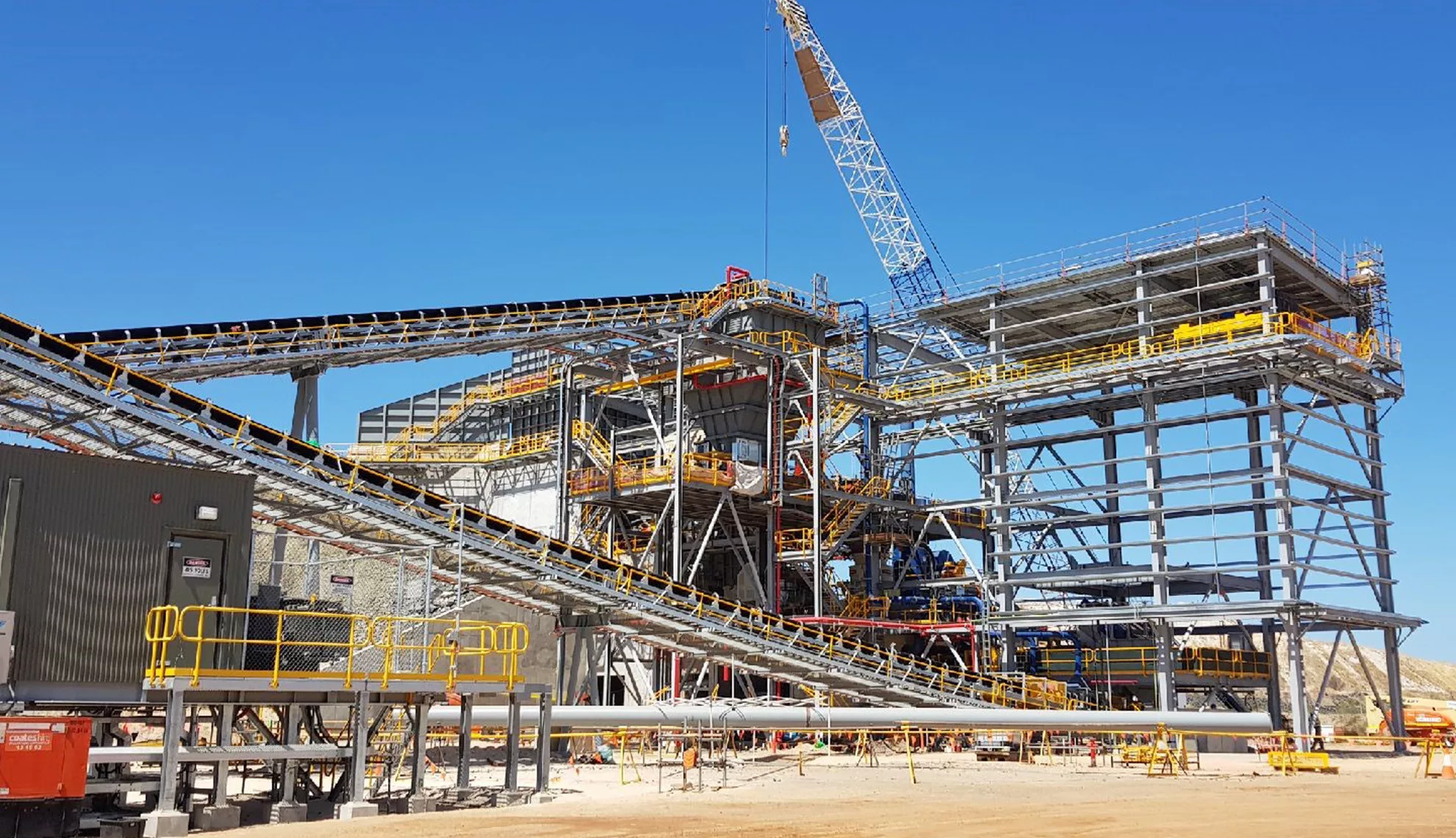 In it for the Long Haul
CPC is committed more than ever to its long-term relationships with clients, the company continuing to deliver on projects in Asia, Africa and at home in Australia
Writer: Tom Wadlow | Project Manager: Donovan Smith

No matter what part of the world you are in, 2020 looks set to be defined by the progression of and fallout from the global coronavirus pandemic.
From China where the outbreak began to Italy where the disease has taken a particularly strong grip on the older population, consumers, businesses and governments are having to work together in a wartime-like spirit to ensure life goes on.
The knock-on effect on industry is and will continue to be enormous. For many organisations an important balancing act is taking place, decisions which must take into account employee and societal welfare alongside the longevity of their enterprises.
For Perth-based CPC Engineering, these conversations are happening almost daily.
"Quite a few of our plans, as with many organisations, have gone out of the window," comments CEO Glen Weir. "We're sitting down on a very regular basis to discuss and evolve our COVID-19 management plan and mitigate the impacts it will have on our business.
"It has the potential to severely impact us, so we're looking at the services we can offer to clients who are also impacted by the virus. For instance, we had one customer who contacted us to say they are moving their plant's workforce to a two weeks on, two weeks off roster, so we've put forward a proposal to supply additional personnel to fill the gap."
This is a typical example of why CPC is a longstanding, reputed mid-tier provider of engineering design, construction and maintenance services to the minerals resource sector around the world.
It is nearing 50 years in operation, a reputation built on long-term relationships with clients and supplier networks, and one which will no doubt stand it in good stead as it seeks to navigate the uncertainty that lies ahead.
Weir has been CEO of the organisation for the past 17 of these years, joining the firm in 2003 in what he saw as a once in a career opportunity.
"Back then CPC was much smaller with about 30 people on its books, and I thought if I don't do it now then I probably will never do it, so I decided to take the plunge," he recalls. "I took the job on and it has been a fantastic journey – we've grown from 30 staff and a turnover of $7 or $8 million to 300 people and revenue of $80 to $100 million.
"Our workshop and office networks have greatly increased, as has our portfolio both in terms of locations and the industries we serve."
Firm foundations
Indeed, in 2019 we spoke with General Manager of CPC Project Design Rod Davies, who outlined plans to consolidate recently acquired growth by completing and taking on new projects at home and abroad, and this is exactly what has been happening.
An important milestone for CPC in Africa came with the completion of the Balama graphite mine in the Cabo Delgado province of northern Mozambique in 2017, by far the largest graphite plant in the world and which at full capacity can produce up to 350,000 tonnes of concentrate a year.
The client in question is Melbourne-based Syrah Resources. As well as delivering the front-end engineering design (FEED) study for the project, CPC was also awarded the engineering and procurement contract for the mine's design phase, a process which was completed inside 12 months and managed from the company's Perth office.
Following the completion of the engineering phase, a team from CPC joined the Syrah construction and commissioning teams on site to ensure smooth project delivery.
"This was a landmark development for CPC and our African project design office," Weir says. "This was the first tender we won through a competitive process, and from our perspective the job went extremely well, especially as we faced technical challenges over equipment selection for a graphite plant of that size."
The success at Balama played a significant part in CPC securing work with Black Rock Mining, another Australian firm with operations on the African continent, this time in Tanzania.
Weir describes how the company has completed important studies for the Mahenge Project in the country's Ulanga district, around 300 kilometres southwest of Dar es Salaam.
"Part of this involved operating a pilot plant in Canada and providing technical expertise for a second pilot plant campaign in China," he says.
"Black Rock has worked proactively with the Tanzanian government to come to agreements and the signs are good. When it proceeds, we will secure the role of client engineer, providing engineering design and managing the interfaces between local and international suppliers.
"The plant will be built in four separate million-tonne-per-annum modules which will produce around 85,000 tonnes of concentrate a year, with each module to be operational for a year before moving onto the next. When it gets off the ground it will be a very significant project for us."
CPC is also looking to establish itself as an active supporter of local African businesses.
In South Africa, it has entered into an alliance with three companies with the aim of helping them to bring their services to market.
While the Africa Project Partnerships is in its early stages, if successful CPC will be able to open up what could be game-changing international opportunities, the South African firms in question being Power Plant Electrical Technologies Pty Ltd, Steel Services and Allied Industries Pty Ltd and Strutfast Pty Ltd.
Advancing in Australia
Closer to home, the company continues to be busy across a number of study and design developments for various clients, especially in Kalgoorlie (WA), a place very close to the CEO's heart.
"I was actually born here before moving to Perth when I was six years old," says Weir, who recalls how stories from his father, an underground miner, inspired his curiosity in the sector. "When I finished my degree at what is now Curtin University, I secured a job as a graduate electrical engineer with Western Mining Corporation.
"My first job was therefore back in Kalgoorlie in 1979, and I couldn't have asked for a timelier introduction to the industry, as that was the year gold prices went from about $220 to $560. It was a fantastic time to be a young graduate, and I was directly involved in the reopening of the Golden Mile."
Back in the present day, CPC is engaged in a number of studies for projects in Kalgoorlie, including for Norton Gold Fields at its Paddington mine, the exploration area for which covers some 1,056 square kilometres.
"Norton wants to develop its facilities by putting in a heap leach plant and upgrading the gold processing plant by adding ultra-fine grinding and flotation capacity," adds Weir. "We're working with them on the study for this and are already looking to carry out some preliminary design."
Another interesting development coming to the gold province has its origins in Malaysia.
Lynas, the world's second largest rare earths producer, currently operates one of the largest and most modern rare earths separation plants, located on the Gebeng Industrial Estate near Kuantan.
However, as part of its compliance with Malaysia's Atomic Energy Licensing Board, the firm must make plans to build a cracking and leaching facility abroad to transfer and process away waste from its current plant, and Kalgoorlie has been identified as the ideal location.
The new site will compliment Lynas activities already happening at its Mt Weld mine and concentration plant near Laverton (WA), with CPC in talks about providing assistance on the project including various compliance documentation.
Reliant on relationships
Another client with a base in Perth is First Quantum Minerals, a company which CPC has a longstanding relationship with, having completed many works together. CPC recently carried out design work for the non-process infrastructure at its Cobre Panama project which involved 40 CPC engineering personnel for two years, the company currently completing an ancillary crushing plant at the same location.
"First Quantum has been a great client of ours and shows the value of long-term collaboration," Weir says. "Relationships are everything, not only with clients but also suppliers, many of whom have been with us for 50 years since the Golden Mile days.
"For new suppliers we do go through due diligence to make sure we align on key values, the aim very much being to develop lasting partnerships. Our growth journeys are entangled, so we need to ride the ups and downs together."
As well as clients and suppliers, Weir also highlights the critical nature of building relationships with communities, not least through its office and workshop network which all employ and upskill local people, something which the company has prided itself on ever since going into business in 1970.
And this collective spirit, from CPC employees and management to suppliers and clients, will be at the heart of the company's ongoing efforts to emerge stronger out of 2020 and the obvious challenges that lie ahead.
Weir concludes: "We started off in a small country town and wouldn't be where we are without the help of local communities and local people. We are part of the community we live in and it is so important we continue to engage and support, especially in the testing times everyone is facing."
VIEW CPC Engineering BROCHURE