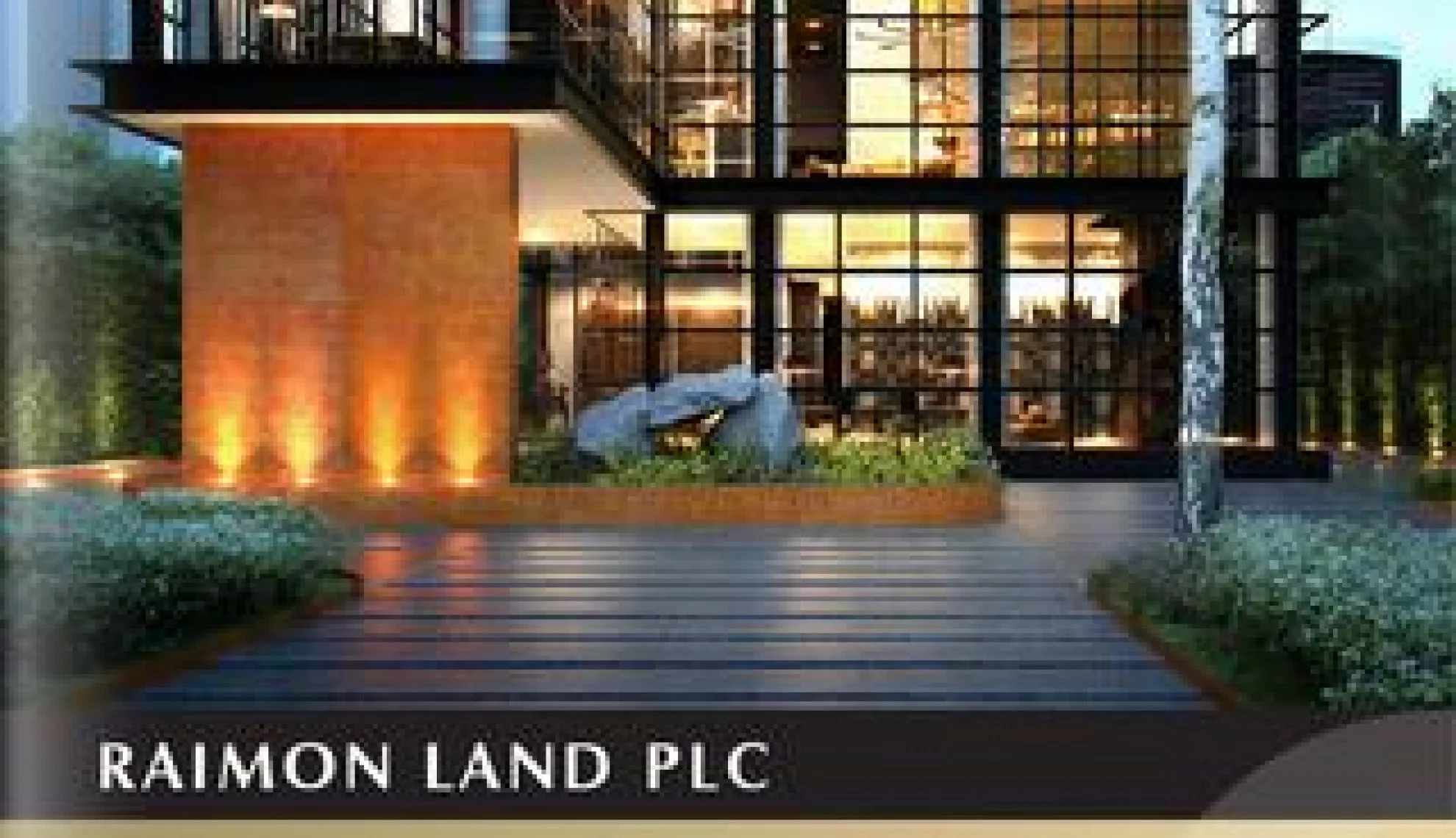 The Intersection of Life and Artistry
Writer: Matthew Staff
Project Manager: Arron Rampling
Raimon Land PLC, one of Thailand's leading high-end real estate developers, continues to drive forward into new markets, delivering award-winning properties to capitalise on new opportunities and trends.
Remaining entrepreneurial and alert to the latest industry trends and market demands has been a platform for the Company; developing a formidable core of real estate operations, while expanding a wide range of peripheral services to support them.
This has resulted in 12 completed residential properties over the past 12 years, totalling a project value of US$1.3 billion, built through a strong understanding of the needs of the high-end market both today and in the future.
"The lifestyle of today's urban homeowner is fast paced, with more demands on their time than ever before," the Company's Chief Executive Officer (CEO) and Director, Mr Johnson Tan notes. "People are increasingly looking for a residence with both function and style where elements are designed with a duality of space, perfect for hosting a party, working from home or simply relaxing with family."
Similarly, in terms of the developments themselves, the bar is also being lifted; literally in some cases, with higher specifications than ever; such as soaring ceilings, greater range of facilities, and expanded services for residents on property.
Raimon Land's Head of Development, Gerard Healy says: "One size no longer fits all. We continue to offer three or four different alternative interior design style options for each home, and over the past five years we've seen the edgier options becoming increasingly popular as people are moving away from the more conservative."
One trend that remains consistent however is Raimon Land's commitment to creating freehold projects in the best neighbourhoods, providing a turnkey service of delivery that attracts the most prestigious local and international clients including introducing new languages into its communication materials – Mandarin in particular – to enforce its position as a partner of choice at the top-end of Thai real estate.
The Company's brand reputation for delivering on time as well as being able to see and read future trends then integrating these into new developments is the key differentiator in a competitive market.
Innovation is created by a capable team whose hard work and dedication is reflected in embracing new ways to do things; from the nuts and bolts of running the CRM system, through to innovative marketing campaigns and collaterals or digital initiatives, all the way through to how the Company arranges financing for new developments and expansion.
Leading developer
When applying this ethos to its properties, the outcomes largely speak for themselves, with unrivalled success, awards and a stellar reputation earned over the years.
"Our construction goals for 2015 were to continue the construction of The Lofts Ekkamai on schedule, to complete UNIXX South Pattaya by the end of the year, and launch a new high-end housing estate in Yen Akat," Healy explains. "We also aimed to continue recognising sales from our developments; The River, 185 Rajadamri and Zire Wongamat, and increase our reach into international markets such as China."
Despite a challenging business climate, Raimon Land has achieved each of these objectives; The Lofts Ekkamai construction actually slightly ahead of schedule and UNIXX having been completed on time.
The Company's transfer success rate remains above 99 percent, reflecting both a prudent deposit policy as well as a high degree of client satisfaction at time of transfer – a very high figure for completed developments – while its multinational aims have also taken off with China accounting for as much as 30 percent of new international buyers.
The Raimon Land developer role doesn't end upon completion however, and it is the evolution of its post-construction services and ongoing commitment to supporting existing owners that largely separates Raimon Land from the market competition, including an active resale and leasing department to support investors, expanding after-sale property management services, and a forward-thinking approach to choosing new locations.
"In the past, Bangkok houses were in the suburbs, condos were in the inner city. Mews Yen Akat turns that idea on its head, as a new housing estate located in Bangkok's CBD," says Healy. "Our nine homes give buyers the best of both worlds, and are a major step forward from the last time the Company did housing back in 2003."
As an innovator in high-rise residential, the new Lofts Asoke condominium in prime Sukhumvit has already sold around 45 percent of the units ahead of the official launch in April, 2016.
The Lofts Asoke
Soaring 45 storeys and more than 150 metres, The Lofts Asoke will be an industrial-chic design condominium property aiming to meet the needs of the urban professional looking for a genuine inner-city loft in terms of space, styling and location.
Complementing the existing Lofts Sathorn, Lofts Yennakart and Lofts Ekkamai which are all sold out or almost sold out, the innovations applied to Asoke address the trends of providing a home conducive to work, education and socialising; including a resident's lounge-cum-workspace which comprises a snooker table, bar and various seating zones, ideal for seminars, study sessions, working, meeting friends or business meetings. To create a dramatic sense of space, ceilings are 3.2 metres in the single floor units, and almost six metres in the duplexes. As the fourth Lofts project, Asoke is an evolution of the ideas and learnings to date, drawn together into a prime inner-city location.
"This is an example where Raimon Land is seeing the trend and developing ahead of it," Healy explains. "For parking, for instance, many clients want the environmentally and time-efficient best solution, so we have introduced automated parking, giving the convenience of parking on the ground floor, then letting technology take care of the vehicle rather than needing to park it yourself on a high floor."
The introduction of dining facilities on property further demonstrates the Company's ongoing strive for added value, with Zire Wongamat, UNIXX South Pattaya and The River properties adding cafes and restaurants on-site.
Innovations aim to bring a wow factor for both local and international clients, and making developments the standout choice for prospective investors and residents.
Mews Yen Akat and The Lofts Ekkamai are both already under construction scheduled to complete in 2016, while The Lofts Asoke will complete construction year-end, 2018.
High standards and innovation
The Company is especially proud of its ability to attract and retain leading talent from a personnel perspective. Facilitating an ethos of multi-skilling, employees are expected to focus on providing a high quality of after-sales service across all departments, with the ability to often provide that care in a client's own language; a function made possible through more than 12 different nationalities within the workforce, serving clients from 69 different countries.
The same reputation is pivotal when forming business partnerships throughout the Company's supply chain too. Raimon Land believes procurement should never be solely a cost-driven decision; while biggest purchases achieve below market prices, it is never at the cost of compromising quality or service standards. For main contractors this means using the leading firms in the market, which in the past have included firms such as Bouygues Thai, RITTA and Prebuilt.
Healy says: "For architects, ensuring we have the best designs requires more than just a great architect, but also a very strong internal design team, so when we select design partners we look for a strong match in terms of how to get the work done, and their record of being able to think outside the box to solve challenges of complex sites or functionality."
Refining internal processes stands Raimon Land in great stead in its future external endeavours, as new developments in prime locations get underway and the service portfolio inevitably extends once again for existing owners.
An increase in assets which generate recurring income, as well as enhanced international attractiveness remain core strategies moving forward as the Company cements its position with both Thais and foreigners, with its international sales programme – particularly to Chinese and South East Asian customers – continuing to grow market share abroad.
The high standards of quality and design account for 25 percent of 2015 sales being to repeat purchasers, reflecting the degree of satisfaction owners enjoy when purchasing.
Having delivered 14 quarters of profit consecutively, Raimon Land is not resting on its laurels. Ongoing improvements in its business throughout the past three years, coupled with a determined focus to create superior developments and backed by a high quality of service, will continue to bear fruit well into the future.
VIEW Raimon Land Plc BROCHURE