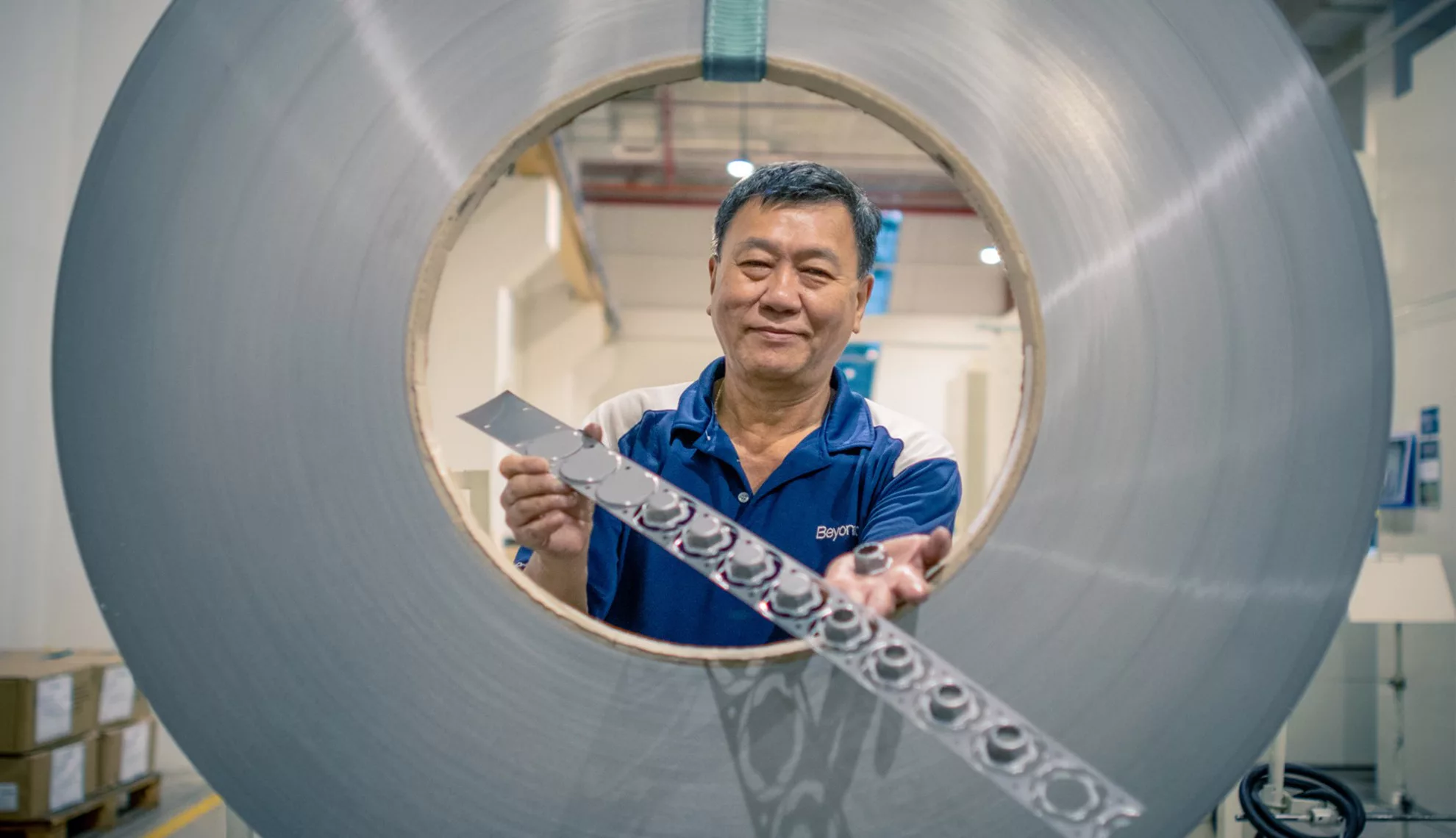 A Tale of Transformation
24 satellite operations turned five flagship facilities of precision engineering excellence, Beyonics has consolidated its position as a leading light of Asian manufacturing
Writer: Jonathan Dyble | Project Manager: Kyle Livingstone
China and America, the world's two largest economies, have been at economic loggerheads since early 2018.
What began with the Trump Administration placing tariffs on the importation of solar panels and washing machines has escalated into a full-blown trade war, the rival countries placing billions of dollars' worth of duties on each other's goods.
Even now, almost two years later, negotiations surrounding a resolution continue to stagnate and the heavy burden of uncertainty carried by the global economy remains.
Against this cloud, however, there are silver linings – silver linings that advanced manufacturing firm Beyonics is successfully capitalising upon.
"With our headquarters in Singapore and footprint across the surrounding region, we have very fortunately been a beneficiary of the US-China trade war," explains Anthony Sandeen, the company's Chief Commercial Officer.
"We operate near-identical manufacturing facilities in China and Malaysia, making it easy to shift our output from one location to another in the face of unforeseen, uncontrollable circumstances, whether that's an earthquake, a flood, or indeed a trade war."
And that's exactly what the business has done, its Malaysia site having been instrumental in helping customers, new and existing alike, to minimise the effects and navigate the risks of tariffs that have been borne out of current tensions.
As a result, business is buoyant for Beyonics. Yet this recent upturn in fortunes is not the be all and end all of the company. Rather, it is a small boost to the organisation's historically fruitful endeavours.
A specialist in the manufacturing of precision-engineered components and provision of integrated design, production, engineering and fulfilment solutions, its foundations are built on adaptability and proactivity.
"Beyonics will soon be heading into its fifth decade," Sandeen reveals, "but we're changing all the time, drawing on markets and our customer experience to ensure we're positioned to address future challenges."
Moving with the times
Indeed, this poses the question of where the company's pool of expertise lies today.
The answer? For Sandeen, it is in the development of enterprising innovations for the medical, industrial, consumer and automotive industries.
"Looking at the automotive sector, we're helping to facilitate the shift from petrol to electric; from driver to driverless," he reveals. "We see applications of the future in this space. Because everything is relatively new, we're able to engage with customers at the design level, meeting their expectations in both yield and value."
Many of these same principles apply to the medical space, where Beyonics has a perfected a niche in producing fluid delivery system devices, be it insulin pumps, syringes or other components that require high durability and repeatability.
Manufacturing critical, highly scrutinised products for markets such as these where accuracy and consistency is of paramount importance comes with its challenges. Nonetheless, the firm continues to prevail in the face of adversity, a point emphasised by its recent internal transformation strategy.
Sandeen provides the context: "Much of Beyonics' history is defined by a very Asia-centric model in going to market, expanding with customers and growing through the establishment of numerous satellite facilities.
"As the company evolved and this footprint reached a size of 24, the old model became increasingly unsustainable. And for that reason, we've just now consolidated our operations into five facilities – one in China, one in Thailand, two in Malaysia and our HQ in Singapore."
No longer having to spend on 24 leases, 24 plant managers, 24 security guards (you get the idea) are some of the obvious outcomes derived from this transformation. But these merely touch the surface.
"By operating five strategically located plants, which combined have a greater net square footage than their 24 predecessors, we can do more in fewer locations and capitalise on a range of associated benefits," adds Sandeen.
Primarily, this overhaul offered the opportunity to modernise Beyonics' current operations and implement state-of-the-art processes including efficient, effective, clean automated manufacturing lines. In turn, greater emphasis has been shifted onto supporting the engineering and R&D teams, propelling internal innovation forwards.
"With our most recent consolidation effort, in China we merged three operations into one and renovated and expanded the campus to include tooling and fabrication," Sandeen adds. "Meanwhile, we've also commenced a pilot smart factory programme in Malaysia and have turned on a Coperion compounding line which allows us to do custom colour, filled and small batch engineering in-house."
Recently integrated customer relationship management (CRM) technologies have also helped to improve productivity by better facilitating company-wide collaboration, streamlining previously complicated procedures such as financial reports and auditing.
An exciting new chapter
Six years in the making, this monumental transition was largely finalised in Q3 2019.
Moving forward, Beyonics will largely be able to enjoy the fruits of its modernised labours. But the company is not done here, having additionally begun to remphasise the importance of culture and values across the organisation of late.
"We recently sat down with stakeholders across the company and asked ourselves, what is it that we want to be?" the CCO affirms.
"Understanding these aspirations rather than trying to define what we are today has been crucial in providing a goal and a purpose from both the bottom up and the top down. We recognise where we are, of course, but seeing where we want to be tomorrow and how to get there is both more inspiring for everyone and more sustainable."
Combining this progressive modus operandi with a diverse, international, independent board of directors and the distinct Singaporean values upon which the firm's entire reputation has been built, the future certainly looks bright for Beyonics.
"We've transformed a lot over the last four to six years, and a tremendous amount in the last 12 months in particular," Sandeen reiterates as he looks forward to what will be an exciting new chapter in the company's evolution.
"We've gotten our customer focus right and our strategy right, and we're looking to use these enhancements as a springboard to grow. A long time has been spent perfecting our plan. Now is the time to execute it."
VIEW Beyonics BROCHURE