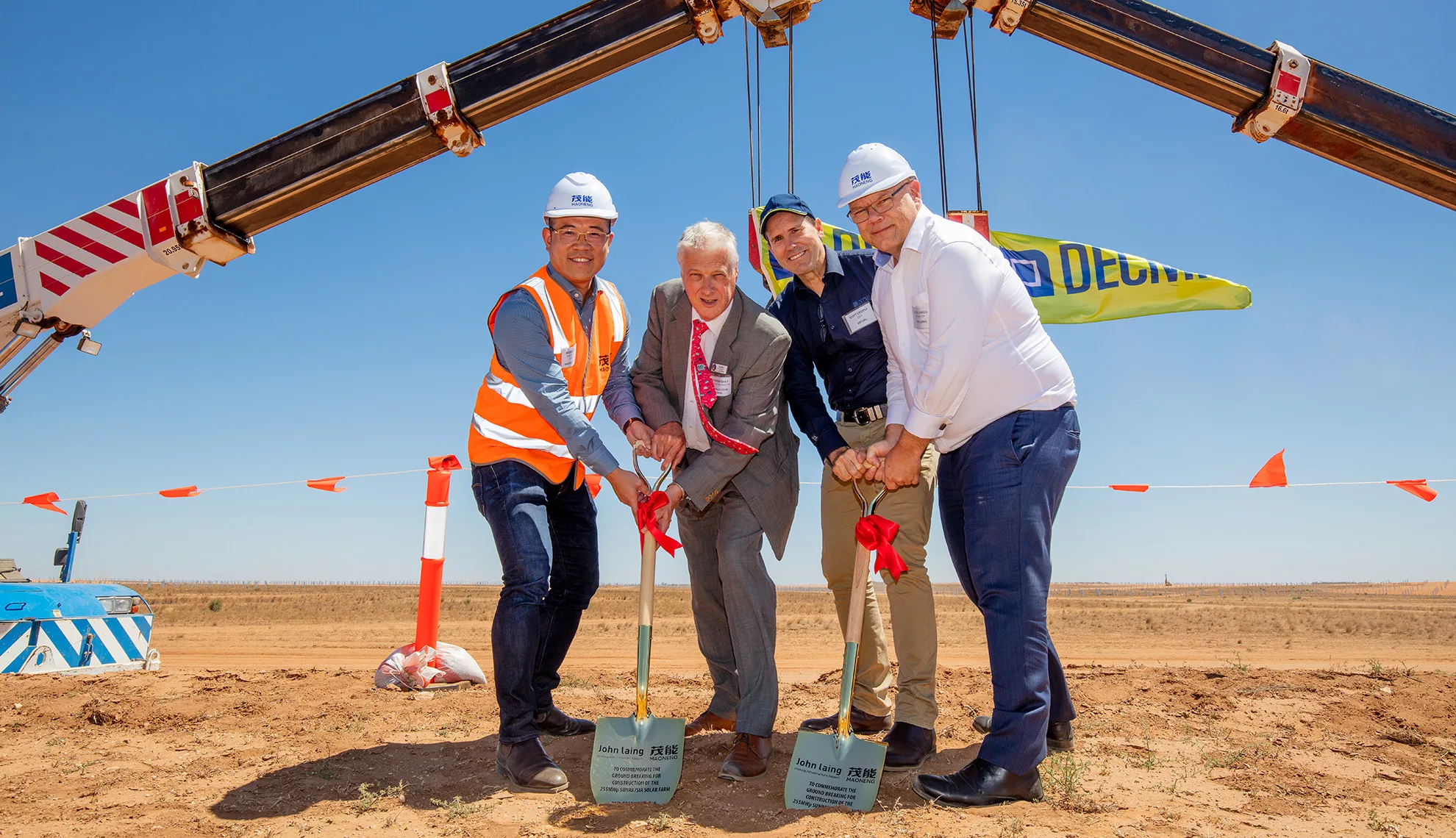 Solar Splendour
10 years ago, Maoneng was a humble startup operating in a western suburb of Sydney. Today, it is one of Asia Pacific's leading solar entities, helping to spearhead the global energy revolution
Writer: Jonathan Dyble | Project Manager: Ryan Gray
Nothing is more important to life on earth than the sun. Warming our oceans, generating our weather patterns and facilitating the photosynthesis of plants which provide food and oxygen for all, without it the world would become an arid ball of ice and rock.
Yet, owed to the innovation-abundant 21st century, humanity's reliance on the central star of our solar system is becoming increasingly pronounced, owed to its ability to act as a sustainable fountain of power.
Fast forward from the BC era, when the use of a magnifying glass in concentrating the sun's ray to create fire was discovered, to today, and technological advancements and learnings have seen solar energy rise to power everything from buildings to streetlamps to trains.
An exciting, fast-moving industry that's full of sustainable promise, it's become a field filled with champions of the new energy revolution.
"Contrary to popular belief, modern solar photovoltaic technologies are not new," explains Morris Zhou, Group Executive Chairman of Maoneng, one of Australia's leading lights for the solar industry.
"They have been around for roughly 50 years – one of the first satellites ever shot into space, for example, required silicon-based solar panels in order to charge the equipment.
"Only in recent years, over the past decade and a half or so, has the cost of this technology fallen to the point where it is realistic and attainable. In 2010 the cost of putting together a whole solar system was around $7-8 per watt, whereas now it costs less than $1 per watt.
"Solar is no longer reliant on government subsidies or policies in order to succeed. It has become a market-based competitor to the likes of coal-fired generators or gas-fired generators."
Standing as the Executive Chairman of a somewhat veteran solar company (taking into account the relatively recent emergence of the industry), Zhou himself fell into the sector by chance roughly a decade ago.
Having been working for his family business on the Rolling Stock Public-Private Partnership project in New South Wales, supplying fasteners for 626 train carriages, he decided that his heart wasn't in it and went about looking for an alternate line of work.
"I guess I've always had an entrepreneurial spirit, much like the rest of my family, but if I'm being honest there was a period where I didn't really know what I wanted to do," Zhou reveals. "Like most good things in life, the transition in my career path came about without any prior planning when I was introduced to solar by a close friend of mine from university.
"Coming from a non-engineering background, the process of converting sunlight into electrons was a very sci-fi concept to me. I spent a lot of my spare time looking into research and market viability, saw a real opportunity in late 2009 and kickstarted Maoneng in early 2010."
From startup to spearhead
Starting out as a humble solar retailer/installer startup based in a western Sydney suburb, Maoneng's first 18 months were categorised by consistent growth and success.
The business benefitted from a distinct first-mover advantage, marketing itself as a key supplier of solar products and services to an array of commercial, residential and industrial clients.
"We didn't start out with any grand ambitions," Zhou explains. "We were more focussed on giving it a shot without really knowing where it would lead us in the long term. At the same time, however, we quickly realised that the barriers to entry as a solar installer were relatively low and the competition was both increasing and catching up in terms of capabilities."
Resultantly, the company morphed from being a business to consumer enterprise into a B2B specialist, establishing itself as one of Australia's top three importers and distributors of solar equipment. Thereafter, Maoneng's former competitors became its clientele, the business primarily focused on operating in this capacity until 2015.
"Throughout this period, I was fortunate enough to be visiting manufacturers, technology vendors and projects oversees in Japan and China," Zhou adds, "which included a visit to the biggest solar farm to be commissioned in China in 2010 – a 20 MWAC development.
"When I saw it, I immediately knew that we had to do the same in Australia. We'd only been changing the environment with four or six panels at a time, whereas these solar farms consisted of hundreds of thousands of panels. It made what we were doing look like child's play."
This vision in mind, a new division of Maoneng was launched, actualising in 2015 when the firm gained the greenlight to undertake its first major development, the 15.6 MWDC Mugga Lane Solar Park in Canberra, ACT.
Construction was completed in 12 months finishing October 2016, making it one of the country's first grid connected solar farms, with the development able to generate 24,500 MWh of electricity per year – enough to power more than 3,000 homes.
"We put everything into this project," Zhou adds, "including a 0.6 MW block of single axis tracking system, allowing us to plan for the future by testing next gen technologies."
Championing collaboration
Provided with confidence and gaining substantially greater credibility upon the successful completion of the Mugga Lane development, the firm has since taken on it's second, ongoing flagship project in the form of Sunraysia Solar Farm.
Located near Balranald in western New South Wales, this project, once complete in December 2019, will be able to supply 50,000 homes a year with energy, generating circa 540,000 MWh per annum.
And while the Executive Chairman is immensely proud of what the company has been able to achieve in the past 10 years, now delivering Australia's largest solar farm for this year, he is equally quick to admit that the business can't take all the plaudits.
"We're in full recognition of the fact that we didn't get to where we are by ourselves," he explains. "We've received huge support, not only from our families and friends, but equally from our colleagues and business partners."
Pointing to the latter of these parties, Zhou outlines how Maoneng understands the importance of nurturing mutually beneficial relationships: "We put a very strong emphasis on empowering our partners, from equipment vendors who provide us with our solar PV technologies to our construction partners who actually build the solar farms and our financing partners.
"Sometimes business partnerships exist with a lot of tension, something we actively try to avoid. You'll often find that businesses will pick contractors based on the best pricing and terms, but we're equally keen to assess track records and whether our businesses will be a good fit."
Such practices are best evidenced by the organisation's fruitful correspondence with Bank of China and Nord L/B, two banks that it worked closely with on both the Mugga Lane and Sunraysia projects.
Zhou continues: "When we were looking to source the finance required to bring the Mugga Lane project to life in 2014, we had no real track record in Australia. Yet these banks were willing to back our project.
"When the Sunraysia project then presented itself we reached out to these same two banks to show our appreciation of their support on the previous undertaking and asked them if they would like to be part of our next opportunity – an invitation they accepted alongside a number of other financing partners including NAB, Mizuho and ING.
"It's relationships such as these that we are particularly proud of. Our success does not lie in just our own achievements, but also in the achievements of our partners, from banks to our technology partners.
Upholding the energy evolution
Combine these empowering relationships with Maoneng's entrepreneurial, agile, flexible culture and proven projects, and it is certainly exciting times ahead for the enterprise.
Of late, the company has begun to build on its consolidated reputation, a process that has included expansion into the Philippines and a gradual diversification into the development of battery energy storage systems.
"Focal points of ours for the next 12 months will be the completion of the 100 MW/200 MWh Sunraysia Emporium Battery Energy Storage System, co-located on the same site as the Sunraysia solar farm, as well as establishing a greater foothold in Southeast Asia," Zhou affirms.
"As a region it has one of the highest economic growth rates around the world, and for economic development to succeed you need the energy infrastructure to support it."
Having been based in the Philippines for more than a year now, the country selected due to its high electricity tariff rate, the company has been operating a rooftop distribution business model, catering to the needs of commercial and industrial clients which have heavy energy burdens such as shopping malls and manufacturers enterprises.
Yet, in the eyes of Zhou, these transitions and expansions are just the beginning of a new, prosperous chapter for Maoneng moving forward.
He concludes, exuding optimism: "From the Philippines, the ultimate view is that we frog hop to other Southeast Asian nations with a similar business model once we've achieved our targets.
"This is not our single ambition, however. We hope to become more of a platform company as we grow and continue to champion the renewable energy revolution – a space where each different technology with unique properties will have a vital role to play.
"The hope is that renewables and solar will one day ensure that energy is much more affordable, subsequently encouraging growth in other industries such as data science where energy usage is high.
"We see it as a natural step that we should continue to evolve with the industry and environment in the future, with the key goal of helping to uphold a greater, more sustainable global ecosystem."
VIEW Maoneng BROCHURE