Digital connection is critical to Australia and the Pacific Islands. We speak to Dean Veverka, Chief Technology Officer at Southern Cross Cables Limited, about the subsea systems keeping fibre afloat.
DOWN UNDER THE SEA
As islands, Australia and New Zealand are highly reliant on international telecommunications, both satellite and cable, since they provide the critical infrastructure to stay connected to the rest of the world.
Due to this geographical divide and the subsequent necessity of digital connectivity, Australia has always been at the forefront of technological developments as an early adopter of technologies such as the National Broadband Network (NBN), 4G and 5G mobile services, and satellite services.
Southern Cross Cables Limited (Southern Cross) operates in this critical space and is the owner and operator of a trans-Pacific submarine cable network connecting Australia, New Zealand, Fiji, Tokelau, Kiribati, and Hawaii, all the way to the heart of the US West Coast, providing fast, direct, and secure international bandwidth.
"A lot of people don't realise that about 98 percent of communications go via submarine cables globally, and not just in Australia. So, international submarine cables are a critical interconnector in many aspects of people's lives," introduces Dean Veverka, CTO at Southern Cross.
"Moving ahead, it will be interesting to see how the new generation of low earth orbit (LEO) satellite services will compete with fibre to the home (FTTH) and 5G data delivery to end users."
Southern Cross has always prided itself on being a technology leader, working with its suppliers to be collaborative industry trailblazers in new development, and testing advanced technologies to see how it can derive the most from the systems the company operates. Southern Cross also has many world firsts to its name, including introducing the fastest technologies and services to its customers, such as the first 400 gigabits per second (Gbps) wavelengths across the Pacific and 800Gbps wavelengths on commercial terrestrial networks, as well as the first subsea cable to introduce 400Gbps ethernet services.
"Being the first to deploy some of these new technologies is very exciting but always comes with some risk and challenges, but that is part of the dynamism of the industry that we operate in," Veverka adds.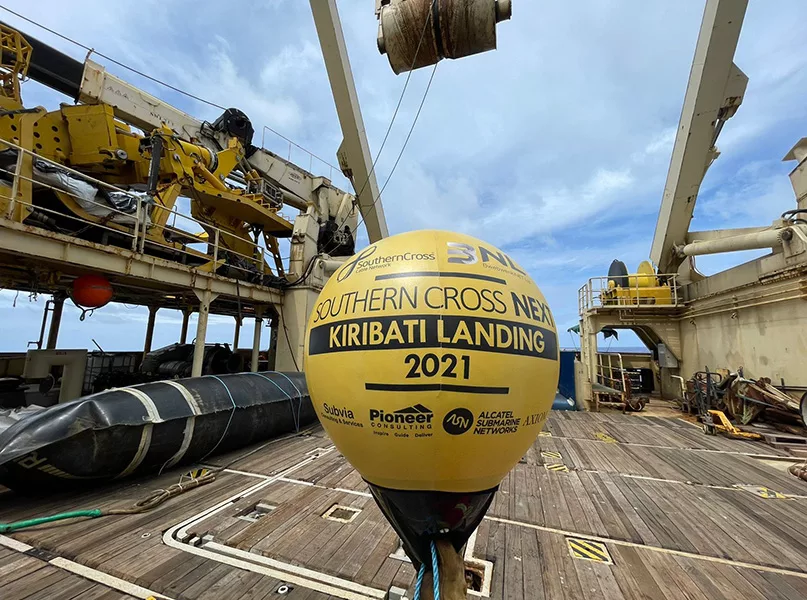 FROM AUS TO US
Southern Cross currently delivers over 18 terabits per second (Tbps) of bandwidth and has the potential, as demand requires, to increase to circa 100Tbps across the three systems. The new Southern Cross NEXT cable became part of the overall company ecosystem in 2022, adding a potential capacity of 72Tbps+.
Southern Cross provides dedicated layer 1 (optical transport network) and layer 2 (ethernet) services and operates as an independent private company selling services to the capacity market on a non-discriminatory basis with backing from major carrier shareholders. The NEXT cable is a submarine cable system that connects Sydney, Australia, and Auckland, New Zealand, to Los Angeles in the US, as well as branching out to the Pacific Islands.
"The NEXT cable project was an extremely difficult undertaking as it was constructed and delivered during the entirety of the COVID-19 pandemic," Veverka explains. "We announced contract-in-force in September 2019, and countries started shutting their borders around March 2020.
"As countries closed borders or introduced mandatory quarantine periods of several weeks, this became an extremely complex logistics problem as well as being taxing on our staff and the contractors who had to endure longer periods away while deploying the system."
According to Veverka, with no access to commercial transport, Southern Cross had to resort to unprecedented alternatives such as leasing ships and planes to transport people to remote locations such as Tokelau, Kiribati and Fiji. On top of this, Southern Cross often had to help governments develop protocols that helped keep countries safe and protected, to enter their countries to deploy this critical infrastructure.
The NEXT cable project was delivered by Alcatel Submarine Networks Inc. (ASN) as a turnkey submarine solution, which included installing a 15,840 kilometre (km) fibre optic subsea cable containing four fibre pairs, over 245 optical repeaters to boost the signal along its journey, and six branching units to enable connection to New Zealand, Fiji, Tokelau and Kiribati, plus a spare unit for future connection to other Pacific Islands. The system was designed to deliver 72Tbps of capacity, with the ability to grow to over 100Tbps through future technology developments.
"For Tokelau and Kiribati, the NEXT cable provides them with their first high-speed fibre-optic international connections to the rest of the world, replacing their previous higher latency, lower capacity satellite connections," Veverka says. "This will boost their educational opportunities, remote TeleHealth services and generally increase socio-economic benefits and other communications services."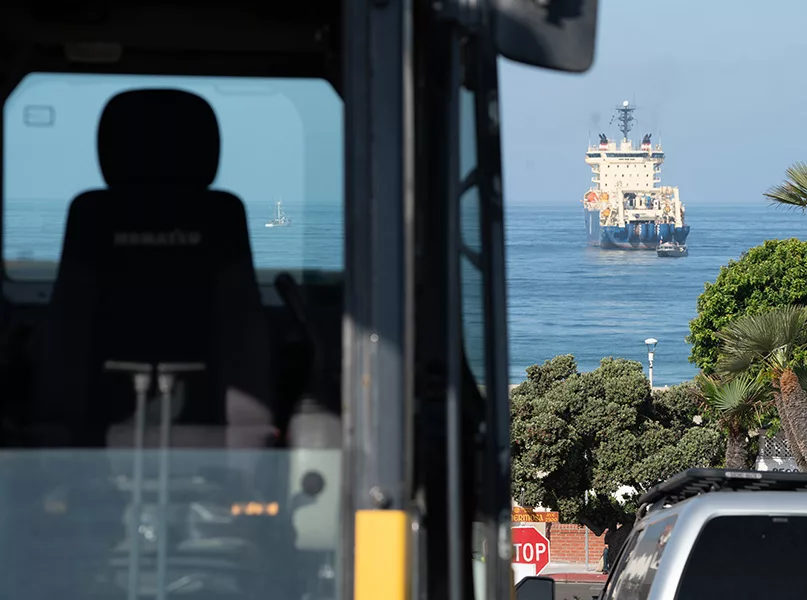 CONNECTING THE PACIFIC
Southern Cross has always been a key backbone in the Pacific, with its cable station in Fiji (and partner Fintel), being a critical hub point for other countries such as Tonga, Vanuatu, Samoa, and New Caledonia.
Despite the progress the company's cables and others have made over the years, the connectivity of the Pacific Island nations is still underdeveloped.
"Some islands have no fibre connectivity, and others only have a single connection to the global network which makes them vulnerable to natural disasters such as seismic activity, as seen in the volcanic eruption of 2022 in Tonga," Veverka explains. "We are continuously exploring opportunities and routes to establish further connectivity and improve resiliency across the Oceania region. The NEXT cable is a key part of that strategy."
The original Southern Cross cable was built in 1999 and was only designed to carry 40Gbps per fibre pair using 2.5Gbps wavelength technology. With the advent of coherent detection technology, the company went from 2.5Gbps to 100 Gbps wavelengths over time, and at present, its default wavelengths are now 400Gbps to 800Gbps.
By 2024, this will jump to 1,000Gbps wavelengths without Southern Cross changing its cable or undersea repeaters – a substantial rise in capacity.
"Our new Southern Cross NEXT cable carries 18Tbps. This was made possible through our collaboration with our technology partners, Ciena and ASN," Veverka tells us.
With its legacy cables set to retire in 2030, Southern Cross is exploring many options to build a new cable along similar pre-existing routes, expand its Pacific Island connectivity while also looking at new opportunities in different destinations. For Veverka, it is important to factor in the many existing trans-Pacific cables that are reaching the end-of-life stage in the next decade, which means a replacement strategy is also required for such cables.
"This year we are understandably very focused on the success and operation of the new Southern Cross NEXT system, but we also considering what's next for us, and developing a plan to execute over the next three to five years," Veverka concludes.
"The industry is one that is highly dependent on teamwork, be it providers, suppliers, customers, governments, or the myriad other parties involved. However, it is an industry that is truly only successful based on the interaction and contribution of all involved, and that is a core part of what makes the industry so interesting and enjoyable to work in."