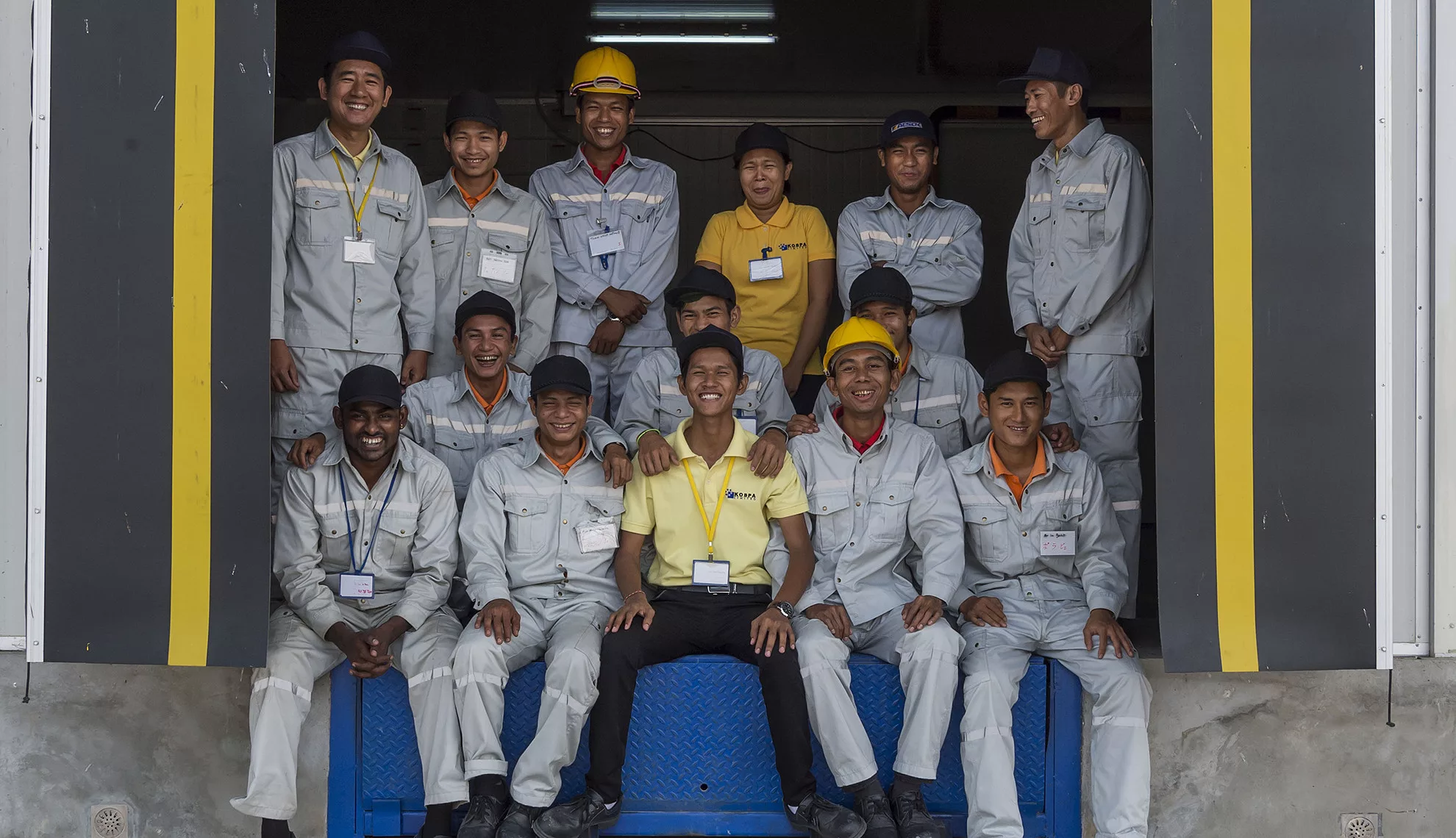 Seizing the opportunity, KOSPA Limited is empowering the success of supply chains
through intuitive investment and transformative cost-efficient technologies
Writer: Jonathan Dyble | Project Manager: Josh Mann
From the Anyathian era to the Bagan Kingdom and more recently Burma, Myanmar has been home to human civilisation for over 13,000 years, boasting some of the world's most captivating antiquity. However, despite this rich cultural history, the modern state as it stands today remains a developing nation and is still considered by many as the last frontier market in Southeast Asia.
This began to change in the early part of the decade when a series of sweeping political and economic reforms led to the re-opening of Myanmar's economy. The nation's first openly contested elections were held in November 2015.
During the past year, the government has prioritised creating the right climate to attract foreign investment and encourage economic development. This pivot towards an investment-friendly pro-business stance is evidenced by the creation of the Ministry for Investment and Foreign Economic Relations, the introduction of the New Companies Law and the opening of the country's insurance sector. With these positive economic developments alongside numerous proposed Belt and Road infrastructure projects, the Asian Development Bank predicts that Myanmar will continue to be one of the world's fastest-growing economies with a growth forecast of 7.2 percent for 2019.
International bodies and businesses such as KOSPA Limited (KOSPA) have also been working to drive positive reform throughout the country, facilitating progress that is quickly bringing Myanmar into the modern era. Due to a relative lack of legacy technology and systems, new digital ways of working can be implemented quickly with minimal friction, allowing Myanmar to leapfrog other countries in its digital transformation. Such leapfrogging has already been seen in the telecommunications and financial services sector and is an approach KOSPA is leveraging as it works to modernises logistics in the country.
"Myanmar is a country that was economically isolated for a long period of time," Howard Seargent, Managing Director of KOSPA Limited states, providing his own perspective, "and there are a number of infrastructural and regulatory challenges as a result. With the formal banking industry in its infancy, Myanmar is still very much a cash economy.
"In the logistics industry there is no legacy technology to speak of – supply chains just don't have the extent of infrastructure and management systems found in most Southeast Asian markets. Nevertheless, Myanmar is a country braced for change and with growth rates on the up we see great opportunities."
Providing fresh perspectives
Formed in 2015, KOSPA has quickly become a leading third-party logistics provider, having brought fresh perspectives to the market over the past four years – perspectives that have allowed the company to both thrive and consolidate. KOSPA is a subsidiary of Yoma Strategic Holdings (Yoma Strategic) and a joint venture between Yoma Strategic, Kokubu Group (Kokubu) and SF Express (SF).
Initially focussed on the fast-moving consumer goods sphere, particularly serving the food, beverage, healthcare and agricultural industries with general cargo and temperature-managed logistics solutions, KOSPA has rapidly established a reputation for quality end-to-end service provision and supply chain reliability.
"We offer a full suite of solutions in Myanmar, covering inbound logistics order fulfillment consolidation and deconsolidation, clearance, cross border logistics, demand fulfilment, inventory management, reverse logistics, consulting and other related services," explains Seargent.
"Our transport network covers all of Myanmar, and, supported by integrated transport management and world-class warehousing systems, KOSPA has one of the youngest fleets in country with an average age of less than two years for our fleet of 70-plus vehicles."
Leveraging this broad service portfolio and expansive infrastructure, the firm provides expertise, analysis and solutions that add and share value improvement across its customers' supply chains, from bolstered routing efficiencies to expanded inventory management capabilities.
"Logistics is the foundation of how businesses can quickly bring products and brands to market," Seargent adds. "You cannot build brand equity without product availability or access to services. This is why logistics is so important – something that we understand."
A core part of KOSPA's transformational approach to supply chain operations in Myanmar has come from the incorporation of cloud-based management systems for logistics, introducing and making available modern processes and systems to the national market at reduced cost compared to three or five years ago.
"Emerging markets offer logistics providers an opportunity to offer innovative, low-cost solutions in order to bring goods to market, be it B2B, B2C and even C2C," Seargent explains. "Further, Myanmar isn't encumbered with outdated technologies, an element that would have contributed to inefficiencies in the past but equally offers a particularly exciting opportunity when considering the implementation of cloud and mobile tablet-based solutions."
With this in mind, KOSPA is currently focussed on painting this blank canvas with a multitude of different technology-enabled systems and solutions, from its warehouse management system (WMS) and transport management system (TMS) including an electronic proof of delivery (e-POD) support concept.
"These technologies will be revolutionary for Myanmar, bolstering real-time transparency, tracking and traceability, enabling remote access and allowing us to align ourselves with regional best practices," Seargent adds.
KOSPA recently partnered with Shenzhen-based SF Express, a leading player in express logistics in China, allowing the firm to both leverage synergies and accelerate its investment ambitions through 2019 and beyond.
Seargent continues: "By bettering the management of goods and payments, we can speed up transactions and cut down the bureaucracy of administration, curbing a major cost and time-consuming exercise for many businesses, while simultaneously laying the foundation for the successful future growth of ecommerce in Myanmar over the coming years."
While further consolidating its position as one of the leading providers of high-quality domestic logistics services will undoubtedly be an outcome of these investments, KOSPA's rapid scale has allowed it to think about broadening its outlook in the international arena. KOSPA has sound and supportive shareholders in Kokubu, SF and Yoma Strategic whose expertise and knowhow are complementary and pivotal to its future expansion plans.
"SF Express aren't only an excellent innovative technology partner," Seargent explains. "Equally our partnership will allow us the opportunity to connect with new customer bases in new markets. Further, regulatory changes are also under discussion in the region – that will free up the movement of goods, such as agricultural products and consumer products, across borders."
Consequently, KOSPA will remain committed to pursuing new opportunities both in China and Southeast Asia moving forward, bolstering not only its national status in Myanmar but equally spreading its reputational excellence and technology-enabled innovative approach across the wider region.
"We're encouraged by the attention being shown by Myanmar's authorities in addressing existing infrastructure and regulatory constraints and are optimistic that new legislation will be in place within the next one or two years," Seargent reveals. "These regulatory changes, combined with our own emphasis on implementing cost effective logistics systems to bring both long- and short-term benefits to our clients based on market demands, will result in our operations becoming more ambitious, efficient and agile.
He concludes: "The competition in emerging markets is intense, and the environment is rapidly changing, but we continue to ensure that we remain ahead of the curve."
VIEW Kospa Limited BROCHURE