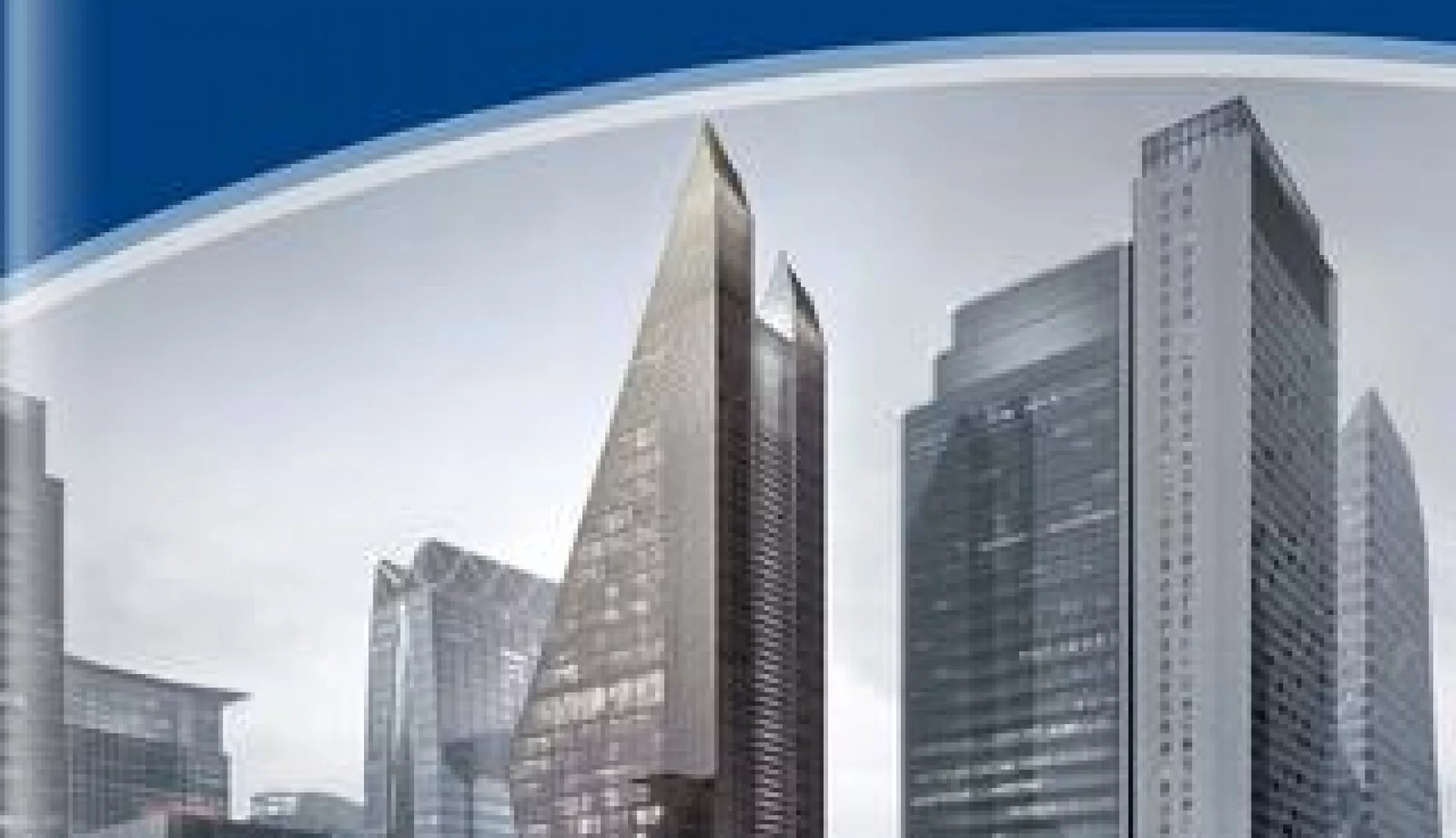 Meinhardt Façade Technology's portfolio, market reach and internal acumen speaks for itself, but the Company refuses to rest on its laurels as it targets even more concerted growth in the years to come
Writer: Matthew Staff
Project Manager: Tom Cullum
30 years is a long time in the industrial world, with the need to keep up with, and stay ahead of, ever-changing trends and requirements an attribute that few can maintain. Meinhardt Façade Technology (MFT) is a prime example of an enterprise to have achieved just that though, and as one of the Meinhardt Group's most significant subsidiaries, its project portfolio is testament to this ability to remain relevant and thriving in such a challenging sector.
"We have a formidable track record of more than 1,500 iconic projects around the world covering more than 25 million square metres of façade surfaces (equivalent to 3,300 football fields) and 50,000 floors (equivalent to 580 Eiffel Towers)," elaborates the Company's Managing Director, Paul Grove.
Meinhardt Façade Technology is a multinational façade consultancy comprised of 11 offices strategically located to reach an international client base across Asia, the Middle East and Europe. Grove accounts for London and Melbourne while his accompanying MD, Sunny Fok covers Hong Kong, China and the Philippines from his office in the former. Additional offices in Dubai, Singapore, India, Indonesia, and soon Germany complete the structure, and the 198 full-time employees that grace this compliment help to extend one of the most concerted service offerings in the industry.
Grove explains: "Our core service revolves around façade engineering and consultancy, and façade access consultancy. We tend to focus on our core business, while other disciplines such as ESD are controlled under our Group company. This allows us to really concentrate on what we do best.
"Although we are part of a larger group we have licence to operate and win projects independently, so apart from supporting our Group by offering the specialist in-house façade support, approximately 80 per cent of our projects worldwide are secured independently. This makes MFT different from many other large façade consultancies around the world and we believe it allows us to have closer relationships with our clients."
Exciting projects
By having such a multitude of strategically located offices around operating continents, the Company is able to mobilise more quickly and efficiently for each prospective project encapsulated within that given footprint.
A recent example in recent times has been Vietnam which benefits from collaborative influences from MFT's Thailand and Singapore offices.
"We need to ensure that the relevant offices are sharing business leads to avoid duplication of clients, but we mitigate this challenge with successful, ongoing communication. And once demand has reached a certain level in a new region or market, we will make a strategic move to set up a local office there," Grove says. "This then allows us to have somebody local to control and directly serve the clients.
"Clients want to have a local person there full-time as the requirements for meetings at short notice can be very demanding, and we need to ensure we can meet those demands for our clients."
Despite the exponential growth that has been achieved over the years, a close-knit collaborative culture has been retained, each office leveraging the local knowledge-base and cultural awareness of its counterparts to make the process for any repeat clients as seamless as possible. Of course, this has taken on an extra dimension through MFT's broader expansion into the Middle East, but once again flexibility and communication have offset any potential pitfalls during the transition.
Inevitably, such an approach has manifested into numerous attained high-profile projects that continue to cement the Company's standing in the global sector.
Grove details: "Most of the design work in which we are involved is at a very early concept stage, but we are working on some exciting projects including on a major airport expansion where we are working on the overall façade envelope to the airport concourses. We are also working on a complex statue project in India, which is quite unique and probably the most unusual façade project we have undertaken."
Moving to even grander heights, and MFT's experience with supertall and mega-tall towers is even more impressive, as Grove continues: "Over the years, Meinhardt Façade Technology has been working on the façade design, façade fabrication and façade installation works on both supertall (>300 metres) and mega-tall towers (>600 metres).
"Just recently, Meinhardt Façade Technology had a complete façade quality control team based on-site at the Jeddah Tower, previously known as Kingdom Tower and Mile-High Tower. Once finished, this tower will be the world's first building up in the clouds of one-kilometre high. This unique expertise enables Meinhardt Façade Technology to consult any client or façade contractor on the challenges associated with the design, fabrication, logistics and installation of these challenging buildings."
Façade technology evolves quickly
Internally, a host of continuous improvement initiatives are employed to facilitate such operations on site; largely led by a research and development team that ensures the Company is living up to its technological expectations and remaining ahead of all industry curves.
Grove expands: "Façade technology evolves quickly, driven by architectural demands for more and more complex façade geometries. Meinhardt Façade Technology is among the world's leading consultants for these complex facades, having refined existing technical options as well as having developed new geometry approaches and technologies.
"The options, 'Shifted Louvre', 'Fish Scale' and 'Cold Bending – Warped' were implemented by Meinhardt Façade Technology on various high-rise buildings worldwide. In addition, Meinhardt presented various new developments including the single corner cold bending and the novel free-form shape cold bending technology at internationally-renowned façade conferences in Europe, Middle East and the US."
One big recent investment to compound this adherence to modern trends is in the area of software upgrades, making sure that all engineering software is up-to-date. The number of projects being completed using BIM has also risen in accordance with industry expectations as Grove adds: "We have had to significantly update our BIM software and hardware to be able to handle and manipulate large models. The models are quite heavy and require the correct hardware to be able to access them. This has really come into effect in the past 24 months, so the façade operation had to catch up with this requirement."
From then on, the majority of MFT's internal investments revolve around one critical component of the overall structure: The Company's people.
With the success of each office now affirmed and development plans in place for each, it is down to the employees housed in each respective location to fulfil these objectives. Addressing technological facets, administrative responsibilities, and general business operations, human resource (HR) continues to serve as one of MFT's greatest strengths.
"This is vitally important as this is something that really stands out with our clients," Grove notes. "For general hiring we utilise the company website and list on local recruitment sites. For key positions, we identify a key candidate profile and subsequently engage a recruitment consultancy to reach out to this talent for us.
"We do however like to promote our staff internally if the relevant candidates and positions become available. This is more practical, then we hire from the bottom which allows us to bring in less senior staff and train them internally."
Innovators in what we do
By adopting a promotive and enriching HR philosophy, the Company is directly serving as a social enabler across each of its presence points. And from there on, its core specialties come to the fore to further affirm its position as one of – if not, the – leading façade consultancy in the world.
"However, that does not mean we will rest on our laurels," Grove is quick to add. "I personally think we are different from other multinational façade consultants, as we are given autonomy to operate individually while aligning to our Group's vision and mission.
"I also believe we have some of the most talented façade engineers and consultants in our field. We are therefore able to be innovators in what we do, and this really makes a big difference," the MD continues in outlining MFT's core differentiators.
He goes on to emphasise that the façade team is also very diverse, made up of people from different geographic, technical and industry backgrounds to help present the best overall outlook possible for prospective clients.
This solid understanding and practical approach to the entire project, from conception to completion, is what will usher in the next 20 years of success for MFT as it looks to build upon the reputation and market standing already achieved.
"In terms of expansion, without giving too much away, we are looking at other countries where we would like to establish a façade team with a local presence," Grove alludes to what's to come. "Our current regional offices do carry out work in other regions, and our Group has many more regional offices than the façade team, so it is key that we work with them and identify areas where there is sufficient need to establish a local façade team.
"I would also hope that we will add three to four local offices and increase the overall façade team by 15 to 20 percent over the next couple of years.
"But key to all of this is our clients, whom we need to build close relationships with, as without them there is no need for us to expand."
VIEW Meinhardt Facade Technology BROCHURE