Yuxin Holdings Pty Ltd is a key producer and explorer of gold in the land Down Under. We speak to Gary Goh, General Manager, about the company's Pajingo Gold Mine and the community-centric mission that lies at its core.
AU EXPLORATION
Despite certain challenges, the gold industry is going through an exciting and critical phase with opportunities that Yuxin Holding Pty Ltd's (Yuxin) Pajingo Gold Mine is well-positioned to capitalise on."
Gold has always been a source of awe. Unaffected by oxidisation and many harmful chemicals, cultures throughout history have associated gold with immortality, godhood and, by the nature of mortal aspiration, royalty. To this day, gold still carries many of these connotations and because of its relative rarity in comparison to other metals, beauty and valuable properties, is the classic representation of national wealth. Indeed, most countries across the globe hold gold reserves as insurance against their primary currencies.
With such perpetual importance in our society, it is no surprise that there are many in the industry bringing gold to the surface; Yuxin is one such key player.
In November 2022, Yuxin acquired Pajingo Gold Mine, a mine with a long-standing history of operation dating back to the 1980s. The company owns 100 percent of the Pajingo Gold Mine operation in Northern Queensland.
Yuxin currently works with over 300 employees and contractors, and takes pride in its work culture that promotes a positive, engaging workforce, offering career progression and training development within the mining industry.
Gary Goh, General Manager of Yuxin, has spent the majority of his career in the Australian underground hard rock mining sector with a brief stint abroad. Since his return to the country, Gary accepted the position of Group Manager of Operations and Technical Services at Minjar Gold, a company that Yuxin recently acquired, and recognises gold as a metal of key and immutable significance.
"Gold has always been a consistent source of interest due to the long-term sustainability of precious metals as well as the collective properties that make the element so unique," Gary says. "The gold mining space is one of great activity, but despite that, it is not without its challenges."
According to Gary, the mining industry is experiencing a significant boom whilst simultaneously undergoing difficulties in recruiting and retaining employees, with labour-hire shortages and increased burnout of skilled and experienced workers in the industry. In the face of this, Yuxin offers its employees autonomy and the ability to be innovative. The company's career progression opportunities are available to all staff and are truly outstanding, offering mentoring, training and development, as well as a study assistance programme to help bolster the number of skilled workers in the industry.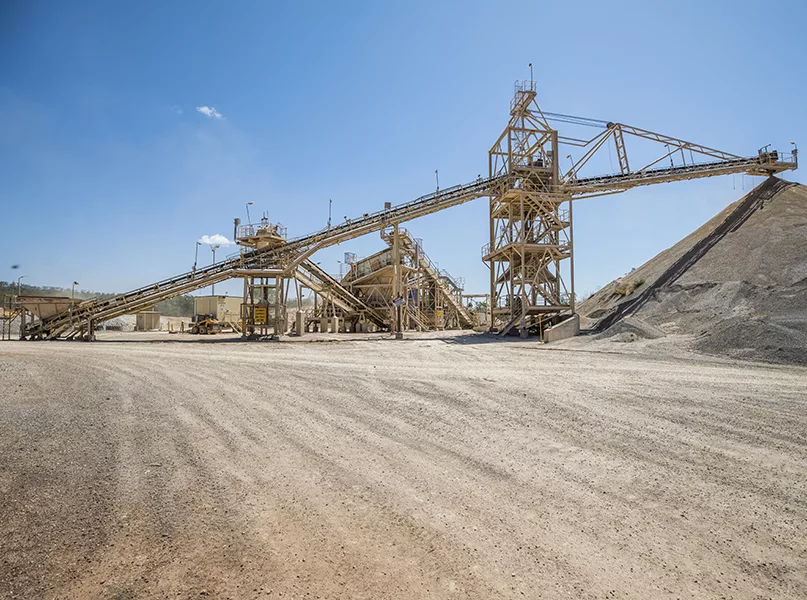 EXPLORING AUSTRALIA
In order to be closer to its Pajingo Gold Mine site, Yuxin decided to set up its headquarters in Townsville (Queensland) rather than the Minjar Gold office which is located in Western Australia (WA). Yuxin also acquired NQM Gold 2 Pty Ltd (NQM), who operates the Pajingo Gold Mine in the Charters Towers region, from Minjar Gold in late 2022.
"Yuxin's exploration strategy is to realise the full value of its extensive tenement holdings in North Queensland," Gary elaborates. "Initially, this means focusing on targets within the mining leases, to maximise the return on capital that has been invested in the Pajingo Gold Mine infrastructure and development, and to generate revenue to fund future exploration. However, it also includes a smaller but significant commitment to identifying and testing targets beyond the mine."
In order to achieve this, Yuxin has assembled a team of experienced exploration geologists and support personnel with a track record of discovery, both at the Pajingo Gold Mine and elsewhere. To support this team, Yuxin is funding exploration at levels not reached in the last 20 years; the company's board has approved AUD$20 million in combined exploration and resource definition for 2023. In response, the exploration team are working with a local drilling contractor to increase the number of operational drill rigs on site, to achieve the estimated 50,000 metres of surface drilling to be completed this year.
As part of Yuxin's strategic plan, the company is committed to expanding its business operations in Australia and maximising value for its stakeholders, including its dedicated staff. Yuxin's focus on growth will not only create new opportunities for the business, but also enable it to provide additional benefits and incentives to its employees, ensuring they share in the success of the company, an aim that is communicated to all staff.
"The Pajingo Gold Mine operation is the only active mine under Yuxin at present," Gary adds. "The company's procurement goal as always is to achieve the most cost-effective solutions to the mine. With 62 percent of the supplier base in Queensland and the majority of them from Charters Towers, our strategy is to support the local economy, particularly small businesses, as much as we can.
"The company has the confidence to build a harmonious and ecological economic relationship with the local community. However, due to regional supply limit, a number of major mining services are sourced extensively to other states such as WA."
SETTING SIGHTS ON THE FUTURE
For Gary, the approach to growth can vary depending on the company's financial situation, strategic goals, and regulatory environment, however Yuxin is in a fortunate financial position thanks to its continuous outstanding operational performance.
"On top of this, the stable political environment, skilled workforce, and supportive government policies make the mining investment environment in North Queensland and the whole of Australia highly attractive to us," he remarks. "In this way, Yuxin is able to pursue growth through a combination of approaches."
The first of these is exploration; 2023 is the 40th year since the Pajingo Gold Mine was discovered. The mine has produced over 3.5 million ounces of gold to date, and over two million metres of drilling have been completed, which equates to approximately AUD$245 million of drilling expenditure. Again for 2023, Yuxin has a huge exploration budget to continue its success in the region.
"We are actively seeking opportunities to acquire other mining companies or mineral deposits to expand our geographic reach," Gary notes. "We are also open to forming joint ventures with other companies
if it benefits both parties better.
"On top of this, our operational team always pursues growth by optimising the existing operations. This involves investing in new equipment and technology to increase efficiency, reduce costs, and improve safety and environmental sustainability."
Lastly, Yuxin is focused on streamlining operations while remaining sustainability centric. The company has a strong willingness to invest in new technologies and infrastructure to improve sustainability for long-term success in a low-carbon economy.
"The transition to renewable energy sources like solar farms has been seriously considered, as has engaging with manufacturers that help convert the traditional diesel-powered vehicles and equipment to the electric form," Gary adds.
Yuxin is set to embark on an exciting year for the rest of 2023, as a 100 percent subsidiary owned by Shandong Yulong Gold (Shandong), a public company listed on the Shanghai Stock Market. Shandong is seeking to grow and expand in both the gold mining sector and the new energy sector, and aims to become a truly international gold mining company which embraces a global vision, cultural diversity and high-quality management. The acquisition of the Pajingo Gold Mine is part of this overall strategy, and Yuxin's ultimate goal is to assist Shandong to achieve this success.
"This mission is challenging and exciting at the same time," Gary reveals. "As a start, from this year, Yuxin will focus on a few key tasks, including investing more into exploration and tenement development, expanding the project's productivity to generate better welfare for its workforce, and exploring other acquisition opportunities.
"Yuxin fosters a strong commitment to leadership, and we pride ourselves on effective performance management supporting our workforce to truly succeed and achieve our business goals and objectives."