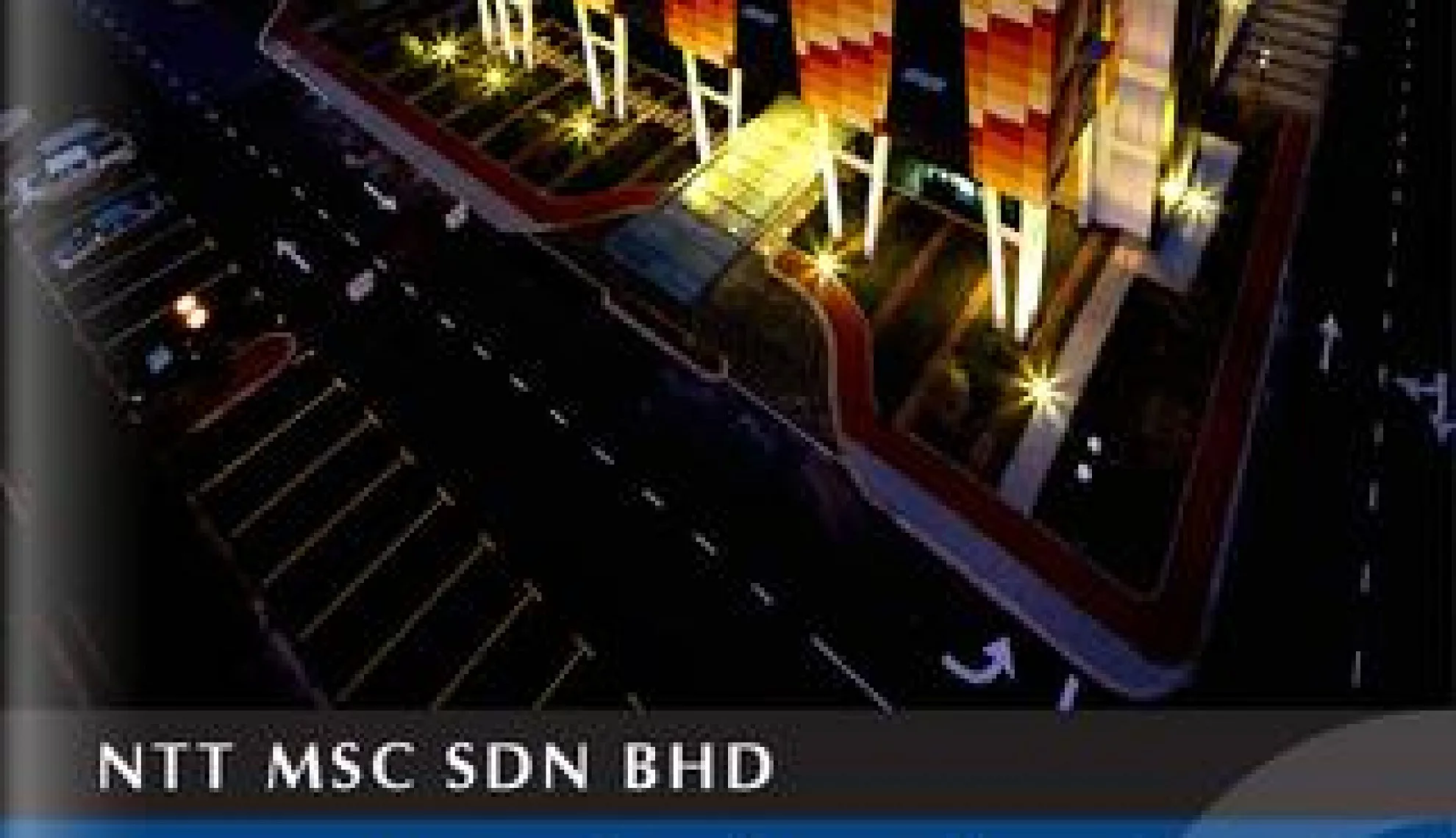 Seamless IT Solutions Fulfil Global Cloud Vision
Writer: Emily Jarvis
Project Manager: Donovan Smith
NTT Communications, a long distance and international communications and ICT solution provider of NTT (Nippon Telegraph and Telephone Corporation), is one of the world's largest telecommunications providers with subsidiaries and offices in 123 cities across 43 countries, connecting networks to 196 countries around the world. Tier 3 data centres are active in 130 of these countries, forming an integrated global connectivity solution that is often considered unparalleled by any other ISP in the Asia Pacific region.
NTT Group provides a wide range of IT solutions across both business and domestic applications on a global scale, and is comprised of six major subgroups; NTT Communications, NTT East, NTT West, Dimension Data, NTT DOCOMO and NTT Data.
Founded in 1999, NTT Communications caters for MNCs (multinational corporations), SMEs and consumers, with a portfolio consisting of enterprise cloud solutions, a global network, data centres around the world, managed security and unified communications services; professing to being "the ultimate partner for enterprises committed to uncovering opportunity and propelling business growth".
Furthermore, NTT Communications is one of the pioneers to provide SDN (software defined networks) in data centres, allowing customers to enjoy a more enhanced and complete network solution.
Under the NTT Communications Group – which has more than 10 million customers around the world – exists NTT MSC Sdn Bhd, a 100 percent-owned subsidiary of NTT Communications.
NTT MSC
Commanding the Malaysian side of the enterprise division, NTT MSC has since been able to invest in and carry out significant development of cloud solutions and virtualisation. Backed by the relevant data centre infrastructure including three data centres inside its campus, and a further two outside campus, the subsidiary is committed to providing the right solutions to corporate customers in order to meet their stringent individual business needs in ICT.
Established in 1997 in Cyberjaya, Selangor, Malaysia, NTT MSC was the first company to gain MSC status in Malaysia's renowned multimedia super corridor (MSC). "MSC status is awarded by the government to companies that develop or utilise internationally recognised multimedia technologies in their business activities. The status comes with a host of privileges including financial and non-financial incentives and world-class physical and communication infrastructure," says Mr Ken Deguchi, President/Chief Executive Officer (CEO) of NTT MSC Malaysia.
Named after its location in Cyberjaya, the subsidiary is part of a national ICT initiative conceptualised in 1996 as one of the main components to accelerate the country's Vision 2020; the strategic intent of the Malaysian government to transform Malaysia into a developed country. In line with the country's targets, NTT MSC has its own ambitious targets under its parent company's global cloud Vision 2015 in order to help companies worldwide to quickly expand their global operations with the adoption of cloud solutions.
Vision 2015
Over the past 18 years, NTT MSC has been at the heart of industry change, where new technologies such as cloud and increasing virtualisation have been ever-emerging demands on the horizon. Off the back of delivering network solutions profitably for almost two decades, NTT MSC is in the process of shifting its focus, investing and subsequently researching into the possibilities of the cloud and a whole host of associated services.
"Our fourth data centre (tier 3), which is the third to be built on our own campus, launched in April 2014 and is being occupied quite rapidly. Growth has accelerated recently as the world turns to cloud solutions and we are keen to capitalise on this in Malaysia. By aligning ourselves with the NTT Communications Group's global strategy to meet multinational demand, we are aggressively capturing the market in the country, helping to create the necessary ICT solution infrastructure to facilitate virtualisation and play a part in the data revolution around the world," states Deguchi.
"Our data centres are connected to each other, which means customers can use our global cloud platform seamlessly and receive a consistent level of service, wherever they are. Moreover, as pioneers of innovative IT services, we can ensure a reliable service that is backed by our robust global infrastructure of networks, data centres and much more," Deguchi adds.
In order to profit from the rapidly growing market, NTT MSC is now looking into building the next data centre in Malaysia so as to keep ahead of the curve and remain in an industry-leading position. Moreover, by diversifying into cloud solutions, the Company hope to reach a wider range of customers, deploying a one-stop solution strategy.
"We are exploring NFV (network functions virtualisation) in order to achieve fully virtualised network services that would be carried out by dedicated hardware. This means there would be less proprietary hardware required to launch and operate our network services, providing a more efficient and cost-saving solution in the long-term," the CEO further explains.
Green data centres
As global demand for data exchange grows, so too does the size and load placed on data centres, putting unprecedented constraints on space and power available to the data centre operator. Given the worldwide trend to promote energy efficiency throughout all aspects of a business, NTT MSC takes environmental considerations seriously, specifically when it comes to powering its data centres.
NTT MSC is now using alternative energies to power its projects, such as solar panels and is also considering its options regarding the replacement of its static UPS systems – systems that regularly require new batteries – with rotary UPS systems, as Deguchi details: "As proud holders of the LEEDS ( Leadership in Energy and Environmental Design ) and GBI (Green Building Index) certificate, NTT MSC is now considering further opportunities to increase the use of alternative and renewable energies to power our projects; having utilised solar energy to power other elements of our campus already, we would like to deploy this further."
Additionally, the Company has been deploying more resilient air conditioning systems to ensure little to no wasted energy as well as a high quality system to ensure it has 24-seven uptime.
"This emphasis on sustainability stretches to include the rest of our campus operations too as we become more energy conscious; solar panels power parts of our operations, we capture and re-use rainwater and encourage people to travel around on bicycles amongst other initiatives,"
he adds.
Training
With a current staff complement of 180 people, NTT MSC's operations continue to grow in line with industry growth. Keen to actively encourage staff to enhance their technical skills, the Company has several programmes and incentivised certifications to reward its employees and prepare them for the inevitable implementation of cloud technologies. "We also send staff to our headquarters in Japan via an exchange programme so that they can experience a different market and gain further insight into the overall vision and goals of the NTT Communication Group. In return, the Group sends staff to us which is useful as it can often bring a new perspective to the table," Deguchi highlights.
Similarly, its partners also collaborate with NTT MSC in order to enhance its data centre network offering as he further explains: "Certain elements are not feasible to provide in-house, therefore we collaborate with a handful of industry-leading partners such as Panduit, Emerson Network Power and various local telecoms carriers in order to provide a more enhanced offering to the customer."
NTT MSC is also supported by its sister companies who are currently renting office space within its premises; Dimension Data, NTT Data and intelligence who provide system integration, IT Solutions and SAP Solutions in Malaysia, respectively.
Long-term
Though the cloud market in Malaysia has not yet caught up with the likes of neighbouring Asian countries, the government and businesses are working in tandem to improve the country's cloud market, enabling Malaysia to become a welcome addition to the regional cloud hub. "Through heavy investment into this growing area, we are closely working with the government to achieve a world-class cloud platform and associated infrastructures; hoping to play a big part in Malaysia's data centre and cloud solutions growth," explains Deguchi.
He concludes: "By enhancing our operations team and introducing new systems to effectively improve the cloud side of NTT MSC's business, we are expecting a shift in the ratio of business revenue; with cloud overtaking the network solutions side of the business in the next three to five years.
"Our investment and internal improvements will make sure the Company is ready to capitalise on the cloud market, securing NTT MSC's long-term future here, equipped with the vision to apply its global, mission-critical systems to the Malaysian market.
"Our policy is to self-own, self-build and self-manage in order to commit to the highest quality in all aspects of the business. As part of the NTT Communication Group, we can provide global, one-stop solutions from Malaysia to our customers."
VIEW NTT MSC Sdn Bhd BROCHURE