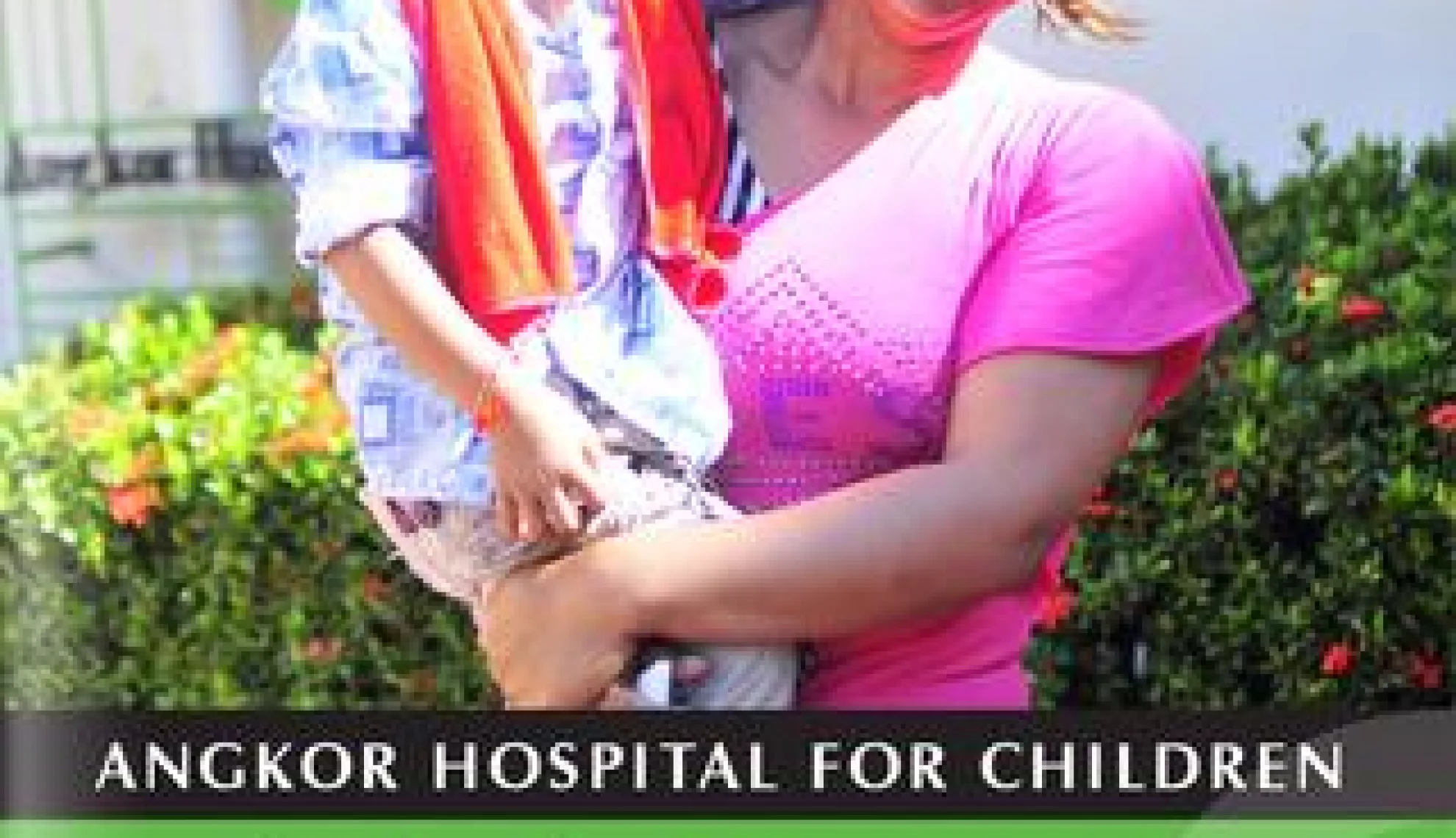 Treatment, Education, Prevention
Writer: Emily Jarvis
Project Manager: Eddie Clinton
Supported by donors in Asia, Australia, Europe and North America, Angkor Hospital for Children (AHC) is an independent, non-profit medical facility that is committed to providing quality healthcare to impoverished children in the Siem Reap area of Cambodia. The hospital works in close collaboration with the Ministry of Health and has done so since its founding 16 years ago. AHC's Hospital Director, Dr. Ngoun Chan Pheaktra urges people to visit the hospital to learn about the hospital care it provides to impoverished Cambodians, and provide their support: "We receive funding from all around the globe and due to this ongoing support, we continue to deliver high quality medical care to children affected by disease and poverty in the country."
Recognised as Cambodia's first teaching hospital, AHC first opened its doors in 1999 after Japanese-born Kenro Izu, identified the lack of accessible healthcare for poor children. "Mr Izu had a vision to do something for Cambodian children and greatly supported the hospital in the early days. He established the non-profit organisation 'Friends Without a Border' in 1996 and after gaining the support of 6,000 health care professionals around the world, Angkor Hospital for Children was born. Since we opened, the Hospital has witnessed immense growth from 7,000 patients a year, to treating more than 160,000 in 2014."
AHC has provided more than one million medical treatments to date, educating thousands of Cambodian health workers and hundreds of families in disease prevention along the way. "Our services are free; we reimburse travel costs, provide food and areas to stay overnight for those who have travelled long distances to get to the facility," cites Dr. Pheaktra. AHC provides these services because travel and associated costs can often prevent families from seeking medical attention.
Over time, AHC has evolved from a simple outpatient department to a fully-fledged hospital offering specialist services including: Neo-natal care, physiotherapy, inpatient and outpatient clinics, A&E, intensive care, operating theatre providing a range of surgical procedures, and more. This year, a much needed renovation of the emergency and intensive care units will reach completion, in turn expanding the hospital's capacity.
Securing the right people
AHC is more than just a hospital and also exists as a Centre of Excellence for the training of Cambodian doctors and nurses in the hospital and beyond. As a non-profit organisation, however, it is sometimes a challenge to find the required skills within the country. "We need volunteers from overseas with expertise in specialist areas that will help us build the knowledge and skills of our own doctors and nurses.
"Providing high quality care means high quality staff and we have the right programmes in place to provide coaching and build capacity in the medical community as a whole," Dr. Pheaktra explains.
Beyond providing training for its own medical staff, the hospital works with other provincial hospitals to expand their own knowledge of quality care.
"Our guiding principal is to provide quality care to those living in poverty. We work with the Ministry of Health to strengthen Cambodia's healthcare system through the training of doctors, nurses and health workers to play a central role in improving public health for all children," Dr. Pheaktra says, adding that staff take every step possible to help both sick children and their respective families
Empowering locals
Early 2014 saw the opening of AHC's newly renovated outpatient department. Through generous funding from many donors, the Hospital was able to increase its capacity to treat patients and reduce waiting times. The new and now separate ICU and emergency units were completed in April 2015, which have been designed to improve patient privacy, capacity and quality of care.
Since 2010, Angkor Hospital for Children has reached out to rural communities via its Satellite Clinic (SC) which has outpatient, inpatient and emergency rooms and sees more than 50 children a day. "We strive to provide quality healthcare services to the rural population while strengthening the government healthcare system. By coordinating with local health centres at a community level, we hope to further replicate this model where a healthcare structure does exist, but needs improvement," highlights Dr Pheaktra. Clinics such as this one are also useful in educating families in disease. For example, HIV positive children are taught to educate their communities about the disease as Dr Pheaktra further explains: "We hope that by empowering children to be their own advocate, local people will become well-informed of the risks. Our plan is to expand this programme going forward."
The goal for Angkor Hospital for Children this year is to consolidate its activities and maintain a stable outlook. "This year is about building a strong foundation from which to grow, accompanied by securing further funding going into 2016 to ensure we can continue to run our existing activities. We are committed to ensuring the Hospital has the fundamentals needed to continue offering much needed quality healthcare long into the future," concludes Dr Pheaktra.
VIEW Angkor Hospital For Children BROCHURE