REMEX Minerals Singapore Pte Ltd is contributing towards the nation's approach towards zero waste and circular resource economy. We speak to Managing Director Venkat Patnaik about the company processing incinerator bottom ash and reducing waste on Semakau Island.
TREASURED ASHES
Singapore is renowned as a green city.
Yet, as the second-most densely populated nation on the globe, it also faces the pressing issues of limited land and large quantities of waste. However, these are two of the factors as to why Singapore is so environmentally focused and efficient at waste disposal.
With a limited landmass, Singapore turns waste into treasure and disposes minimum waste to Semakau island, the only landfill in the nation. It is only so large, meaning that smart waste disposal methods, recycling, and reusing materials emerge as not only a positive for the environment, but also a necessity for the country's zero waste policy. It is this crucial foresight, combined with the nation's technological power in Southeast Asia, that makes Singapore a successful green city, and one at the top echelons of sustainability in Asia.
"What you need to take into account with Singapore is the fact that the biggest challenge remains land scarcity," begins Venkat Patnaik, Managing Director at REMEX Minerals Singapore Pte Ltd (REMEX), addressing the elephant in the room and giving voice to a national concern that requires constant thought.
"Singapore is a land-scarce island making every inch very valuable and waste collection, reuse and disposal a critical endeavour across the country."
REMEX is one company born from the joint need to combat waste whilst salvaging, recycling and reusing what is valuable to the environment and society.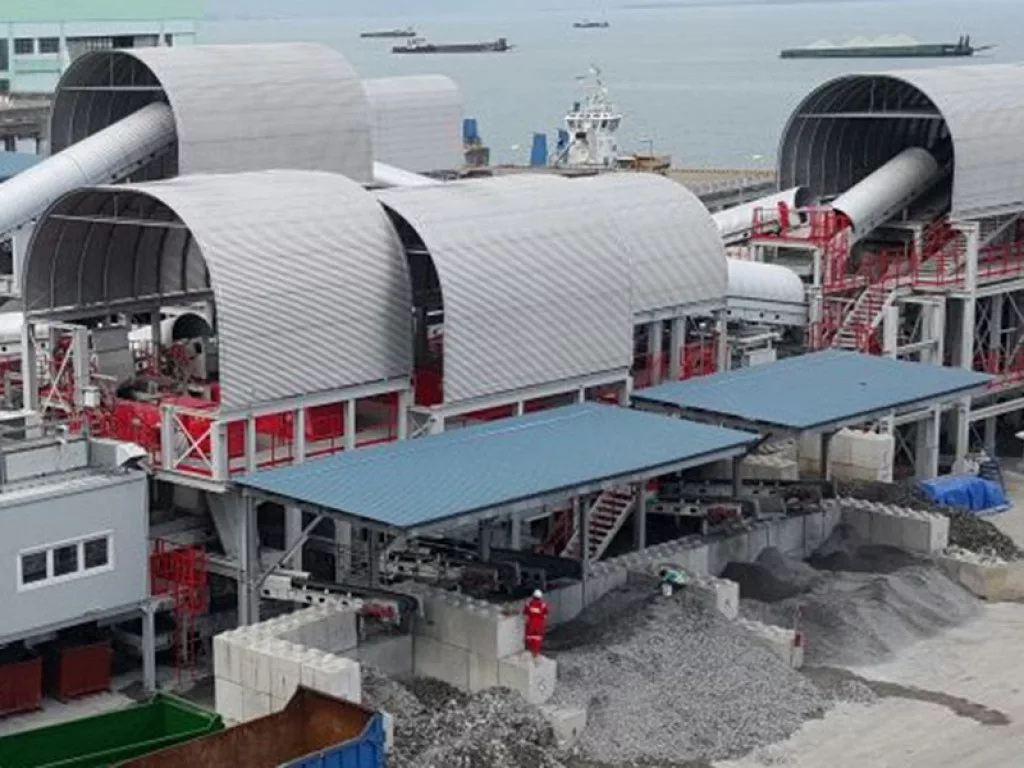 CIRCULAR ECONOMY
REMEX offers solutions for the reliable disposal, processing and reuse of raw materials contained in mineral waste. This includes the production of secondary/recycled aggregates from minerals as well as the recycling of recovered metals. In addition to the provision of appropriate disposal concepts, REMEX also offers effective services for contaminated site and land remediation, underground stowage, the operation of landfills and metal recycling.
"Mineral waste is a precious commodity – this insight gave rise to the corporate success story that is REMEX, benefitting both customers and the environment," Patnaik says. "As a recycling company, we organise the entire mineral material cycle by processing mineral waste such as construction waste and industrial by-products, making them usable again as quality-assured secondary aggregates. As a result, REMEX has been making a relevant contribution to the protection of resources for more than four decades.
"Waste collection companies collect all this waste, before sending it to different incineration plants after removing all the unsuitable materials. The material incinerated is mostly domestic and general waste, and these incineration plants reduce the volume of waste while at the same time generating power."
REMEX's operations bring about significant positive impacts; the physical waste is reduced by approximately 75 percent in the waste incineration plants, in the form of IBA, which is in turn further processed in MRF to be potentially used for various applications like road bases and general construction, earthworks or landfill works.
This sums up the broad process by which waste management is undertaken in Singapore today. REMEX specialises in the recovery of metals from incinerator bottom ash (IBA) and its further application for "zero waste" goals. According to Patnaik, a substantial 15 percent of IBA is metal, making it a very valuable resource to tap into.
"IBA containing physical metal is very unstable, responsible for corrosion, and consequently loss of valuable metals. What REMEX does is recover these metals from the ashes to be recycled and reused," he informs us.
After recovering these metals from the ash, they are sent to various smelters based on their type, such as copper, aluminium or steel mills. This not only supports a circular economy but also helps REMEX by opening up a revenue stream that is continuous and beneficial for the environment. Yet, there is an additional benefit to the practice of metal recovery from waste ashes.
"Semakau Island is an offshore landfill located on the eastern side of Singapore, and because it is indeed an island, space is limited as it is throughout the rest of the nation," Patnaik explains. "Usually, these waste ashes are sent to the island, but when you look at our practice of metal recovery you realise that REMEX is reducing the overall amount of ash taken to landfill by 15 percent, accounting for the metals recovered. So, not only is it helping the environment by creating a circular resource economy, but it is also saving valuable space on the island in the process."
"We organise the entire mineral material cycle by processing mineral waste"

Venkat Patnaik, Managing Director, REMEX Minerals Singapore Pte Ltd
THE ZERO-WASTE GOAL
IBA produced by solid waste incinerator facilities can be processed (including metal and salt removal), and once the metal is extracted, the ash can be further processed for various applications. The end result makes the ash chemically and physically stable enough to be used as aggregates in non-infrastructure buildings, such as the construction of roads, footpaths and carparks, which means that the entire process leaves nothing to waste.
"The energy from incinerators (where IBA is generated from waste) is connected to the power grid in Singapore, the metals are smelted and reused in a circular economy, and the ash is used to contribute to building and developing the nation," Patnaik explains.
"Another fantastic aspect of this process is that you become self-dependant on your utilisation of ash, so there is minimal or no need to import sand. This has the potential impact of reducing construction costs across Singapore."
With waste being recycled in such a manner, Singapore stands at the forefront of a self-sustaining urban nation, helping further development and environmental goals as a zero-waste country. REMEX is part of trial projects by the National Environment Agency (NEA), Singapore.
REMEX works actively with organisations such as NEA to ensure that its own operations and end results work towards the benefit of the planet, in ways such as safeguarding and preserving the environment alongside community areas.
"We are presently undertaking a plan with NEA to develop the processed ash (new sand) into the most environmentally friendly end result possible," Patnaik tells us. "We have taken samples of IBA after metal recovery and sent them to our facility, HEROS, in the Netherlands, for the washing process, which is used in application as a trial project.
"Here, the materials made using the processed ash are tested when it comes to aspects such as strength and chemical properties to help to understand the suitability of the final product in various applications."
REMEX's European research facility helps ensure that the end result aggregates, such as those used in roads, are monitored when it comes to material endurance and cohesion, and that unwanted chemicals are removed during the process in Singapore, so as not to impact the environment that surrounds the area of infrastructure when implemented.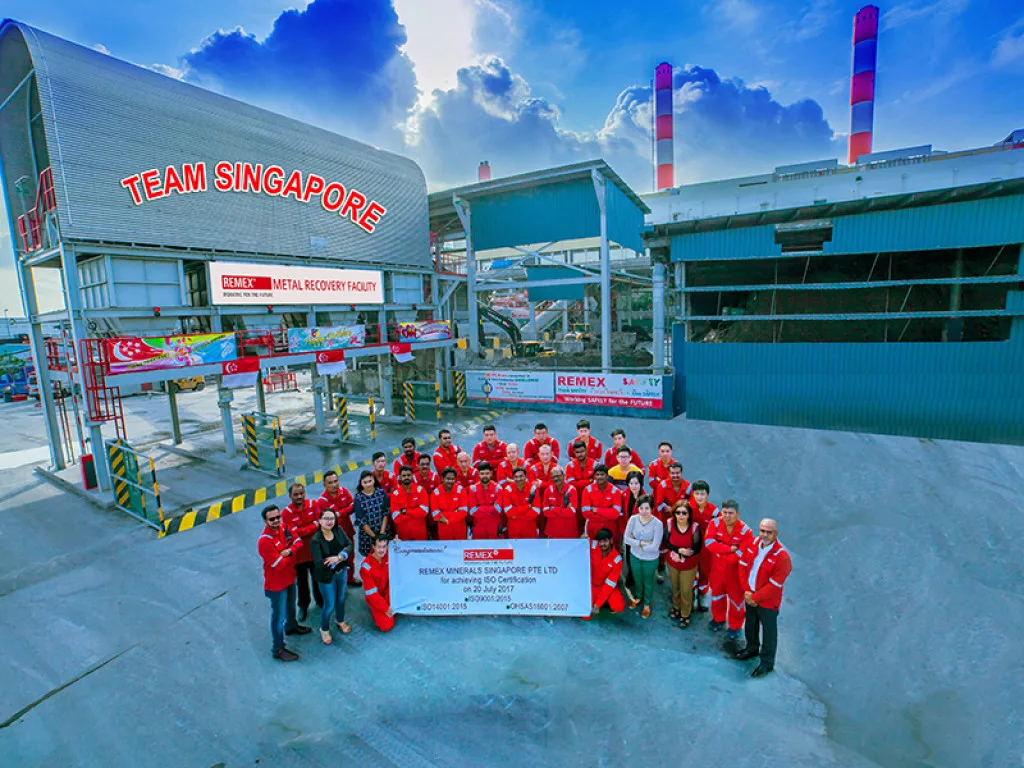 THE GREEN PATH AHEAD
REMEX is continually looking for ways to improve its operations, to lead to meaner and greener activities in Singapore, and this includes increasing metal recycling from processed ash. According to Patnaik, one major inroad in this area is the potential mining of Semakau Island, and there is good reason for it.
"There are millions of tonnes of ash that have been dumped there for many decades, as processing and reusing the ash and metal like we do today is a relatively new method of operation in the grand scheme of the island's use as a landfill," he says.
"So now, Singapore is looking towards the possibility of mining the cells of Semakau landfill, excavating the decades-old ash to extract the metals to reuse metal free/stable ash for different applications, thus recreating space in Semakau landfill."
With this planned operation, Singapore will not only continue its green path of resource recycling and reuse but also begin to act on its own past, giving the waste of the past a present-day purpose.