ALBA Singapore performs a critical role in the country's waste management space. We speak to CEO Jakob Lambsdorff about combatting the mounting E-Waste problem and the exciting green developments for the company.
TOWARDS A WORLD WITHOUT WASTE
With just over seven years left until the end of the decade, climate target deadlines are at the forefront of people's minds as needing improvement and imminent action.
Carbon, pollution and waste reduction are key to reaching these goals for the betterment of the planet, and within this trinity of environmental aims, ALBA is a key player in the Asia-Pacific (APAC) region.
From its roots as a waste collector in 1968 with only two trucks and six employees in Germany, ALBA developed into one of the leading recycling and environmental services companies as well as raw material providers worldwide. With over 50 years of experience in the waste management and recycling industry in Europe and more than 20 years in Asia, ALBA combines the best of both worlds by localising its solutions to Asia while integrating the best practices from Europe.
"Singapore had long been of interest to ALBA, not only due to local opportunities but also as a gateway to Southeast Asia (SEA)," begins Jakob Lambsdorff, CEO of ALBA Singapore.
"We successfully secured the contract and commenced operations in Singapore in 2020 together with local waste management company Wah & Hua Pte Ltd, becoming the public waste collector for the Jurong sector from April 2020, until March 2027. Since January 2022, we expanded to include the Woodlands-Yishun sector, thus servicing two out of the six sectors currently in Singapore."
Subsequently, ALBA was awarded by the National Environment Agency (NEA) to become the sole Producer Responsibility Scheme (PRS) operator for E-Waste for the entirety of Singapore, from July 2021 to June 2026.
As part of its role, ALBA spearheads the implementation of a nationwide collection system for E-Waste. As the scheme operator, ALBA is responsible for working with all stakeholders, such as electronics producers, retailers, collectors, E-Waste recyclers, government representatives and residents to build a sustainable and environmentally friendly electronic waste recycling system in Singapore.
"With our innovative suite of services, we have introduced a wide range of sustainability, digitalisation, and productivity initiatives for all our projects in Singapore," Lambsdorff tells us. "We are very excited for our future development in Singapore and SEA, given the demand for large scale, modern and sustainable waste management and recycling solutions."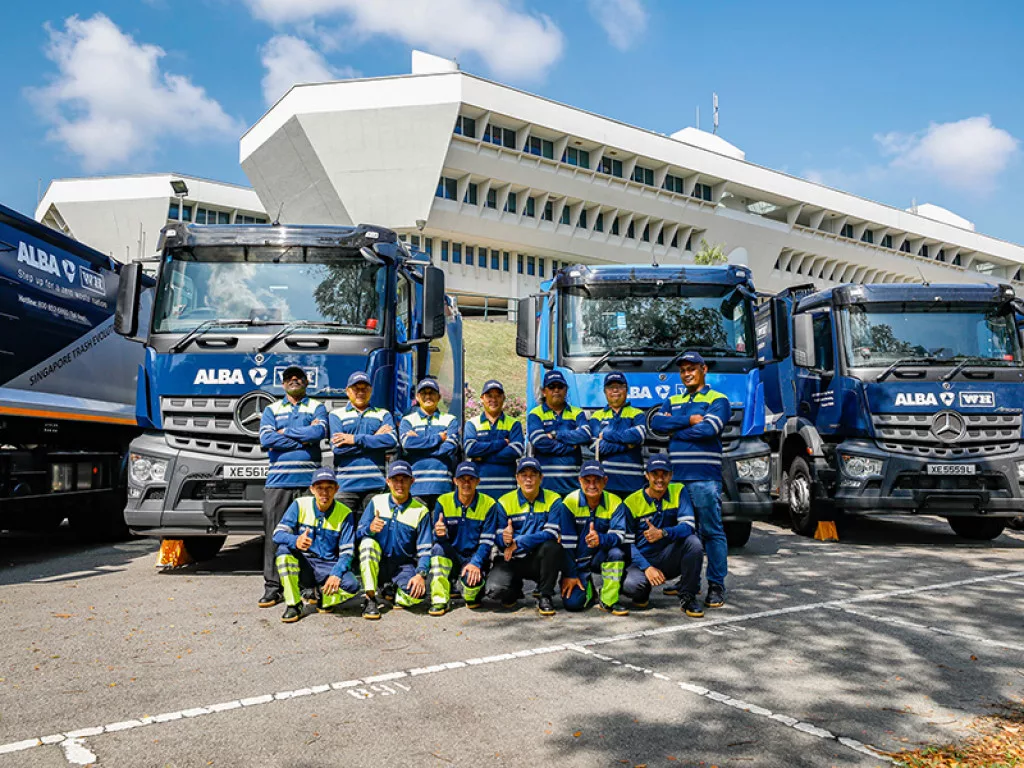 MANAGING E-WASTE
A key part of ALBA's role includes coordinating with relevant stakeholders to set up an island-wide recycling network, making it convenient for the public to dispose of their E-Waste. To date, the company has deployed over 600 e-bins, which can be found in community centres, shopping malls, retail shops and government buildings. ALBA also brings E-Waste recycling to neighbourhoods through quarterly collection drives, which are conducted at void decks of public housing estates in all 17 town councils.
Within a year, ALBA has collected around 5,745 tonnes of consumer E-Waste, which is close to five times the amount collected under the Singapore Government's previous National Voluntary Partnership programme from 2016 to 2020. This accounts for about 10.4 percent of the consumer electronic and electrical equipment supplied in Singapore in 2021.
"The E-Waste collected is transported to ALBA's logistics and sorting hub, where data such as type and tonnage will be recorded before they are sorted and taken to the recyclers for material recovery," Lambsdorff continues. "To monitor and analyse the E-Waste flow, ALBA utilises an intelligent data system, tracking the various stages of the process. Data collected is used to improve operational efficiency and productivity. In the meantime, at the recyclers, the recovered materials are funnelled back to the producers to manufacture new items, thereby minimising waste generation and creating a circular economy."
ALBA's new waste management system is a great milestone in the company's – and Singapore's – environmental roadmap. It is the first Extended Producer Responsibility Scheme to be established in Singapore and ALBA was appointed by NEA as the PRS operator for the programme.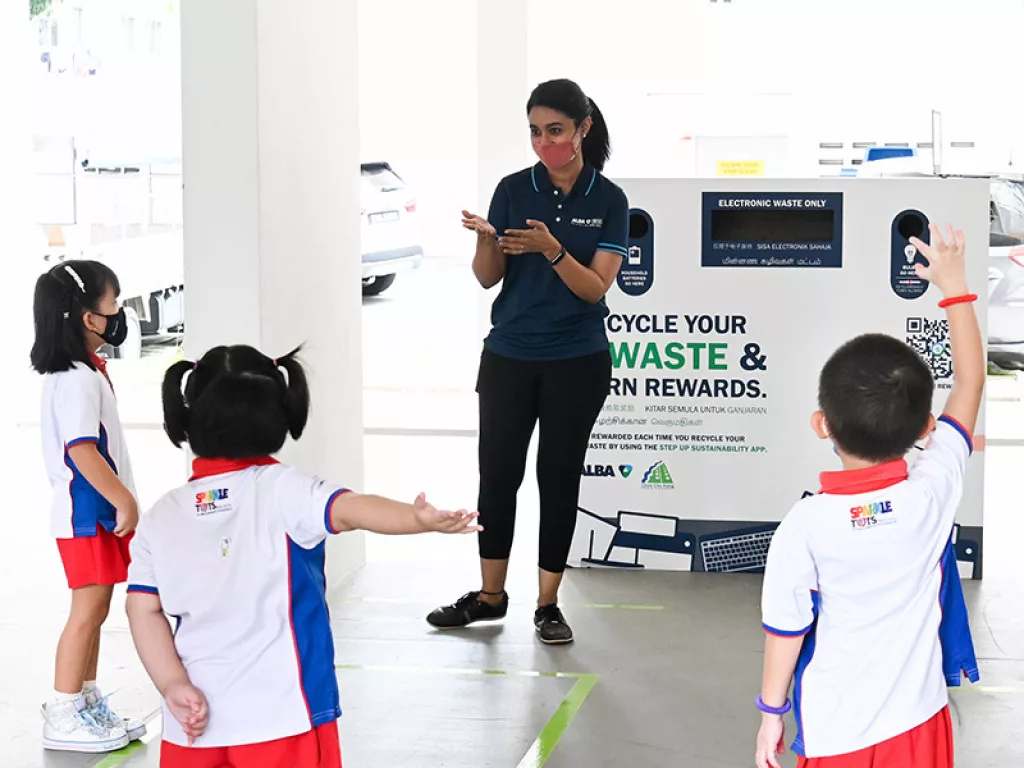 CREATING A CIRCULAR ECONOMY
According to Lambsdorff, the success of the programme comes down to cooperation between the different stakeholders in the waste management supply chain – such as the government, public, and waste management industry. Producers and retailers play a major role in Singapore as the scheme is financed by producers whose product volume crosses a specific supply threshold set by NEA.
"With the set-up of the E-Waste collection system and the collaboration with local recyclers, ALBA is working towards reducing waste generation and boosting domestic recycling rates," Lambsdorff says. "In our role, we ensure that the regulated E-Waste is being collected, sorted and sent to licensed recyclers. We have a full overview of the E-Waste flow in Singapore, regularly monitoring and tracking the progress together with NEA for full transparency."
Given this system, the local recycling industry is strengthened via its safety, environmental impacts and capabilities. Subsequently, this encourages a stable flow of secondary raw materials into the market from the recyclers, creating a circular economy and paving the road ahead for a Zero Waste Nation.
Recently, the Singapore government set commendable goals to reduce greenhouse gas (GHG) emissions and increase recycling rates. In the coming years, the government will introduce new legislation to achieve the announced targets, such as take-back systems for beverage containers and other packaging materials. Once these are fully established, more of the positive value recyclables will be taken care of.
"With the push from the Singapore government to reduce the waste sent to the Semakau landfill, the nation is beginning to invest resources on enhancing material recovery, which will give rise to more opportunities for local recycling industries to flourish," Lambsdorff adds.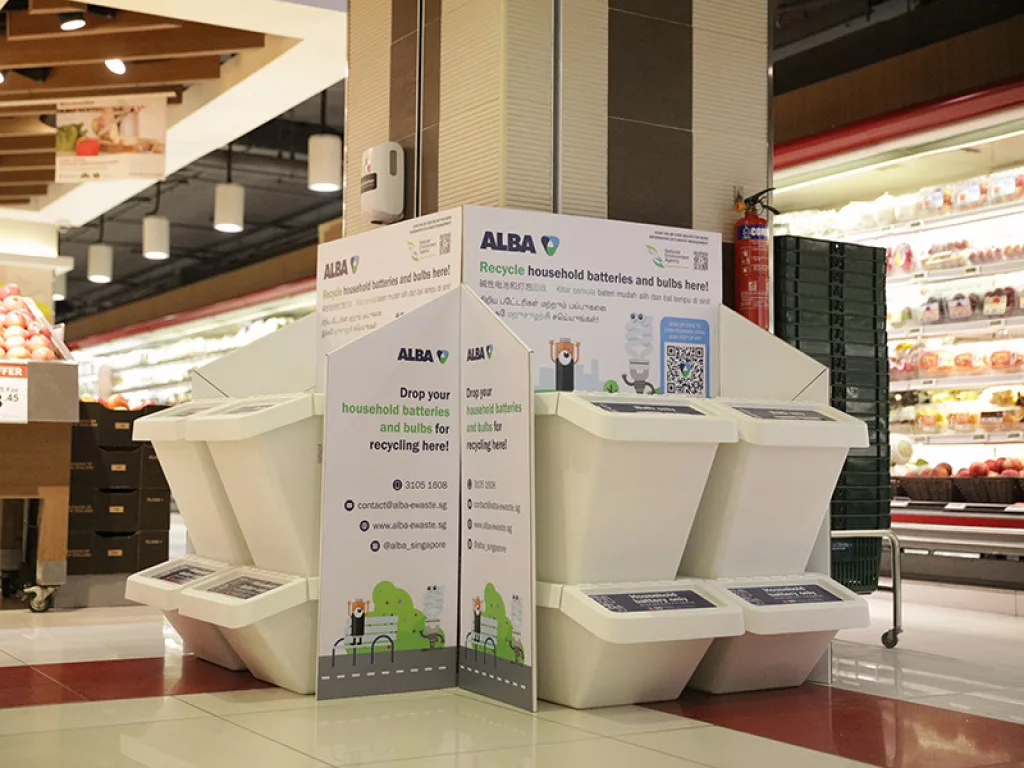 STEP UP RECYCLING
A key aspect of ALBA is the company's ability to keep up with the times and incorporate technology into its offerings. An example of this is the ALBA STEP UP app, developed to promote recycling by helping the public associate trash with value and instil a zero-waste mindset.
"Every time someone uses our app to recycle their items (for example general recyclables, used shoes, E-Waste), they are rewarded with bonus points called "CO2 points"," Lambsdorff explains. "The name of the points is designed to encourage the public to associate recycling with reducing their carbon footprint. Beyond scanning and redeeming for rewards, the ALBA STEP UP app lets users keep track of their recycling habits, CO2 savings, locate their nearest recycling points which are under ALBA's programmes, and learn educational titbits."
ALBA sees innovation and digitalisation as a bridge to transform the traditional waste management industry into a more productive and efficient system that is adept and resilient in the present world. For example, all of ALBA's rear-end loaders are equipped with solar mats to reduce diesel consumption, and the majority of the company's vehicles are equipped with particulate filters to filter fine dust (PM 2.5 and PM 10) from the air.
To increase manpower efficiency, ALBA has also deployed more side-loader and dual-compartment trucks, which are respectively designed to automate the waste collection process in the field and simultaneously collect both recycling and general waste. Additionally, all of the company's vehicles are equipped with onboard weighing solutions, allowing ALBA to track and trace the volumes collected, identify hot spots, analyse problem areas, and work with the local town council to resolve them.
"We are also in the process of piloting fill-level sensors on some of our waste-handling and storage equipment which would help in dynamic route planning," Lambsdorff says. "Lastly, we aim to build a fully digital operation system for our day-to-day operations; this includes asset tracking, routing, manpower allocation, maintenance routines, tonnage reporting, and a customer portal, thus essentially building a digital operations system."
ELECTRIFYING THE URBAN SPACE
Technology and associated support infrastructure are the key to a greener future for cities and countries.
Singapore is known to be one of the most densely populated cities in the world. As the population increases, so will the dependency on a transport industry powered by fossil fuels, which account for a large percentage of GHG emissions. Hence, it is important to keep the cities, especially the densely populated zones, emissions-free.
"Adding to GHG emissions are the fine dust emissions from the vehicles causing air pollution," Lambsdorff explains. "This is one of the reasons why you will also see our existing diesel fleet fitted with the particulate matter filters.
"Taking these matters into consideration, ALBA made a strategic decision to shift towards electrifying our fleet. We have recently invested in 15 new electric trucks which we hope to see on the roads in the coming months. These electric vehicles are 100 percent emission-free and also relatively quieter, which reduces noise pollution as noise levels are lowered during collection and transport."
This step aligns with the Energy Reset pillar of the Singapore Green Plan, whereby the government aims to have all new car and taxi registrations be cleaner energy models by 2030.
TECHNOLOGY INTEGRATION
ALBA is active in all areas of solid waste treatment and classifies its operations into four verticals – Smart City Solutions, Plastics Recycling, Green Gas and Green Fuel Technology, and Hazardous Waste Recycling and Management. Under the Smart City Solutions vertical, ALBA combines new strategies and digital technologies to help cities manage increasing volumes of waste and waste electrical and electronic equipment (WEEE) while facilitating take-back systems and segregation processes, encouraging the creation of a circular economy.
As part of its Plastics Recycling vertical, ALBA seeks to close the loop by collecting plastic waste and treating it using the latest processing technology, thus manufacturing high-quality raw materials that can be channelled back into the economy.
"In our Green Gas and Green Fuel Technology vertical, we utilise advanced biological fermentation technologies, tapping into 20 years of experience in the operation of biogas plants for the recycling of biowaste as well as third-generation municipal household waste treatment technology," Lambsdorff explains.
As for Hazardous Waste Recycling and Management, ALBA creates customised waste management solutions, advising on the optimisation of waste management processes and providing waste prevention options, such as the classification, transport, storage, recycling and disposal of hazardous waste materials.
"We see exciting opportunities for further development in Singapore with the upcoming EPR schemes, and to a larger extent in SEA," Lambsdorff continues. "We will continue to invest in Singapore to develop more lighthouse projects in SEA and build a strong base for our SEA operations. It is an exciting time ahead for ALBA, especially because waste management and sustainability needs are more crucial than ever before. We are certainly keen to support countries in SEA to realise their visions using our worldwide leading recycling competencies.
"For example, in Indonesia, we recently acquired local PET plastics recycler Tridi Oasis, and are excited to jointly further the cause of plastics recycling locally."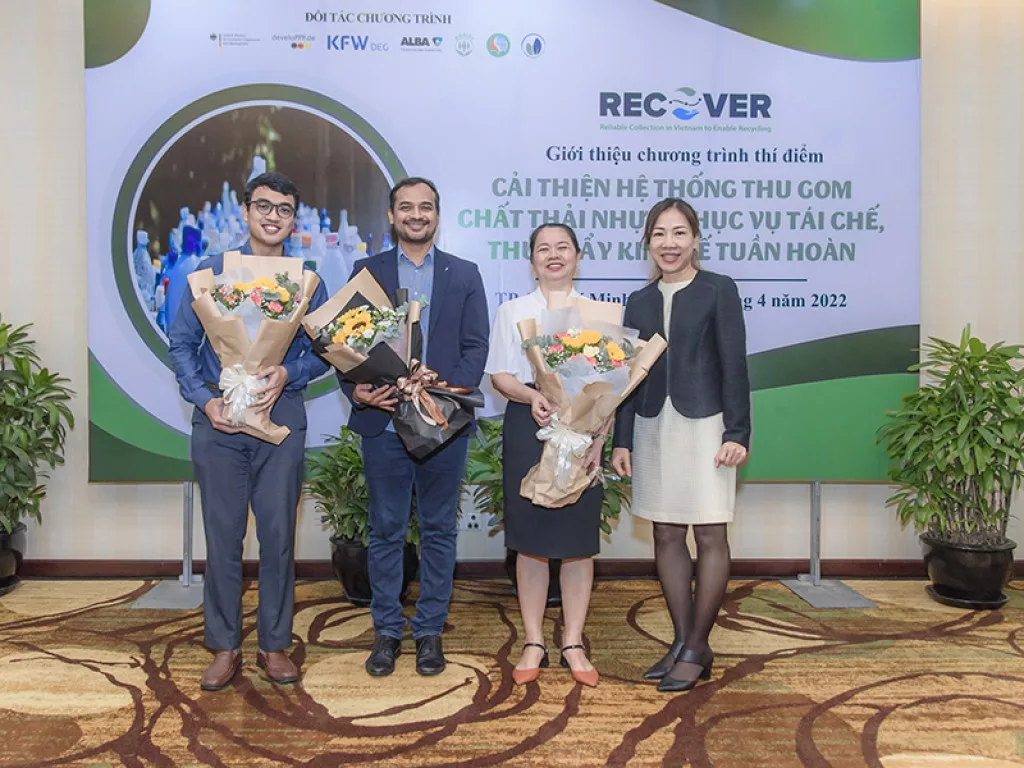 A GREEN PATH AHEAD
The demand for electronics is forecasted to grow exponentially in the next few years, and E-Waste is already the fastest growing waste fraction in developed countries. This forms a corresponding pressure for mined materials which are limited in the natural environment.
With the implementation of a robust E-Waste management system, ALBA, together with the local recycling industry has created an alternative supply of raw materials that can ease this demand, thus lowering the company's carbon footprint while achieving sustainable development for the economy.
"We recognise that there is potential to grow collection and recycling volumes through more outreach and education programmes, and by strengthening our relationship with the different stakeholders involved," Lambsdorff tells us.
"In Singapore, we are still at the infancy stage, given that our first project started only recently in 2020. We see a lot of growth opportunities and intend to forge new relationships and grow our local partnerships. In parallel, we are looking to grow our footprint in SEA. As stated, we recently set foot in Indonesia, by partnering with Tridi Oasis to recycle PET. We aim to boost the operations and sales of products from the current business, and use this as a launch pad for the development of new projects in Indonesia."
Similarly, ALBA has started operations in Vietnam, where the company works with partners to establish a proper collection channel for plastics. Here, ALBA's target is to stop plastics from entering the oceans, whilst improving the safety and social conditions of the informal sector as the backbone of the local recycling value chain.
"In Singapore, the waste management space is critical and ever-evolving," Lambsdorff concludes. "I find the atmosphere here to be very exciting both from a personal and business perspective. The pace of change and development is rapid across Asia which creates a dynamic environment full of new opportunities."