We look at Puma Energy PNG and the strategic role it plays in keeping Papua New Guinea supplied with essential downstream oil and gas services to support the economy. Hulala Tokome, Country General Manager and Director, discusses Puma Energy's vital role and the challenges of operating across Papua New Guinea.
ENERGISING THE PNG COMMUNITY
"As the heartbeat of the Papua New Guinea (PNG) economy at a time of extraordinary global disruption, every day presents new challenges and responsibilities for us in the oil and gas industry; timing is everything and there is no chance for failure."
As the leader of the nation's largest downstream oil and gas business, Hulala Tokome, Country General Manager and Director of Puma Energy PNG (Puma Energy), feels this responsibility more than most, and with good reason; Puma Energy operates the country's only refinery and provides essential fuels and other products across the nation to retail and major industries.
"We have always been on the critical path for the PNG economy, but circumstances today make our role even more vital," he tells us. "We have to ensure the integrity and continuity of our own business as well as respond to the changing demands of our customers who depend on us for uninterrupted service to keep their business going and avoid dramatic economic upset.
"So far we have been successful, consolidating our business in the face of COVID-19, changing the way we all work in Puma Energy to stay safe, finding more efficient and cost effective ways of operating while continuing to focus relentlessly on our customers' needs, and most importantly doing this safely."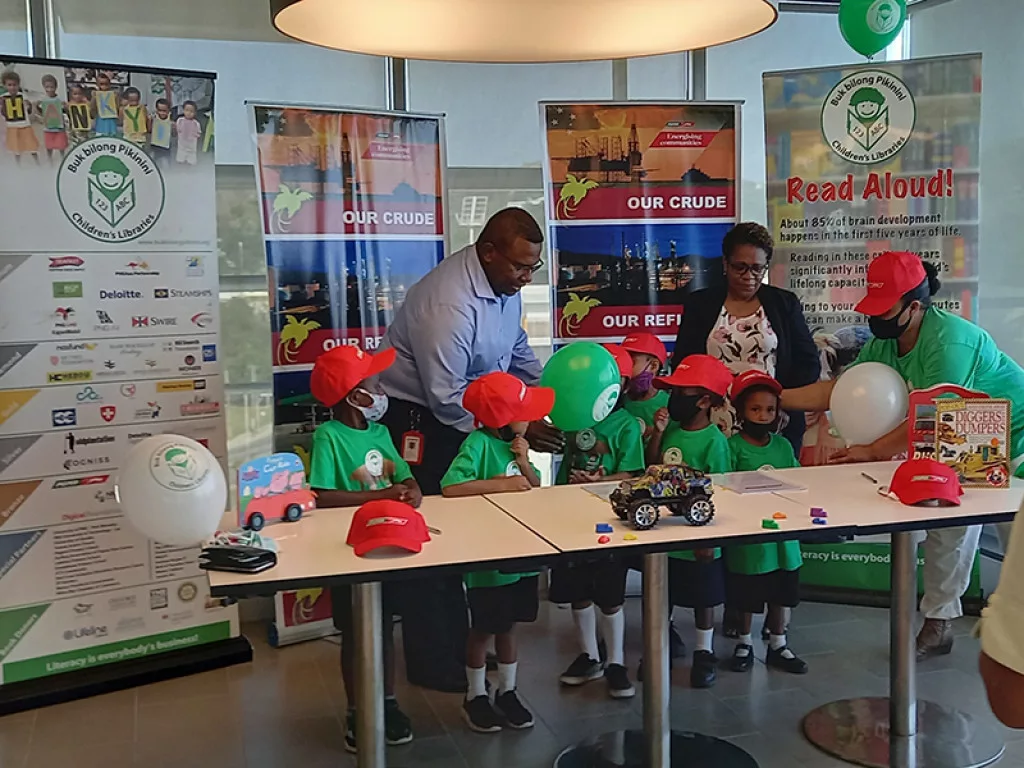 PUMA ENERGY
Puma Energy provides a wide range of energy solutions to retail and B2B customers, including aviation fuel for international and domestic airlines. With a core focus on its customers' needs first, Puma Energy's long-term aim is to lead and grow in the dynamic, fast-moving oil and gas industry in PNG; a space already capable of supplying the whole country's fuel requirements.
The company has a refinery, 12 terminals, a network of 100 retail sites, a growing liquefied gas business with almost 500 distributors and resellers across the country, a bitumen businessand refuelling operations at 11 airports throughout PNG. It employs more than 500 staff throughout the country, of which 95 percent are PNG citizens.
NATION AND NATURE
For Tokome and the company, the oil and gas industry at present is a space brimming with change and opportunity.
"There is a lot of excitement in the industry; we are in the throes of transition to a lower carbon future," Tokome elaborates. "This means that energy businesses, including Puma Energy, are adapting and looking to find and implement innovative solutions to contribute to the energy transition and help move the country forward.
"The latest and greenest practices not only benefit the environment but also ensure that we will maintain our position as a key player in the space, and support overall national development goals."
On top of this, Tokome believes that business results are important, yet how they are achieved is a priority.
"For Puma, our global mission is 'energising communities'," he affirms. "In PNG that means not only developing a business that fuels economic development but also contributes to broad long-term national development priorities, helps reduce the carbon footprint, conserves the environment and supports social development such as better health and education, especially in rural areas.
"It starts with our employees who are our foremost priority, and we are committed to ensuring that our workplaces and sites are safe environments, not only operationally, but also COVID-safe. We are extremely proud of our employees in being agile and collaborative through these challenging times. We invest in training and help create the workforce of tomorrow. And we also focus on developing small and medium enterprises (SMEs) which has been identified in PNG's national development plan as a critical growth sector – in 2030 they will provide half of PNG's GDP from five percent today.
"SMEs are at the centre of our business model. All our retail stations are operated by SMEs except one, and our PumaGas business is growing thanks to our many SME partners. All our 22 distributors and 450 resellers are SMEs who are networked across the nation to reach into urban and rural communities."
Across PNG, Puma Energy has a network of 100 service stations each of which are SME operated and part of a global network of 2,545 retail sites spanning 26 countries, helping to 'energise communities' around the world. Puma Energy is passionate about serving its communities both nationally and globally and providing its customer base with products and services that they want at a competitive price.
Stemming from this people-centred service, Puma Energy PNG has invested in a flagship Fuel Retail Village that incorporates the latest global standards and serves a model for future development.
FUEL RETAIL VILLAGE
"We opened up our fuel retail village in PNG's largest suburb at the end of 2020 with the aim of giving full and easy access to our services for many in the community," Tokome says. "We have helped rejuvenate the suburb by combining a service station with a retail village using the latest standards.
"It offers the community a one-stop shop retail experience with a range of modern amenities, for example the ability to buy a meal – either sitting at a restaurant, takeaway or drive-thru – or shop for electronics alongside the gas station."
Puma Energy has plans to upgrade and modernise its network and build more sites. On top of this, the company has invested significantly in terminal infrastructure at Port Moresby, building a new commercial centre, as well as investing in modernising its entire service station network throughout the country with regards to technology.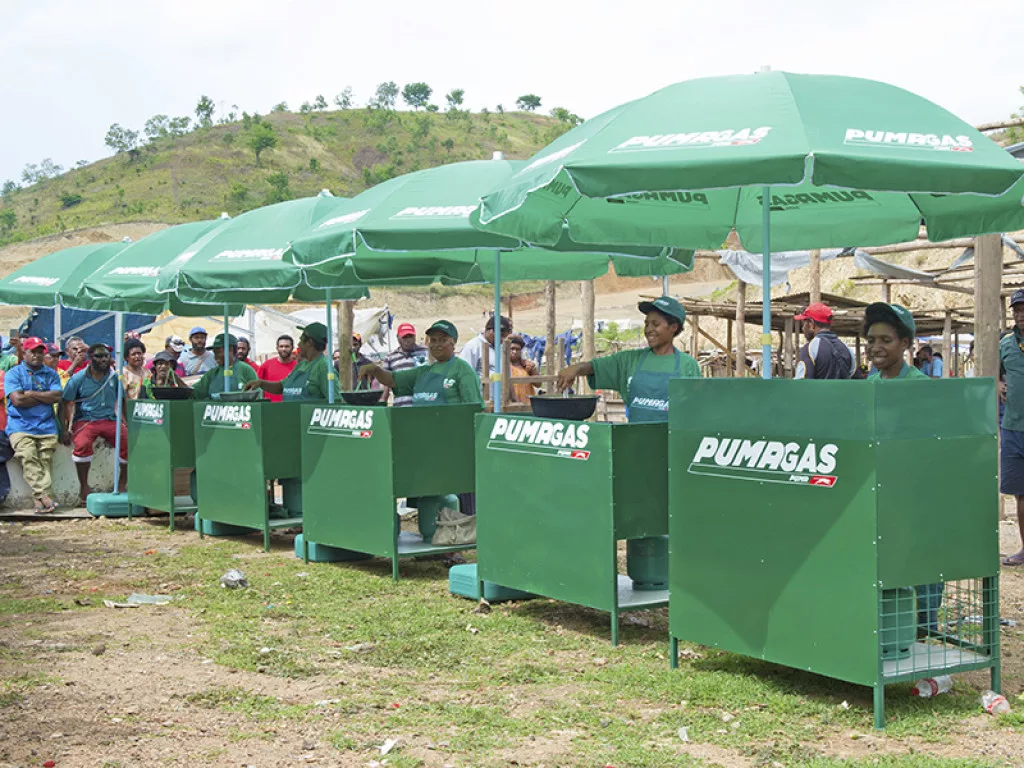 LIQUEFIED PETROLEUM GAS (LPG)
The company's PumaGas LPG business continues to defy the economic slowdown and has been growing ever since it started in 2015.
"We are proud that PumaGas is a 100 percent PNG product," Tokome elaborates. "We are the only LPG company in PNG using gas produced from the country's offshore gas fields, treated in our refinery and distributed through our Puma Energy operating bottling plants in Port Moresby and Lae, and to customers through our network of local SME distributors and resellers across the country.
"We're also the only LPG provider using butane which burns at a higher temperature than propane and lasts longer as a result."
PumaGas actively supports a national initiative to encourage households to use cleaner gas instead of kerosene or firewood for cooking and other purposes, reducing emissions and the impact on PNG's shrinking forests. Led by the government, it has the set goal to increase the number of households using gas from 20,000 to 500,000.
"I am confident that we have built a resilient business that will continue to grow and promote increasingly stable and sustainable practices moving ahead"

Hulala Tokome, Country General Manager and Director, Puma Energy PNG
MOVING FORWARD
It is clear that Puma Energy's business strategy is integrated with the national economic and social development needs of the nation.
"We take social responsibility seriously and enhance social development for the benefit of the community," Tokome assures us. "However, we also ensure that we take care of our own staff and treat them with absolute respect. They are, after all, our most important asset and do an incredible job."
For Tokome, the future of the industry is both exciting and uncertain with the ever-present COVID-19 virus, yet the company has shown its 2021 business model was fit-for-purpose and can withstand major shocks such as the pandemic. Puma Energy will continue to remain vigilant to upcoming threats and opportunities and continue to invest in growth into 2022 and beyond.
"We will continue to invest in aviation-related services in preparation for the recovery of the sector," Tokome informs us. "At the same time, we are looking to adapt to the energy transition and a low carbon future. We have installed solar panels in our terminal and progressively introducing solar power to all our operational sites to reduce carbon emissions, which is a core aim for us right now.
"I am confident that we have built a resilient business that will continue to grow and promote increasingly stable and sustainable practices moving ahead."