Steve Grossrieder, CEO and Managing Director at JAX Tyres & Auto, explains his company's customer-centric approach to operations in Australia.
CLOSE CUSTOMER COLLABORATION
"JAX is spelt with an X, and we call it our X Factor."
This is Steve Grossrieder, CEO and Managing Director at JAX Tyres & Auto. As a highly experienced industry professional with a diverse leadership career across business sectors and markets, Grossrieder has demonstrated the best business strategy is always a people-centric one.
"There's no doubt that our customer-centricity model sets us apart," he explains. "We're a premium retailer and we understand the importance of adding value. We ensure our prices are competitive but ultimately we're about driving customer value and ensuring that we have premium products and services, while differentiating our service proposition."
With a plethora of experience in driving Asia Pacific growth, revenue diversification, product innovation and operational/supply chain optimisation, Grossrieder has overcome a range of challenges to deliver exceptional revenue, EBIT and NPS performance across global markets. Indeed, he considers himself a catalyst for change and recognises the importance of a great working culture to success.
"I'm a mechanic by trade and during that time, I learned the basics of customer-centricity," he discusses. "I used to be told to put my customer shoes on, even though I wore work boots, which meant that in other words you have to put yourself in the customer's shoes to fully understand their needs. That's resonated with me all my life."
Having worked his way up from a tradesman to stepping into a role within a large telecommunications organisation, Grossrieder moved into middle management before his transition into high-executive commercial company roles.
"I truly believe that the two things that have got me where I am today are my focus on customer-centricity and making sure that I am working with people and teams to achieve the commercial result," explains Grossrieder. "I've enjoyed a good career in telecommunications, service and insurance and then back into the automotive space."
JAX specialises in the sales and service of tyres, vehicles servicing, wheels, brakes and suspension. The company operates through over 87 franchised stores across Australia. The range caters to all budgets and includes BFGoodrich, Bridgestone, Continental, Dunlop, Goodyear, Hankook, Michelin and Pirelli. Founded in 1949 upon the opening of the first JAX store, the company expanded its services from a tyre and wheel focused company to include brakes and suspension servicing.
"There's no doubt that our customer-centricity model sets us apart"

Steve Grossrieder, CEO and Managing Director, JAX Tyres & Auto
In 1995, Quick Fit Tyres was established and had a strong presence in Queensland before expanding into Victoria. 10 years later, JAX formed a joint venture to establish a tyre retailing powerhouse, one that has since earned a reputation as the most respected and professional tyre retailer in the country. The company is displaying robust growth year-on-year, offering good returns for its privately-owned run stores.
The automotive industry is used to change. The space is always one of the first sectors to embrace the latest trends and is often at the forefront of transformation.
"I think there's transformation happening in two ways," explains Grossrieder. "Firstly, there's the whole technological side of the automotive industry and that's changing dramatically. We're moving from semi-autonomous vehicles to fully autonomous vehicles and there's technology changing with internal combustion engines, electric vehicles (EVs), hydrogen vehicles. The whole platform of technology with the move to more environmentally friendly mobility means of transport is incredibly exciting.
"The whole way we service the consumer is changing and that's where JAX has experienced significant transformation. It's all about connectivity with the customer. The days are long gone where you can't be connected to customers and understand their individual needs. If you don't transform your industry to connect with customers through digital platforms, then you're going to be left behind."
Following every purchase a customer makes, JAX carries out a complimentary vehicle inspection. According to Grossrieder, the thinking behind this is that it provides customers with peace of mind that their vehicle is in safe working order.
"Our industry isn't typically the most trusted industry in the world," he stresses. "We're very lucky at JAX because we see this as an opportunity to ensure we're providing the customer transparency, professional services and driving value while we're dealing with the individual. That's the X Factor."
JAX were the first company to go to market with transparency and pricing. The company put all of its price points online, which led to industry rivals following suit. And providing customers with visibility is key to JAX, with the company operating software called TouchPoint which allows customers complete visibility over their vehicle.
"You can enter your registration number into our TouchPoint to gain a quote on any particular tyre or wheel size and we will provide competitive prices ensuring our customers have an understanding of cost prior to entering the store," says Grossrieder. "Once the customer is in the store, we go to our in-store TouchPoint where we take the customer through the process where they have full visibility over their vehicle. This means that a customer can compare the tyre that best suits them. Although the technology has been in place for a while, the feedback we regularly get is fantastic and is still completely relevant. "The new phone is the SMS, and some people just want to deal with you on chatrooms.
We don't just have one channel to our consumers, we have multiple. We are now available to our consumers 24/7 and that was a key shift for us."
During the COVID-19 pandemic, JAX understands the importance of business continuity, both from a company perspective and to continue to meet customer needs. This led to JAX becoming the first to market with a zero-contact strategy.
"Our customer experience positively increased significantly because it proved that we're quick and agile to respond to our customer's needs. It's critical that we're connected with our customer and understand their feedback in real time. We also want to understand where the market is going to go to allow us to be innovative.
"I can't second guess where the world will go due to COVID but what I can guarantee is that we'll react quicker than our competitors and that gives us a major advantage."
"If you don't transform your industry to connect with customers through digital platforms, then you're going to be left behind"

Steve Grossrieder, CEO and Managing Director, JAX Tyres & Auto
Grossrieder recognises the importance of establishing key, strategic relationships with partners and stresses success can't be achieved without them.
"The four Vs of success is the voice of the customer, employee, franchisee and partner," he explains. "Our partners are critical; we have approved and preferred partners. We are currently working with a CX partner called InMoment who provides a high level of support with our customer experience programme. They're a critical partner and a large reason to the success we have achieved. We're looking for partners, not suppliers."
The pandemic meant that JAX had no choice but to change the way it operates. However, despite the disruption and challenges of 2020, JAX still hit its original target.
"Moving into 2021, we've taken those learnings and made some adjustments to our sound strategy. For us, there have been two major changes to the strategy," explains Grossrieder. "Firstly, we can't second guess where the world is going to go and secondly, it's about building retail agility and innovating quickly. We know we need to be more agile than our competitors where we can adapt to the world as and when it changes. We've built agility into our capabilities where we can pivot quickly and align to shifts and trends in the consumer market. We didn't have a choice but to change. However, we've embraced it and really seen the benefits of moving quicker than our competitors. We want to be the leader in this space."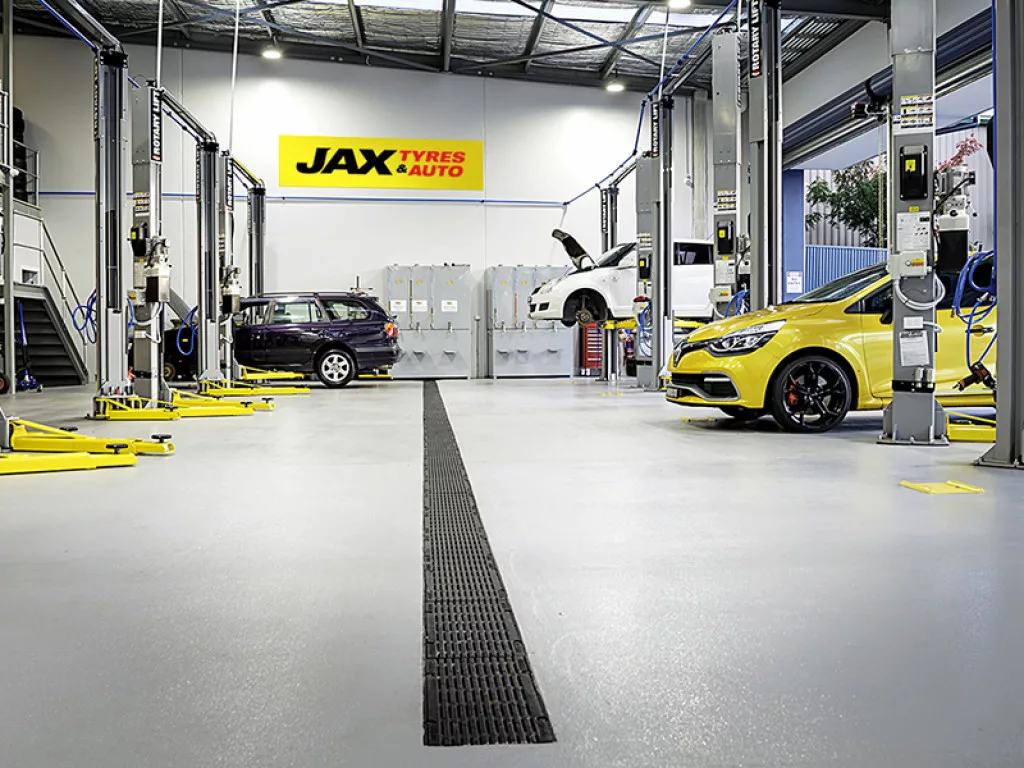 VIEW JAX TYRES & AUTO