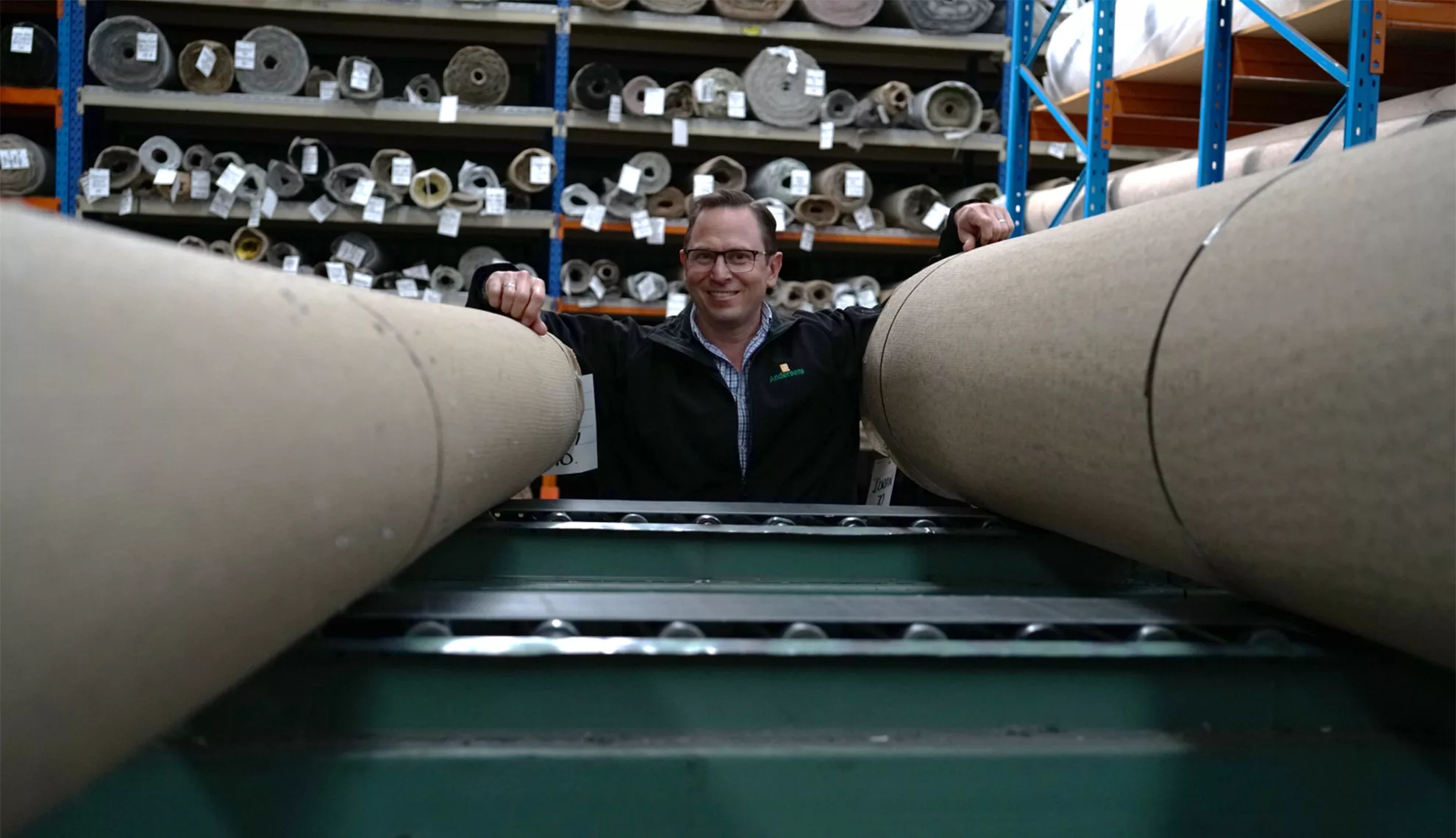 Curating the Country Town Culture
Andersens Flooring Coverings is embarking on an ambitious plan to grow its franchise network across Australia, the brand built on its unwavering commitment to providing exceptional personalised service.
Writer: Tom Wadlow  |  Project Manager: Josh Hyland

"As a business mentor of mine once told me, all businesses should redesign themselves – as if they were brand new – once in a while, to make sure they are deliberately invented to give the customer what they now want.
"If there is one thing that the COVID-19 pandemic of 2020 has taught us, it is that businesses of all kinds must be adaptable in order to survive. Indeed, the definition of 'normal', it seems, looks certain to change.
"Behavioural patterns are changing as more and more consumers seek flexibility to fulfil their retail needs, while countless office-based organisations are waking up to the fact they can operate equally effectively with their employees working remotely
and flexibly."
These remarks are from Rowan Hodge, CEO at Australian retailer Andersens Floor Coverings.
Specialising in quality floor coverings and window furnishings, the network was established more than five decades ago and operates 50 stores stretching from the far north of Queensland (where it all began)
to Canberra.
Andersens is a franchise network which employs around 200 team members and about as many flooring installation contractors. These franchisees are supported by 20 staff who work from company headquarters and warehouse in Gatton, and in the field as business coaches.
Like all retailers, Andersens is having to adapt in response to the unprecedented interruption of COVID-19. But Hodge is quick to recognise that the need to evolve to meet customer needs is evergreen.
"The coronavirus has brought long-standing retail trends into sharper focus," he says. "Customers have always wanted retailers to make their lives easier, more convenient, safer, more comfortable, more accessible and more seamless.
"The present crisis just lays this bare. It is always urgent to be open, accessible and helpful when your customer needs you, and the pandemic has refocussed our minds on making sure we are.
"Customers have always wanted the best advice, competitive pricing, an extensive range, insights on colours, textures and trends. What coronavirus has forced us to do is to accelerate our adaptation of an old business, in an overly 'same' industry, to try to better give our customers what they've actually always wanted."
It is an exacerbated challenge which Hodge was hardly expecting to encounter when he joined the group as CEO in 2019. A life spent in commerce since his high school days, his career has taken him from jewellery to hotels, batteries and Domino's Pizza, right across Australasia and Europe.
class="blockquote">

"The concept of country town service is hard to define, but you know it when you see it. It might be an attitude. It might be going the extra mile. It might be a thoughtful gesture. Whatever it is, it's all about giving this lady amazing personal service."
Built on culture 
Hodge touches on what he believes to be central to the company's point of difference – an embedded culture that has successfully rolled out across all franchises.  "I was headhunted into the CEO role with Andersens, but this this was definitely not a position I came to reluctantly," Hodge says. "When I looked more closely at the business, I found a history and culture second to none.
"The country town values of our founder, Jack Andersen, carry all the way back to our amazing origin story, and on through our established team and franchise community. The Andersens expertise, service and brand strength today are without equal.
"This is a remarkably solid foundation from which to launch our current period of rapid network expansion. The asset growth of all stakeholders is the number one priority for any CEO, and Andersens has exactly what it takes to expand store numbers into new geographies, while also focusing hard on same store growth in revenue and profitability for existing franchisees."
Despite any other strategic imperative, like differentiating on quality, product range, store design, training, experience and price, the country town focus remains the centre of gravity. Founder Jack Andersen is fond of saying, "Treat the customer
as if they're your best friend's mum."
This deliberate culture also translates into relationships between company HQ and franchisees. Hodge highlights the importance of two annual support surveys, run by the franchise community, which allow franchise owners to provide feedback.
Cultural expectations from head office are likewise clearly communicated from the outset, as the following statement from an Andersens franchise agreement shows: "This particular network has its origins in the bush. Core values of country town service, mateship, respect, community, working together, and going the extra mile are a part of what makes this thing special. These values matter to the Andersens franchisor and all franchisees. No party should sign this agreement and join this special group
if they feel differently."
For Hodge, this sums up why he decided to join the journey as CEO.
"The concept of country town service is hard to define, but you know it when you see it," he adds. "It might be an attitude. It might be going the extra mile. It might be a thoughtful gesture. Whatever it is, it's all about giving this lady amazing personal service."
So, how does Andersens ensure its franchisees uphold the cultural values and quality service commanded by the brand's reputation?
A key part of the answer is its market-leading induction and training programme, known as the Andersens Academy.
Onboarding new franchisees typically takes six weeks, the first two of which are spent in a classroom environment, before a hands-on four-week experience in a live trading store where inductees are taken through 20 daily skills checklists by a seasoned franchise owner, who in turn earns $10,000 for their efforts.
Once new franchisees are into their new store, they continue to receive daily and weekly contact from operations trainers and a business coach, while the academy continues to be used to deliver new material, a recent example being COVID-19 training modules for franchisees and their employees to ensure stores remain safe amid social distancing measures.
"Andersens Academy is critical to the success of the organisation," Hodge says. "With so many decades of experience in dozens of stores, the whole objective of Andersens Academy is to capture the best practices and make sure we spread them around.
"Andersens has the longest average tenure of any franchise I have even encountered at a little over 15 years. This is an extraordinary asset, and the academy is aimed at making sure we wring every last drop out of this advantage for the benefit of all of our franchise members."
The company has also added a mentorship programme into its offering in which a new franchisee paired up with an experienced colleague. Here, the experienced operators earn $5,000 for performing weekly 30 minute mentoring meetings in person or by Zoom with new franchisees over the course of their first 26 weeks trading. "This creates a friendship and a voice of experience to help guide our new recruits, come what may," adds Hodge. "Just like our franchisees who help train our new recruits, our mentors are also paid for their care of their new franchise colleagues, in recognition of the incredible value of their accumulated expertise."
Fit for the future
And such collective experience is vital in navigating through what are such unusual times.
Although the 'lockdowns' around the world are keeping the ecommerce giants busy (Amazon being the notable beneficiary), Hodge points to research that highlights the enduring role of a bricks and mortar retail experience as a central pillar of any omnichannel customer offering. In the CEO's eyes, it is all about a balanced and consistent mix of services.
"We've heard that rallying cry and launched upgrades to our website, our online rug store, our uniforms, our vehicles, our bathrooms, our trading hours, our advertising, our media mix, and our support team," Hodge explains. "We have even created a retail first in Australia with our brand-new augmented reality app that allows our customer to visualise our beautiful flooring range options in real time, in her home, at her leisure, anytime of the day or night."
"What we really strive for at Andersens, however, is to differentiate our in-store experience from that of our competitors." A major priority for Hodge and the company is to take this one step further through a rollout of the Andersens store of the future concept. The aim is to elevate new and refurbished outlets to a cut above the competition, and feeds directly into the organisation's plans to expand its presence further south in Australia.
"This can be by small things like offering chilled branded water bottles to customers free of charge, airconditioned showrooms for comfort, and subtle fragrances to stimulate her sense of smell. We're also designing our new fitouts to deliver comfortable seating and design consultation zones, and clean and comfortable bathrooms for our guests."
Through new franchise stores and conversions, Hodge has set a target to grow the network by 10 percent a year until 2025, with southern and western New South Wales and Victoria among its imminent target territories.
And this growth is also planned to be entirely franchise-based, with all new stores being owned and operated by members of the local communities. This has been a driving force behind the decision for Andersens to franchise four of its remaining five company stores over the past year to double down on their franchising strength.
"The other growth pillar is to grow same store sales among the existing franchisees," Hodge adds, bringing the conversation to a close. "We must never forget we work for them. To do this we will stay heavily focused on contemporary franchising best practices like benchmarking, networking, marketing and coaching.
"But we will also overlay new technologies, like our brand-new online rug store and our market leading augmented reality app, to give our customers new ways to access and engage with our franchisees at their leisure."
VIEW Andersens Floor Coverings BROCHURE