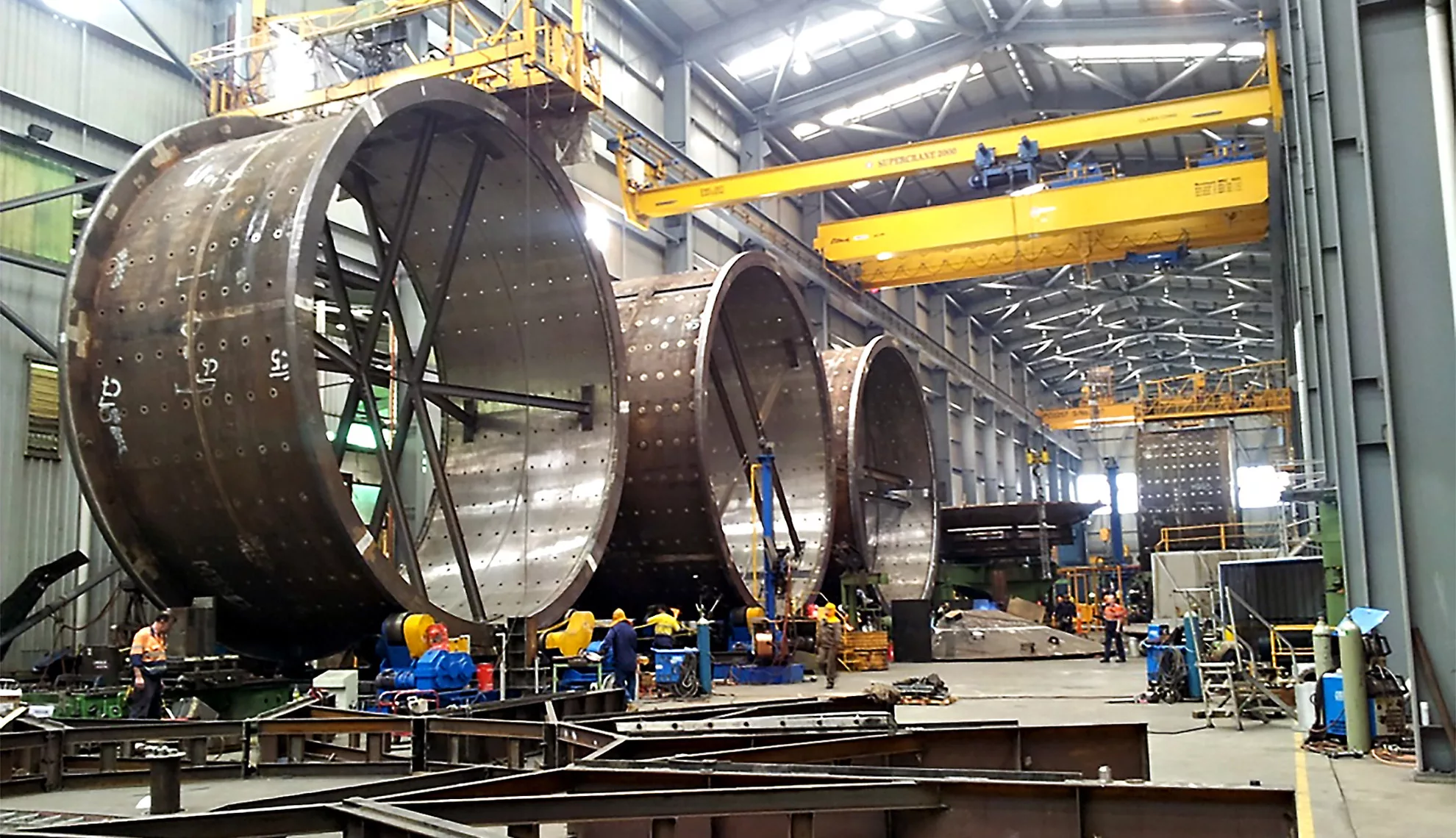 The Emblem of Modern Engineering
Offering esteemed engineering expertise across mining, oil & gas, defence, and other industries, Hofmann Engineering has come to define differentiated service excellence
Writer: Jonathan Dyble | Project Manager: Thomas Arnold
1969 is a famous year in the context of 20th century history. Renowned for Neil Armstrong and Buzz Aldrin's Apollo 11 moon landing, it equally marks The Beatles' final public performance and the first test flights of the world-famous, now dormant Concorde in France.
For the Hofmann family, 1969 was no different in terms of significance, marking the launch of Hofmann Engineering – an enterprise now standing as one of Australia's most esteemed industrial players.
"From the humble beginnings of a suburban garage at the hands of my great Uncle, Erich F Hofmann, and grandfather John Hofmann, the company has enjoyed steady growth over the past half century to be the expansive entity that it is today," states Jarrod Hofmann, the business's current General Manager of Engineering.
"The company began manufacturing small parts for the mining industry and various products with a plastic injection moulding machine, with focus turning to larger, more complex mining parts as it grew. Fast forward to today and we've proudly developed products and experience spanning the aerospace, defence, mining, gearing renewable energies, oil & gas and agriculture industries."
50 years in the making, the company has managed to successfully differentiate itself within a busy market by operating a unique business model that specialises in producing high-end engineered products for a wide variety of industry applications.
"I'd like to think that we've become known for taking on projects that others shy away from," adds Hofmann, "adhering to our mantra that there is always a better solution. It's unacceptable to build redundancy into parts. There is always a way to improve productive life spans and enhance performance."
This ethos has been key to Hofmann Engineering's gradual diversification, its solutions and capabilities now encompassing a broad range of industries. Welcoming new, challenging projects has allowed the business to take its existing expertise and utilise these across different verticals, adding more strings to its ever-growing bow over the years.
"A common theme of our expansion has been finding opportunities to use knowledge and experience gained in one industry and applying it to solve similar problems in others," Hofmann affirms. "In turn, diversification has provided us with a safety net, where we're not relying on any one product or single industry to carry us through the inevitable downturns in national and global economic cycles.
"To this end, we've been enjoying measured and long-term success."
Equally, the organisation places substantial emphasis on upholding quality, evident in its extensive supply chain that spans the globe, ensuring the firm has access to the best suppliers available.
"From the high end, 'special Hofmann recipe' steel that we import from Germany, to material being sourced from Asia and more locally in Australia, there is really a large spectrum of materials supplied to our company," explains Hofmann.
These are procured at each of the business's six factories and its extensive number of offices in Australia and around the world – a footprint that the business has been adding to in recent times.
Asked about the company's recent investments, Hofmann is quick to unveil the firm's prosperous activity in Peru that is still very much on its agenda at the current moment. "We've set up a large workshop in Peru that's just opened. It was constructed after we won a five-year supply contract for the largest copper mine in the world, to refurbish a specialised type of crusher, known as high-pressure grinding rolls," he reveals.
Many of its plants, the latest Peru facility included, feature some of the most sophisticated machinery on the market, an element that forms a large part of Hofmann Engineering's strategy, allowing it to remain a leader in high-end engineered products.
Alongside the Peruvian copper mine, Hofmann Engineering has recently won a number of alternative contracts, one such project being the firm's manufacture of a 22-metre slew bearing for a major space telescope being installed in the north of Australia by the national government.
"The sheer design, manufacturing and installation complexity makes this a clear standout in my eyes," states Hofmann. "We were commissioned to make the slew bearing, which is a part that will basically allow the whole telescope assembly to rotate."
The current GM of Engineering is equally quick to highlight the firm's role in Victoria's high capacity metro rail project. He continues: "We tendered for a five-year contract and were successfully contracted to supply 900 bogie mainframes that each of the new train carriages will sit on."
A competitive project valued at AUD$2.3 billion, Hofmann Engineering stood itself apart through its intuitive investments and setup of state-of-the-art machining equipment at its Bendigo centre – equipment that will be used to efficiently and effectively connect the axles and wheels to carriages for 65 new metropolitan trains that are expected to enter service later this year.
"Our European robotic welding lines have been crucial in this tender – these are investments that are already helping us to produce these bogies," adds Hofmann.
All things considered, Hofmann Engineering stands in good stead to further its reputation and position on the global engineering scene moving forward.
Asked about the company's priorities for the year ahead, Hofmann replies: "Our major focus is on the development of our own intellectual property. We're on quite a steep growth curve on this front, both in terms of overall revenue and the rising volume of business in these product areas, and we see this as being a fundamental part of our future."
Delving into the specifics, the GM of Engineering reveals that the ramped-up development of intellectual property will be particularly tailored towards the rail and mining industries – two that Hofmann sees as providing substantial opportunity looking ahead, particularly when considering the positive economic climate that is shining on Australia.
He concludes: "The previous three to four years have been a bit slower when compared to the big boom times in Australia during 2010-13, but now I'd say that we are the busiest that we've been since then. In the quieter years we witnessed a number of major manufacturing firms either closing down or relocating – two factors that have stood us in a good position.
"With reduced competition and rising market confidence, our outlook is definitely positive."
VIEW Hofmann Engineering BROCHURE