The woolly mammoth returns in meatball form, as cultured meat manufacturer Vow makes a poignant message about the global climate crisis. Head of Product and Technology, Jeroen Boersma, discusses serving up a storm for the future of food.
BACK FROM THE BRINK
In the past month, a ground-breaking innovation has been making waves around the world. The long-extinct woolly mammoth has been resurrected, but not perhaps as you would expect. Instead, we see one of the greatest mammals to ever walk the earth given a new lease of life – as a meatball.
This lab-grown invention was the brainchild of Australian cultivated meat company, Vow, who is on a mission to change global food consumption for the better.
"The mammoth meatball was developed as a conversation starter to inform the world about our technology and to improve its general consumer acceptance," opens Vow's Head of Product and Technology, Jeroen Boersma.
The technology Boersma refers to involves the extraction of a small selection of cells from any animal, from which meat is then grown and developed in a laboratory environment. The idea first gained major media attention in the Netherlands in 2013, when Mark Post (Founder of Mosa Meat), presented the original cultured beef burger. The innovation sparked the interest of Vow's co-Founders, George Peppou and Tim Noakesmith, who have continued to push the boundaries of cultured meat's possibilities ever since.  
"They both observed a problem in that the world population is forecasted to reach 10 billion people by 2050, and our demand for meat is growing at an even faster rate," outlines Boersma.
Embarking on a journey of exploration, the advantages of cultivated meat soon became obvious to Vow, in offering a sustainable method of meat production that does not limit us to domestic animal species, opening up new avenues of both nutrition and flavour. This is a major advantage, given that our current global food supply derives entirely from a selection of just five different animals and 12 plants.
"The core to cultured meat and the way that we produce it, is that we separate the meat itself from the animal. Firstly, this means that there is no suffering since we take a harmless biopsy from a single animal and from that we are able to grow those cells to produce as much food as you can," he elaborates.
"Secondly, there is effectively no environmental impact. We emit 99 percent less carbon emissions, use 99 percent less land, and use 96 percent less freshwater in order to grow the same amount of meat as you would with traditional agriculture."
FORGED NOT FARMED
Rewriting the rules of food production, the mammoth meatball sits alongside the 'world's rarest dumplings' as another addition to the unusual menu of Forged by Vow.
The idea came to fruition through Vow's collaboration with a professor from the University of Queensland, who was effectively able to extract a piece of DNA from the remains of a woolly mammoth. The remainder of the DNA was completed with cells taken from the mammoth's closest ancestor – the elephant.
"Through the Vow technology that we use to grow all of our cells, we were able to grow roughly 200 grams of the meat, and this was used as the key ingredient in the mammoth meatball," Boersma explains. That same meatball was officially presented to the Rijksmuseum Boerhaave in the Netherlands in March 2023.
In terms of the decision-making in choosing a mammoth, the message behind the meatball far exceeds that of an attention-grabbing PR stunt or media ploy. Instead, it is symbolic of a poignant global message, regarding how mankind could be eating itself into extinction.
"For us, the mammoth is this monumental symbol of loss as a victim of drastic climate change. It is one of these many animals and species that have effectively gone extinct thanks to humans since they were unable to adapt to their ever-changing environment. Instead, we wondered if this giant could become a beacon of hope for the future."
Equally, the meatball was chosen as an iconic food staple that is a simple, accessible and affordable favourite for many cultures around the world.
"This embodies exactly what we hope to achieve with cultured meat, with new products that are affordable and accessible for everyone in a way that is much more sustainable," he shares.
"For us, the mammoth is this monumental symbol of loss and a victim of drastic climate change… Instead, we wondered if this giant could become a beacon of hope for the future"

Jeroen Boersma, Head of Product and Technology, Vow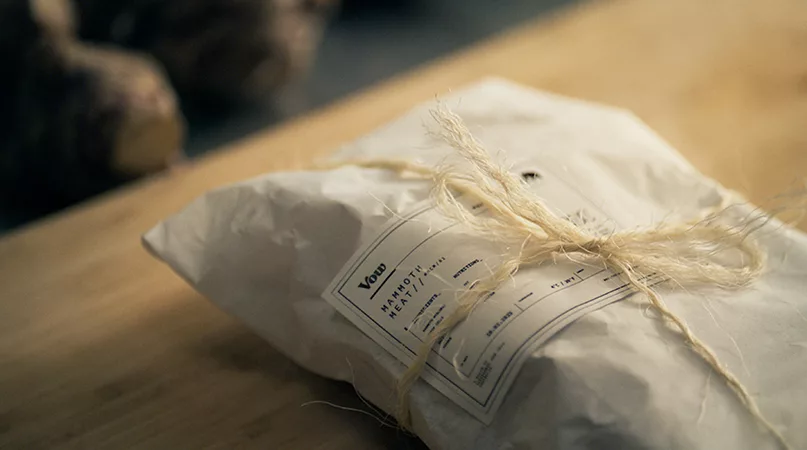 AWAKENING CONSCIOUS CARNIVORES
While cultured meat does not currently fall within mainstream food production, Boersma, and by extension, Vow, are extremely optimistic for its potential. Aside from the environmental and ethical benefits of its acceptance, the economics behind cultured meat production are shifting in its favour.
"If you look at the numbers industry-wide, when the first hamburger was presented by Mosa Meat, it was costing roughly €1,000,000 per kilogramme. Now, it's between hundreds and thousands of Euros per kilogramme of meat.
"Within one decade, the entire industry has gone down by three to four orders of magnitude. You only need another order of magnitude to be on par with the meat that we are eating today and buying in the supermarkets," explains Boersma.
Looking ahead, Vow plans to continue introducing new products for different audiences around the world and is extremely optimistic for the potential of cultivated meat in the world's highest meat-eating countries, namely India and China.
"Vow has been on such a cool journey. We're months away from our launch into Singapore and will be keeping everyone up to date on our progress through our website. We are having conversations with various regulators in countries all around the world to show that our meat is safe and that we can produce it in a healthy and nutritious way," he adds.
Continually catering to the world's appetite through the exploration of new, nutritious meats, Vow delivers a staple of our culture, and society, while aspiring to create a generation of more conscious carnivores.
"We had this wild idea about starting a conversation around cultured meat a few years ago, and it has already been seen by millions of people. It is telling the world about the realistic impacts of the way that we produce food today, while also giving them hope about the possibilities of a new method."