Osmoflo unlocks the solutions to sustainable water innovation. We follow the company's rebranding journey and discuss future innovations with Chief Executive Officer and Managing Director, Carmine Ciccocioppo.
FORGING A CIRCLE OF SUSTAINABILITY
As a world-class designer, builder and operator of desalination projects and complete water treatment solutions, the purpose that lies at the core of Osmoflo is simple – to preserve the world's most precious resource.
Yet the versatile nature of the company's expansive capabilities, and the complexity of its varying technologies, are as wide-ranging and far-reaching as the myriad waterways that carve a path across the Earth's surface.
"Although Osmoflo specialises in membrane-based treatment technologies, it has always offered a much wider range of process, treatment and resource recovery solutions to its customers," introduces Osmoflo's Chief Executive Officer and Managing Director, Carmine Ciccocioppo.
These solutions encompass conventional clarification, filtration and disinfection for water treatment, and a wide range of wastewater treatment options including conventional activated sludge, membrane bioreactor (MBR), sludge dewatering and advanced recycling and reuse.
Since last speaking with Ciccocioppo in August 2021, as the company marked its 30th anniversary, Osmoflo has continued to ride a wave of evolution through dedicated investment in innovation.
By so doing, Osmoflo has remained a key player on the global stage of water treatment solutions, thriving in a vital industry that preserves a safe water supply across locations spanning the Middle East, Asia, India, and the company's home nation of Australia.
Today, that reach is spreading even further, as Osmoflo seeks to explore further geographic expansion into the Pacific region, the Middle East and North Africa (MENA), India and North America.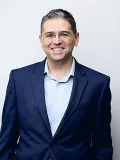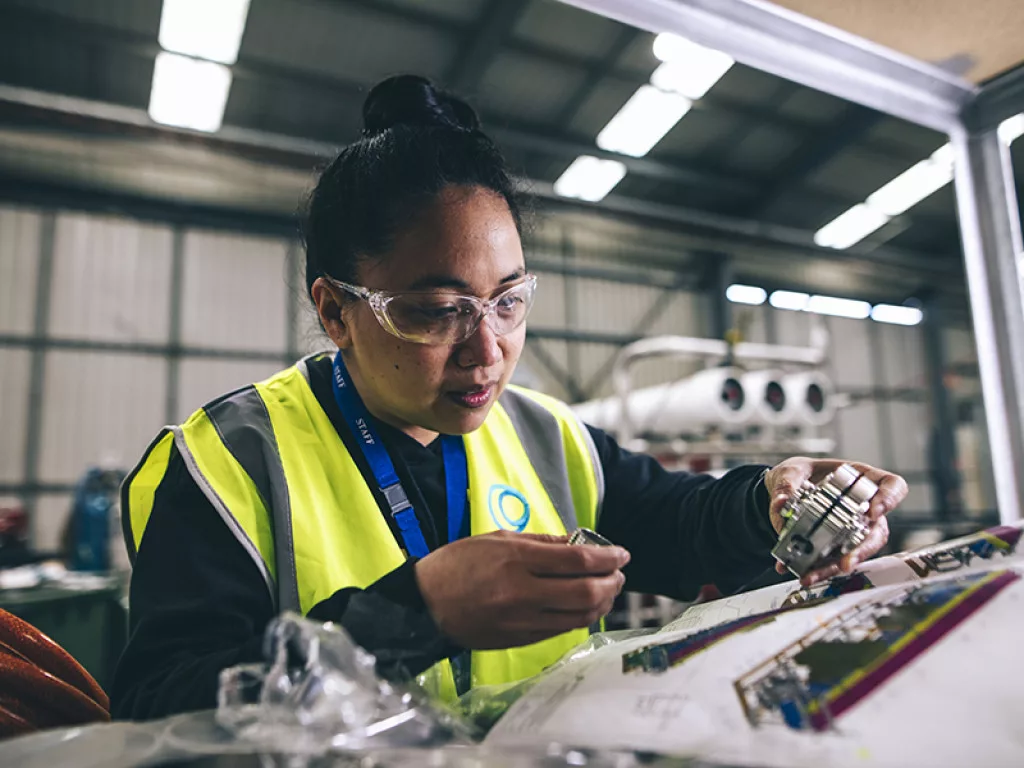 A CHANGING TIDE
Significant investment into R&D is the lifeblood that fuels Osmoflo's journey of continual innovation, channelling a level of buoyancy that keeps the company both relevant and competitive.
As Osmoflo continues to strengthen its reputation and widen its capabilities beyond the traditional scope of a water treatment specialist, it is exploring a far broader range of process applications.
"Increasingly, we are looking at critical resource and mineral recovery from brine streams, and utilising membranes in novel ways to help the food and beverage sector, such as whey and vinegar concentration," expands Ciccocioppo.
In keeping with this spirit of new areas of exploration, Osmoflo's recent rebrand, which was unveiled earlier this year at the IDA 2022 World Congress in Sydney, echoes the company's versatility and capacity to move with change. Above all, the new logo and motto of 'a circular future for water', champions Osmoflo's overarching commitment to a circular economy.
"This re-branding reflects our aspiration, consistent with that of our shareholder Hitachi Zosen Corporation of Japan, to make a meaningful and fundamental contribution to the sustainable management of water across the planet, and pursue our mission of providing innovative, sustainable and value-based water solutions that contribute to a circular economy," he affirms.
By so doing, Osmoflo clearly aligns its own ambitions with those of its customers.
"Almost without exception, our customers are looking to pursue their own respective ESG goals. This typically includes ensuring their water management is sustainable, that their waste streams are minimised or even eliminated, and that they move towards carbon neutrality within specified time frames," outlines Ciccocioppo.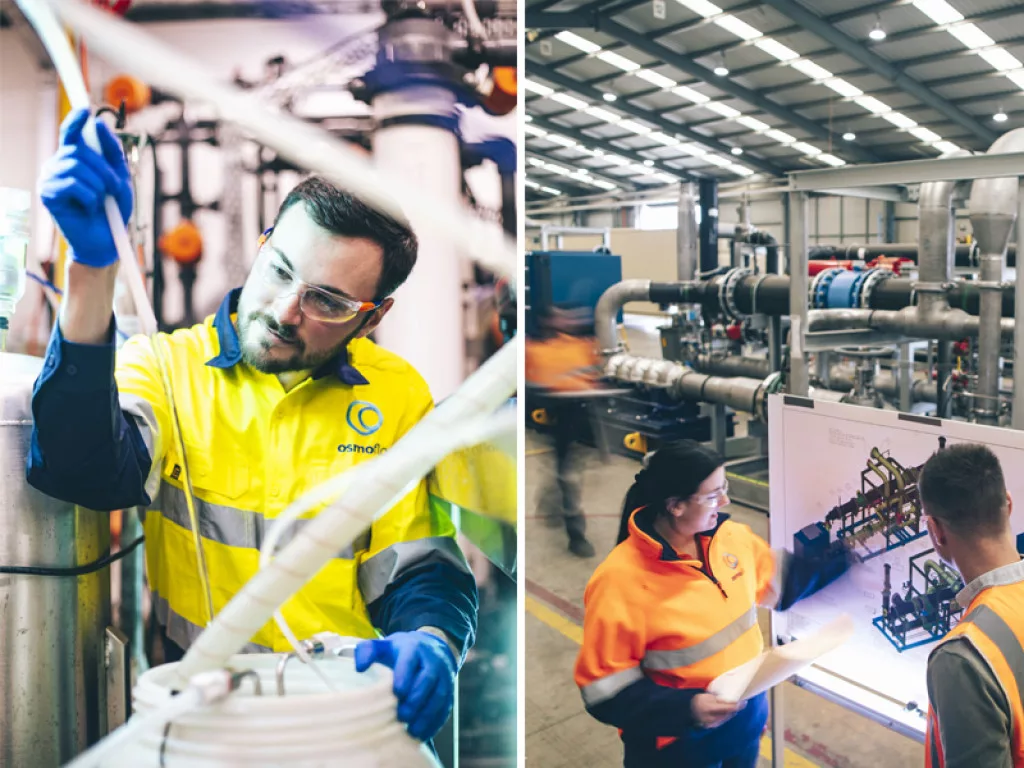 SAFEGUARDING CIRCULARITY
To reflects its commitment to implementing a truly sustainable water supply, Ciccocioppo highlights two particular Osmoflo projects that put circularity in action.
The first entails significant work on an ageing desalination facility for Queensland-based gas and power assets operator, Arrow Energy. The company was facing the prospect of completely replacing its ageing 12 million litres per day (MLD) desalination facility, first commissioned in 2008, in order to keep providing a consistent and reliable water treatment capacity for at least another 10 years.
"Instead, Osmoflo's innovative approach facilitated a "brownfield" solution based on reusing and upgrading as many of the existing assets as possible and replacing only a limited amount of MEI equipment on a 'like-for-like' basis," he explains.
Elsewhere, Osmoflo worked with Senex, an Australian producer of natural gas, who required a permanent 1.5MLD treatment facility for its coal seam gas (CSG) water. In this instance, an innovative 'capital recycling' solution was developed based on the company's awareness of another client looking to divest an existing plant (that had been previously delivered by Osmoflo several years prior) that closely matched the treatment specification that Senex needed.
"In both cases, Osmoflo's unique and innovative approach has enabled the implementation of solutions that maximise the recycling and life extension of existing assets and significantly reduce the need for new assets and materials (and therefore the associated environmental and carbon footprint associated with those materials)," elaborates Ciccocioppo.
"All in all, a great win for circularity in the water industry!"
Aside from its focus on the circular economy, Osmoflo is also exploring further environmentally friendly solutions by continuing its foray into green hydrogen as an opportunity for new growth and diversification.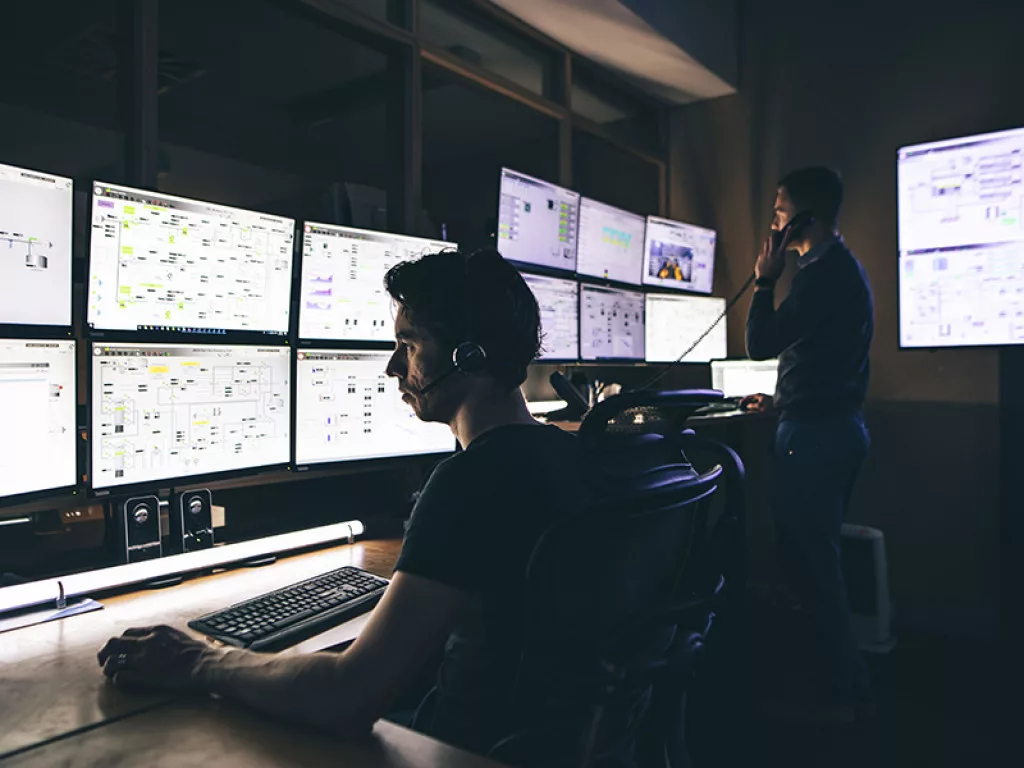 INVESTING IN INNOVATION
Homing in on particular areas of investment and the research taking place behind the resource, a major focus for Osmoflo's R&D and Innovation Team concerns improving and enhancing the functionality and capability of its remote monitoring and control platform, Plant Connect.
"This is part of a significant ongoing investment programme and our commitment towards R&D and innovation," Ciccocioppo shares. The ongoing optimisation of Plant Connect is key to effectively servicing Osmoflo's ever-increasing number of remote monitoring customers around the globe, which currently stands at over 90.
These efforts are complemented by the development of further capabilities in artificial intelligence (AI) and machine learning (ML), both of which have been proven by Osmoflo to provide tangible benefits for its customers in terms of optimised chemical and power usage whilst also significantly improving membrane life.
"Our R&D and Innovation Team are also currently investigating novel non-membrane treatment techniques such as Controlled Hydraulic Cavitation for control of scale and removal of dissolved solids in various industrial water streams, as well as use of free radicals and LED-based UV for advanced disinfection applications," he adds.
Finally, returning to the importance of circularity, Osmoflo continues to invest in high recovery technologies through which it can improve and refine its patented Osmoflo Brine Squeezer (OBS).
"We will work with our various industry partners to develop even higher recovery solutions based on complementary technologies such as osmotically assisted reverse osmosis (OARO) and solvent extraction," outlines Ciccocioppo.
Leveraging technology to implement sustainable water management that minimises waste streams and accelerates its customers' paths towards sustainability and carbon neutrality, Osmoflo will continue to chart a course into the waters of a future circular economy, pursuing a vision that evokes endless perpetuity.
Much like the circle motif that represents the Osmoflo mission in preserving and recycling our most vital resource, it is one that will last ad infinitum.