Prysmian Group helps keep Australia connected. We speak to Hama Shroff, CEO of Prysmian Australia, about the company's use of local expertise, green methods and global experience to bring the best solutions to industries across the country.
LOCAL SOLUTIONS, GLOBAL REACH
The energy and telecommunications sectors keep modern lives turning.
In Australia, where seven million people – around 30 percent of the population – live in rural or remote areas, the importance of connection cannot be understated. These areas encompass diverse communities and locations, with many facing challenges unique to their geographies.
Helping to bring connection to all people across the country, Prysmian Australia comprises two manufacturing facilities and is the largest manufacturer in Australia, supplying energy and telecommunication cables for all sectors of the domestic economy. These sectors range from construction (residential and non-residential) and transport infrastructure (road and rail), to mining, oil and gas, renewable, power transmission, distribution, and telecoms.
"We are a proud part of the world's largest global actor in the cable manufacturing business – Prysmian Group," begins Hama Shroff, CEO of Prysmian Australia.
"Our history of local manufacturing dates to 1944 and continues today in our two local Sydney plants, where we employ around 500 Aussies and therefore support our local economy, infrastructure, businesses and supply chains. Our local development capability is indeed a strong point of differentiation for Prysmian Australia, allowing us to easily adapt to change."
Prysmian Group is a global market leader in optical and metallic systems for the telecommunication market. The company supplies a major share of the world's metallic and fibre optic cable requirements, and offers complete end-to-end passive optical systems. At the company's local manufacturing plant in Dee Why, Sydney, Prysmian Australia adapts this worldwide knowledge in telecommunication to fit Australian conditions and standards.
Prysmian Group's technology encompasses optical fibres, optical fibre cables (both single mode and multimode), copper cables, optical connectivity, services and project management – ensuring that not only the right cable but the right total passive optical system is matched to its customers' needs. Prysmian Group provides a full range of integrated products and services, to create optical networks from international communication links spanning continents, to local access networks for business or residential and local area networks.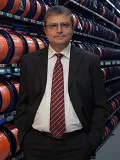 We a proud part of the world's largest global actor in the cable manufacturing business – Prysmian Group"

Hamavand Shroff, CEO, Prysmian Australia
DELIVERING CONNECTION
The core of Prysmian Group's global and Australian approach is focused on local quality and simplicity.
"We act quickly, we are flexible, and we are predictable, which makes us reliable," Shroff says. "From the deepest oceans and mines to the farthest satellites orbiting Earth in space, you will find products made by us. No matter how large we are, we live and expand thanks to our customers and business partners. We go above and beyond for our customer's needs – developing customised cable solutions.
"When it comes to navigating tough and hazardous conditions in Australia, we solve the specific environment's demands through our advantage of being global. Our business approach has made us the world's largest producer of safe and reliable cables for the power and telecommunication industry."
This emphasis on quality, safety and reliability is echoed in the company's multiple projects.
In recent years, Prysmian Australia has successfully delivered key projects such as the WestConnex M4 East Tunnel (AUD$18 million), WestConnex M8 Tunnel (AUD$20 million), Sydney Metro NorthWest Rapid Transport (AUD$31 million), and Santos Gas field development/electrification, as well as various windfarms and mining projects.
"We also have ongoing contracts in the telecom space supplying all optical and copper cables to service providers such as NBN, TPG and Telstra," Shroff continues. "Our power distribution contracts include Ausgrid, Endeavour, Essential Energy, Western Power, Ausnet, South Australia Power Network, Powercor and Tas Network.
"Additionally, we are also currently delivering the Sydney Metro SouthWest Project and the WestConnex M4-M5 Tunnel."
INNOVATION AND TRANSITION
Prysmian Group has the acuity to innovate and customise solutions to perfectly match the needs of its clients, and has 25 R&D centres all over the world to be utilised.
"At two large production sites in Sydney, we merge our worldwide expertise with our local experience and know-how to manufacture top-notch cables to customers all over Australia," Shroff tells us. "In addition, we also have a manufacturing plant in New Lynn, Auckland (New Zealand) with the capacity of producing 7,000 tonnes of cables annually."
While providing such solutions, Prysmian Group aims to also make the world a greener place. The company's ambition is to act as an enabler for accelerating the energy transition, while also creating business value, by supporting the development of greener and smarter power grids with innovative cable technologies to cover longer distances and sea depths, ensuring higher performances, reliability and sustainability.
"This ambition is translated in our everyday business activities, with the supply of cables and solutions for the liquid natural gas (LNG) industry to the renewable sector, where a number of local wind and solar farm projects have been successfully delivered to drive Australia's "green aspirations"," Shroff explains. "On the telecom front, we are heavily involved in supplying fibre optic cables to service providers NBN, Telstra, TPG and Vodafone, driving the digitalisation era in Australia."
We act quickly, we are flexible, and we are predictable, which makes us reliable"

Hamavand Shroff, CEO, Prysmian Australia
SAFETY FIRST
Sustainability – social as well as environmental – is an increasingly important issue for any company. Prysmian Australia strives to achieve these efforts everyday through its customers and business partners.
"Our goal is to maintain environmentally and socially sustainable business practices. We believe that a safe work environment is a sign of efficiency and quality," Shroff says.
"Accidents can be prevented, and we are committed to continually improving safety and low incidents of work-related injury, illness and environmental impact.
"We also aim to help our customers fulfil their environmental responsibilities by providing cables and solutions that are economically and environmentally sustainable. Our health and safety system complies with and is certified to AS/NZ 4801 and OHSAS 18001. Meanwhile, our environmental system complies with and is certified to ISO 14001."
Technological advancement, digitalisation, safety and progressive sustainability are core aspects of Prysmian Group, and these values are mirrored in Prysmian Australia, and the company's effort and operations across the country.
"Innovation is, and always will be, the cornerstone of our company," Shroff affirms. "Focus on sustainability is key, therefore we aim to improve our footprint in terms of energy efficiency and waste management. Some of our ongoing local sustainability projects include using plastic drums to replace timber drums and increasing recycling efforts through our drum recycling system.
"We are also in the process of establishing a 'green' product label system, increasing the usage of recycled polyvinyl chloride (PVC), and conducting R&D on improving the sustainability of our PVC, used for electrical insulation, pipes, and films, and cross-linked polyethylene (XLPE) materials whilst maintaining the integrity of our products. Our established expertise and vast research efforts have allowed us to deliver not only key technologies and superior performance to our customers, but also to continue to shape the future of the industry itself."
This has shown in Prysmian Groups' first rank in the Dow Jones Sustainability World Index amongst its peers in the electrical industry. Prysmian Group is the only pure cable maker included in the most recognised sustainability index at a global level – an index covering over 5,300 companies.
A GREEN AUSTRALIA
Moving forward through 2022 and beyond, Prysmian Australia's goal is to continue its mission for innovative, quality and reliable solutions that promote a sustainable Australia alongside its gradual expansion, while remaining vigilant in the face of a world that is yet to fully recover from the COVID-19 pandemic.
"Over the last couple of years, we have re-established ourselves in the local high voltage cable and solutions underground power transmission market, investing in resources to be able to do turnkey projects as well as offer our capabilities with system design and engineering," Shroff tells us. "This is where I see the opportunities for growth in Australia as we go through an energy transition phase from fossil fuel generation to more and more renewable sources.
"With the COVID-19 pandemic and global supply chain challenges, the business environment has been extremely volatile. My priority remains navigating through and staying on top of things that are in our control to mitigate any risk to the business and supply disruption to our customers, whilst ensuring that we provide our employees with a COVID-safe workplace."