A key player in the PNG coastal shipping logistics space, Consort Express Lines operates in an industry that is facing various and dramatic changes. We speak to General Manager, Thomas Bellamy, to learn more.
NAVIGATING THE SHIPPING TRANSITION
"I came to Papua New Guinea (PNG) in 2019 to take on the management of Consort Express Lines (Consort). I first started working in logistics with Cathay Pacific, the Hong Kong airline managed by the Swire Group, in Hong Kong in 2008."
Ever since his introduction into the logistics space, Thomas Bellamy has been engrossed in the sector. Now overseeing Consort as the company's General Manager, he is able to look back at a career well chosen.
"I worked with Cathay Pacific across Asia and the Middle East in various commercial and management positions before transitioning over to a role in the Swire Group's separate international shipping business Swire Shipping," Bellamy tells us. "That was where I had my first taste of PNG from a work perspective, and I was hooked.
"PNG and logistics really are the perfect blend in terms of challenge and opportunity, so I was delighted when the opportunity to work for Consort came about."
CONSORT EXPRESS LINES
Consort is the leading provider of coastal shipping in PNG, owning and operating a fleet of 10 geared, multipurpose vessels and specialises in providing reliable scheduled liner shipping services. The company offers the most extensive shipping network in PNG, consistently connecting 14 ports across the country.
Consort's services have the capability to carry a wide range of cargo including containerised cargo, general cargo, break bulk, refrigerated cargo and project cargo. The company's customer base is diverse and spans manufacturers and wholesalers to the resources sector, reflecting the mix of cargoes that can be carried on the geared, multipurpose ships in the fleet.
"We are a PNG shipping business," Bellamy explains. "We operate 10 ships, all of them crewed and flagged here in PNG, and we serve communities across the whole country with both liner shipping and project shipping. On the liner side we call 14 ports with fixed frequencies. We're based out of Lae where most of the international volume enters the country, and where most manufacturing takes place.
"From Lae we operate weekly services south and to the Islands. Consort also operates fixed services up both the Fly River to Kiunga and from Lae up the north coast of PNG as well. We have the ability to operate our vessels on charter to customers depending on their needs, and we regularly do work for customers in the LNG, mining, and project sectors."
"We are committed to moving forward for the good of the company and our customers"

Thomas Bellamy, General Manager, Consort Express Lines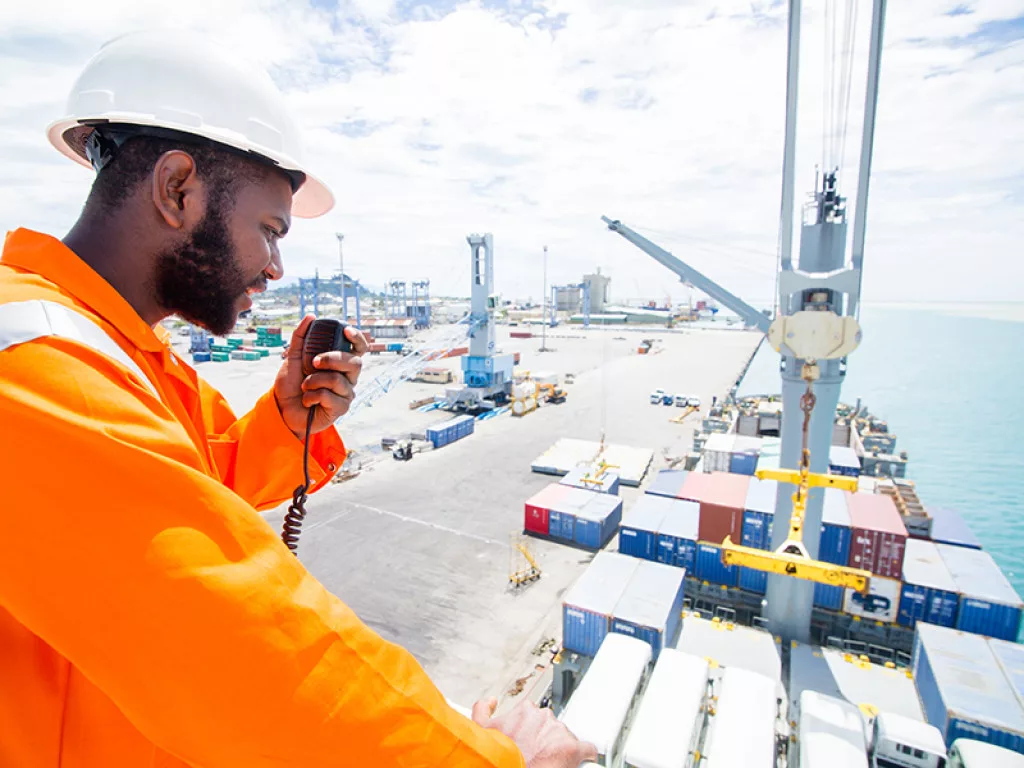 COMPANY COMMITMENT
For Consort, the two most significant components to successful operation are scheduled reliability and customer service. It is the company's commitment to constantly improving in these two areas, coupled with its dedicated workforce and quality services, that place Consort at the forefront of the PNG shipping space.
"We're in the service business so we must give our customers what they need to continue to earn the right to operate," Bellamy continues. "I'm very proud of the team that we have both on the ships and ashore here in PNG, and the work that they do every day to deliver for the customers.
"Our customers rightly expect us to deliver on the promise of our schedule. PNG is a challenging operating environment for a shipping line for a whole host of reasons, so we don't always manage to keep exactly to our schedule, but we are always striving to satisfy our customers' expectation and where we don't, we try to communicate as clearly as possible to reduce the impact on their supply chains."
INDUSTRY TRANSITION
According to Bellamy, the shipping logistics space is undergoing a vast amount of change in PNG, across the Pacific and internationally. On the international side there are three key aspects that stand out as areas of significant transition: market consolidation, COVID-19, and the environment.
"Over the past few years, and in response to a customer demand for integrated and affordable logistic solutions, the largest global shipping lines have increased their buying and shipping alliances," Bellamy informs us. "They have been looking to develop economies of scale and to broaden their suites of logistic offerings. The shipping industry is undergoing a time of transition and expansion, and it requires a lot of operational and digital change, which is very exciting.
"Then there's COVID-19. Consumer habits have had a dramatic impact on the demand and movement of ships, containers and crews. Increased consumerism has led to containers and ships in short supply, driving up costs throughout the supply chain. It is also hard to move people around the world due to the pandemic, and this becomes very challenging as we are an industry in which safety and quality are rightly the top priority."
Lastly, environmental concerns are placed at the forefront. As the world has woken up to the live threats facing the planet regarding climate change and pollution, so too the shipping industry has started to do its part to become more sustainable with positive change coming in areas such as emissions and marine pollution.
"These are three areas in which a lot is happening and changing, and although there may be challenges, it keeps the industry a very interesting space to be working in, and why we are committed to moving forward for the good of the company and our customers."
"I'm very proud of the team that we have both on the ships and ashore here in PNG, and the work that they do every day to deliver for the customers"

Thomas Bellamy, General Manager, Consort Express Lines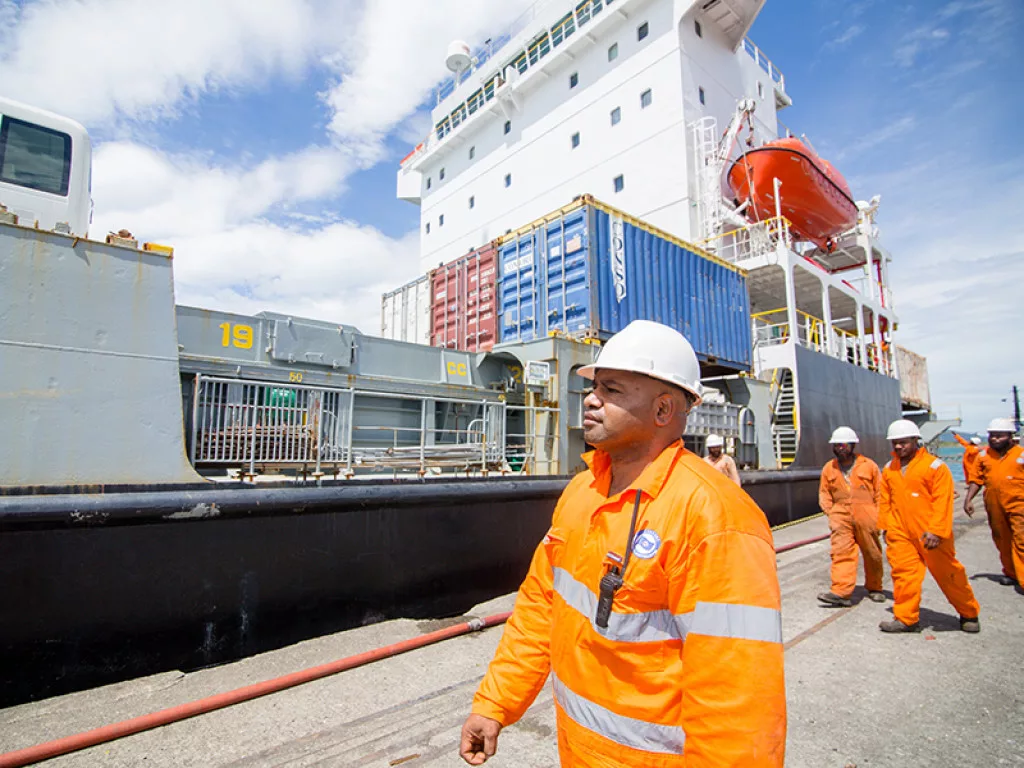 SHIPPING INVESTMENT
A part of Consort's commitment to its clients is to increase its capabilities through a joint two-year contract period between itself and PNG Ports Corporation (PNG Ports).
"PNG Ports operates facilities in almost all the ports that Consort calls to and continues to invest further in those facilities," Bellamy says. "We want to both support and benefit the facilities so that it's a win-win for both entities if Consort's volume goes through those facilities. Ultimately, we both want the same thing – high quality and safe facilities that allow us to run our businesses. As long as that remains PNG Ports' priority then we see the potential for a long-term partnership."
Upcoming investments in systems and infrastructure are also on the table; those that can bring real benefits to the PNG consumer, which is a very exciting prospect for Bellamy.
"On the PNG Ports side, they have their 30-year masterplan for the 13 regional ports that they own and operate – that's exciting news for both the industry and PNG businesses and consumers in general," he affirms. "On the Consort side we are continuing to invest in ships, containers, and digital systems, and again I'm excited about the benefits that will bring in time for our customers with improvements to the frequency of our schedules and our customers' overall experience."
As a part of the Steamships group, a pinnacle focus for Consort is to offer more joined-up solutions for company customers. The opportunity for Consort is to join up its independent logistics entities operationally and make the business operationally seamless for its customers, so that they can make use of one or multiple services Consort offers.
"The most obvious example of this is land and sea freight services provided by EastWest and Consort," Bellamy explains. "We want to make it easier for our customers to book a door-to-door delivery with just one of those two entities and have an easy experience from start to finish. To do that better we are working on integrating our booking and operational systems to enable the customer to track and trace their container from the origin to the destination. And this is just one example of what we are planning!"
MOVING FORWARD
Consort is aiming to keep delivering the best shipping services in PNG, both on the liner side and the project side. The company is planning to increase its participation in the mining and LNG sectors due to their natures as growth sectors in the country. In order to achieve this, Consort relies on its hard working and determined teams of employees to bring about the company success and customer satisfaction that continues into the present.
"For that to happen, every individual needs to do their core role well," Bellamy tells us. "What I am most proud of is our Consort team's effort to focus back on the basics over the past two years; keeping the ships in good condition, operating on time, and providing our customers with brilliant service. This is what Consort is known for, and it's because of our people that it happens."