Ooi Lean Hin, Managing Director at MTT Shipping, discusses his company's competitive advantage in the dynamic Asia market.
MOVING YOUR BUSINESS FORWARD
Asia is used to transformation. In fact, the continent is the fastest growing region globally in this decade.
India is widely speculated to be the next emerging economy which is also actively trading with the Southeast Asian countries. According to a November 2019 report by the Ph.D. Chamber of Commerce and Industry, India's merchandise exports to ASEAN increased from $23 billion in 2010 to $36 billion in 2018, while its merchandise imports from ASEAN increased from $30 billion in 2010 to $57 billion in 2018. The value of trade between India and the ASEAN region amounted to over $86 billion in fiscal year 2020.
Ooi Lean Hin leads operations at MTT Shipping. His company operates with a deeply rooted experience in logistics and was originally established to own and manage a fleet of container vessels, which considerably adds to the provision of feeder services across Malaysia.
Subsequently, MTT Shipping diversified into other container shipping-related business namely, ship management services, auto logistics and asset management. Through its reliable delivery system, the company ensures continuous improvement in inventory cycles and cost reductions for all parties throughout the supply chain.
A BRIEF HISTORY OF MTT SHIPPING
Having begun with just 10 chartered vessels in 2010, MTT Shipping has transformed into a sizable niche player owning 14 container vessels within a short timeframe. With an additional four vessels on its orderbook, MTT Shipping's fleet will expand to 18 vessels by the first quarter of 2022.
In 2011, the company decided to set up its own branch offices in Port Klang, Johor, Kuching, Bintulu, Sibu, Miri, Tawau, Sandakan and Kota Kinabalu in order to have direct control on its service delivery performance to its customers. Domestic shipping service between Peninsular Malaysia and East Malaysia is MTT Shipping's core trade but the company has also expanded regionally into Thailand, Singapore, Brunei, Indonesia, and the Indian Subcontinent. MTT Shipping has the most comprehensive coverage of ports in both Peninsular Malaysia and East Malaysia and is currently the market leader with an approximate 40 percent market share. With ongoing development and growing trade volumes between India and Southeast Asian countries, MTT Shipping is actively looking at expanding its service regionally across Southeast Asia and the Indian Subcontinent in the near future.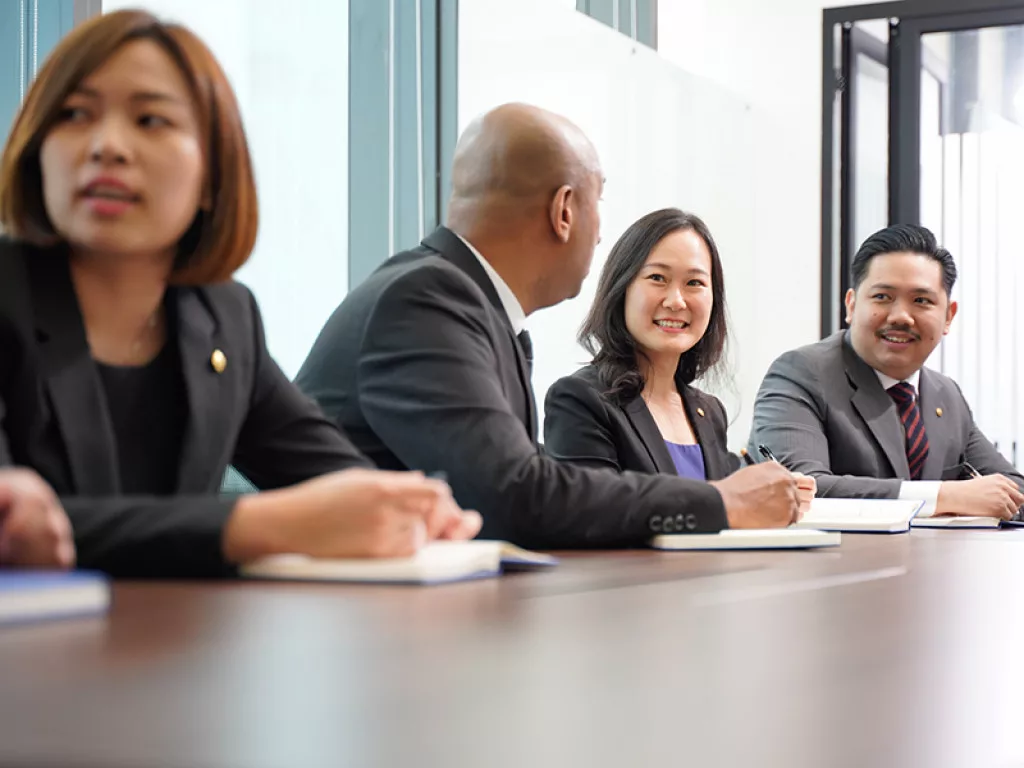 IMPORTANT PROJECTS
For Lean Hin, he points to the company's first newbuilding project as being particularly influential during his time with the organisation.
"We had two sister vessels with an optimised shallow draft design with outstanding cargo intake of 935 TEUs at homogenous 14 tonnes at 7.8 metre draft with hybrid scrubber fitted and very economical fuel consumption," he explains. "The closest competition is the Orskov design which has an intake of 710 TEUs (Twenty-Foot Equivalent Units) but with a higher consumption. We ended up owning four sisters of a total six vessels built."
Indeed, MTT Shipping were the first shipping line in Malaysia to introduce vehicle shipping in containers with a special racking system which may load up to four vehicles in one unit of 40' container, depending on the size of the vehicle.
"This is an alternative to the automobile industry in respect of shipping their automobiles in containers in replace of roll-on-roll-off (RO-RO) car carriers," adds Lean Hin. "There is growing acceptance to this alternative method of shipping vehicles in containers as customers experience the benefits of containerisation which includes improved lead times, higher frequency of sailings, comprehensive port coverage and a significant reduction in operational costs."
Aside from the domestic market, MTT Shipping is also providing shipping services to neighbouring regions including Thailand, Indonesia, Brunei, Singapore and India. The company intends to further expand the regional services to Southeast Asia and India Subcontinent. This trade belt is set to grow with the Regional Comprehensive Economic Partnership (RCEP) agreement, as well as the rapid development that Asian countries like India are going through. MTT Shipping expects the contribution from regional trade to equal their domestic trade within a period of five years.
Undeniably, MTT Shipping has undergone a busy period. The company acquired a 71 percent share of ICS Depot, an empty depot operator with three facilities within Port Klang, Penang and Pasir Gudang, Johor. The company is also operating an on-dock depot (ODD5) located within Westports and we have plans to expand the depot operations to Kota Kinabalu, Kuching and Bintulu. With this expansion, MTT Shipping will emerge as the largest independent depot operator in Malaysia in respect of service network location.
"We are also developing an integrated freight facility in Kota Kinabalu and Pulau Indah with close proximity to Westports, housing container depot and auto logistics car park which we will operate ourselves, as well as a warehouse which will be leased to a third-party operator," discusses Lean Hin. "We are also planning to acquire suitable land parcels at Kuching and Bintulu to develop similar freight facilities. Currently, there is a gap in logistic infrastructure such as good warehouses in East Malaysia. Thus, the company aims to fill the gap by investing in integrated freight facilities as we hope to transform the logistics infrastructure in East Malaysia by providing improved infrastructure in respect of empty depots and warehouses. We're also looking into bringing digitalisation to these markets such as enhancement on distribution logistics software which will benefit every stakeholder in the supply chain."
With technology beginning to play an influential role in supply chain, Lean Hin acknowledges the importance of embracing the latest systems and processes. "We've constantly invested from the beginning," he explains. "Our focus is to consistently improve operational efficiency and our customer experience.
"We have an in-house shipping system and basic e-commerce functions, but we are investing in the upgrade of our e-commerce platform to provide customers with a seamless online booking experience which will include features such as container tracking, vessel schedules, e-booking, e-shipping instructions and VGM submission. At the same time, we are constantly engaging with relevant stakeholders such as port terminals to further develop and enhance their systems to support further digitalisation."
The company's empty container depots are also equipped with a depot system which was developed by its appointed system developer based on the requirements and input from the team.
"The functions include container inventory monitoring, equipment handling and online booking for hauliers," says Lean Hin.
"These features are aimed to improve the delivery and transparency of the whole process for our customers, especially the hauliers. This will help the hauliers to have better visibility on the availability of empty container for pick up and live traffic situation in the depot, which leads to faster truck turnaround."
"2021 will be a very exciting year for us"

Ooi Lean Hin, Managing Director, MTT Shipping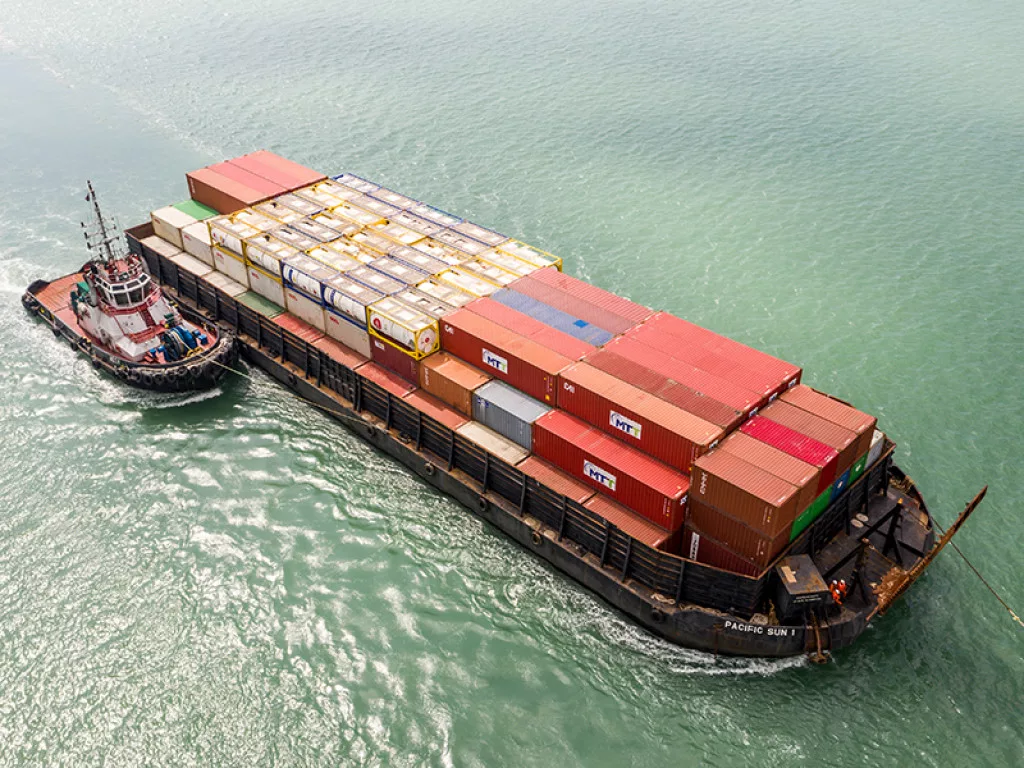 STAFF AT THE HEART
As far as Lean Hin is concerned, staff are central to success. He believes that for employees to thrive, they need to see a future or will look elsewhere for career advancement.
"People are your greatest assets," he affirms. "An organisation can only provide career advancement if it is constantly growing its business, therefore it is important that MTT Shipping continues to grow in order to be able to retain talent.
"Once you have achieved a certain market recognition of an organisation that is growing continuously, then it gets easier to attract talent to join the company. We are also engaged in talent development through our Talent Development Programme which can also be applied by our existing employees with working experience of less than two years.
The programme is tailored to experiential learning with extensive knowledge of the shipping and logistics industry while providing the management trainees with great opportunities on further career advancement."
Indeed, MTT Shipping prioritises delivering internal promotions. According to Lean Hin, this is primarily because the company is well aware of the individuals' strengths and weaknesses.
"We give priority to internal promotions, but we are not restricted by this policy to hire from external sources," he explains. "The key benefit of promoting internally is that you already know the strength, weakness and character of the individual as opposed to someone new. It also promotes staff retention as employees have a career path to look forward to."
Looking ahead, Lean Hin is optimistic about the future for not just his company but the industry generally.
"2021 will be a very exciting year for us as the company's financial results will likely more than double that of 2020 despite operating within a pandemic," he explains. "The strong financials in 2021 will be strengthened further in 2022 as the group solidifies its income stream for the asset play division and the new projects it would be embarking on. From the current five vessels being chartered out, this will grow to seven vessels as we take delivery of another two new buildings by the end of 2021 and two of the vessels from our current fleet are also chartered out since mid-July under a short-term charter arrangement.
"We expect this sector to provide the company with attractive profits and cashflow up until 2023 as the global shipping capacity shortage is not expected to resolve within the next year."