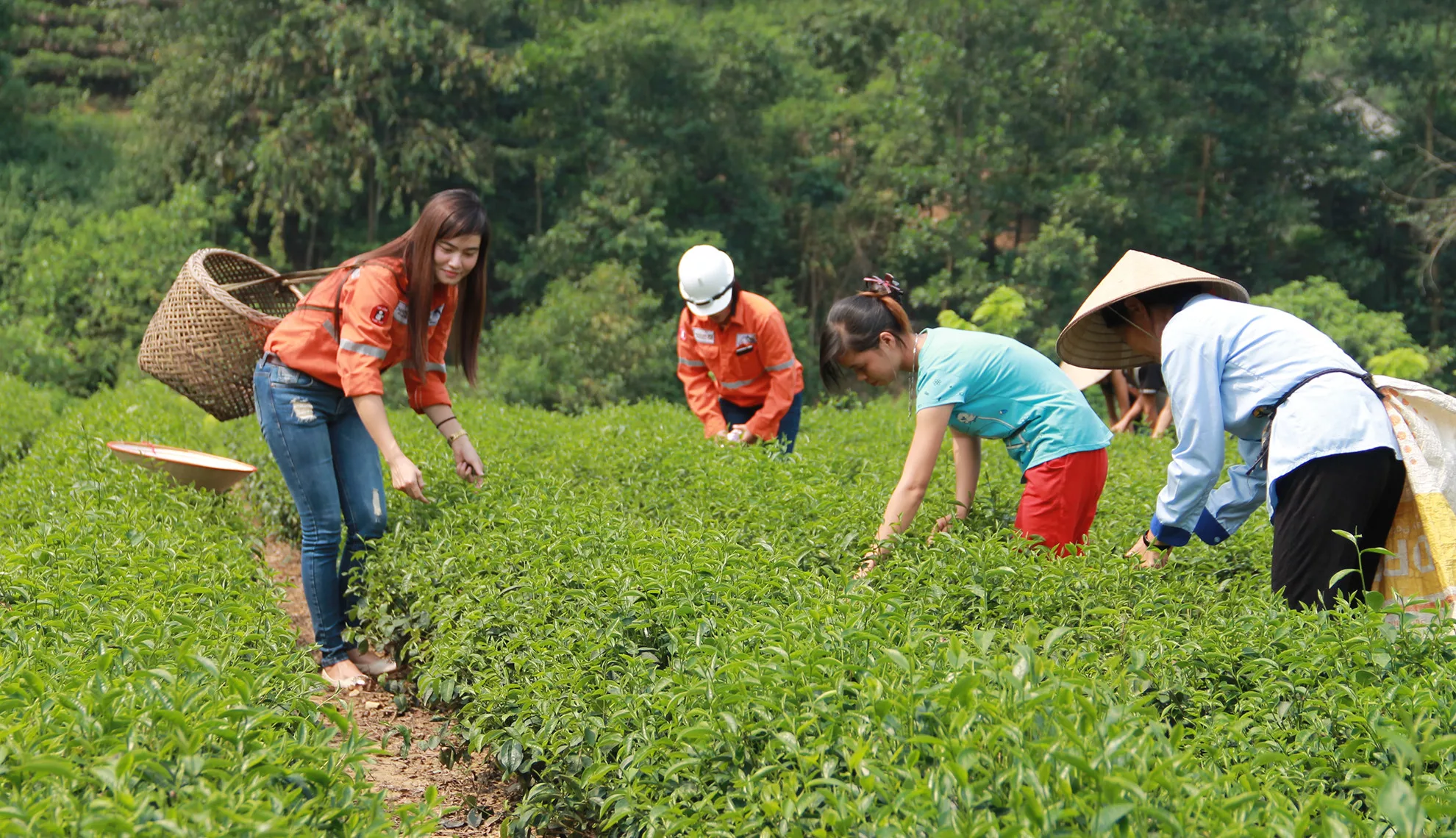 Resourceful Responsible
As Masan Resources continues to develop the world's largest tungsten mine at Nui Phao in Vietnam, its role as a community custodian is also growing, the company involved in a number of socially driven projects
Writer: Tom Wadlow | Project Manager: Donovan Smith

Tungsten – known by the chemical symbol W and with a melting point of more than 3,400 degrees Celsius, it is one of the hardest metals in the world.
It is believed to have been discovered in the 16th century in the German province of Saxony, the name Tungsten being coined by the Swede Axel Frederik Cronstedt in 1757, the literal translation into English being heavy (tung) stone (sten).
Today, the mineral is highly sought after – its hardness is close to diamond, while it is denser than steel and titanium, twice as hard as any steel grade, and has extremely high wear resistance.
Such properties translate into an estimated market value of $3.5 billion in 2017, according to statistics published by Global Market Insights.
Further, demand for tungsten carbide, the most common application segment, is forecast to grow solidly by 3.5 percent a year between 2019 and 2024. This is partly because the scrap can be recycled, which makes it an extremely valuable alloy for all sorts of applications.
Asia Pacific represented the largest regional market for the global tungsten carbide market in 2018, a result of the growing demand for automotive, construction and metalworking industries in countries like China, India and Japan.
Indeed, Tungsten is utilised across a wide variety of industrial applications, as mining industry veteran Vu Hong explains: "This is an extremely hard mineral with the highest melting point of all metals and a solid resistance to corrosion.
"Due to its unique intrinsic properties, it is ideally suited to the needs of all major heavy industries such as oil and gas, construction, hard metal tooling, energy, automotive and aviation. Tungsten is also an essential element in the steel industry, where its usage ranges from the production of stainless-steel alloys to superalloys."
Having spent nearly two decades working for Vietnam's Ministry of Water Resources and Electricity and the World Bank, Hong now serves as First Deputy General Director and Director of External Relations for Masan Resources, operator of the world's largest tungsten mine (Nui Phao).
He joined the previous owner of the site in northern Vietnam in 2004, moving over to Masan post-acquisition.
Aware of the impact developing such a large area of land would have on the surrounding community, Hong cites the opportunity to work with the community as a key reason for getting involved with the project 15 years ago.
"The development required the acquisition of around 700 hectares of land from local people in Dai Tu District in the Thai Nguyen Province, most of them being peasants and some being part of the Cao Lan ethnic minority group," he explains.
"Of the roughly 3,000 affected families, nearly 2,000 needed to be displaced out of the project site. I was therefore determined that this process was enacted properly, not only adhering to the national policies of the Vietnam government on land acquisition, resettlement and assistance, but also the safeguarding policies of the World Bank."
Having already acquired vital experience working on other industrial projects in the country, Hong was well-placed to help oversee the transition to ensure the impacted families were provided equal or superior living conditions after their move.
This involved maximising the participation of all stakeholders, not only on the issue of resettlement but also in developing a sustainable, long-term development plan for Nui Phao covering other social and environmental issues.
"I decided to stay on the project with Masan because I know Masan Group is a popular, well-respected Vietnamese company, and I was excited by its vision for the area," Hong adds.
"Restarting the project on June 18, 2010 marked the beginning of a new era under the saying 'together we implement a dream of Vietnam', a dream that the Nui Phao mining project would be a showcase model for the industry."
Extracting potential

And it is an industry with enormous promise.
Vietnam currently has more than 5,000 potential mine sites containing over 60 types of ore, among them Bauxite (around 11,200 million tonnes), Apatite (0.778 million tonnes) and coal (3,520 million tonnes), along with oil (around six billion tonnes) and gas (around four trillion cubic metres).
According to the Ministry of Natural Resources and Environment, as of 2014, there are 3,000 companies working in areas of mine exploration and mining with a total of 4,320 permits granted by central and local government authorities.
Masan and Nui Phao are one such example, and for Hong, continuing its impressive development story is of paramount importance.
"The objective of the company is more than just to connect the business to the global tungsten market, it wants to undertake deep processing of Vietnam's strategic resources into higher value tungsten chemicals, thus validating further extraction of Vietnamese minerals, while helping to develop the local area," he says.
"We also want to keep progressing with our sustainability journey. We are creating a new global force in strategic materials and are doing so in a morally and ethically responsible way."
The figures help to underline the recent progress made at Nui Phao.
It is the largest producer of tungsten outside China, and among the largest producers of acid-grade fluorspar and bismuth in the world, while production of copper also helps to ensure a continuous revenue stream.
In total, this amounts to mining around 3.5 million tonnes of ore per year, and there is more to come given the tungsten reserve is estimated at 66 million tonnes with an average tungsten trioxide (WO3) grade of 0.21 percent. The company is also seeking to undertake exploration nearby.
Corporate citizen

As Hong has already eluded to, supporting the community and environment in the form of an extensive corporate social responsibility programme is a vital part of Masan's work.
"In 2018 we conducted numerous collective and collaborative efforts to address issues pertaining to materials management, wastewater management and rehabilitation works," he says. "The combination of all these aspects shows our dedication to responsive and sustainable use of materials and resources."
Indeed, for Hong, investment in neighbouring communities lays the foundations for long-term development and prosperity.
"Since the early stages of our operations, Masan Resources has striven to work with our nearby communities to help them develop through participation in the ESIA, Resettlement Action Plan, yearly community development plans, and other environmental and social initiatives," he continues.
"We started by together identifying the main challenges that the communities were facing as a result of mine operations and involuntary resettlement, as well as maximising the benefits and opportunities to the project stakeholders.
"Based on the identified needs and expectation of a variety of community groups, the company has initiated community development projects which, gradually, evolved into strong partnerships with the local government, contractors, social institutions and NGOs."
In monetary terms, 2018 saw Masan contribute 5.545 billion Vietnamese Dong (VND) to projects covering areas such as farming and animal husbandry, vocational training and microfinancing, taking its total investment to VND 37.666 billion since 2011.
Hong cites several specific examples of this expenditure in action in 2018.
First is support for the construction of over 600 metres of rural concrete road linking the Ha Thuong and Tan Linh communes, the latter also being the recipient of 150 metres of upgraded irrigation canals.
Another project saw 1,170 chairs, dozens of audio systems and desks for 14 villages cultural houses (community houses) of the Tan Linh commune, an area which saw VND 640 million of investment from Masan last year.
In the La Bang commune in Thai Nguyen province, the company has been helping communities obtain Vietgap certificates for tea production, linking them to influential companies in the country's tea industry.
"These examples help prove that the company is implementing its commitments to our stakeholders," says Hong.
"We have obligations to the country and want to build a sound reputation with our national and global customers. The corporate social implementation is also providing a win-win principle, meaning we are gaining support from communities and other stakeholders to continue our work at Nui Phao."
For Hong, this is vital if Masan is to continue extracting the true potential of its world-leading tungsten resource.
Looking ahead to the future, he concludes: "I want Vietnam to become known for supplying strategic resources to worldwide industries.
"Masan is working within the best-in-class parameters to develop and expand our business with the aim of increasing shareholder value. We have a passion to show the world that a Vietnamese company can lead the transformation of the global tungsten market."
VIEW Masan Resources BROCHURE