CSC Robotic Engineering Limited (CSC ROBO) is a Hong-Kong based specialist in designing robots for the construction industry. We find out more with Director of Innovation, Michael Ren.
Q AND A WITH MICHAEL REN, CSC ROBO
Firstly, could you introduce us to CSC ROBO and the company's vision?
Michael Ren (MR): CSC ROBO is a technology and engineering company. We were founded in Hong Kong in 2019 as a subsidiary of Shun Cheong Engineering Group (SCEG) to focus on installation technology innovation and development for the construction industry. Leveraging over six decades of SCEG's electrical and mechanical (E&M) engineering know-how, CSC ROBO contributes to the industry's evolution with knowledge of mechanics, automation, robotics, mechatronics, vision and digital modelling.
Our vision is centred on the three pillars of automation and digitalisation, sustainability and environmental friendliness, and construction and process innovation.
Tell us about the launch of your new product: the Df Self-Navigating Drilling Robot.
MR: This product has only just been launched in November 2022. It works similarly to our previous drilling machines, however the Df focuses exclusively on ground, as opposed to ceiling drilling.
From a technical innovation point of view, it incorporates a more sophisticated algorithm and technology to enable the machine to operate by itself. The Df simply requires an operator to input either a CAT or BIM file to indicate the locations that need to be drilled.
This then creates a row that the Df travels down stop by stop – rather like a bus route. At each stop, the machine inspects the targets pre-set by the operator, and will then complete the drilling itself. With the exception of the CAT file and route definition, all operations are fully automatic. This achieves automation levels of between 50-90 percent.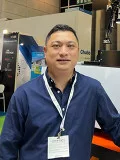 What role do construction robotics have to play in the industry's future?
MR: Automation in the construction industry can improve productivity and transform collaboration within all the different sectors. By automating certain tasks in the construction industry, we can significantly elevate productivity, attract more highly skilled talent, conduct more efficient and timely processes and save costs in projects. The impact of construction robotics can elevate the industry to a whole new level. They can create a humanised environment for workers to change the existing negative impressions of the construction industry.
Could you tell us more about your plans for expansion? Are there any particular markets that you have identified for future growth?
MR: Our business in Hong Kong is currently extremely active, as numerous clients are using our technologies in their projects. Therefore, we are now expanding our market and promoting our innovation outside Hong Kong. We are looking forward to joining some events and exhibitions in different countries. For example, two months ago we participated in BEX Asia in Singapore, and we are glad to hear that the feedback is quite positive. The government and many industry leaders are interested in our products since they are very unique and helpful in their country. We are open to all countries but we intend to primarily focus on markets across China, Singapore, Japan, the UK, US and Germany.
Finally, what are the priorities for CSC ROBO's development?
MR: Innovation is needed everywhere in the construction cycle. For our long-term goals, we intend to collaborate with overseas businesses and expand our target markets globally, while introducing new innovative technologies that will lead the market trends.
Although there are several focus areas, our priority is to increase productivity and efficiency. We intend to leverage different techniques to bring the construction industry to a higher level that uses less labour and provides a safer working site. In the long run, we want construction robotics to improve efficiency whilst also providing accessible ESG solutions for the industry.