Jonny Harrison, recently appointed CEO of Shine+ Drink, promotes the cognitive benefits of a health-boosting beverage and shares his plans to accelerate the brand's growth.
NATURALLY BRIGHTENING YOUR DAY
Energy drinks are a highly lucrative segment of the food and beverage sector.
They were first introduced to the public in 1949 but did not become popular until 1997. The choice of energy drinks in the market has multiplied since business started booming, with certain brands now using natural ingredients to create a healthier and more nutritious product.
One such brand is Shine+ Drink (Shine+), a progressive beverage company based in Manly, Australia, whose primary offering is a nootropic energy drink that serves as a mental energiser without any added sugars, artificial colours, flavours, or sweeteners. The unique product line was developed and launched in 2016, sending the company on a remarkable journey.
"As a brand, we aim to cater to a broad spectrum of customers who value mental acuity and physical well-being — anyone in need of a 'brain boost' combined with refreshment," introduces Jonny Harrison, CEO of Shine+.
The brand promotes natural ingredients, such as nootropic herbs, as they are safer than synthetic ones and have fewer adverse side effects.
FEEL LIKE NEW WITH NOOTROPICS
The term nootropics refers to substances that increase mental performance, improve cognitive function, and generally enable the consumer to "think, feel, and do better".
"Some advantages include reducing fatigue, optimising brain function, and boosting motivation and creativity. Natural nootropic herbs have a long history of use in Chinese and Indian Ayurvedic medicine," Harrison informs us.
Nootropic compounds are divided into two categories: those that have a powerful direct effect on neurotransmitter levels, and those that primarily support mental function by influencing brain health factors.
The benefits of natural nootropics include the growth of new brain cells, myelination, protection against oxidative stress, and reduced inflammation of brain tissue.
"Our founders started experimenting to avoid sugar crashes and harmful ingredients. They came across natural nootropics, and Shine+ was born!" reveals Harrison.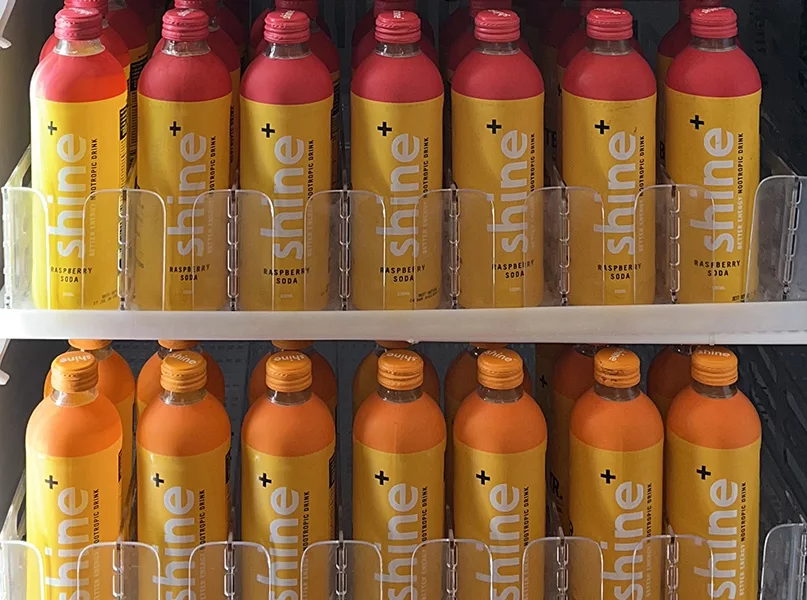 AN ENERGY FOR GROWTH
Today, Shine+ is available in over 7,000 retailers across Australia, including major outlets such as Woolworths, Coles, 7-Eleven, and Harris Farm. Having started with 100 millilitre (ml) shots, the company now has a portfolio of exciting flavours in four different product formats.
"After getting local shops to feature a range of shots, the first significant break came when a national petrol station and convenience store chain agreed to stock Shine+ on their counters," Harrison shares.
Momentum picked up as Shine+ gradually penetrated the retail landscape, with the next step of the evolution commencing after it released larger carbonated glass bottles.
"The glass bottles offered a greater variety of flavours; however, a 500ml can released in 2021 added nootropic ingredients which provided additional performance gains. This 'Charged' variety is now available throughout Australia in a range of flavours, and 250ml cans were launched in 2022," he states.
---
HERE'S THE SCIENCE PART…
Ginkgo biloba – As one of the oldest living trees, it positively affects cognitive function by improving memory and mental processing. The effects may be attributed to the natural nootropics increasing blood flow to the brain.
Natural caffeine – Likely the most consumed psychotropic substance globally, it is found in tea, coffee, cocoa, and guarana. It reduces fatigue levels by blocking adenosine receptors in the brain.
L-theanine – Found in green tea, it increases attention and alertness, improves sleep quality, enhances reaction times, and promotes calmness and relaxation. L-theanine also promotes creativity by increasing alpha waves in the brain and works synergistically with caffeine.
Green tea – Containing both L-theanine and caffeine, it promotes a calm and relaxed focus. It also contains polyphenols, which reduce inflammation, and a type of catechin, a natural antioxidant that helps to prevent cell damage. These compounds reduce the formation of harmful free radicals in the body.
Turmeric – Giving Shine+ its iconic yellow appearance, turmeric contains high levels of curcumin, a bioactive substance that boosts your attention span and memory by promoting neurogenesis, and it has an anti-inflammatory and antioxidant effect on the brain.
B vitamins – Shine+ contains vitamins B2, B6, and B12, which are essential for physiological and brain function and sustaining energy levels that aren't produced by the body. These B vitamins aid neurotransmitter synthesis, homocysteine level regulation, and brain barrier protection.
---
COMPETITIVE ADVANTAGE
"What sets our beverage apart from competitors is how we pioneered nootropic energy drinks in 2016 and we remain a frontrunner for this unique product. We also tapped into the demand for low or no-sugar beverages and natural ingredients, appealing to traditional energy drinkers who want healthier options," Harrison explains.
All Shine+ drinks include a host of nootropics and adaptogens, including ginkgo biloba, green coffee beans, green tea, L-theanine, B vitamins, and yerba mate, offering an array of health benefits and antioxidants. Furthermore, having less than 10 calories per 250ml zero-sugar can provide an energy boost without the high-calorie content commonly found in other energy drinks.
As a brand that encourages its customers to "think, feel, and do better", Shine+ sets a high standard by committing to "ridding the world of bad energy".
"In a market driven by consumers seeking healthier alternatives and products that carry benefits beyond their primary function, Shine+ effectively caters to this demand, making us a standout in the energy segment."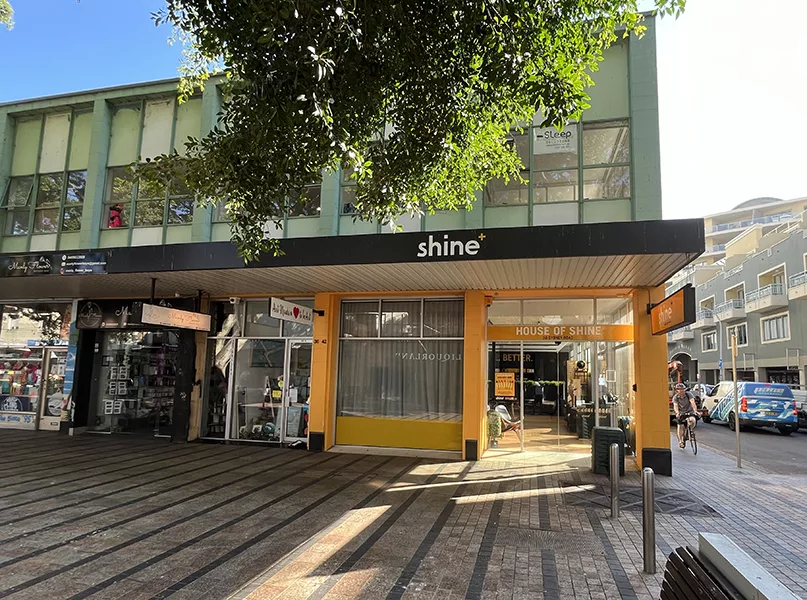 A SHINING FUTURE
Continually innovating and executing projects to meet Shine+ customers' evolving needs, Harrison is excited to highlight two recent achievements.
"Firstly, the successful launch of our new 250ml zero-sugar raspberry soda was an answer to the increasing demand for healthier beverage options without compromising on taste, and it delivers the same mental energy boost that Shine+ drinks are known for. This represents a significant step forward in our commitment to promoting mindful consumption and healthier lifestyle choices.
"Secondly, our Charged black cherry flavour was launched in response to customers wanting new and exciting tastes while keeping the core benefits of Shine+. The Charged series delivers an added punch," he adds.
While penetrating new channels in Australia, Shine+ is also focusing on bringing enhanced energy to fitness enthusiasts with sporting event partnerships due to be announced soon. Moreover, plans are underway to take the brand to New Zealand, Southeast Asia, and beyond in the coming year.
"2024 is shaping up to be a huge year for Shine+. We've recently focused on building a world-class team to help bring the brand to more people in more places by working with existing retailers to raise our profile. As we know, there are extraordinary levels of brand loyalty; when consumers try Shine+, they love it!" Harrison concludes.