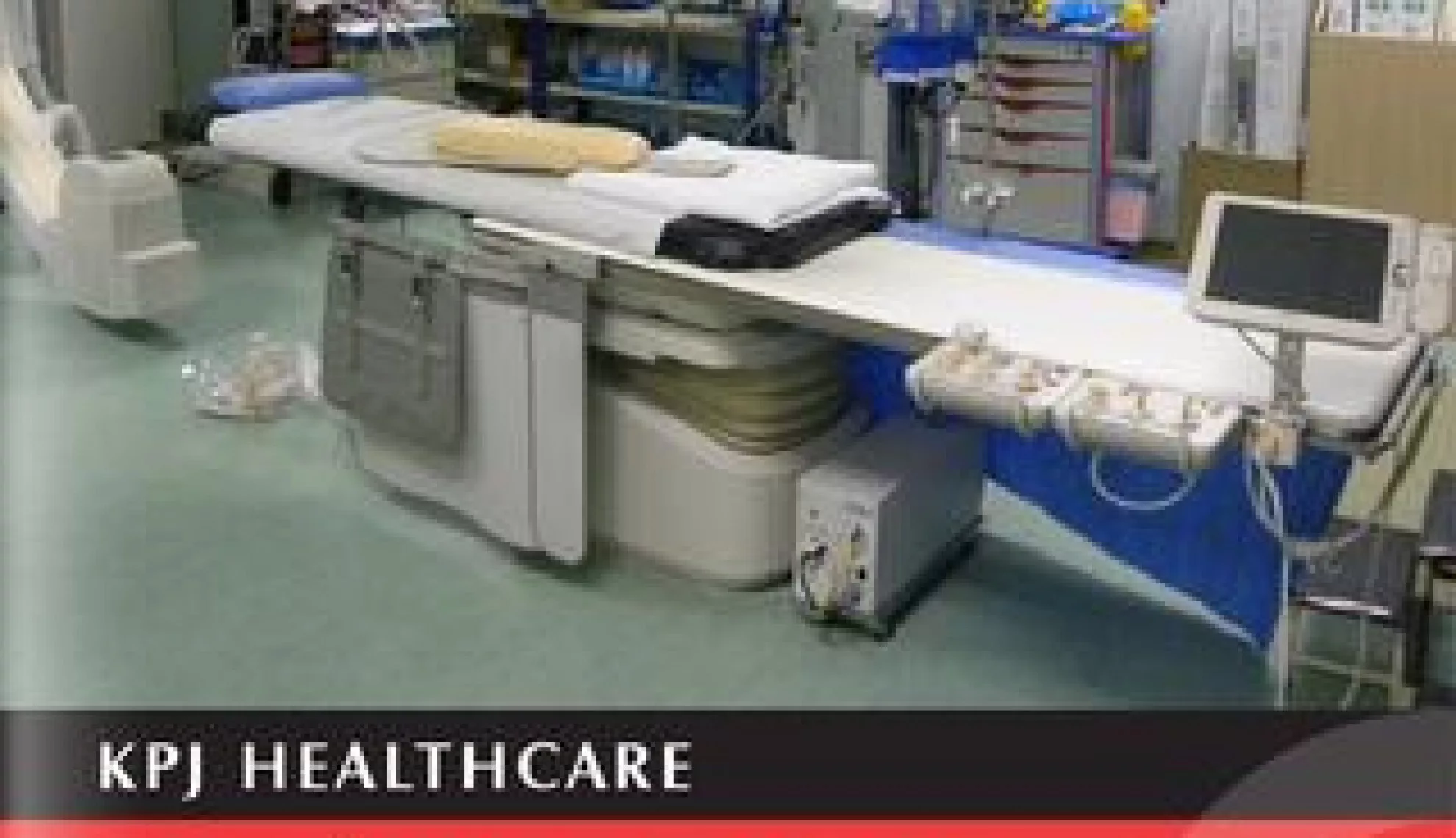 Nurturing Malaysia's Healthcare Potential
Writer: Emily Jarvis
Project Manager: Eddie Clinton
Established more than 33 years ago, KPJ Healthcare Berhad Group (KPJ) currently operates 25 hospitals in Malaysia, two hospitals in Indonesia, one hospital in Bangladesh and a sizeable share in a hospital in Thailand. Coupled with its strong network of hospitals in Malaysia and the region, the business recorded significant growth in the number of patients served last year, reporting an increase of more than 100,000 patients year-on-year; taking the total number to more than 2.8 million.
As a progressive healthcare provider, comprising more than 11,000 staff members across its clinical, management and administrative teams, KPJ remains committed to investing in leading-edge equipment and state-of-the-art medical technology in an effort to provide positive patient experiences, as well as improve medical and surgical outcomes. This year, the institution continues to focus energies on three areas; further developing its aged care services, growing its health tourism segment and venturing into other healthcare-related industries that will boost the level of hospital care.
"These thriving sub-sectors hold tremendous potential for the future, in line with the increasing consumer demand," said KPJ in its latest
annual report.
"For example, in growing the health tourism segment, our aggressive marketing strategies continue to show stellar results as we have expanded our footprint into Asia, the Middle East and East Africa."
New hospitals
As operators of Malaysia's largest private healthcare network, capacity expansion – including the recent enhancement of current hospitals and the building of two new facilities – has proved integral to securing growth in 2015. Also, KPJ has been making steady progress in neighbouring countries within the ASEAN. Combine this with the 1,062 KPJ medical specialists (as of year-end 2014) serving in its hospitals, and the organisation is able to demonstrate its strong determination to fulfil the ever-evolving healthcare needs of the industry; while providing a return to its shareholders and boosting long-term profitability.
"With the two new hospitals, the Malaysian network now comprises 25 hospitals. In tandem with the Group's expansion, we are bringing on board even more experienced medical specialists," said KPJ.
Given the increase in patient numbers in 2014, strengthening the number of hospitals further reinforces not only KPJ's leading position in Malaysia, but also serves to answer a more substantial demand for high quality patient service, including aspects such as improved waiting times and a wider geographical coverage.
"Every patient is a valued member of our clientele, and we truly appreciate a patient's trust in our capabilities to serve them and their families. The increasing numbers of local and corporate customers is a reflection of KPJ's dedication to consistently good patient-centric service," explained the healthcare professional.
KPJ hopes that continuous improvements in its service delivery, together with the introduction of new services and aggressive marketing – including key promotional activities – will serve to attract more patients.
KPJ Senior Living Care
Through its investment in KPJ Tawakkal Health Centre in Kuala Lumpur, the Sibu Geriatric Health and Nursing Centre in Sibu, and Jeta Gardens Retirement Resort in Australia, KPJ has been able to fulfil its ongoing mission to improve access to healthcare for the aged population.
"Having taken the first step in the aged care facility segment, we aim to unlock its full potential in the Malaysian market and are confident it will become a sustainable portion of the business in the long-term. For example, we were able to begin operating our own KPJ Senior Living Care at the Tawakkal Health Centre based on experience gained from Jeta Gardens and several knowledge transfer initiatives.
"KPJ Senior Living Care has been designed to offer a home-like environment, where quality care is provided to all residents, regardless of ethnicity, social status, religion, belief or political affiliation. Our medical, nursing and other healthcare professionals at the centre will provide comprehensive, effective and efficient care, filled with love and compassion," highlighted the Company.
Health tourism
Since the Malaysian government identified health tourism as a major growth sector in 1998, there have been significant investments from both the public and private sector channelled into its development. In 2011, KPJ formed a full team to promote health tourism, including foreign staff whose job is specifically to interact with international patients. "This is in order to treat them in a manner they are comfortable with, with the addition of speaking in a language they are comfortable with," added KPJ.
At the hospitals earmarked for health tourism by KPJ in Malaysia – namely its four JCI accredited hospitals and various health tourism hubs – the organisation set up international patient counters to serve as one-stop centres for foreign patients, offering a pick-up and shuttle service, patient registration, handling of visa extensions, payment and insurance arrangement, booking of appointments with specialist consultants and other concierge arrangements.
Supporting this service in the country, KPJ has engaged foreign agents in several key markets overseas including Indonesia, China, Bangladesh, the Middle East and East Africa, who help patients to select the KPJ hospital that best suits their treatment needs. "These agents then work closely with our health tourism team to arrange every aspect of our foreign visitors' stay and treatment in our hospitals, from the selection of the right medical consultant to the dates of visits, pick up at the airport and other details," KPJ further detailed.
These efforts have proven effective, translating into a marked increase in the number of expat and international patients since 2012. In turn, this has resulted in positive feedback when international patients return home, serving to not only increase Malaysia's healthcare reputation, but foreign confidence in the country as a safe destination for visitors.
"We have identified two more hospitals for the globally recognised JCI accreditation to support our growth targets in this area," KPJ confirmed.
Academia
KPJ believes that to be considered an award-winning leader in healthcare, it is important to build a strong academic foundation for all those interested in a career in Malaysia's healthcare industry. Its hospitals continue to be recognised by accreditation bodies such as the Malaysian Society for Quality in Health (MSQH) and the Joint Commission International (JCI) for its delivery of education to students.
Since launching the first nursing college in the country to offer a three-year Diploma in Nursing in 1991, KPJ has become associated with the highest quality standards in healthcare and many industry firsts throughout its operations. This institute has since been upgraded to KPJ's flagship Healthcare University College (KPJUC), offering 35 programmes from foundation level courses right through to PhD level.
Furthermore, in 2011, KPJ also became the first private provider in Malaysia to have its own medical school. "A significant number of doctors trained by us also actively contribute to the development of new specialists via skills transfer at the medical school.
"All of our industry firsts and specialists' programmes in Malaysia demonstrate KPJ's capabilities as a strong contender to become the government's partner in promoting the country as the leading healthcare hub in the region," emphasised the healthcare professional.
Recognition
KPJ's undeniable commitment to award winning quality standards in healthcare has not gone unnoticed by professional healthcare bodies. As such, KPJ has been accorded with several awards throughout 2014, including Best Company for Leadership – Private Healthcare in Malaysia 2014 by IAIR Awards' Excellence in Global Economy; Malaysia Excellence in Healthcare IT Implementation 2014 by Frost & Sullivan; largest private healthcare chain in Malaysia 2014 from the Malaysian Book of Records; HR Asia's Best Companies to Work for in Asia 2014 by Business Media International; and Global Leadership Awards 2015 from the American Leadership Development Association.
Also recognised for its contributions and efforts in implementing flexible working hours under the Career Comeback Programme, KPJ values its workforce, honouring gender quality in the workplace throughout its institutions.
In addition, the Group prides itself on its position as a respected name in the corporate social responsibility (CSR) sphere. KPJ reaches out to the community through public health screening sessions, health talks and many other initiatives; including via its flagship Klinik Wakaf An-Nur (KWAN) initiative.
KPJ highlighted: "The main objective of KWAN is to provide healthcare treatment and dialysis facilities to the general public, particularly the deserving, regardless of ethnicity and religion. We continue to touch the lives of the impoverished and underprivileged in communities through management of this initiative."
Since the inception of the first KWAN charity clinic in Johor in 1998, it has served more than one million patients and today, the KWAN network encompasses one hospital in Johor, 20 clinics throughout Malaysia, as well as three mobile clinics in Johor and Selangor.
Geared towards continuous expansion and furtherance of healthcare in the ASEAN region, KPJ's patient-centric focus will remain at the heart of its future plans. With 10 hospitals scheduled for development between 2015 and 2019 within ASEAN, the Group hopes to bolster its domestic footprint and reinforce its reputation for competitive international-standard healthcare offerings, coming with the KPJ stamp of devotion to the best healthcare delivery available.
VIEW KPJ Healthcare BROCHURE