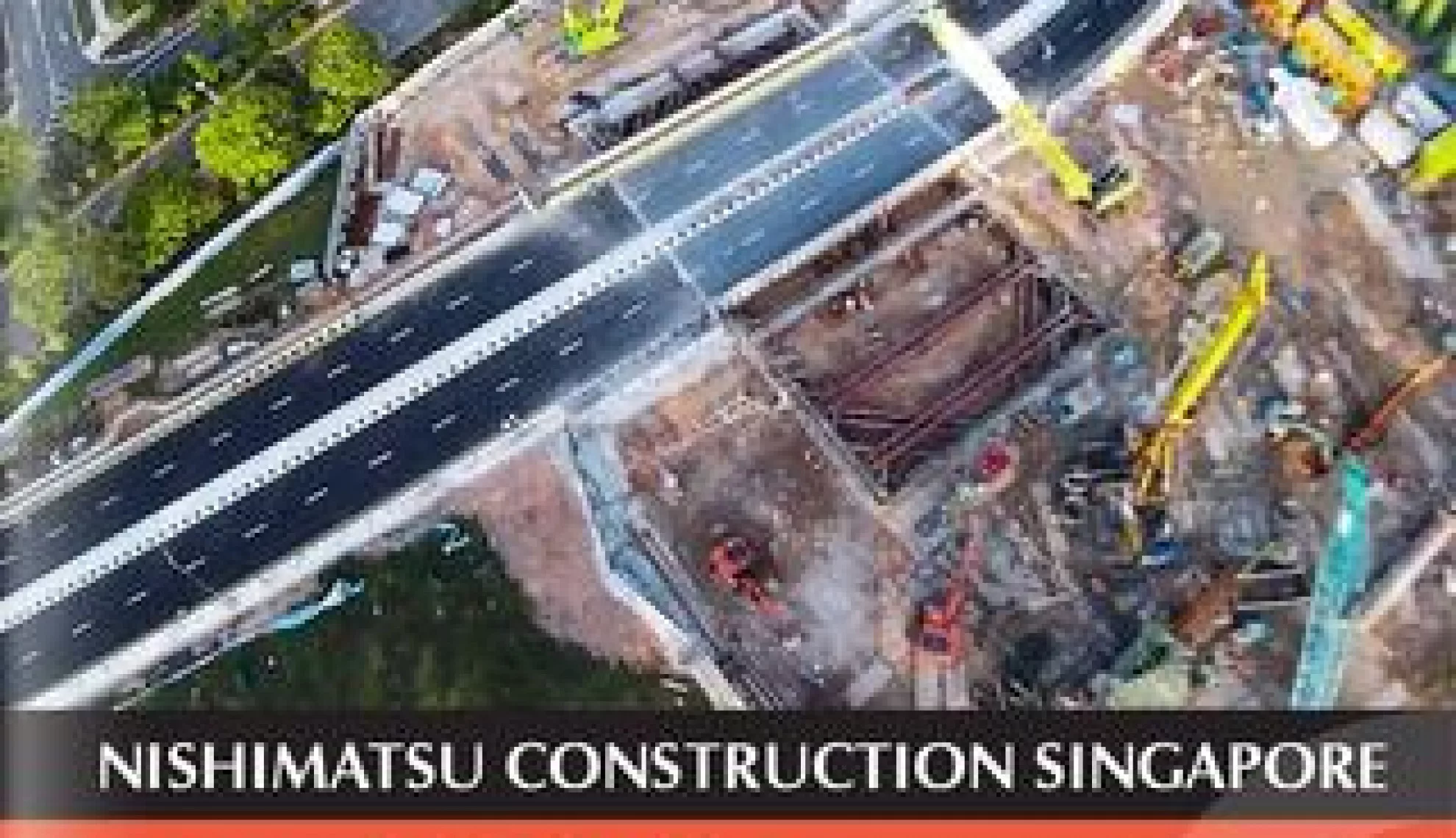 Right on Track
Writer: Matthew Staff
Project Manager: Tom Cullum
Nishimatsu Construction is one of the most renowned players in an industry that has proved so lucrative across Asia for the past century, and its 142 years of unparalleled experience in its native Japan is now proving invaluable to Singapore's rail transit system.
Entering the city-state's sector in 1980, the business's reputation preceded itself following a host of successful civil engineering, building and infrastructural works carried out in Japan, and the subsequent 35 years has seen Nishimatsu replicate such a cachet in Singapore by involving itself in some of the country's most prominent developments and structures.
Striking an initial balance across buildings and infrastructure, more recent trends and fluctuations has seen attentions focus more extensively on the latter, and for every stage of Singapore's rail transit evolution, Nishimatsu has been right in the thick of the action; epitomised by the work currently being carried out on the Gardens By The Bay Station – as a joint venture with Bachy Soletanche Singapore – and its associated tunnels for the Thomson-East Coast Line (TEL).
Ultimately though, the Company's involvement in such high profile and nationally significant projects is a culmination of more than a century's worth of renowned portfolio works and subsequently unrivalled expertise and experience in the construction domain.
"I would say from my internal perspective and from external feedback we have received, that we differentiate ourselves by our very strong engineering team who are very hands on and are always coming up with new and innovative solutions," says the Company's Assistant General Manager, Lim Wee Beng. "Not only is our technical knowledge very strong, the local and Japanese staff in the organisation are also very well integrated allowing the organisation to draw the strengths from each culture in our continual quest to improve on our past results."
Thomson-East Coast Line
Having been involved since the very first stage of Singapore's rail transit programme, it may seem like Nishimatsu is a given ever-present across each new line's construction and each new station's development, but – just like all other prospective market players – the Company is required to pre-qualify and tender for each new project.
However, having such vast knowledge of the infrastructure by now, and in creating such a wealth of experience across all previous stages has given Nishimatsu a good track record in competing for projects, such as the Thomson-East Coast Line for the Land Transport Authority (LTA).
"This is a public project which goes through an open tender process. The LTA will then pre-qualify contractors for the various projects," Lim explains. "So for each stage, we have to submit our pre-qualification packages before tendering for those contracts.
"One major item looked at by the LTA though is track record, and having such a lengthy track record in Singapore serves us well."
All-told, the TEL accounts for 43 kilometres of development, bridging the Thomson Line and Eastern Region Line, and also incorporating 31 new stations into the existing network. A further seven interchange stations will also link to the East-West Line, the North-South Line, the Circle Line and the Downtown Line; Nishimatsu having played a pivotal role across each as part of numerous successful joint ventures.
"Our niche as a Company and our intention is to have continual involvement in all the infrastructure and rail transit projects in Singapore as we progress. There are plans by the Singapore government to double the existing length of the transit system by 2030 which ties in well with our goals," Lim continues. "Currently, the East Coast Line is up for tender and extensions across other Lines are coming up as well.
"So, for us, we want to continue our track record and continue working on all these projects as a continuation of our involvement in rail transit so far. It helps keep us in the spotlight."
Improved standards
With the TEL set for commuter usage by 2021, such long-spanning works are a testament to the extensive levels of planning involved across each facet and the faith that the LTA has in Nishimatsu to carry out the projects to such high and modern standards.
Also involved in a series of tunnelling and complementary infrastructural works in the country, the Company is by no means a one-trick pony though; boasting a host of specialties that bridge all aspects of construction and civil engineering through the implementation of innovative solutions.
"We pride ourselves on our innovation and have introduced quite a few firsts to Singapore, including introducing the first earth pressure balance machine (EPBM) in Singapore for the rail transit works, back when EPBM was not the common accepted norm," Lim notes.
Some of the Nishimatsu introductions are now common place in Singapore's construction arena years later, emphasising the role the Company has played beyond the bounds of its own track record, and the business is now working hard to adhere to two more hot topics in order to make itself even more attractive as a contractor proposition moving forward.
Lim continues: "We have seen an improvement in the construction industry over the years compared against the time when we entered the Singapore construction industry in the 80s. This is particularly so in terms of safety standards.
"From even 10 years ago, safety requirements are more stringent today and this is joined by the second big trend which is productivity."
To combat both, the focus for Nishimatsu, and the industry at large, has been on improving the levels of skills entering the sector; capitalising on a more experienced and knowledgeable labour force at ground level to improve levels of safety and productivity in the final construct.
Skilled team and productivity drive
While necessary, this isn't to say that identifying and introducing a more skilled workforce is an easy task. One of the major challenges encountered by Nishimatsu has been at human resource level in recent years. However, this has largely been offset through the balance of nationalities evident under the Company's employment; bridging the best from a local and expat perspective.
Adding a wealth of experience –including some workers with more than 30 years in the sector to their name – to the mixing pot, Nishimatsu has a team to be proud of despite the inevitable and ongoing difficulties from a retention point of view. But, as Lim enthuses, the Company has a pulling factor that makes it an employer of choice just as much as a contractor of choice.
"We try to employ as many locals as possible in line with the Singapore Government's direction. Wherever we can fill a position from the local talent pool, then it is our philosophy not to look further afield at that point," he affirms. "It is also important not just to look at our HR policy in terms of hiring, but to also look after the welfare of our staff and the wider concerns of Nishimatsu's people."
A further advantage of instilling a more skilled team at the business end of projects such as the TEL is the ability to trial new and improved techniques, methodologies and systems. This is now being seen along the flagship development with a new category of highly skilled craftsmen for reinforcement concrete (SCRC) being brought in from overseas to once again enhance productivity for the structure itself, and to ensure an improved sense of sustainability for the inevitable role that Nishimatsu will play in the rail transit system's evolution to come.
This is also a strong statement of Nishimatsu's commitment to both the LTA and Singapore Government's drive for productivity.
Lim concludes: "In three years time, I'd say that we will have achieved the basic structure completion on our Gardens By The Bay Station and Tunnels project and hope to have two or three other projects ongoing.
"There are a lot in the pipeline in Singapore and it is our aim to be involved across all stages when they are released in the future."
VIEW Nishimatsu Construction Singapore BROCHURE