In the face of challenging geography, Vodafone Vanuatu strives to interconnect the country's population with the latest digital services. We speak to CEO Tangavel Lutchmoodoo about bridging the divide in broadband connectivity across the islands.
INTERLINKING THE ISLAND CHAIN
Vanuatu is a cluster of tropical islands blessed with abundant wildlife, lush rainforests, mountains, valleys and stunning coastlines, and in many ways regarded as a paradise for those who make the islands their permanent residence.
But there is a caveat to the varied natural beauty of the country; Vanuatu's geography and dispersed population leads to its own host of challenges when it comes to country-wide infrastructure development, be it road networks or electricity. On top of this, interconnecting the country and the wider world through digital means and communications is an equally monumental task.
"Being a country with large surface area, numerous islands and a very small population, Vanuatu is host to multiple challenges," begins Tangavel Lutchmoodoo, CEO of Vodafone Vanuatu. "Firstly, it is very difficult and extremely costly to ensure that 100 percent of the population receives broadband connectivity and coverage. Despite this, we have been working closely with government authorities to improve the coverage year on year through universal access policy coverage. At Vodafone Vanuatu, we are very happy with our achievements and contributions to ensure that people have access to broadband services so far.
"In addition to this primary challenge, the Vanuatu border was closed for three years due to the COVID-19 pandemic, and even though the economy was struggling, Vodafone Vanuatu ensured that its operations were not negatively impacted. Most importantly, we managed to retain all of our employees throughout this trying period."
Now that the borders are once again open, optimism has returned to Vanuatu, and the company is looking towards growth opportunities in all industries of the economy, including the IT sector.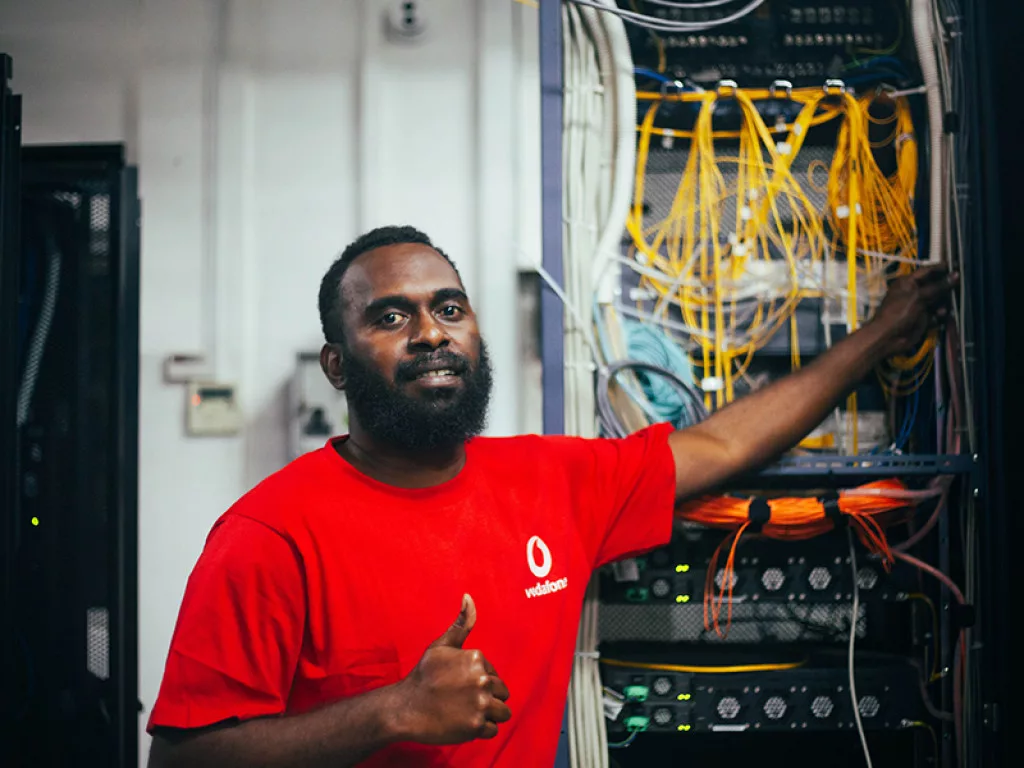 CONNECTING VANUATU
Today, Vodafone Vanuatu is 100 percent owned by Amalgamated Telecommunications Holdings (ATH), a company that owns all Vodafone subsidiaries across the Pacific from Fiji and Papua New Guinea (PNG) to Samoa and the Cook Islands.
Vodafone Vanuatu itself operates the largest 4G network across Vanuatu, offering mobile data services to over 50 percent of the mobile customers, and has a population coverage of over 80 percent.
"ATH is a great group of companies," Lutchmoodoo says. "With the vision and support of our board members, we were able to make a huge investment to implement our strategy and achieve our business goals. I am very fortunate to be part of such dynamic group.
"Vodafone Vanuatu is also the only operator with an extensive fibre network coverage in the central business district and residential areas in Port Vila. We offer fibre internet solutions to over 60 percent of businesses in urban areas and individual homes, and we have complementary technologies like satellite and radio in areas that include schools, clinics, and in agricultural and rural areas. Vodafone Vanuatu aims to continue closing the digital gap across the country with a world class network and solutions."
Vodafone Vanuatu is also the fourth largest employer in the country, with over 90 percent of positions in the company being held by locals, as well as a substantial female presence in the workforce.
"We operate in the main islands in Vanuatu, Efate, Santo, Malekula and Tanna where we have outlets in these islands. We have a strong distribution ecosystem, having over 2,000 retailers and partners across the country."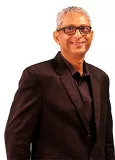 BRIDGING THE DIGITAL DIVIDE
For Lutchmoodoo, the communications and broadband space has given rise to a new normal that has changed consumer dynamics drastically, and it is Vodafone Vanuatu's duty to step up and ensure that its solutions are catered to its consumers' needs in this ever-changing period.
"Digital solutions are one of our main aims when it comes to improving customer journeys, customer reach and customer lives," Lutchmoodoo tells us. "We launched the M-Vatu app, our mobile money service, in 2019. This is a replica of the popular M-Pesa app launched by Vodafone in other countries in Africa and Europe, with over 28 million users across the globe. M-Vatu has become a financial solution for our consumers, especially for people that live in remote areas of Vanuatu.
"We offer remittance for international and domestic transactions, and we were the first to introduce QR code payment in the country through the M-Vatu app. We have partnered with utility service providers, schools, businesses and supermarkets for our customers to be able to pay for their bills, goods, and services through a simple tap on their phones. Vodafone Vanuatu is very happy to be part of the drivers of financial inclusion in the country. Access to banking facilities was limited as there are only a few branches on the islands. This new, innovative, and convenient payment system has been facilitating trade, money transfer, and bill payments for the people all across the islands."
Bridging the digital divide present in the country is one of the top priorities for Vodafone Vanuatu. Serving around 80 islands, the development of each area is critical to the whole and the people that make up Vanuatu.
According to Lutchmoodoo, the most important collaboration was with the national government, alongside which Vodafone Vanuatu developed the Universal Access Policy (UAP).
"The objective of the UAP was to ensure 98 percent of the population receives broadband access," Lutchmoodoo elaborates. "Every year, we have identified areas and plan for a number of 3G or 4G mobile sites. We still have few unserved areas at the moment, and we hope to fully bridge the gap by 2024.
"Another important milestone with regards to providing digital solutions to these areas, was the introduction of satellite services in Vanuatu. Our partnership with Kacific has enabled us to provide broadband connectivity to around 200 schools, local councils, cooperatives, and health centres at a very affordable rate despite the fact that satellite connectivity is very expensive. Finally, Vodafone Vanuatu has been working closely with the telecom regulator to ensure the affordability of our digital solutions. This is critical for all the different institutions to adopt new digital solutions."
"Vodafone Vanuatu is very happy to be part of the drivers of financial inclusion in the country"

Tangavel Lutchmoodoo, CEO, Vodafone Vanuatu
CUSTOMER FIRST
Moving ahead into the company's future, Vodafone Vanuatu is currently assessing the launch of 5G in Vanuatu. The aim is to understand the task ahead and work alongside the regulator to build a regulatory framework for the time when 4G will be obsolete.
"As we move forward to the end of this year and the next, our number one priority will remain quality customer experience and excellence," Lutchmoodoo says. "This is the area where we will drive to stand out. For years, we have been working on network expansion to ensure that our 4G broadband network will reach the maximum population possible.
Recently, the investment was mainly to improve network resilience and service availability, as the remote locations of mobile towers have proved to be a challenge in themselves.
"The focus now is the delivery of high-quality services to our customers and more innovations for their benefit. In terms of innovation, we are looking forward to bringing top quality content through TV services. For the next three years, we are aiming to see our mobile money services as the product that will contribute to financial inclusion for all the citizens of Vanuatu."