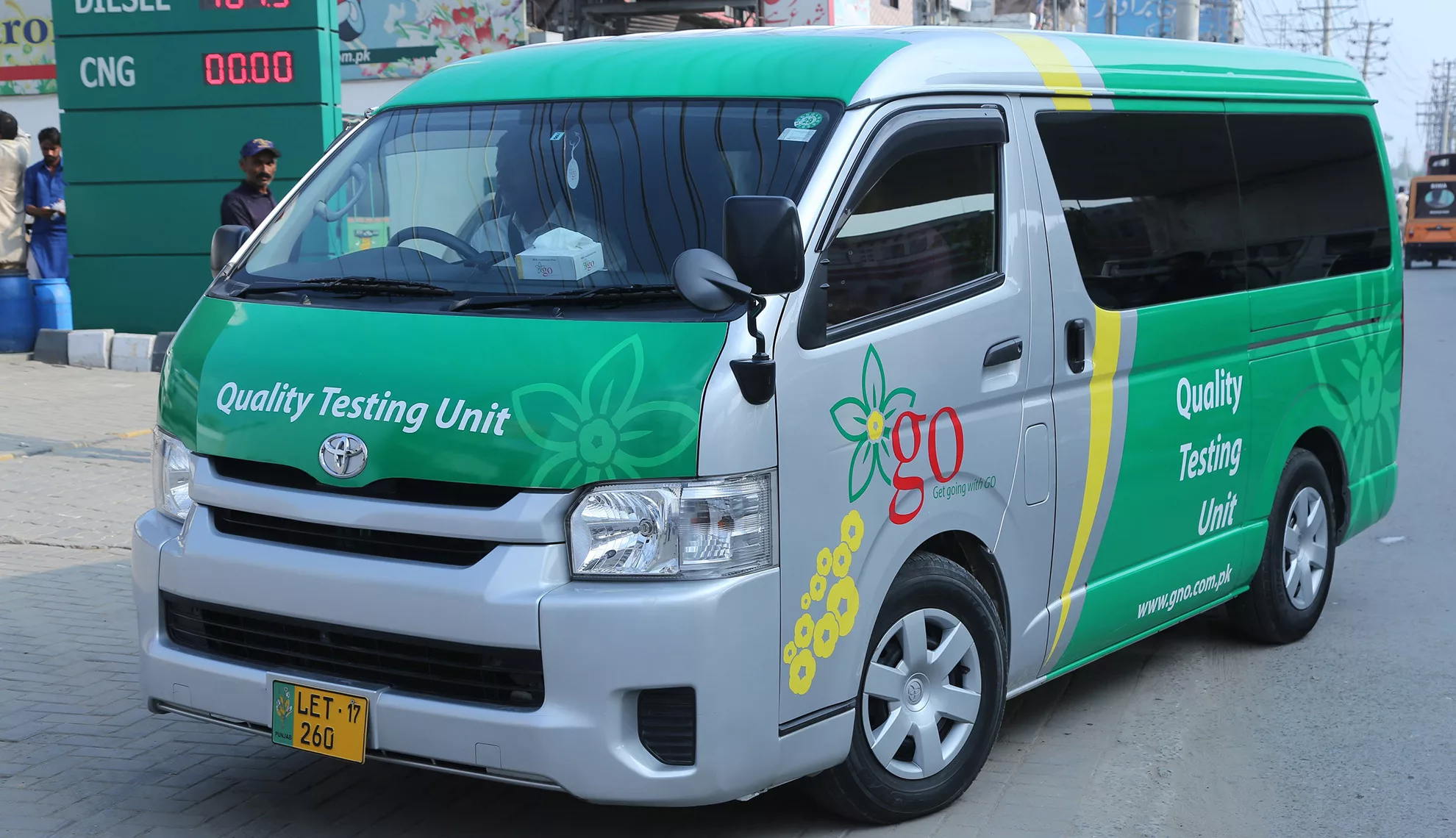 Petroleum made personal
GO is embodying Pakistan's innovative spirit, advancing and expanding its O&G offering at rapid pace in order to better serve its beloved, growing network of local customers.
Writer: Jonathan Dyble  |  Project Manager: Josh Hyland
Pakistan is one of the youngest countries in the world in terms of its population.
According to the United Nations Development Programme, roughly two in every three Pakistanis are below the age of 30 – a youth bulge that provides solid grounding for a wave of innovation and creativity
to strike at the very heart of the nation.
Indeed, this growing tide has already begun to encroach upon Pakistan's economic shores. Between 2012 and 2019, a pool of funding sources and investors grew from zero to 20, for example, while the number of startup incubators expanded from two to 24.
It is not just SMEs that are thriving in this environment, however. Likewise, some of Pakistan's most revered, established organisations are making great strides by embracing and embodying this agile climate.
"Pakistan's oil and gas industry is an exciting place to be right now," explains Khalid Riaz, Chairman and CEO of Gas & Oil Pakistan Ltd. (GO) – a company that manages over 500 retail outlets, 400 tank trucks and considerable storage infrastructure across the country.
"Our millennial population and growing economy provide major grounds for O&G-related optimism. We ourselves have made great progress in the past year, upping our overall market share from five percent to eight percent.
"We are a company always on the move. It's in our DNA."
It's been little over 12 months since we last spoke with Riaz – a period that has seen GO's remarkable rise continue since its inception in 2015.
Since February 2019, the organisation has developed almost 100 additional retail outlets, drastically expanding its infrastructure and footprint across many of Pakistan's key provinces and cities, and engaged in a plethora of broader customer engagement initiatives.
"We've been focused on launching everything from our digital consumer communications platforms to social platforms and prepaid cash cards to improved customer service programmes, as more of our retail outlets expand nationwide," the Chief Exec affirms, also pointing to new SAP enterprise resource planning software that is set to be rolled out imminently.
With such an array of undertakings being pursued aggressively and concurrently, it's been a particularly busy, challenging period for the group to say the least. Yet Riaz is able to reveal that each of these key investments paid off, owed to the firm's emphasis on what it describes as the three Ps.
"People, productivity and process. These focus areas drive through our projects and initiatives," he affirms. "Customer centricity is our core value. We want to win the hearts of our consumers, not just their wallets.
"For me personally, this is the key differentiator of GO."
Building a future for all
It is not the only unique characteristic of the enterprise, however.
The importance that GO places on people likewise translates for its own employees that are empowered at every opportunity, recognised as crucial to maintaining the upward growth curve that the firm continues to experience.
"People are core to our growth, and our employment success depends on having the right training plans which are better and smarter than the traditional industry standard," Riaz reveals. "It's about more than just employing more teams and upping the numbers. 2019 was a challenging year, but talent development is undoubtedly going to be a critical part of our strategy for 2020."
Likewise, the organisation ensures it gives back to the communities in which it operates through an expansive focus on CSR.
To date, GO has planted 100,000 trees, delivered new schools, donated ambulances, installed water filtration plants and a state-of-the-art dialysis centre, and assisted in the development of crucial water conservation and energy generation capacity, as well as continually reaching out into needy communities with mobile food banks that provide free meals to more than 400 people daily.
"Social responsibility is at the heart of our business model," Riaz comments.
"Whether that's charitable actions or environmentally sustainable initiatives, CSR will always be a regular part of our routine."
The mention of sustainability swiftly turns talk from the here and now to the what's next.
12 months ago, numerous aims including boosting storage capacity, expanding the company retail network and bringing in new staff were outlined – goals that were not only met but exceeded at every level during the course of the last year.
Looking ahead to 2020, it seems that the latest set of ambitions are similarly bold, GO forecasting an equally prosperous period.
"By the year's end we expect to have 10 percent market share, 200 more retail outlets, three new depots, and a successfully integrated ERP system, all backed by empowered leaders and teams and much happier consumers and stakeholders," Riaz reveals, citing this buoyant outlook.
"We are really thankful to the almighty Allah for our success. We've had a great run that's been a marvel on its own and a great ride so far – we're a young organisation and a leading brand in the oil and gas industry that is recognised for its quality products and superb service.
"Long term, we see GO becoming one of the top three players in the next one to three years. But for now, I look forward to a great 2020, and beginning to cement our leadership position by winning the hearts of the consumers that we love."
VIEW Gas & Oil Pakistan Ltd BROCHURE