As the only company to manufacture microtubers on a commercial scale, E Green Global is the start-up disrupting the global seed potato market. From lab to farm, we unearth its innovative technology with CEO and Founder, Keejoon Shin.
THE DISRUPTORS OF AGRI-TECH
Potatoes have been a staple of global food supply for centuries. However, in the face of disruptive weather patterns, supply chain shortages and heightened import costs that are prohibitive to many developing countries, the answer to widespread potato consumption as a means to combat world food poverty, lies in agri-tech. Enter, E Green Global (EGG) – the platform tissue culture tech company utilising its plant factory platform to overcome the limitations of the current seed potato supply system. With an overriding emphasis on competitive price and productivity, EGG's CEO and Founder, Keejoon Shin, dives into its virus-free food solution and hopes for future expansion.
Q&A WITH KEEJOON SHIN, CEO AND FOUNDER, EGG
Firstly, could you tell us what inspired you to start EGG? What led to the company's foundation?
Keejoon Shin (KS): Potatoes are the only major grains that have no futures market and international trade is extremely limited, with no major grain companies entering the market. Therefore, production and local consumption are mainly carried out locally. This local production and supply of qualified seed potatoes are the key factors that determine the production yield of crops. However, most countries have no qualified seed potato production system, except for a small number of advanced countries. These elements were the driving force behind the start-up of EGG.
How can EGG's microtubing method contribute to the global fight against world poverty and hunger?
KS: Potatoes are a very good crop with high productivity per unit area and can be a good food solution for underdeveloped countries. However, they have not been able to significantly increase potato production yet because they do not have qualified, virus-free seed potatoes. Therefore, it is possible to solve this problem by establishing a qualified microtuber (MCT) supply system locally to increase high-quality seed supply.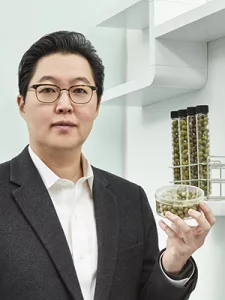 What are the benefits involved for potato farmers?
KS: Currently, many rural farmers cannot secure high-quality seed locally due to shortage. Imported seed potatoes are too expensive to increase their margin. It is also beneficial for potato farmers because it can bring high productivity by supplying qualified seed potatoes at a low price.
What makes EGG a disruptor of the Agri-Tech industry?
KS: EGG has established itself in terms of next-generation seed potatoes by commercialising MCT technology that existed only theoretically in the table tongue. MCTs can be easily traded, and transportation cost is minimal due to their small size. Also, MCT production facilities can be easily set up anywhere in the world. In the near future, farmers of the world can enjoy high-quality, virus-free seed potatoes by adopting MCT seed systems locally, which was not possible before due to local seed shortage, strict quarantine, and high transportation costs.
Finally, what are your hopes for the future development of this technology? Are there any new markets that you would like to explore?
KS: We will continue to strengthen MCT responsiveness and productivity to various environmental and climate changes, while strengthening cost reduction. Ultimately, EGG will enter anywhere in the world where potatoes are needed, but we are currently entering the Middle East, Central Asia and Southeast Asia, where high-quality, virus-free seed potatoes are in shortage and imported seed potatoes are expensive in a step-by-step approach according to the company's capabilities and specific business environment.