In what the UN has labelled the 'Decade of Ecosystem Restoration', archiREEF is the innovative start-up using 3D printing to revitalise coral reefs. We take a deep dive into the company with co-founder, Vriko Yu.
RESTORING THE REEFS
The 'vertical city' of Hong Kong – concrete jungle and land of skyscrapers – may not be known for its natural biodiversity, but did you know that the city's shores boast more hard species of coral than the Caribbean?
Worldwide, coral reefs host over 25 percent of marine life, yet cover just one percent of the sea floor. This number is depleting, as coral is worn away and is now greatly endangered by the effects of pollution and climate change.
At the nexus of coral reef development in Hong Kong is the Hoi Ha Wan Marine Park. The park has become the playground of innovative Hong Kong born start-up, archiREEF, the company using 3D printing to restore and conserve coral reefs using the world's first clay reef tiles.
Printed in clay to mimic 'brain coral', the material is both highly adaptive, earth-friendly and has proven effective in attracting and encouraging marine life.
"Growing up in Hong Kong is quite interesting because it's an international metropolis, but we are also extremely accessible with our natural resources," says Hong Kong local, scientist and founding member of archiREEF, Vriko Yu.
As an enthusiastic diver, Yu was alerted to the alarming reality of coral degradation at a young age after personally witnessing coral wasting away on the seabed and turning into a desert of sand.
"After I started diving, I saw the disappearance of a small patch of coral reef within just two months.
"Climate change is accelerating at a rate that we just never anticipated. So that set my heart and head to thinking, is there anything that I can do?"
Yu embarked on a PhD and began working with the government on all matters concerning coral restoration. It was here where Yu encountered the process of 3D printing in clay to create model coral reefs that would renovate the sea floor and encourage marine life to thrive.
Installing 130 reef tiles in the Hoi Ha Wan Marine Park over the course of one summer, soon after, in September 2020, archiREEF was born.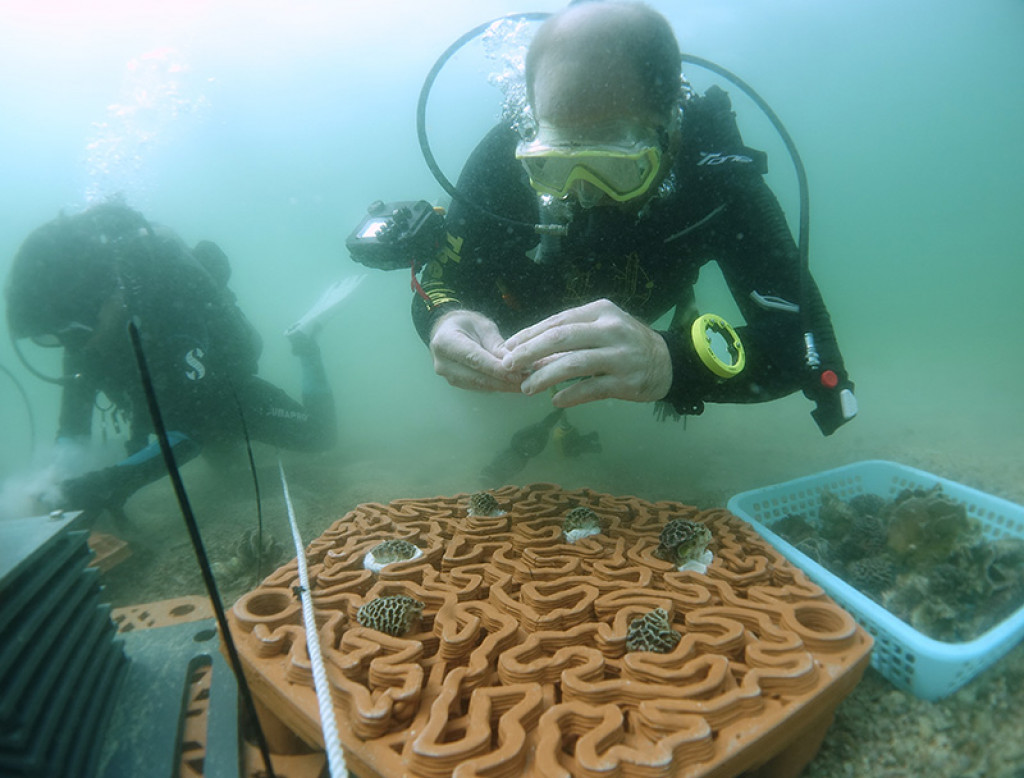 "We're quite a young start-up but it has been an interesting journey since we were founded. The three founding members included Dr David Baker, who is the scientific mind behind the operations, Mr. Deniz Tekerek, the commercial mind, and myself. I'm the doer who makes sure that everything goes well!"
At present, the archiREEF team comprises seven full-time employees in Hong Kong with further positions opening, three of which will be based in archiREEF's venture into new waters in the Middle East.
"We are very fortunate that we are now bringing this technology to Abu Dhabi. In the Middle East, we are hoping to expand our global coverage and we have established a global partners network that will help bring this to life. To do this, we really need the local participation.
"We want to be part of the solution, so we always encourage collaboration with local partners and right now we are deploying reefs in Abu Dhabi to see if we can be part of the larger equation of restoration."
As part of this growing mission, archiREEF is strategically targeting destinations that demonstrate initiative and a long-term commitment to realising change.
"Restoration is a process that takes time, so we are prioritising areas that are committed in establishing sustainability and marine ecosystem restoration, meaning that it's not just a surface PR campaign, but a dedication to spending time and resources to do this together and be patient with it," says Yu.
Aside from physically delivering this technological innovation to the ocean floor, a big part of the work that archiREEF does concerns encouraging governments and corporate entities to incorporate the restoration and conservation of marine ecosystems into their ESG strategies.
"We cannot afford to lose the reefs. It's not just coral, but also the mangroves – entire marine ecosystems. The United Nations (UN) has already made a very aggressive call on labelling the decade between 2021 – 2030 to be the 'decade of ecosystem restoration'.
"The ideology behind this is simple – it's because we cannot lose the reefs and if we don't do it now, then it's going to cost 10 times more with 10 times less effectiveness than what we can achieve now.
"By that calculation alone, it's ecologically and economically important that we take action today."