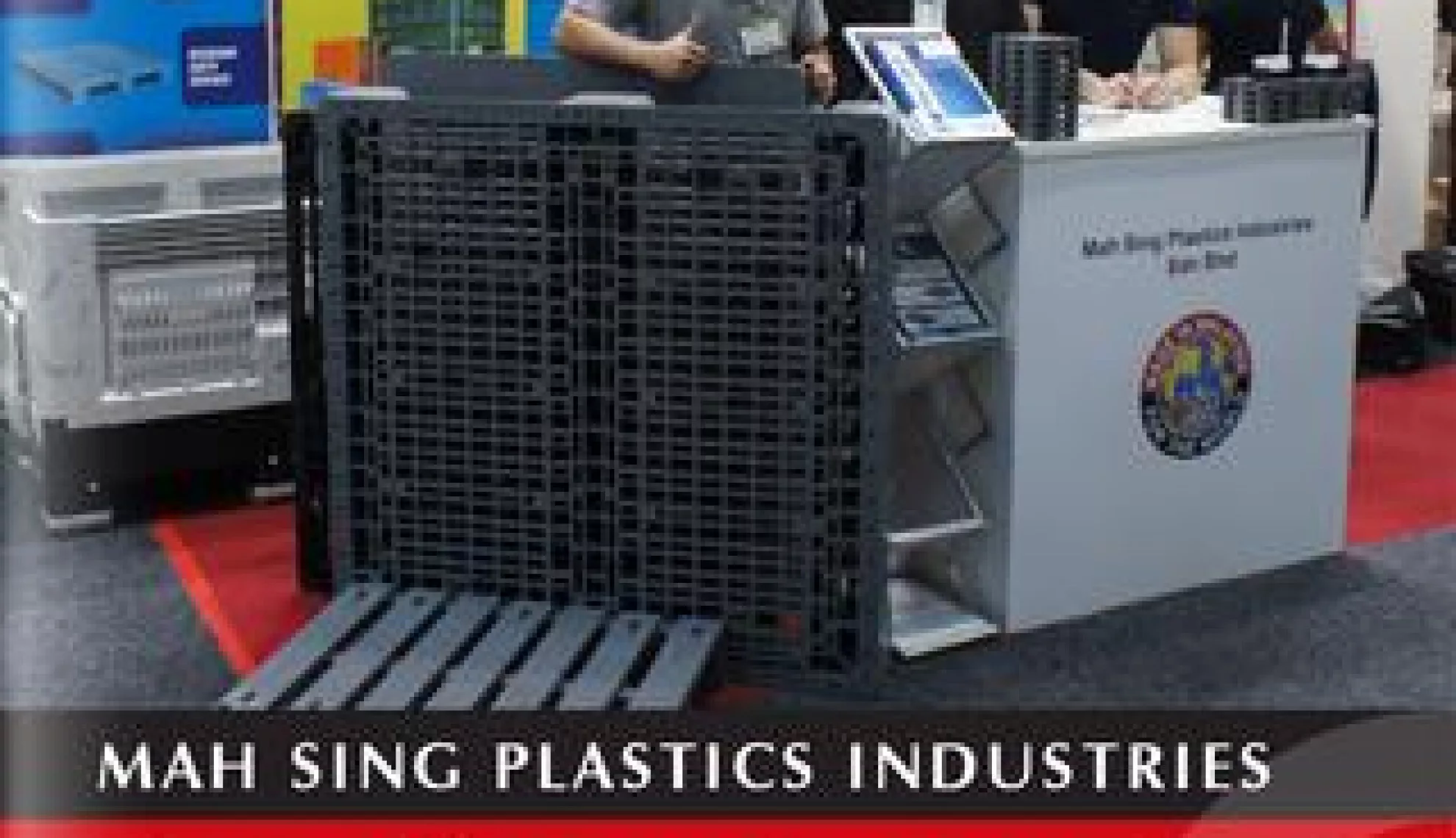 Creating a more Sustainable Future
Writer: Emily Jarvis
Project Manager: Joe Palliser
Since inception in 1965, Mah Sing Group has built its name as a premier lifestyle developer and renowned plastics manufacturer in Malaysia, with numerous awards under its belt marking decades of achievements and its position as one of the top sales leaders in Malaysia. Leveraging the Mah Sing brand has enabled the high-tech plastics subsidiary of the Group to position itself as a reliable supplier with a durable and high quality final product; manufacturing a wide range of plastic products including industrial containers, furniture, motorcycle safety helmets, pallets and other more niche items for industrial, domestic and wholesale distribution use.
"While we have always been at the forefront of Malaysia's manufacturing industry, responsible for many industry firsts since establishment in 1979, our commitment to the latest equipment and technology has given Mah Sing Plastics Industries (MSPI) the edge in terms of our sales and marketing activities," says Hock Seng Hong, Executive Director of Mah Sing Plastics Industries.
With its facilities located at Port Klang, ranked the 12th busiest port in the world, and a 65 percent-owned subsidiary, PT. Mah Sing Indonesia, MSPI is strategically placed at the centre of Southeast Asia, where it can showcase its innovative products and solutions to a population of more than 500 million. "In Indonesia, we have been fortunate enough to win various OEM contracts for the supply of automotive parts to large multinational companies including Daihatsu, Nissan, Isuzu and Mitsubishi, which has helped bolster our business here," he adds.
In line with its continuous product improvement goals to better meet the modern customer's needs, MSPI has recently shifted its main focus to the manufacture of plastic pallets, sharing the advantages of choosing plastic over wood as a longer-lasting, hygienic, sustainable, safe and low maintenance solution to transporting product.
Plastic pallets
In response to the increasing amount of cargo that passes through Malaysia's ports, as well as the ever-growing importance of environmental considerations, MSPI identified a gap in the market to bring change to the way that products are stored and transported. Hong explains: "MS' plastic pallets hold a distinct advantage over wooden pallets. Although plastic pallets are initially more expensive than wooden pallets, they have a much longer lifespan, averaging 50 to 500 uses, whereas wooden pallets only average between 10-50 uses."
Produced in a wide range of sizes and designs – for stackable, nested or export requirements – MS plastic pallets suit a wide range of material handling applications and present return on investment for the customer in the long-term, making them a cost-effective solution when compared to the wooden counterpart.
He further highlights: "Advantageously, our plastic pallets are resistant to water, chemicals and extreme temperatures and can be used for outdoor storage, in an automated warehouse or as shipping pallets. Safer than wooden pallets, our product contains no splinters, nails or sharp corners.
"Plastic pallets are 100 percent recyclable, are non-absorbent and impervious to odours, acids, fats and solvents. Because of their high resistance to bacterial infection, plastic export pallets are unlikely to cause product contamination or to be delayed or quarantined due to infestation."
Identifying with the qualities that plastic pallets can bring, many international industries – including those in food, pharmaceutical, rubber, electronics, building and construction, automotive, freight forwarding and agriculture – have already made the switch to plastic for shipping and storage. And with almost every government in the world driven to act on climate change, forestry protection remains one of the hot topics on the green agenda.
"With the current focus on greener manufacturing techniques, businesses will continue to see the price of wooden raw materials rise while its supply will go down due to stringent environment control. As a result, we have capitalised on the subsequent business opportunity to replace wooden products with environmentally-friendly plastics," Hong adds.
Committed to growth
MSPI has been ISO 9001 certified since 26 June, 2000 and ISO 14001 certified since 31 March, 2007. Practicing Japanese 5S management systems and Kaizen at its facilities for the past five years, the Company has been investing in its facilities to make sure they continuously improve in line with world-class practices and business optimisation objectives. By replacing traditional machines with energy saving ones, the Company has improved its production energy efficiency by 20 percent. "Alongside our investments in machinery, we have also developed stringent production management techniques to reduce waste including production rejects, while refining our manufacturing techniques and training procedures so that we can hire and retain the right people," says Hong.
"Our people are our biggest assets, so to make sure that we employ the right people, MSPI recently signed up to the Malaysian Government's apprenticeship programme; sponsoring students to complete a two year course in plastic injection moulding. After completion of the course, we will look to employ the individual as a trainee," he notes.
On the research and development (R&D) side, MSPI has invested in a material research and product testing lab that closely adheres to international standards. "We continue to look for better material formulas and better designs in order to achieve optimum strength to weight ratio of our products. An over-engineered product will have a higher weight and use more resources, as well as incur higher fuel consumption on its delivery routes too," Hong continues.
Moreover, given the increasing cost of labour and rapid growth of MSPI, the Executive Director says that investment in automation is key to achieve long-term success. "Our top management recognises the benefits automation can bring in terms of efficiency and cost effectiveness, so we will be implementing further automation in stages," he further details.
An additional advantage of addressing these efficiencies in the present will mean that MSPI can increase its production and continue on its path to target new markets in the future.
Hong details: "35 percent of our product revenue is derived from export markets across ASEAN, India, Sri Lanka and Australia. Given that export markets make up such a large portion of our business, we have also started to reach out to further markets in the Middle East, South Africa and other parts of the world."
Results-driven
Led by the strong belief that its plastic pallet solution will continue to show promise in new markets, MSPI will continue investing in R&D to create new plastic products that take inspiration from its plastic pallet innovation; including further plastic containers and plastic furniture to complete its core product range trio.
"Moreover, the plastic pallet itself has so many advantages that cannot be ignored, making the potential to grow this portion of the business significantly a high priority, even capitalising on new customers across Europe, US and further venture into Asia."
The Company has big plans for its factory in Indonesia, preparing this facility for the coming expansion by upgrading machinery to create material handling products such as the plastic pallets and containers.
Hong concludes: "By next year, we will definitely be a more efficient and lean manufacturer that offers even better service levels, higher quality and a more cost-effective product range while striving to increase our market shares in local and international markets.
"Ultimately, our activities will lead MSPI towards operational excellence, with our top management continuing to cultivate a conductive working environment to build a cohesive, innovative and results-orientated winning team."
VIEW Mah Sing Plastics Industries BROCHURE