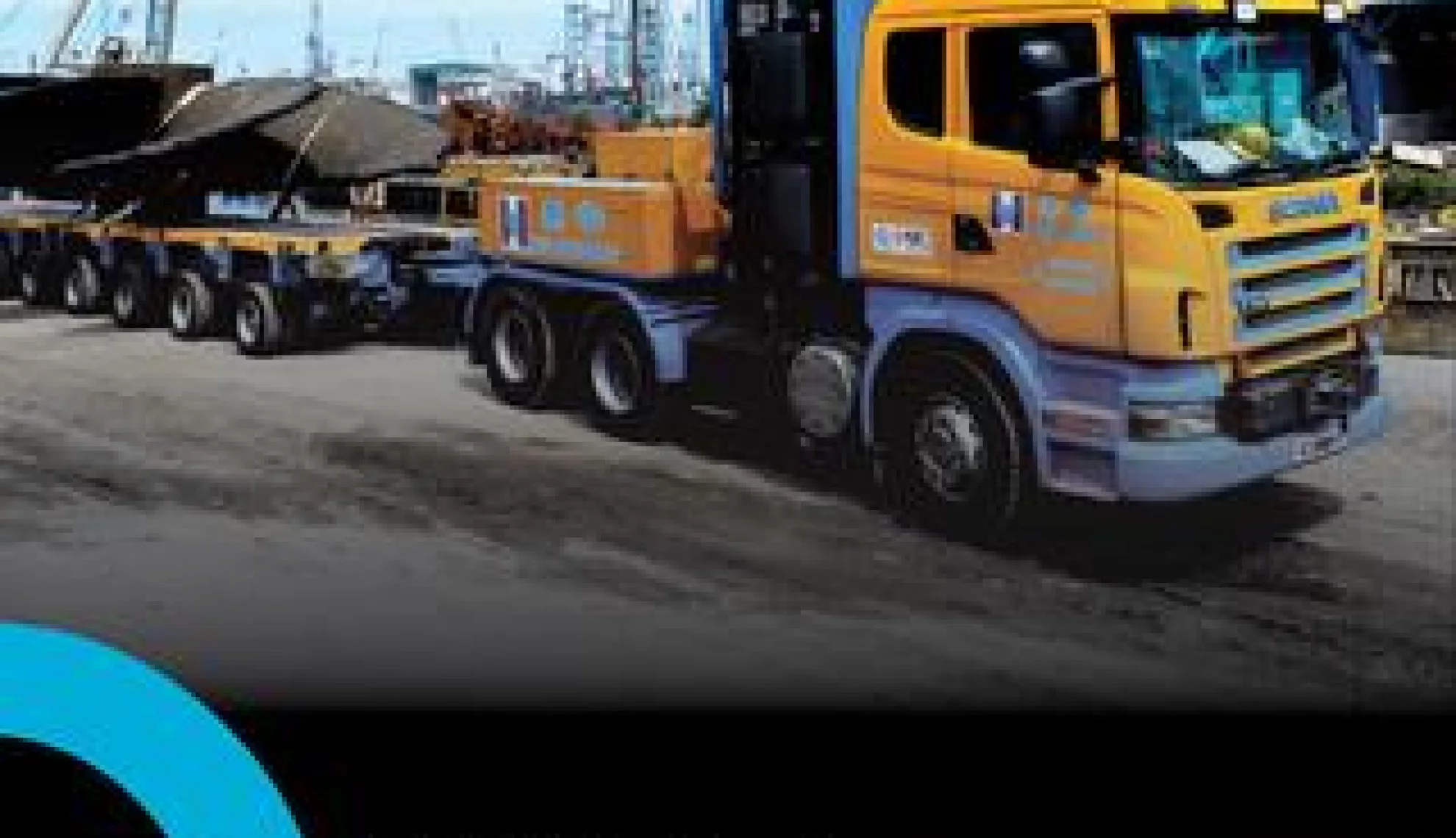 Treating Staff and Customers as Equals
Huationg Group is committed to probiding the best lifting, shifting and logistics services to meet the growing needs in construction, marine, port and petrochemical industries in Singapore and the region
Writer Emily Jarvis
Project Manager Arron Rampling
Huationg Holdings Pte Ltd Asia is one of the leading heavy lift and haulage service companies in Singapore, with a long operating history that spans over more than three decades and a strong belief that their employees make the company stand out from the crowd.
After Mr Lee Chin Tiong started the business in 1979, the company has spent the last 30 years expanding Huationg's offering into a group of companies, to become one of the largest domestic crane and heavy haulage companies in Singapore in terms of the aggregate tonnage of its crane and prime mover fleet. On June 23rd 2000, Huationg Holdings Pte Ltd was incorporated as a private investment holding company to consolidate the activities of the various Huationg subsidiaries, specifically Huationg inland transport service Pte ltd and Huationg (Asia) Pte Ltd. Further, Huationg Inland transport service Pte Ltd was incorporated on June 2nd 1984, specifically to conduct crawler crane and technical lift and shift services. To complete this quartet, Huationg (Asia) Pte Ltd was incorporated on march 22nd 2005, specifically to provide commercial mobile crane services for heavy haulage service businesses.
The advent of this expansion and organised consolidation of group assets has enabled Huationg Holdings to become an award-winning company; obtaining the WSH innovation award and Exxonmobil safety award. "This is testament to the company's emphasis on safety and quality of customer service. We serve our customers as if they were our colleagues. This personal approach is what makes us stand out from the crowd in Singapore," says Jimmy Chua, general manager of Huationg Holdings. Moreover, the company is the preferred partner for a number of leading brands of cranes and other heavy equipment such as LIEBHERR, TEREX, GROVE, SCANIA and KOBELCO. It is also the first company to purchase SCANIA trucks and bring them into Singapore and the region, which is just one example of Huationg's caring culture and foresight to invest in quality assets to provide excellent service to clients.
Realigning the Huationg Brand
Huationg is known for its high reliability in service which is critical for clients wishing to avoid costly delays. Consequently, the company has forged strong relationships with large contractors and engineering firms over the years, who take pride in awarding leasing and lifting contracts to Huationg. Its nimbleness to react and respond to clients is also well known in the Singapore market. "Singapore will always be a city of consumption; construction is continuous here. As such, we are never short of work and growth opportunities. Currently, we are reassessing ourselves and our route to market in order to increase growth opportunities locally; only then will we look at ways to expand the company beyond borders."
Alongside the decades of strengthening their ties in the country, Huationg have conjured excellent working relationships with various governing bodies and regulatory bodies, which have enabled the company to secure recurring contracts in certain sectors of its business. Conversely, this results in further business from new contractors during the tendering phases of a project, whereby Huationg can recommend their services and the appropriate equipment to use. These two methods of sale continue to raise the company profile in the marketplace, whilst accompanying advertisements in trade publications also contribute business opportunities. "Our new business model will see us gain more ownership and more specialisation in order to assist us in our bid to be the right company for the job in question," affirms Chua.
Specialisation in Order to Better Serve the Customer
With a core business focus on the provision of technical lift and shift, and concrete pump services, Huationg are able to serve a diverse pool of major industries in Singapore. These include the leasing of crawler and mobile cranes, leasing of general equipment, other construction equipment, related spare parts and services, sale of cranes and related industrial vehicles for the oil and gas, engineering and construction, land transport authority, petrochemical, offshore and marine, power generation, the port authorities and other major infrastructure projects/sectors.
Beyond conventional cargo delivery, Huationg's specialised fleet of lorry cranes (of up to 65 tonnes) and self loaders provide continuous support for the day-to-day operations of rapid crate handling. "our competent operators pilot 65 low loaders including heavy-duty auto rams, and can undertake rapid machine deployment throughout Singapore," adds Chua. "over 120 prime movers (ranging from 60 to 250 tons) ensure that the most exacting demands are met." therefore, the company can meet any need including shipment related handling such as local import/ export and/or trans-shipment. Core business will be handled by different entities as follows: Huationg Asia on the lifting services, Huationg inland on the shifting services and Hua Resources on concrete pump services. "This will enhance their individual specialisation so as to serve the customer better," says Chua.
Quality Assurance and Control
in order to maintain their consistently high standard of service to customers, Huationg Holdings has put in place several quality control programmes that keep them ahead of the competition. In Singapore, the company's cranes are subject to annual inspection by authorised professional engineers to ensure that the cranes are in both a good and safe working condition. In addition, before delivering the company's cranes to the customers, inspections and/or load-lifting tests are conducted. Plus, Huationg also conducts inspections when the cranes are returned upon the expiry of their leasing contracts. Minimising downtime and repair of equipment is a key part of maintaining a strong market position. Should maintenance and repair work be required during the leasing period, Huationg has a large inventory of spare parts and experienced maintenance personnel to minimise delays to the customers. In the event that a longer period of time is required to repair the equipment, the company is able to provide a replacement from its leasing fleet.
"Safety is not a priority, it is a pre-requisite"
Huationg's industry standard load test is just one of the instances of ensuring safety in the workplace. The safety load test is conducted once every three years. Visual tests are conducted annually by professional engineers, who will issue a certificate of test and examination for the company's lifting machinery.
Continuous Staff Development
However, it is not just the cranes themselves that undergo testing. It is also a requirement for Huationg's crane operators to undergo comprehensive training with the BCA (Building & Construction Authority) before obtaining the requisite licence to operate cranes. "Upon the purchase of new cranes, further on-site training will also be provided for the crane operators. The maintenance team regularly undergoes training courses organised by suppliers for constant updates on new machinery. Training from new crane manufacturers is also provided on-site," Chua adds.
This strong focus on training and key performance indicators stems from the company's unique staffing system, which mainly revolves around retaining employees for the long term. "Those who have accumulated industry experience are incredibly valuable to our company. When it comes to promotion, we look internally for staff who have stayed with us for a long time. This comes with the reasoning that the company requires people that have a fair understanding of the industry coupled with the motive of recognising the efforts of employees." Being in an industry that requires knowledge that comes with experience, Huationg promote and provide an environment with a secure staffing policy that helps maintain or retain its long serving staff.
"As Huationg group continues to grow and expand, we believe that our commitment to customer service and integrated civil engineering and construction solutions will develop beyond engineering technology but instead depend on continuous development of a well trained personnel and crews. as such, we will endeavour to ensure all employees are involved in the Huationg value-chain," surmises Chua.
"We aren't just a building and logistics company"
Huationg group is committed to providing the best lifting, shifting and logistics services to meet the growing needs in construction, marine and petrochemical industries in Singapore and the region. the company and its subsidiaries will continue to strive to accommodate these commitments through their fleet of modern and technologies, advance vehicles, machinery and well trained staff as Mr Chua concludes: "we will always seek a best-practice approach in order to improve and refine all systems and processes via regular feedbacks and assessments in order to provide the best possible service for the greatest possible value. Furthermore, Huationg culture is one where we aim to continuously better ourselves professionally and seek new technologies in order to meet both employee and customer satisfaction."
VIEW Huationg (Asia) Pte Ltd BROCHURE